How to Carry Cargo on the GSD
This article refers to GSD Gen 2 bikes. To read it in other languages, click here.
GSD Cargo Basics
With a max gross vehicle weight of 200 kg (440 lb), the GSD is ready to tackle most all of your cargo-carrying needs, whether it's used for picking up odds and ends, making a grocery run, or trucking around serious equipment.
To help carry the load, Tern provides an ever-growing ecosystem of accessories, including racks, panniers, bags, baskets and decks that can be outfitted to the rear of the bike, or attached to the built-in Combo Mount on the front of the GSD. Mix and match to find the right add-ons to match your lifestyle.
---
What is Max Gross Vehicle Weight?
Max Gross Vehicle Weight (MGVW) is the maximum weight that a bike has been designed to safely carry. This means the weight of the Bicycle* + Accessories + Rider(s)** + Cargo must be less than the MGVW for safe riding.

*Bicycle = weight of the bike plus batteries
**Rider(s) = weight of the cyclist and any passengers
---
Why does Max Gross Vehicle Weight matter?
It comes down to safety. By adhering to the bike's MGVW guidelines, riders can feel confident that the bike can safely handle the total weight in all riding conditions.
---
How much cargo weight can I carry on a GSD?

The GSD has a MGVW of 200 kg. Simply subtract your weight and any passengers, the weight of the GSD, and any installed accessories. The total cargo weight must be less than the remaining number.
---
Minivan Modules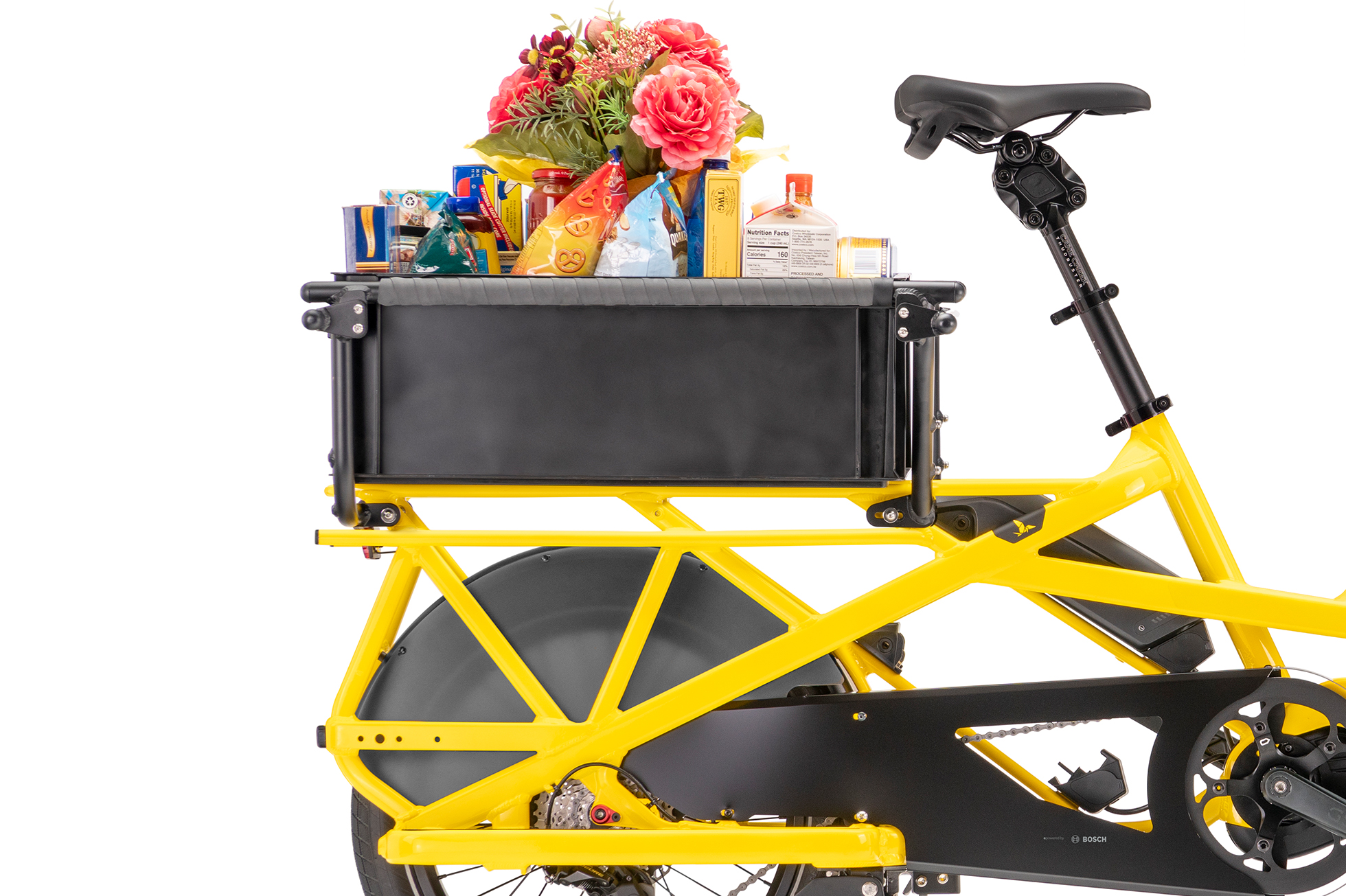 A cargo cabin on the back of the GSD. Carry a 600 x 400 Eurocrate or two 400 x 300 Eurocrates. Combine it with the Sidekick Wide Decks and Batten Straps for carrying oblong items.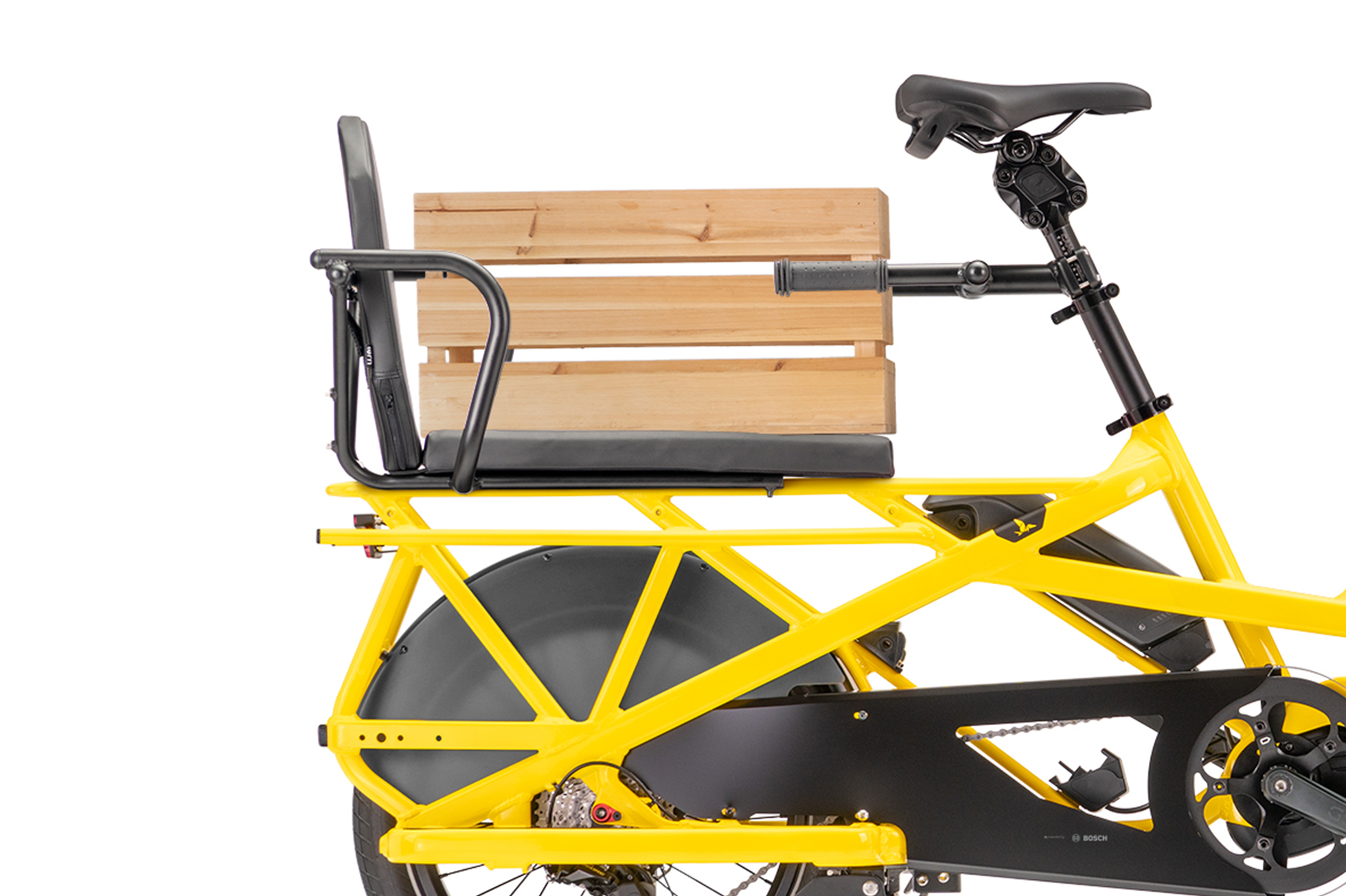 The Captain's Chair combined with the Joyride Bars may be a passenger solution, but the same setup can be used to carry crates and boxes.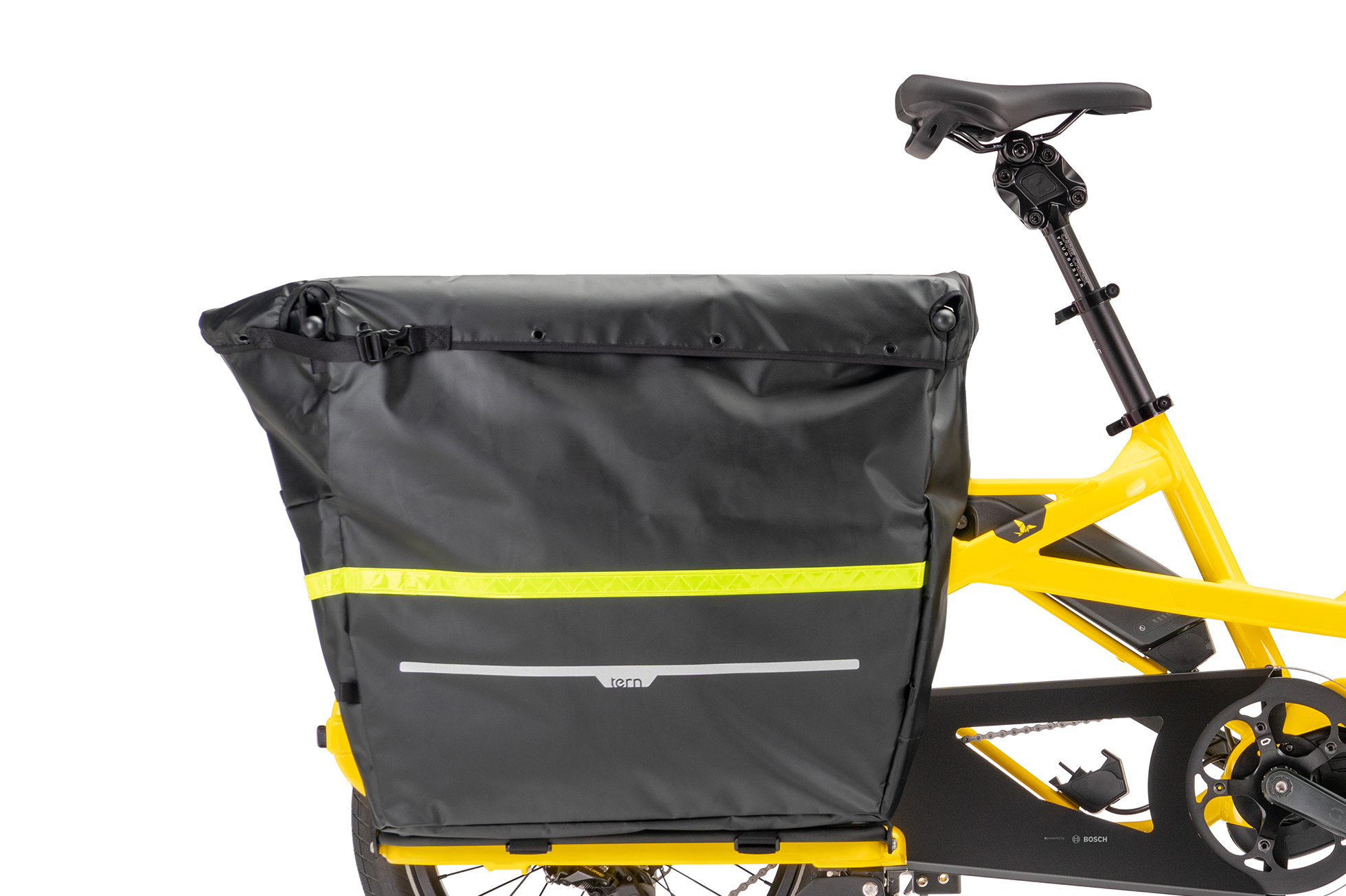 When combined with the Clubhouse+ and Sidekick Wide Decks, the Storm Box transforms the rear of the GSD into a massive, weather-protected bucket. Use the included Cargo Lid to protect your stuff from rain and prying eyes.
---
Outfitting Your GSD
Bags & Baskets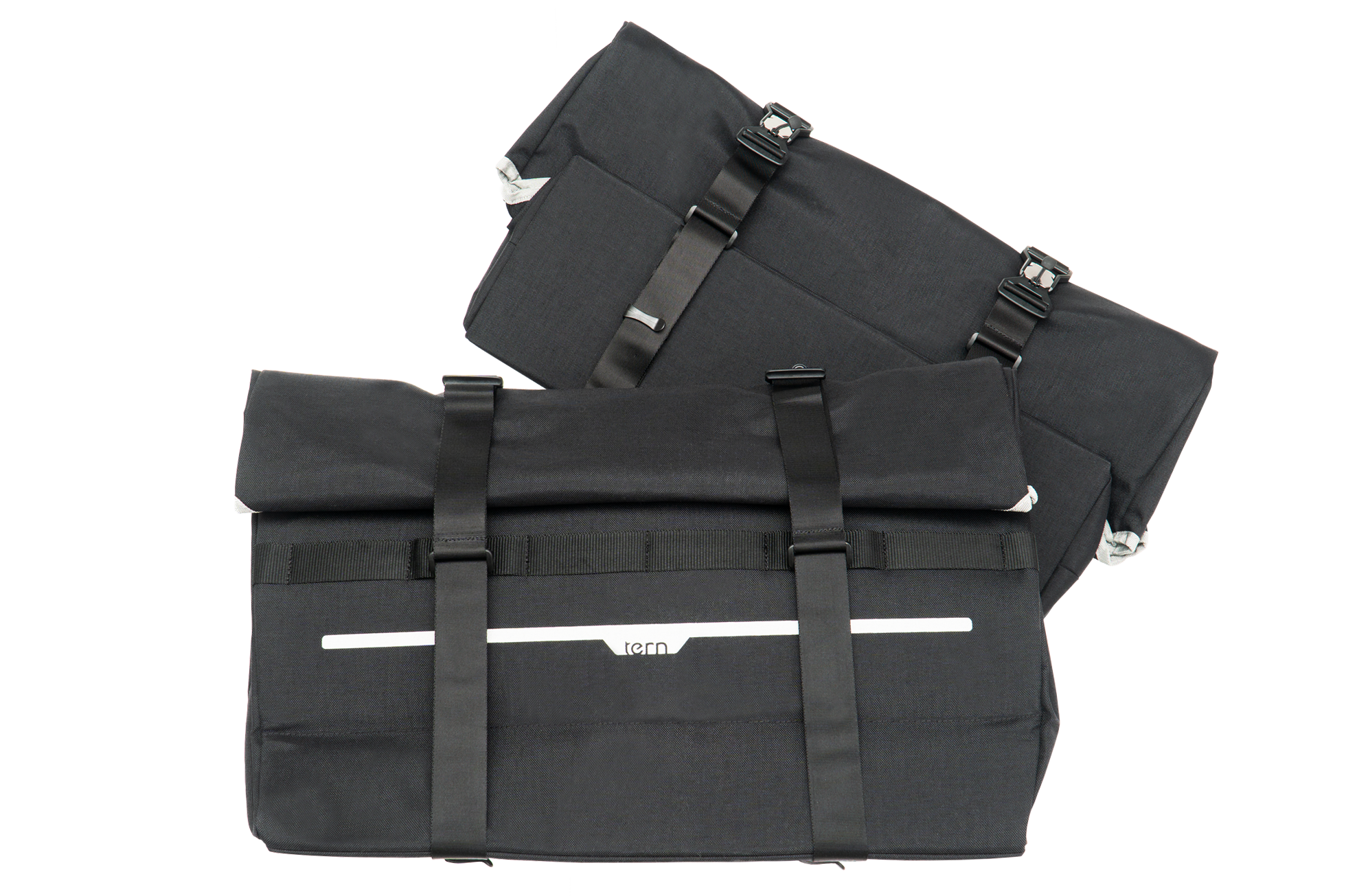 Cargo Hold 52 Panniers serve as the GSD's extra roomy trunk. Can be used as a roll-top or in bucket mode for over-sized cargo. Fidlock® buckles make opening and closing a snap.

15 kg per pannier (30 kg per pair) 

 52 L per pannier
(104 L per pair)

   605 x 335 x 40 mm (folded)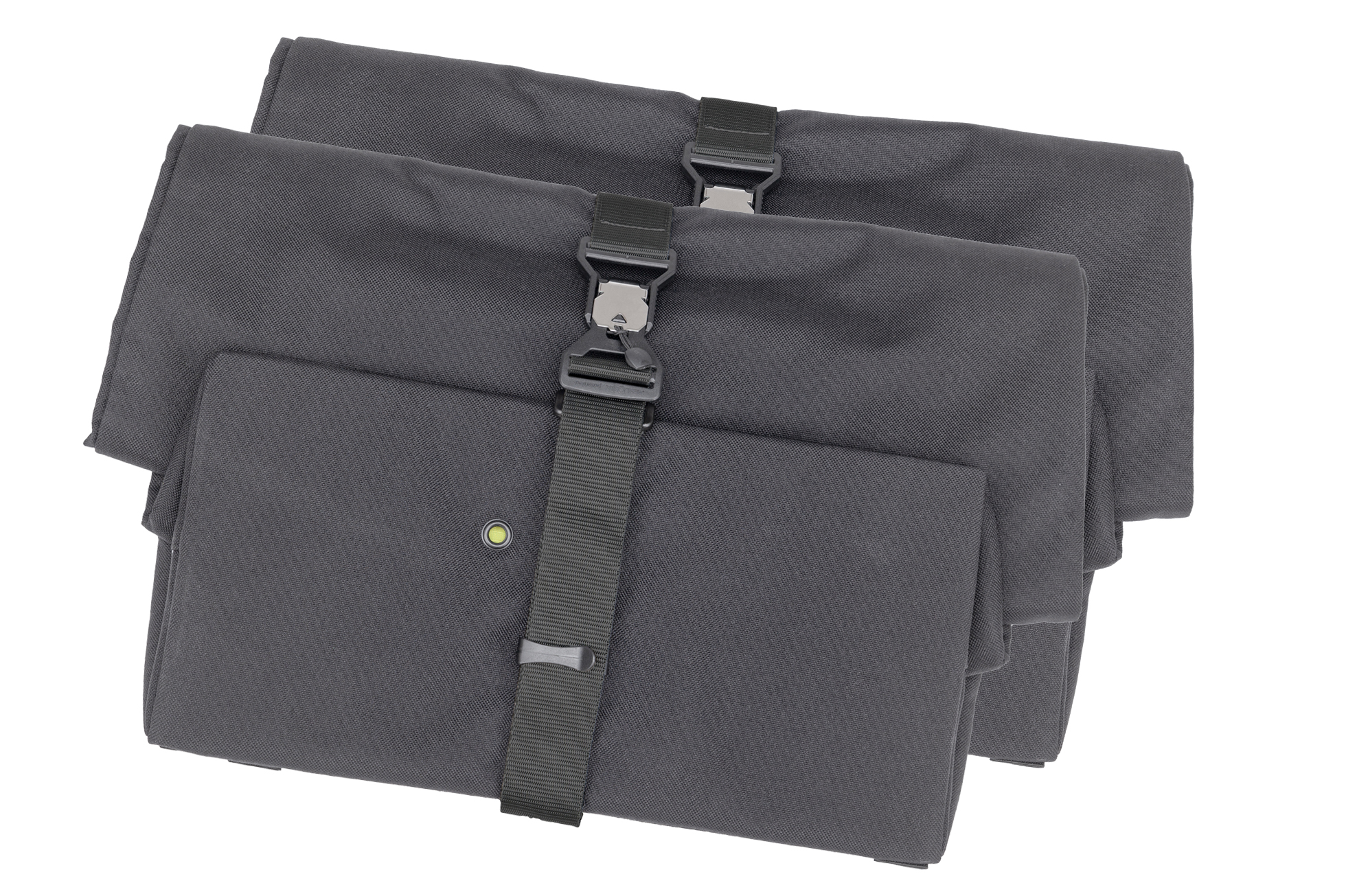 Cargo Hold 37 Panniers are for when you want something a little more compact. Same roll-top design and bucket mode features, while a single Fidlock® buckle keep things secure.

15 kg per pannier
(30 kg per pair)

37 L per pannier
(74 L per pair)

435 x 310 x 30 mm(folded)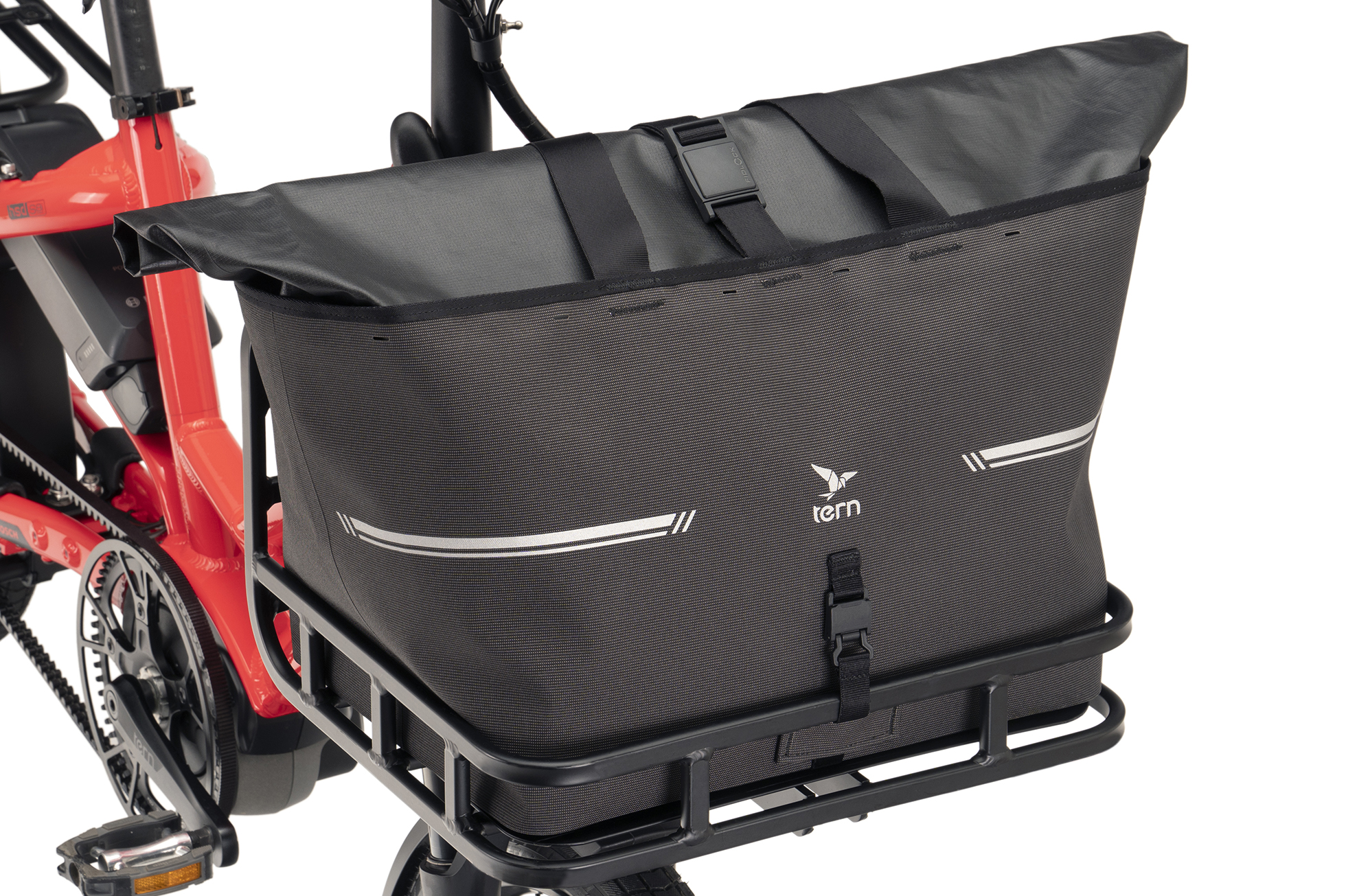 The WeatherTop Bag is a rugged and waterproof 45L carryall made to go from your rack to your shoulder in seconds. Fits perfectly on the Hauler and Transporteur Racks.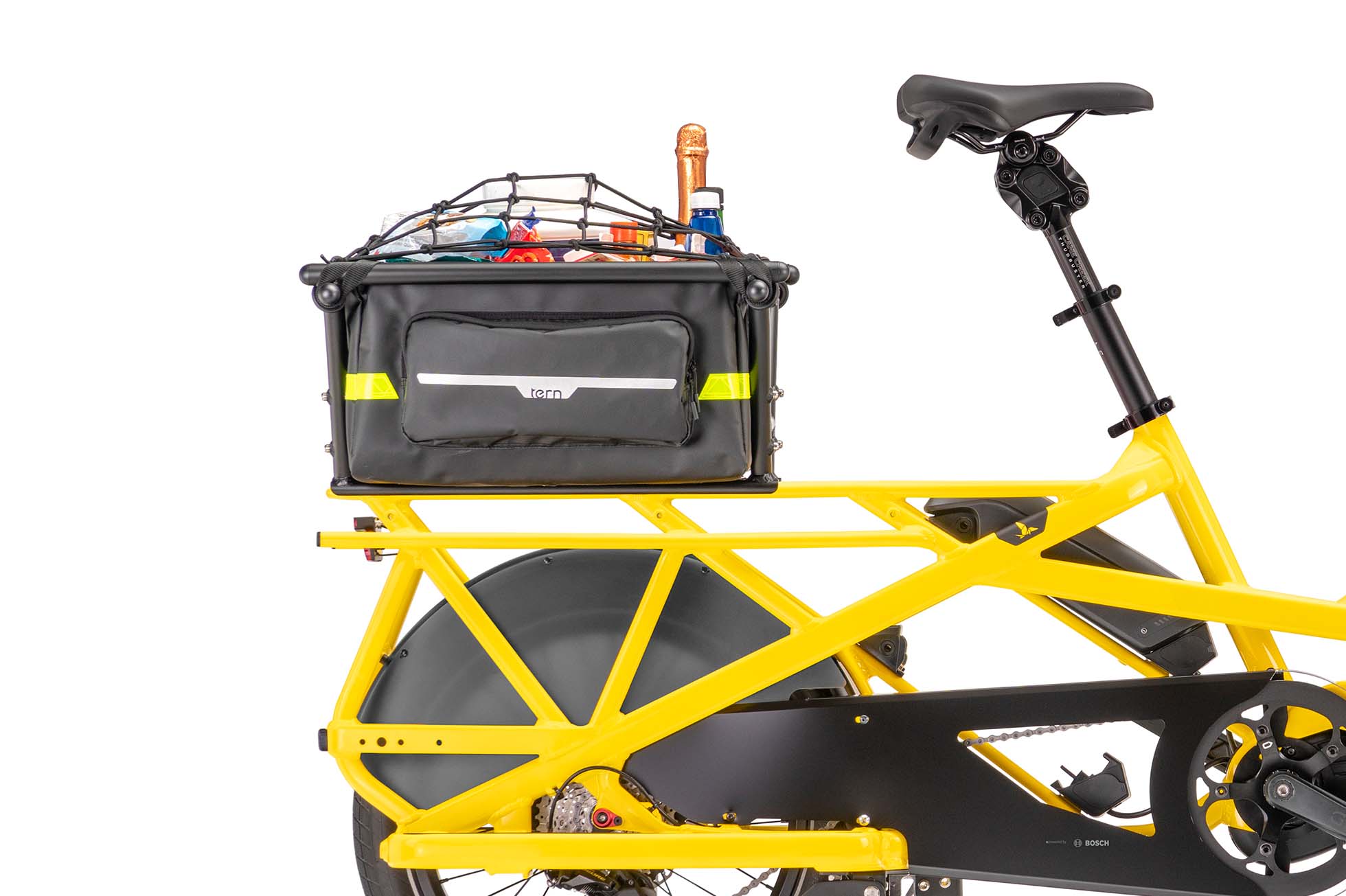 The Soft Crate Mini is a removable cargo carrier that fits inside the Clubhouse Mini (not the Clubhouse+). Carries up to 37 L of whatever and doubles as a dog carrier (add the Dog Roof Mini).
---
Racks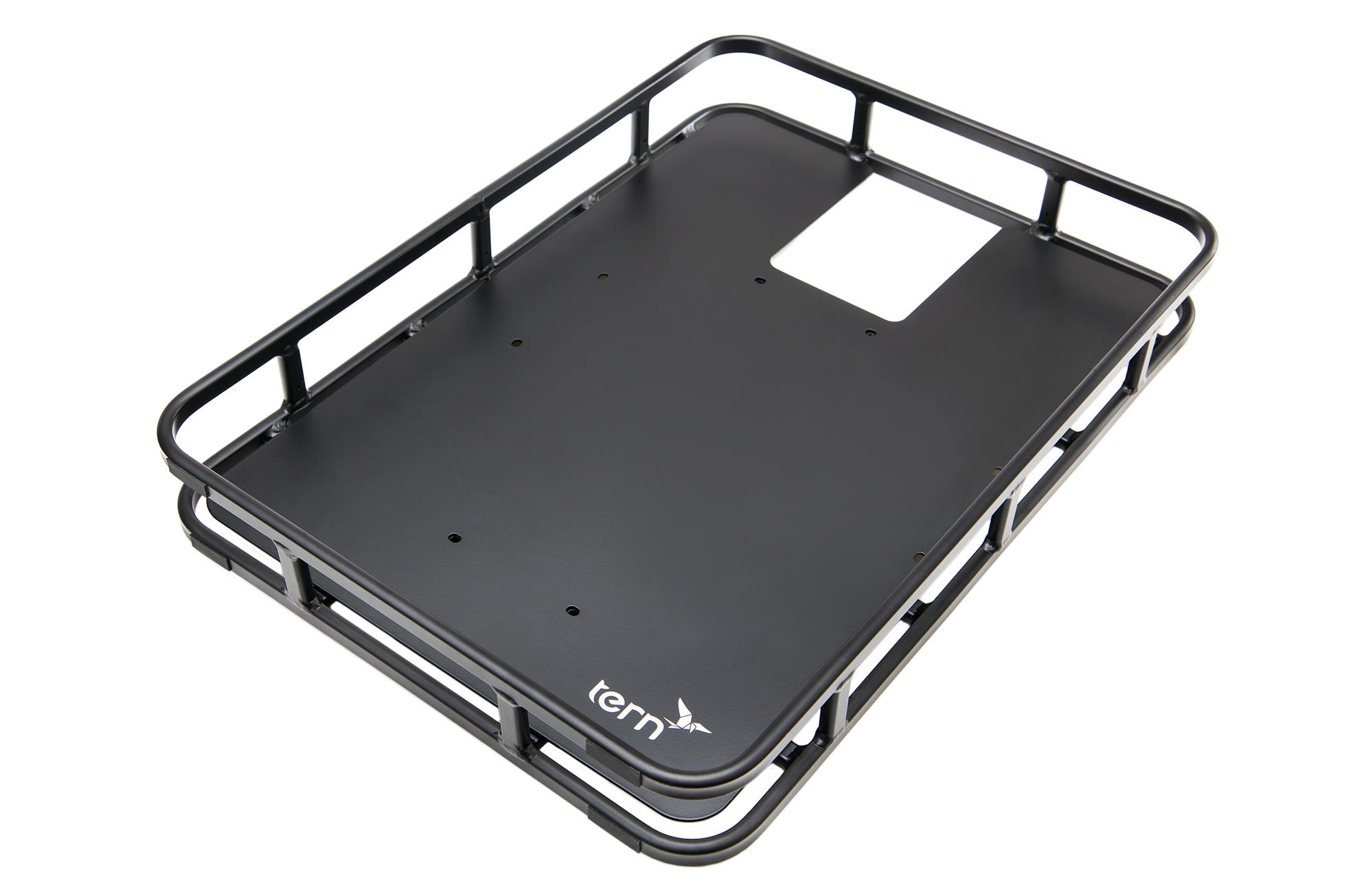 The Shortbed Tray is a heavy-duty rear rack that can be mounted parallel or perpendicular. Fits standard 600 x 400 mm Eurocrates and coolers.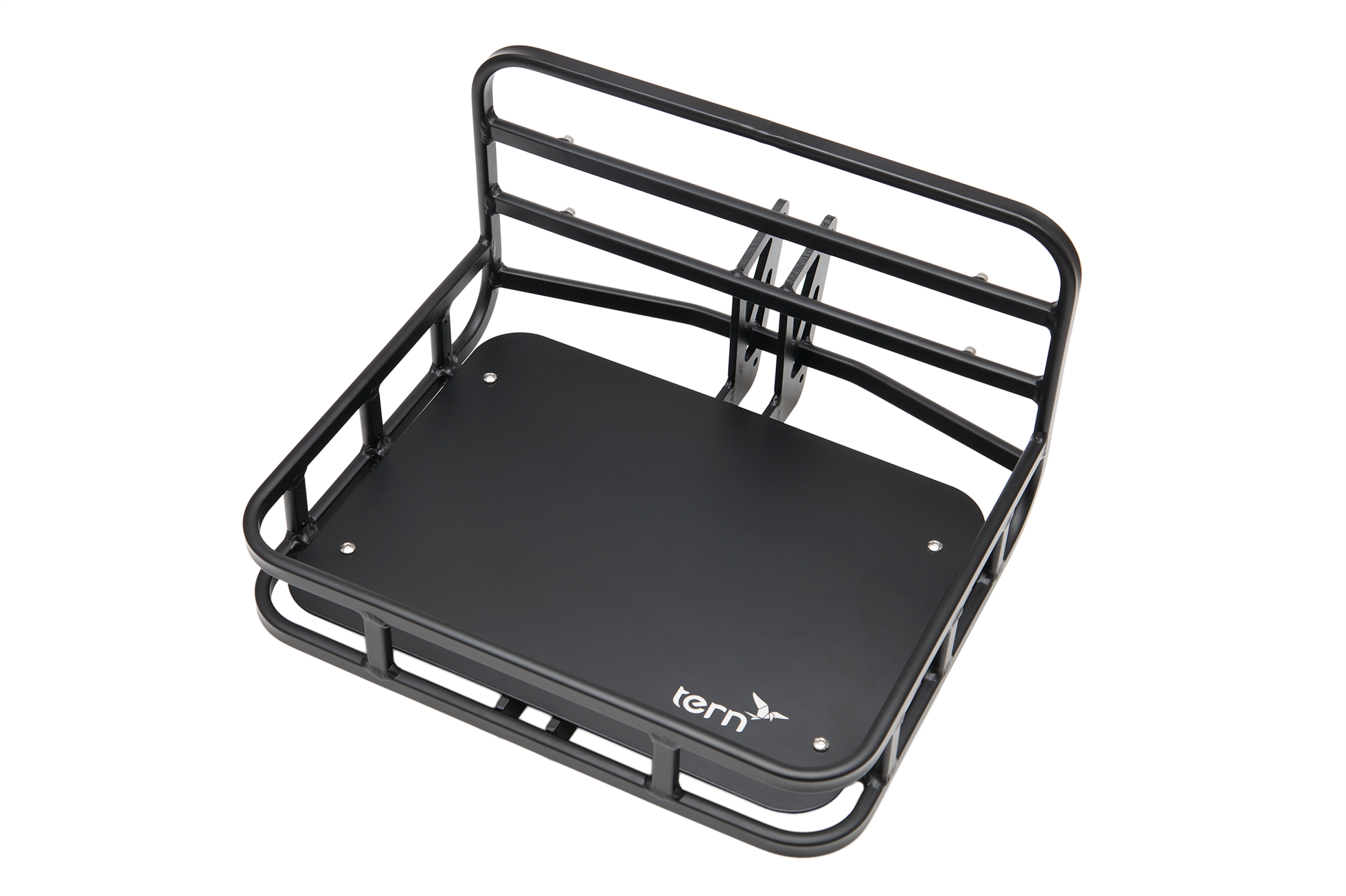 The Transporteur Rack is a modular front cargo carrier that fits a 300 x 400 mm Eurocrate, a standard crate of 20 beers, or a recycled wooden box.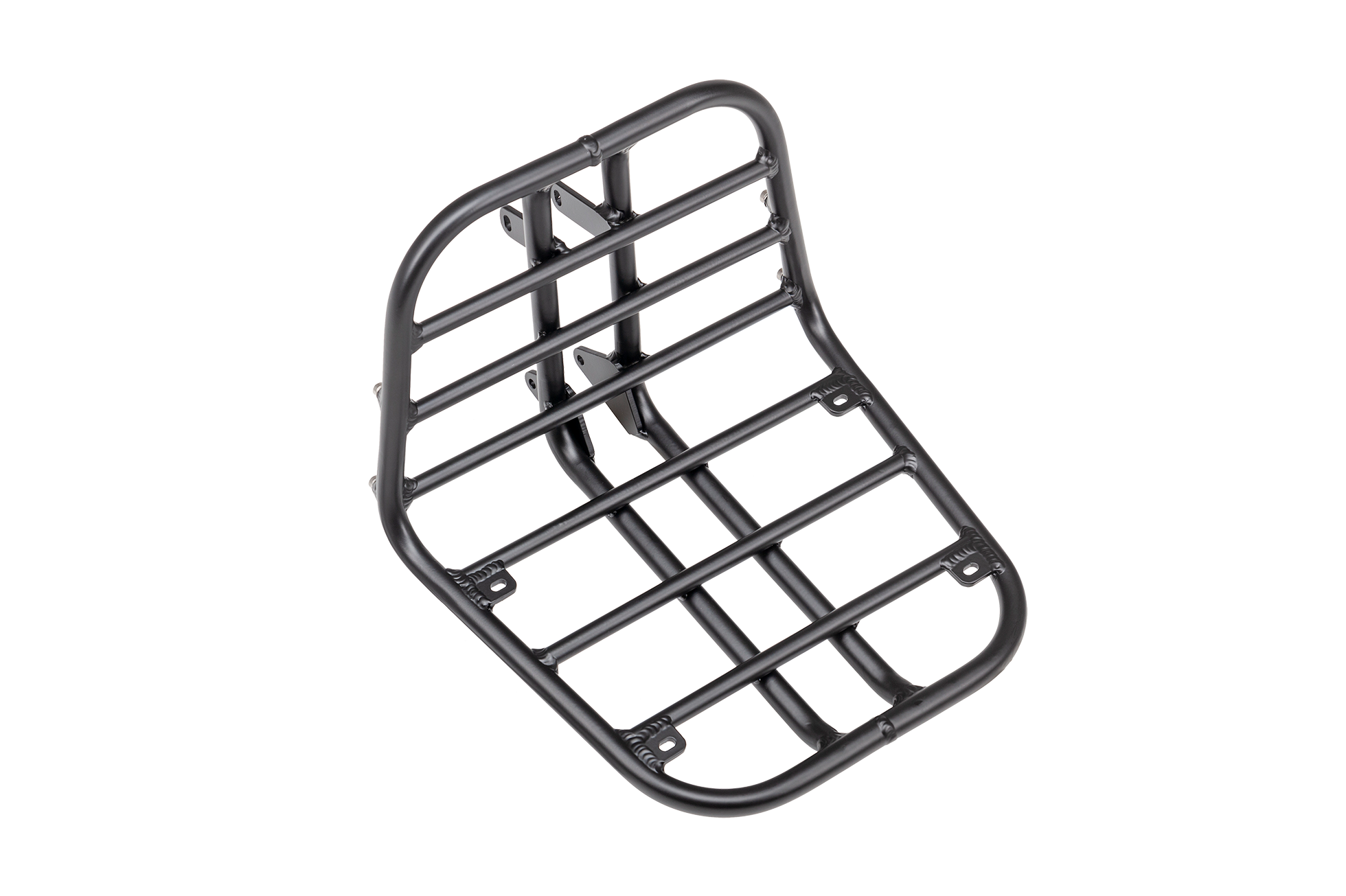 The Hauler Rack is an open-ended rack that is big enough to carry bulky cargo but small enough to let you maneuver the bike with ease.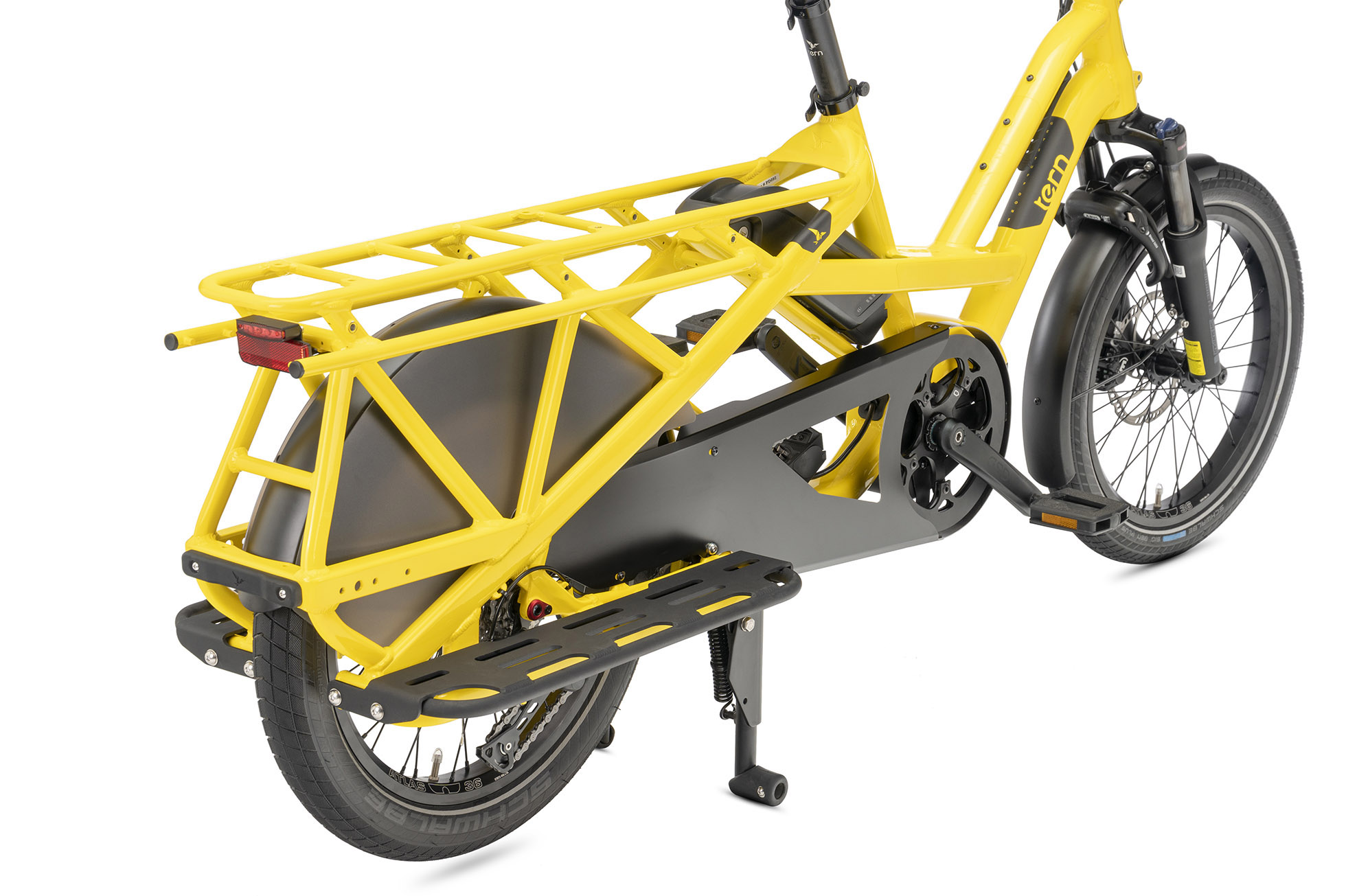 The Sidekick Wide Decks extend the GSD integrated decks out to 12cm, providing strong decks that can be used to carry bulky cargo low to the ground.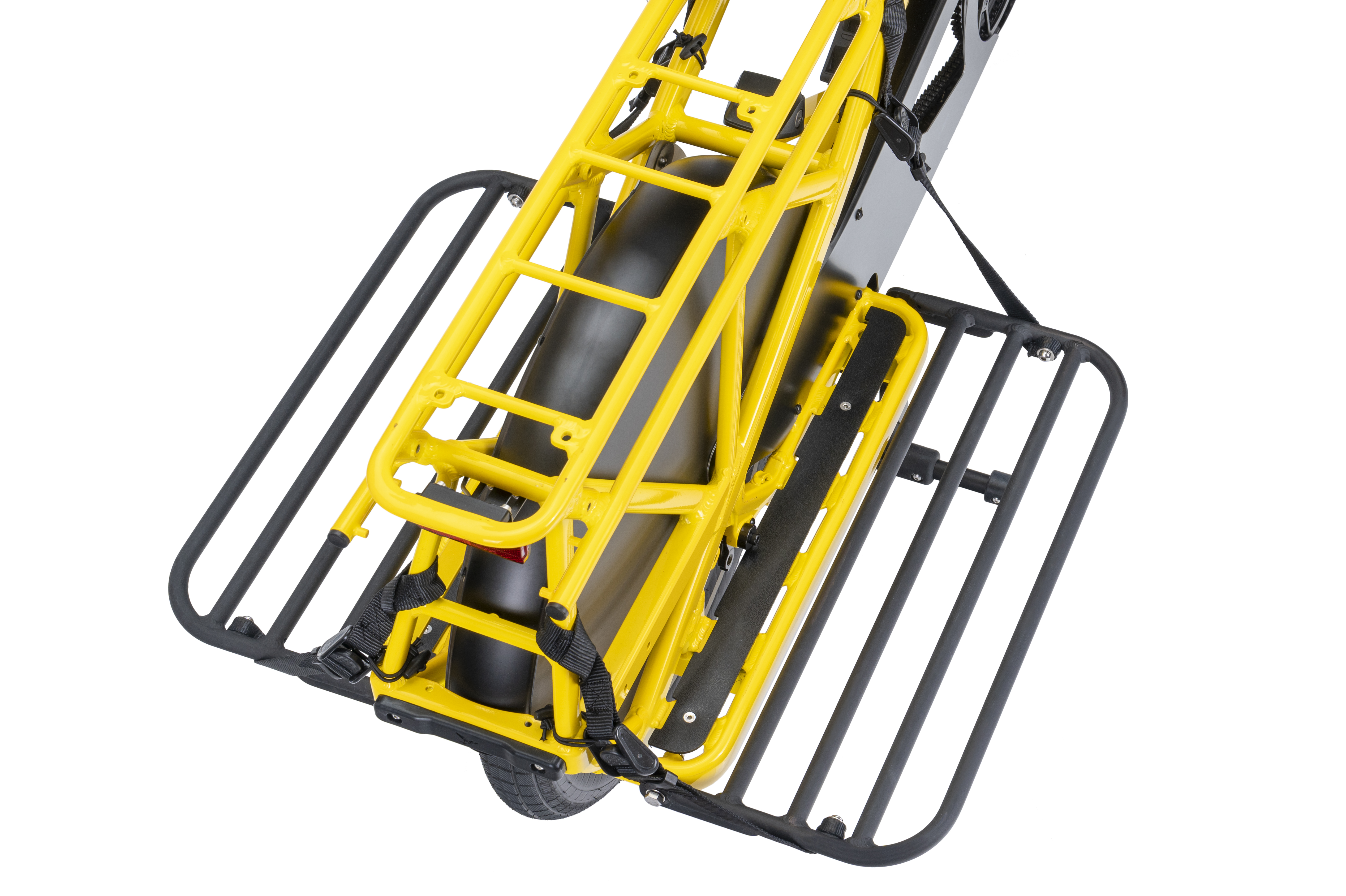 The Sidekick Doublewide Decks unfold to create an extra-wide, extra-strong platform for oversized loads. Each deck is 25 cm (10 in) wide with a 50 kg (110 lb) capacity.

50 kg

550.5 × 240 × 32 mm
---
Riding with Cargo
Riding a GSD loaded with heavy cargo feels a little different than riding a regular bicycle. It's a good idea to practice in a safe area before you go out on the road with your cargo.
The main thing you need to remember when riding with heavy cargo is that you'll need extra time and space to decelerate and come to a stop. Use caution when approaching intersections and other braking situations. You'll need to brake sooner and more gently than you may be used to.
Because the rear rack can handle substantially more weight than a front rack, it's a good idea to load your heaviest items onto the rear rack first. Then, use the front rack to carry lighter items.
A low center of gravity is key for safe and easy handling. Place heavier items on the bottom of racks, panniers, baskets, and boxes.
Make sure the cargo is balanced evenly on your bike. Avoid putting all of your heavy items on one side of the bike.
Ensure that items are firmly secured to the bike. Use Batten Straps to tie down loose items and prevent them from moving around or falling off the bike during transport.
Pay attention to the maximum capacity of any accessories you use with the bike.
Most riders can comfortably carry 80% of their weight. Determine if you are comfortable carrying that much weight.
---
Using a Trailer
Need to haul something that won't fit on the GSD? Your best option is to use a trailer.
The GSD features a dedicated trailer mount that is is compatible with Weber, Thule and Burley trailers. No need for an adapter.