2014 Link/OCL Limited Voluntary Recall
What's Going On?
Tern is conducting a limited voluntary recall of select batches of Link frames manufactured between August 2011 and April 2012. Our first priority is the safety of people who ride our bikes. We have, therefore, decided to replace the frames on these bikes.
The purpose of this page is to submit your bike information to confirm if your bike is affected or not.
Models in this Recall
The recall is for select batches of bikes produced between August 2011 and April 2012. Models include:
Link D7i
Link D8
Link D24
Link P7i Coaster Brake
Link P7i V-Brake
Link P9
Link P24h
Link Uno
We've created a FAQ page to help explain what's going on.
STEP 1: Check your Frame Number
If you own one of the above models, the first step is to check your bike's Frame Number.
Your Frame Number is a unique 10-digit alphanumeric number (e.g. AI11334567) stamped underneath the bottom bracket.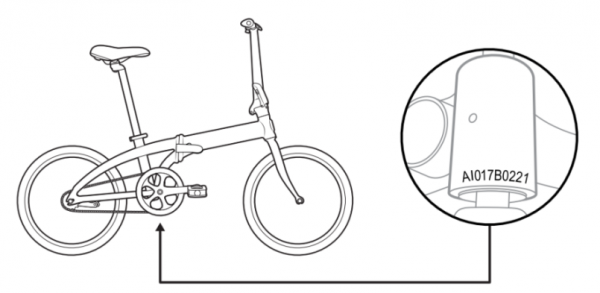 If your Frame Number begins with "AI", your bike MAY be part of the recall and you should follow the steps below.
If your Frame Number does NOT begin with "AI", then your bike is NOT part of this recall.
STEP 2: What to Do
If your Frame Number starts with "AI", please STOP riding your bicycle and contact us. Please include photos of your Service Tag Number and Frame Number.  We will pass your information to your local distributor who will contact you with more information on whether or not your bicycle is affected.