How to Spec and Build a Safe Electric Bike
Starting from the design stage, we have your safety in mind. We want our e-bikes to feature a low center of gravity, making for easier handling and providing a super stable ride, no matter what the haul. We also design step-thru frames to make it a breeze to get on and off the bike, while also making it easier for you to hold the bike steady when that little bundle of energy scrambles onto the back. And you can always spot Tern e-cargo bike riders because they're not hunched over. They're sitting pretty-much upright, seeing and being seen.
And because we want people to use our e-bikes to go grocery shopping and do school drop off, we have to decide how much weight the bike can carry. This load limit is called the Max Gross Vehicle Weight (MGVW) and includes the combined weight of the bike, riders, cargo and accessories. 
Testing Load Limits For Safety
For example, the MGVW of the GSD is 200 kg (440 lb). That load limit was designed into the bike from the very beginning, and heavily influenced the design process and component choices we made. And you can trust the MGVW because after we have designed, built and ruthlessly tested for that load limit, we send out the frame and fork to independent lab EFBE Pruftechnik to test and certify the bike.
Read more about how we test and certify our e-bike frames and forks.
But it's not just our frame and fork, other critical load-bearing components steering columns, stems, seatposts and racks are also tested and certified by independent labs for stated load limits.
Components Matter For Safety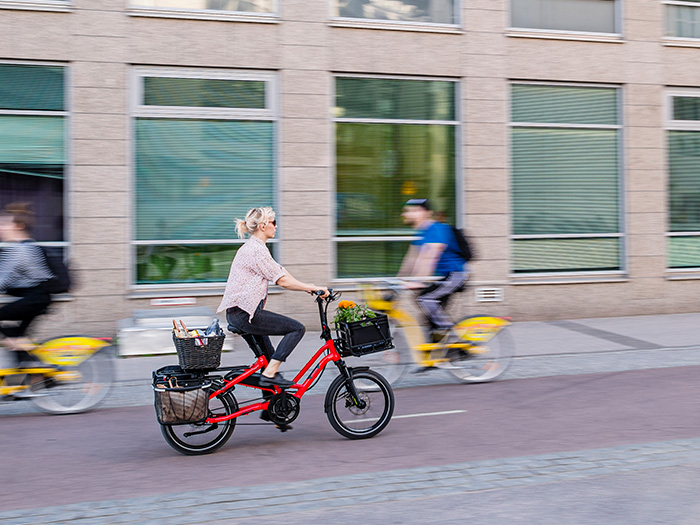 When designing an e-bike for a higher load limit, such as for an e-cargo bike, the components also need to be carefully chosen. It's not just the frame and fork that gets stressed out, the brakes, wheels, tires and other components need to withstand the extra stress. 
Nobody wants their wheel to blow out with a bike loaded down with cargo. 
Drive trains and chains will also wear down more quickly on an e-bike, so we use more-durable, higher-quality components in those areas to keep you steady on the road, for a longer period of time.
And since our e-bikes are designed for carrying heavy cargo and precious loads, we use the highest quality e-bike system and hydraulic disc brakes. 
The truth is, there are plenty of bike components that could work with an e-bike, but we believe it's worth having higher quality components to ensure a smooth stable ride when heavily weighted down, and to help you be able to stop on a dime, in rain or shine.
A Safer E-Bike With Bosch
Bosch e-bike systems are known for delivering a smooth, safe ride. The company makes mid-drive motors that preserve the natural bicycle feel. Three sensors measure pedal power, cadence, and speed at a rate of over 1,000 times per second, enabling organic interaction between you and your e-bike. Less advanced systems that rely on unsophisticated cadence or speed sensors can add power in a jerky, sudden way, which is dangerous when riding through traffic. And because power is controlled precisely using pedal pressure, you always feel confident and in control of your bike.
But while the benefits of Bosch Motors are well-known in the e-bike market, perhaps one of the greatest contributions Bosch makes to e-bike safety is through its battery charging and electrical system design. 
Battery Safety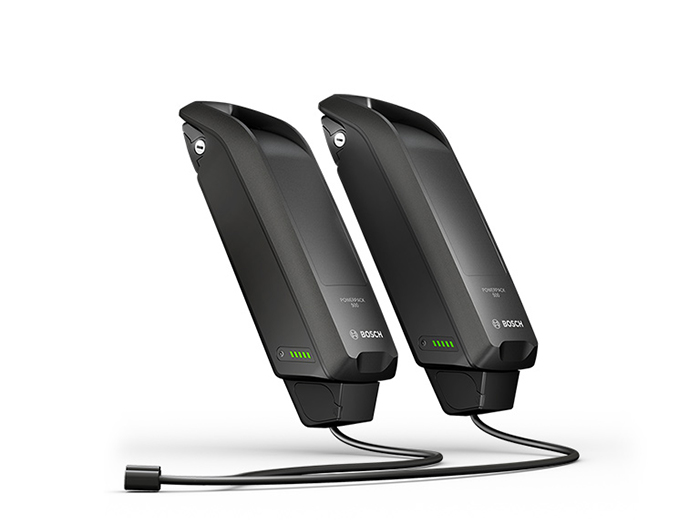 When properly designed, manufactured, and tested, e-bike batteries are safe. But cutting corners to reach lower price points carries serious risks. One of the biggest dangers posed by an unsafe e-bike is fire hazard. Batteries must be carefully designed and assembled, and then appropriately paired with quality motor systems, to ensure that their volatility is safely contained.
Although progress is being made, mandatory safety standards in some markets like the US are not very stringent. With the battery being the most expensive component on an e-bike (by far), it is no surprise that dangerous, low-quality e-bike batteries make their way into the market.
Importance of UL-2849 Certification
With governments not always setting a high standard, the e-bike industry needed to respond. In 2020, testing and certification company UL worked with dozens of experts and industry leaders to create the UL-2849 e-bike certification. UL-2849 not only tests the e-bike battery: certification indicates that an e-bike's battery, motor system, and charger have been carefully investigated for potential hazards, including fire, explosion, and electric shocks.
Bosch is one of the few e-bike motor system vendors that have ensured that all their batteries, motor systems, and chargers are UL-2849 compliant. Selecting a UL-certified battery and motor system should be a top priority for all e-bike buyers. Just ask the Consumer Products Safety Commission (CPSC).
Disc Brakes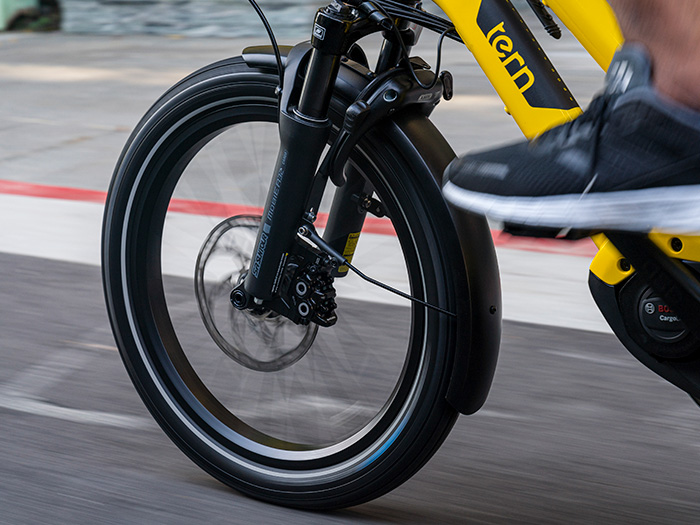 While having a safe e-bike system is of the utmost importance, an e-bike is still a bike. And when you're zooming down the street with cargo and toting a kid behind, one of the bike components you appreciate most is the brakes. 
All good e-bikes have disc brakes. But it is important to understand there are two kinds of disc brakes - mechanical and hydraulic. 
Hydraulic brakes offer a consistent, frictionless, braking experience allowing for better braking power even with the heaviest of loads. A prerequisite for optimum braking performance is the proper set-up of the braking system. For this, Tern strongly recommends working closely with your local Tern dealer. Once adjusted, hydraulic disc brakes are then easy to maintain and very reliable.
Electric bikes need hydraulic disc brakes. But not all hydraulic brakes are made equally. Bad hydraulic brakes are not better than good mechanical brakes. That's why Tern only works with industry leaders Magura, Shimano, and Tektro. For the Tern GSD, Tern only uses Magura brakes, with the brakes having 4 pistons instead of the usual 2.
Magura develops brakes for heavy motorcycles (including Harley-Davidson and BMW) and cross-applies that knowledge to design extra-strong e-bike braking systems.
Magura uses thicker rotors and more durable calipers to absorb the extra heat produced by e-bikes' larger braking forces (brakes lose power when they overheat). Then they test their e-bike disc brakes using motorcycle-standard dynamometers to make sure the brakes perform well under intense braking conditions. 
At Tern we believe our e-bikes are fun to ride, but not so much a toy. They are designed and built to be useful tools that can carry heavy cargo and/or a passenger. And the components we choose to use on our bikes need to help you get things done safely.