Towing a Trailer with the GSD Gen 2
This article refers to GSD Gen 2 bikes.
---
Contents
Heads up!
This article mentions third-party trailer hitches that are not manufactured by Tern. Please note that hitch designs might change, and that their manufacturers may choose to maintain the same product name even after the design has changed.
For your safety, always consult with your bike dealer, or with the bike trailer manufacturer or reseller, to make sure you have the right components to safely tow your trailer.
Adding a trailer to your GSD opens up a whole new world of possibilities. Whether you aim to turn your GSD into a pet taxi, use it to carry more than two kids, or maximize your cargo-hauling capacity—there are trailers that will do the job. And thanks to the GSD's dedicated trailer mount, attaching one to your GSD is simple and straightforward.
This article will introduce the GSD's trailer mount and explain the basics of how to use it with different types of trailer hitches.
Where is the trailer mount located?
The dedicated trailer mount is located on the rear of the GSD, above the Integrated Lower Decks. It includes a series of four holes that can be used to mount different types of trailers.
It looks like this: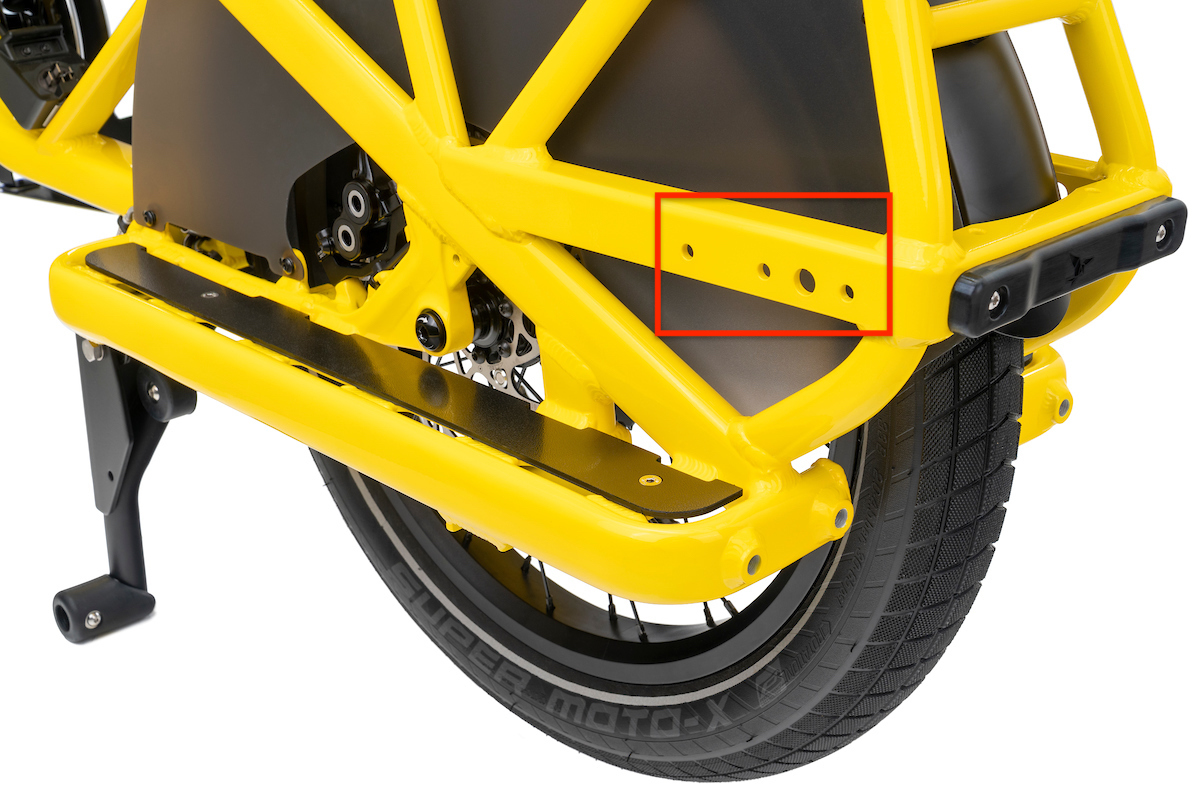 What trailer hitches are compatible with the trailer hitch mount?
We have tested and can recommend the following trailer hitches for the dedicated trailer mount on the GSD Gen 2:
You don't need an adapter for any of the brands mentioned above, but you may need additional nuts and bolts, depending on what comes in your trailer package.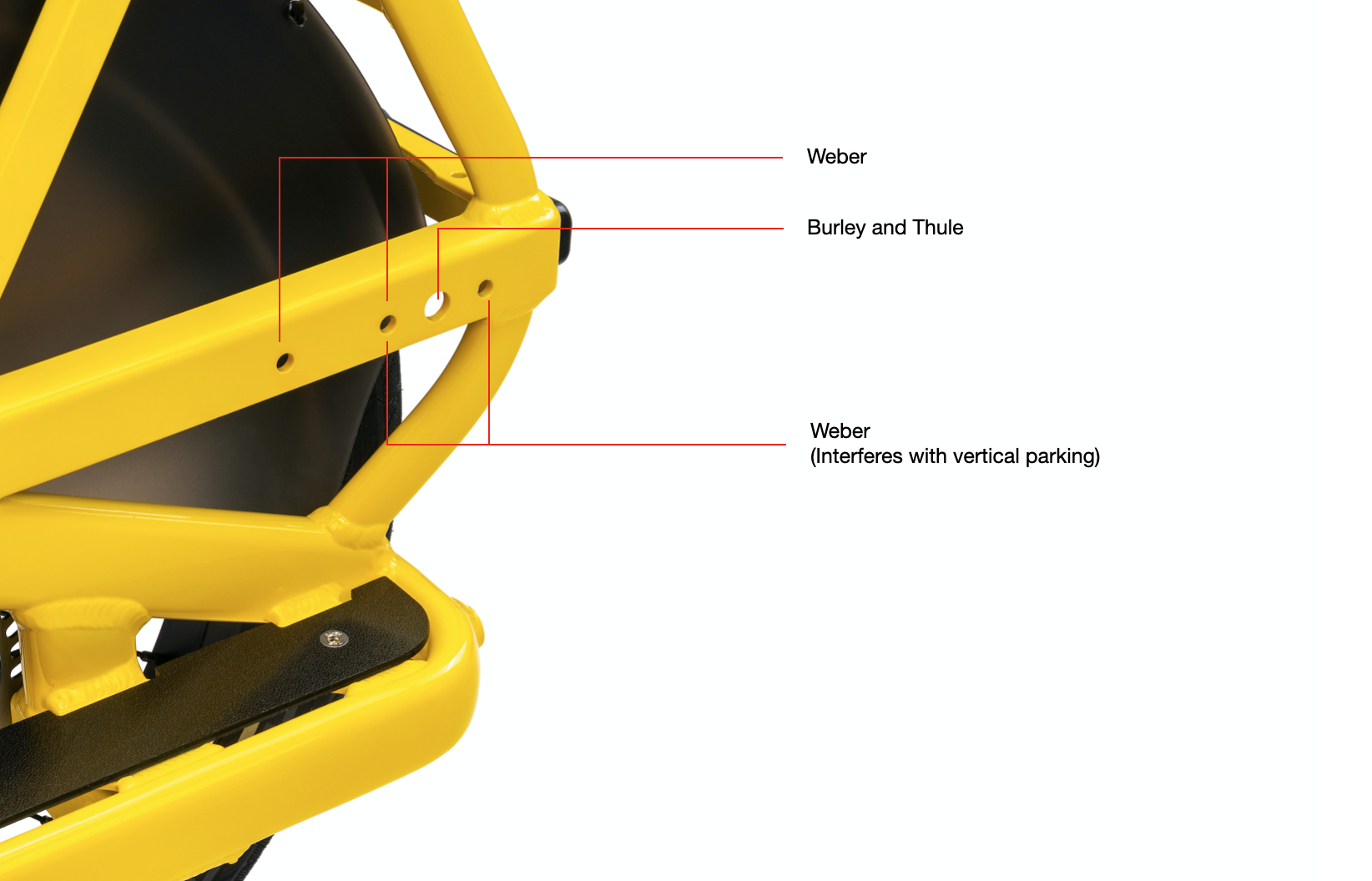 Can I use panniers and tow a trailer at the same time?
Yes, if you choose the right panniers.
The Cargo Hold 52 Panniers are NOT compatible with the trailer mount because they'll block the mounting holes. However, the narrower Cargo Hold 37 Panniers ARE compatible.
Can I still vertically park the GSD with a trailer hitch attached?
Yes, you can. Make sure to detach the trailer arm and trailer first.
There are two mounting locations for Weber trailers: a front mounting position and a rear mounting position (See image above). If you plan to park your GSD vertically, we recommend using the front mounting position, as there is very little ground clearance for the Weber hitch when using the rear position.
No matter what kind of trailer hitch you're using, use caution when parking vertically. Ensure that all four contact points on the rear of the GSD are resting on the ground.
Has the trailer mount been tested for strength and safety?
Yes! We partnered with EFBE, a worldwide leader in bicycle testing, to rigorously test the dedicated trailer mount.
The testing indicated that both the Weber and Thule/Burley mounting locations are safe and reliable for towing up to 60 kg (including the trailer weight plus any passengers or contents).
However, trailer safety also depends on other factors, so please keep in mind:
Always follow the trailer manufacturer's safety guidelines for proper installation and usage, and always consult with the bike trailer manufacturer or reseller to make sure your trailer setup is safe.
Always be extra careful when riding with a trailer, whether you are carrying passengers or cargo. Exceeding the trailer's weight limit or using it in ways it wasn't designed to be used may pose a serious risk, and should be avoided.
Note: This article on trailer towing, along with other guides and how-to articles on this site are intended to serve only as a helpful resource for Tern bicycle owners. They are for informational and educational purposes only and should be used at your own risk. Consult with your authorized Tern dealer for professional advice and assistance specific to your bicycle.