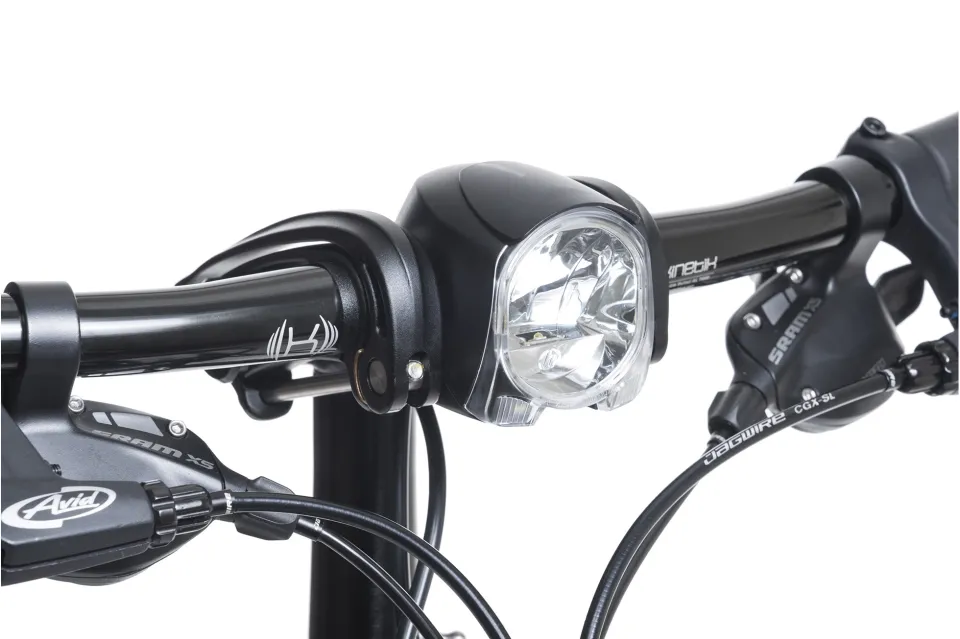 Floodlights for your ride
The Valo is a powerful light designed to help you navigate safely at night. The unique design integrates directly into the handlebars of an Andros or VRO-equipped Tern bicycle so it's protected from theft and damage. And because it's hub-dynamo powered, you never need to worry about batteries or charging again. Flick a switch and you have instant light.
Herrmann's Expertise
We designed the Valo with Herrmans, the Finnish lighting experts who have a side business making lights for massive earth tunneling machines. No surprise then that the Valo is ready for all weather conditions: it's made from cold-resistant ABS with built in water management channels.
Extra Bright
The Valo puts out 41 lux of light, 4x brighter than the European requirement for bicycle lighting. That means you get a bright, wide beam of light that makes cycling at night safe and reassuring.
Clarity Optics
The Valo has a carefully shaped mirror that optimizes the beam pattern for cycling. It is wide, so you can see potential obstacles or hazards on the side of the road. It is even, without hotspots, so your night vision is not compromised. And it is clipped at the top of the beam pattern so you don't blind oncoming cyclists or motorists.
Side Lighting
The Valo has light channels on each side so that you are visible to cars approaching from the sides. For additional safety, the Valo has two additional LED's on each side, which light up when you're stopped at a traffic light.
Visor
The Valo protects your sensitive night vision with a small visor that blocks light from the Valo from reflecting back into your eyes.
Patented CryoCore Design
LED lights need to run cool to work optimally. If they run too hot over a period of time, they gradually lose brightness. Most LED lights have a tiny button sized heat sink that is used to dissipate heat. Our patented design connects the Valo to the handlebar so the entire bar is used as a massive heat sink.