Verge S8i 是世界上最多功能而低維護度的摺疊單車﹔配置 Shimano Alfine 內變8速後花鼓 及皮帶車鏈,沒有突出的波腳,亦無須使用雪油,都已是最寧靜的超級通勤者,亦可適用於任何斜坡。S8i 具有超長的車輪軸距及Schwalbe Big Apple 輪呔,可自信地通過任何坑洼。讓你更快捷,乾淨,重要是有風格地抵達目的地
新顏色同新款色 Shimano Alfine 8速內部齒輪轂,低維護的騎行
革命性的Gates Carbon Drive驅動系統,讓你享受安靜,輕便,潔淨的單車
Shimano Daore液壓盤式製動器可以提供強大的製動器
無需工具Andros車把槓可以在轉移過程中調整騎行姿勢
由BioLogic Joule™3發電器提供明亮的寬光束
Schwalbe BIg Apple輪胎具有Kevlar防刺穿功能。
折疊只需十秒,甚至可以放在桌子下
可以配上泥擋 貨運貨架,可運輸的重量最大為25公斤(55磅)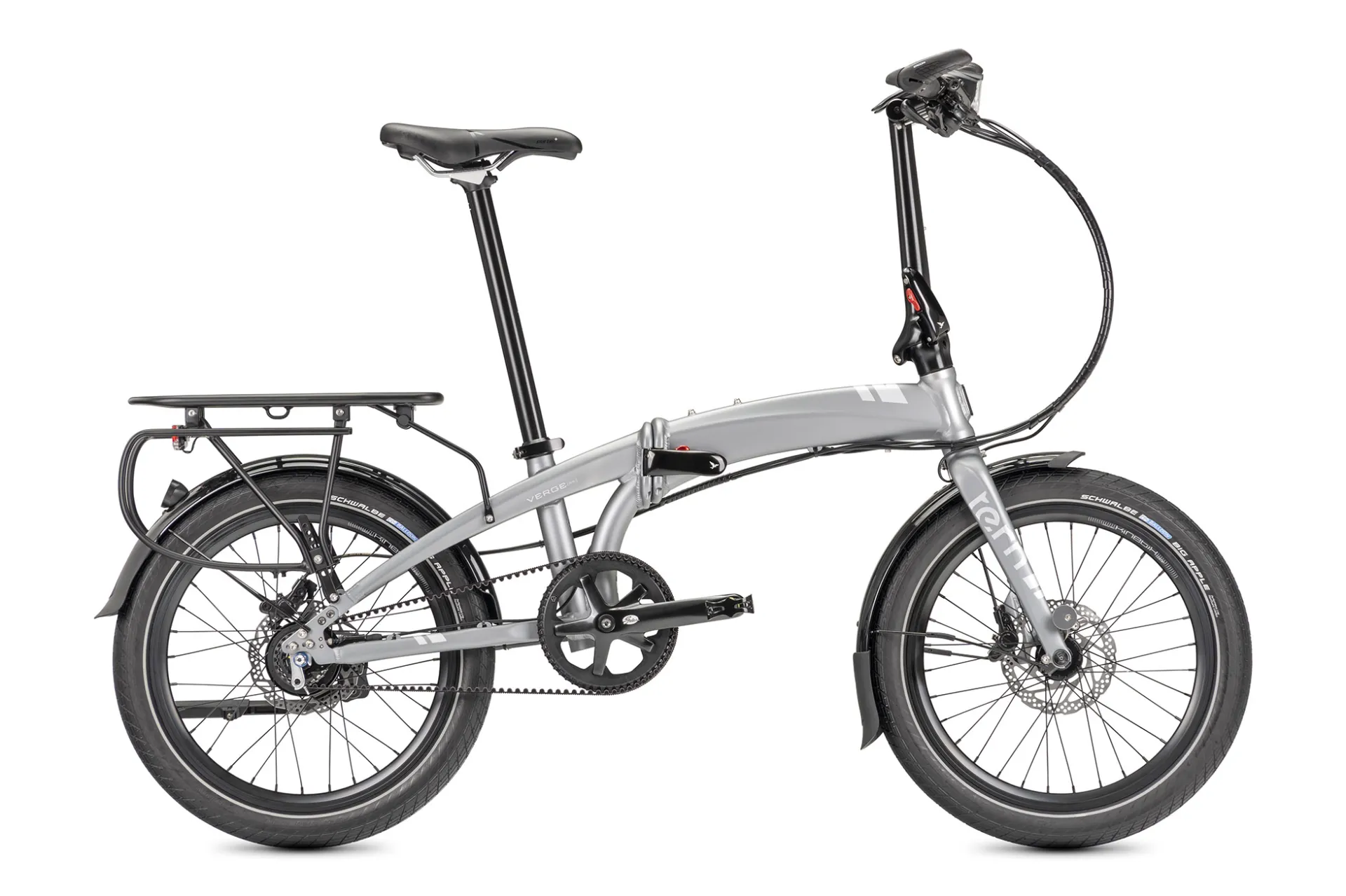 General Info
Gear Inches:
27" - 83" (2.15 - 6.60 m)
Folding Size:
42 × 81 × 73 cm (16.5 × 31.9 × 28.7 in)
Distance: Seatpost to Handlebar:
57 - 64 cm (22.4 - 25.2 in)
Distance: Saddle to Pedal:
71 - 96 cm (28 - 37.8 in)
Suggested Rider Height:
142 - 190 cm (55.9 - 74.8 in)
Max Gross Vehicle Weight:
Frame
Frame:
Tern Verge, hydroformed aluminum w/ smooth TIG welding, OCL+ joint, 3 patented technologies
Fork:
Tarsus, 6061-AL, hydroformed
Cockpit
Handlepost:
Tern Physis 3D (G2), 3D forged, 5 patented technologies, 12°, 350 mm
Stem:
Tern Andros, adjustable, forged construction, patented technology
Headset:
Flux Pro, angular contact bearings, Physis integrated
Handlebar:
Kinetix Comp, double-butted 6061-Al
Grips/Bar Tape:
Phorm, w/ bar end
Saddle:
Tern Porter+, patented GripPad design, PrimeGel padding
Seatpost:
Stasis by Syntace, 7050-Al, hard-anodized
Seatpost Clamp:
Syntace OverLock
Brakes
Front Brake:
Shimano, hydraulic disc
Rear Brake:
Shimano, hydraulic disc
Brake Levers:
Shimano, hydraulic disc
Brake Cable & Housing:
Shimano, hydraulic
Wheels
Front Hub:
BioLogic Joule 3 dynamo, disc
Rear Hub:
Shimano Alfine, 8 spd
Spokes and Nipples:
Stainless, double-butted
Rims:
Kinetix Comp, doublewall
Tires:
Schwalbe Big Apple 55-406, puncture protection, Reflex
Transmission
Shifter(s):
Shimano Alfine, 1 x 8 spd
Crankset:
Gates Carbon Drive
Cassette/Freewheel:
Gates CDX, precision CNC machined cog
Bottom Bracket:
Cartridge, sealed bearings
Chain:
Gates Carbon Drive belt
Pedals:
MKS UB-LITE EZY, QR
Shifter Cable & Housing:
Shimano
Bells & Whistles
Kickstand:
Rear mount, Pletscher design
Clip System:
Magnetix 2.0
Front Light:
Tern Valo 2, integrated, 41 lux/150 lumens
Rear Light:
Spanninga Pixeo XDS
Fenders:
SplashGuard, stainless hardware
Rack(s):
Tern Cargo Rack; Max load weight: 25 kg (55 lb)
*Note: These are our standard model specifications. The bike's weight and folded dimension may not include racks and fenders. The specifications for your country may differ slightly. We do our best to ensure that the specifications listed here accurately reflect the exact parts found on our production bikes. However, component changes do occur for various reasons and there may be brief delays on site updates. We reserve the right to make component changes without prior notification, which may cause discrepancies with the information listed on the web.