Towing a Trailer with the Quick Haul
Contents
Heads up!
This article mentions third-party trailer hitches that are not manufactured by Tern. Please note that hitch designs might change, and that their manufacturers may choose to maintain the same product name even after the design has changed.
For your safety, always consult with your bike dealer, or with the bike trailer manufacturer or reseller, to make sure you have the right components to safely tow your trailer.
With a max gross vehicle weight of 150 kg (330 lb), the Quick Haul is capable of carrying a considerable load—including a passenger on the rear rack. But if you're looking for ways to boost your carry capacity and haul a second kid or even more cargo, you'll probably need a trailer.
The good news is that the Quick Haul is very much capable of towing a trailer; the not-so-great news is we can't recommend specific trailer brands or models without extensive testing—after all, we do want to make sure what we recommend is safe for you and your passenger(s).
In this article, you'll find very basic information to get you in the right direction before you decide on a particular trailer.
1. What Are My Options?
Here are two options for towing a trailer with the Quick Haul:
Using the Weber EH Hitch
Using a quick-release skewer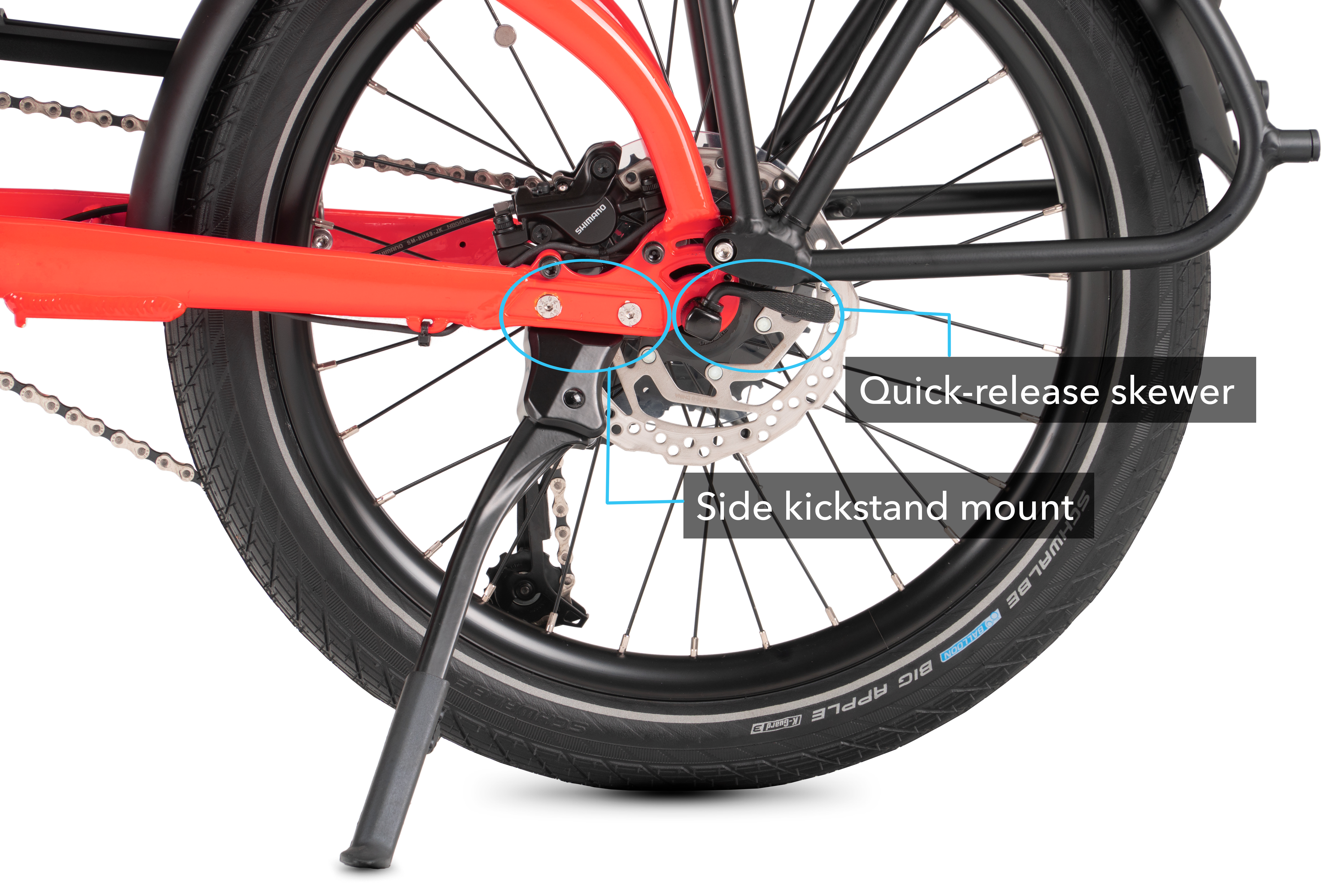 Weber-compatible trailers are more common in Europe. If you're in the U.S., chances are your trailer won't have a Weber hitch. In that case, look for trailers that attach to the bike's rear wheel using a quick-release skewer.
1.1 Weber
The Weber EH Hitch (SKU: KU.02.000.12) attaches to the Quick Haul's side kickstand mount. It looks like this: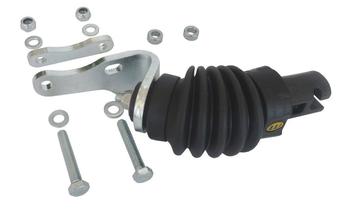 Important: If you choose this method, you'll need to remove the existing side kickstand. But fret not—you can replace it with the DuoStand, which offers even more stability when carrying passengers or heavier cargo.
1.2. Quick-Release Skewer
Some trailer hitches can be attached to the rear wheel of a bike using a standard quick-release skewer. Depending on the trailer model, you may need to buy a new skewer and any required adapters separately.

Important: You may need to replace your Quick Haul's stock skewer with a longer skewer depending on the trailer hitch. Please work with your bike shop to determine if it's necessary, and how long the new skewer should be.
2. Always Pay Attention to Safety Guidelines
No matter what trailer or hitch system you choose, it's always best to test it yourself before using it to carry children, pets, or cargo. Pay particular attention to the trailer's arm angle; make sure it won't hit the Quick Haul when maneuvering the bike.
In addition, always stay within your bike's max gross vehicle weight. The Quick Haul has a MGVW of 150 kg (110 lb), and that means your whole setup—including bike, trailer, accessories, cargo, passenger(s), and rider—should not exceed that limit. The only exception is if your trailer has its own braking system.
One important reminder: To safely carry your loved ones, finding a compatible trailer is only the first step. Always follow the safety guidelines of the trailer manufacturer. Exceeding the trailer's weight limit or using it in ways it wasn't designed to be used may pose a serious risk, and should be avoided.
--
Note: This article on trailer towing, along with other guides and how-to articles on this site are intended to serve only as a helpful resource for Tern bicycle owners. They are for informational and educational purposes only and should be used at your own risk. Consult with your authorized Tern dealer for professional advice and assistance specific to your bicycle.