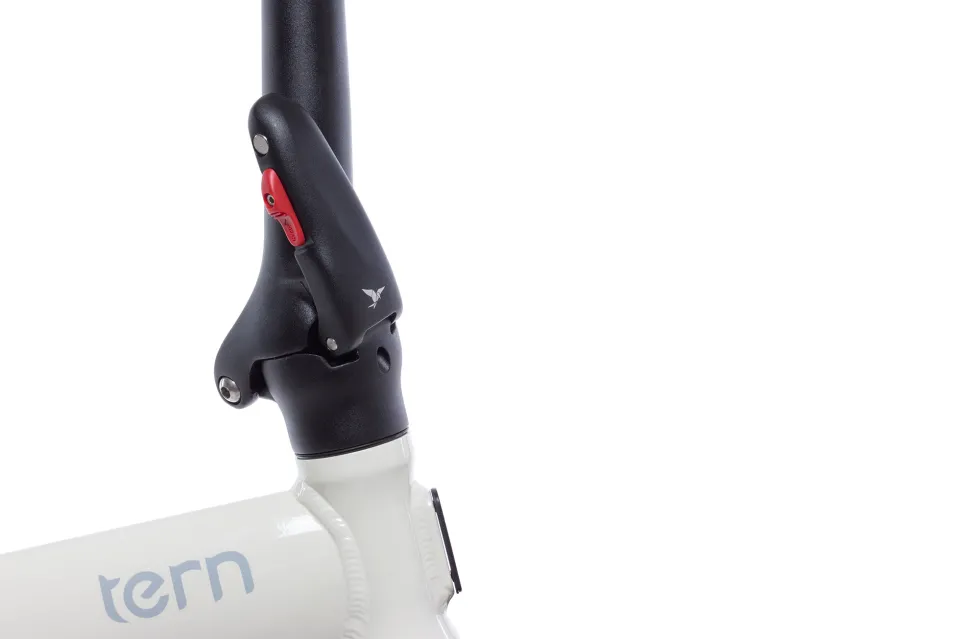 Five patented technologies and unique manufacturing technology add up to the strongest, stiffest folding handlepost available. The Physis uses a special manufacturing process called 3D forging, which forms the post from a single piece of aluminum, eliminating all welds.
No Flex
To eliminate flex, the Physis uses a massive joint knuckle and a post that gradually tapers from thick at the base to thin. Moreover, it has 150% more clamping height between the fork steerer and the handlepost than common designs.
Flux Technology
The base of the Physis is machined so it functions as the upper race of the headset. This patented direct integration contributes to the incredible stiffness of the design.
Interlocking Halves
Joint surfaces lock together to improve torsional stiffness. We've fine-tuned the shape to virtually eliminate squeaks.
Redundant Double Bolts
Two bolts clamp the Physis to the fork steerer for improved safety.
igus® Bearings
The patented design puts sliding bearings between the moving parts so the folding action is always smooth and friction-free.
Large, Smooth Lever
Large rounded surfaces are easy on your hands and provide good leverage for easy operation.
AutoLok Technology
Close the lever and it automatically locks in place, for extra, easy security—using an aluminum pin.
Floating Point Technology
Patented technology allows the lever to fold flat and brace against the joint for protection in transit.
SpringLock Technology
Patented SpringLock technology holds the adjustment rod firmly in place so the locking lever is always properly tensioned and can never vibrate loose.
Serviceable
Good things are built to last and that's why the Physis is designed to be fully dealer serviceable. We keep every part in stock and replacing the bearings can be done in minutes.
TriSeal Design
Three rubber seals keep weather out and the headset bearings functioning smoothly.
Precision-Machined
A machining tolerance of only 50 microns ensures a tight fit and eliminates looseness and rattling.
Stainless Steel Bolts
Cold-worked stainless hardware delivers the durability and reliability needed for daily riding.