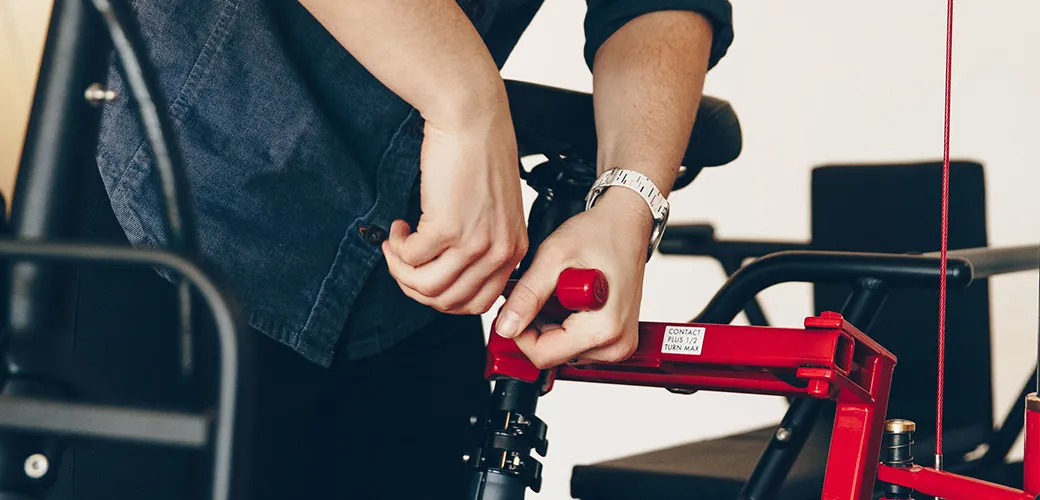 The Real Value of Buying Your E-Bike From a Local Bike Shop
Buying an e-bike is a massive step toward a healthier, more environmentally friendly lifestyle. It's also a major purchase that everyone wants to get right. Most folks spend a ton of time and energy figuring out which e-bike to buy with their hard-earned money.
These days, much of this process takes place online, where potential e-bike buyers debate the merits of the bikes they're considering. It's awesome to see e-bike enthusiasts sharing their experiences and helping one another compare the features, quality, and design choices of different bikes. That's exactly the kind of community spirit that cycling is built upon!
But while nitty-gritty comparisons of bike specs do deserve plenty of airtime, sometimes the less tangible aspects of e-bike ownership get left out of the conversation. For example, how easy will it be to service and maintain that new e-bike? What kind of support will you have access to when questions arise?
These experiential aspects of e-bike ownership may not be as obvious as, say, the comparison between hub drive vs. mid-drive motors—but they can absolutely make or break your e-bike purchase in the long run. They're also the main reason we choose to work with local dealers (and always will).
In this article, we hope to enhance the conversation around choosing an e-bike. We'll explain why buying through your local bike shop adds much more value than you might realize.
Choose the Right Bike (and Feel Confident in Your Purchase)
Local bike shops are staffed by people who are passionate about cycling. In most cases, they're after more than just a sale—they're motivated to create a "perfect match" between you and your new bike. They want to see more people on bikes (just like us!). Helping you choose the right e-bike promotes that goal.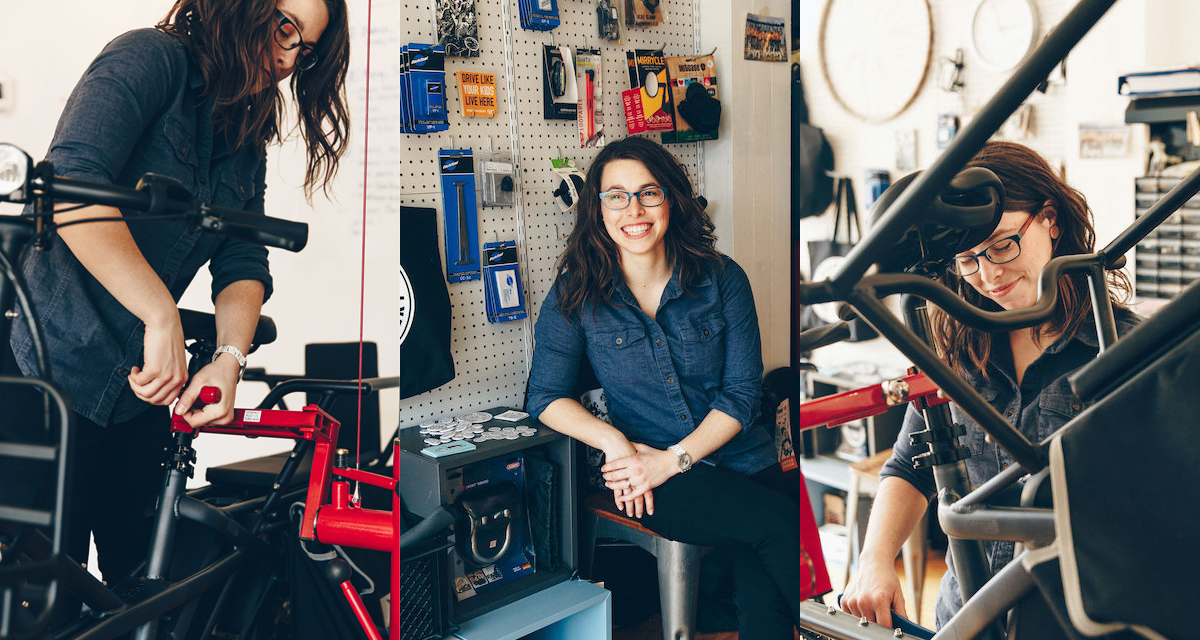 Elsbeth, owner of Four Star Family Cyclery (Photo credits: Stephanie Bassos)
Buying through a local dealer gives you the opportunity to ask questions and get advice before purchasing. No matter how much research you've done on your own, there may be factors you haven't considered that a bike shop professional would recognize. After all, these folks have extensive experience with many different kinds of bikes and are experts at helping you identify the features that will be most valuable to you.
After helping you narrow down the field, your local bike shop can set you up with test rides for the bikes that make your shortlist. If you really want to understand whether an e-bike is a good fit, nothing beats taking it out for a ride. It's the only good way to assess whether a bike's center of gravity, riding position, handling, and balance under load work for you. Some dealers even accompany prospective buyers on test rides to introduce bike features and make sure the buyers get a good feel for the bikes.
Avail yourself of your local bike shop's in-depth expertise and let them help guide you through the e-bike purchase process. And when you do pull the trigger, you can trust that your bike is built, assembled, and tuned by a certified professional, who will also run through a thorough pre-delivery safety checklist to ensure that you start your e-bike journey off on the right foot.
Have a Local Point of Contact for Service and Support
E-bikes are complex machines with many working parts—similar in many ways to cars. And just like cars, they need regular maintenance and occasional repairs.
So, would you buy a car off the internet? Would your plan for when your car breaks down be to pop the hood, diagnose the problem, order a new drive belt or brake rotor, and install it yourself using a manual or YouTube video for guidance?
Unless you happen to be a car mechanic, such a scenario would be a recipe for frustration. And the same is true of e-bikes. Although a high-quality e-bike shouldn't need repairs too often, things do happen. And when they do, you want to take your bike to your local bike shop—not attempt to diagnose and fix problems yourself or work through a series of e-mails or phone calls with someone who may be located on the other side of the country. Servicing a malfunctioning e-bike is a complicated job that demands a trained mechanic with the proper diagnostic equipment and tools.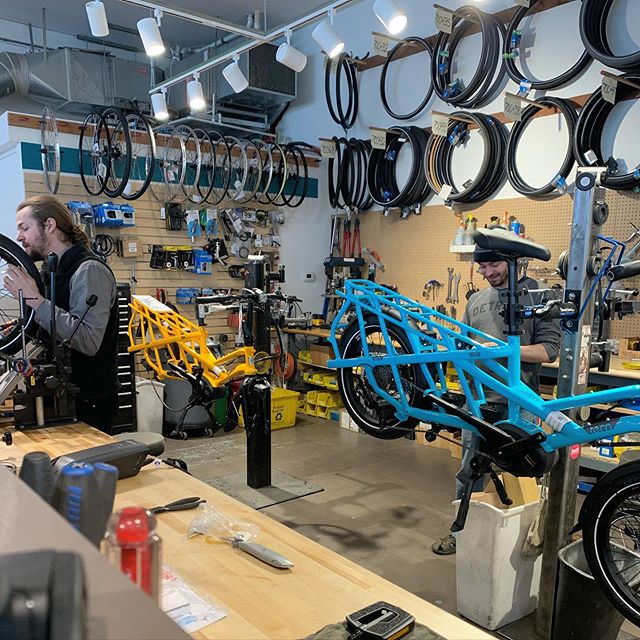 Aaron (left) and Mark (right), Clever Cycles (Photo credits: @clevercycles | Instagram)
Your local bike shop has at least one qualified bike mechanic who's seen it all. If you buy through them, you'll always have easy access to someone who can fix your e-bike and make sure it's roadworthy before you take it out on the streets again.
However, your local bike shop's mechanic may not have the training, resources, access to parts, or willingness to make repairs on bikes sold over the internet.
Easily Establish and Follow a Regular Maintenance Schedule
Once you've invested in an e-bike, you'll want to protect your investment by doing regular maintenance. Following a regular maintenance schedule will prolong your e-bike's life and ensure that you're riding safely.
Of course, some simple maintenance tasks can be done at home. But you'll also need periodic professional tune-ups and adjustments. During these professional maintenance sessions, the mechanic will assess your bike's condition and alert you to any current or upcoming issues that need attention. In some cases, they'll also check for and install software upgrades that can enhance your e-bike's performance. Establishing and following a regular maintenance schedule is the best way to head off problems before they start.
Buying from your local bike shop makes this a breeze. They can provide you with a suggested schedule for professional maintenance based on your riding habits. Then all you have to do is make a note in your calendar and wheel your bike into the shop when it's time.
Get Help Making Your Bike Fit Your Lifestyle
Once you've owned your e-bike for a while, you may find yourself wanting to make upgrades or add accessories to make your bike fit your lifestyle better. If you've purchased through your local bike shop, the experts there will be more than happy to help you figure out what products will suit you best and provide the most bang for your buck.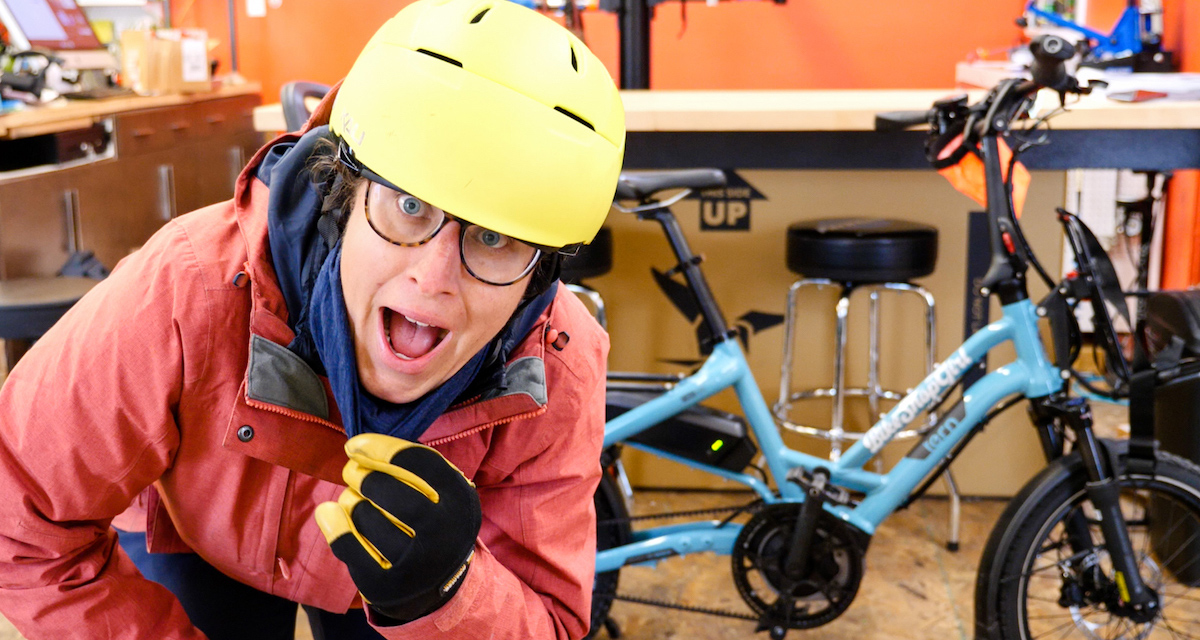 Arleigh, owner of Bike Shop Girl Family Cyclery (Photo credits: @bikeshopgirlcom | Instagram)
Again, these folks are enthusiasts who've personally tested countless products—panniers, child seats, trailers, you name it. They've also worked with thousands of customers from all walks of life to create highly usable bike setups. Buying from them gives you ongoing access to valuable information and advice that can make your life with your new e-bike much more enjoyable.
Make Easier Warranty Claims
Most quality e-bikes come with some sort of warranty provided by the manufacturer. This warranty gives you peace of mind in case of component failure and helps keep you riding smoothly.
Nobody wants to have to make a warranty claim. Still, should you need to make one, you'll definitely want the process to be as straightforward as possible. When you buy from a local dealer, they'll make the process sting less by handling the warranty claim details.
The staff at your local bike shop will help determine whether the issue you're experiencing is covered by warranty. If so, they'll work to get your bike fixed as quickly as possible. They may already have the necessary replacement parts in stock. If not, they can use their connections to the manufacturer to get them for you as quickly as possible. Your local bike dealer is sort of like your advocate when it comes to making warranty claims.
But if you buy a bike over the internet, you may find yourself fighting to have your warranty claims recognized. When replacement parts do arrive, you could end up struggling to install them yourself.
Support a Local Essential Business
Now that we've experienced a shut-down due to a pandemic, we all have a better sense of how fragile our communities and local economies are. Your local bike shop is a fixture in your community that helps people maintain vital access to transportation no matter what's going on in the world. They're one of the essential businesses that hold your community together, and it's more important than ever to support them—so they'll always be there when they're needed.