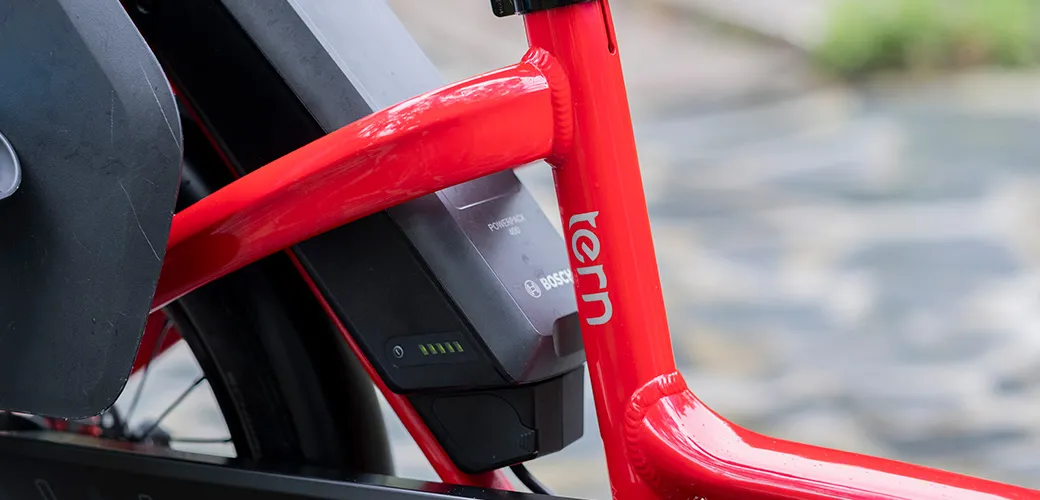 What You Need to Know About E-bike Battery Safety
At Tern, we make customer safety a top priority and only use e-bike battery systems with the most advanced technology and rigorous testing.
In a worsening climate crisis, more people are turning to sustainable modes of transportation like electric bikes and electric cargo bikes. It's easy to see why, considering the advantages of e-bikes — which range from saving money to dodging rush hour. That said, current and potential riders need to understand that not all e-bikes are manufactured to the same standards. 
Low-quality, untested, and uncertified e-bikes have recently been the headline of several negative news stories reporting on battery hazards, fires, recalls, and even lawsuits.
Tern believes riders shouldn't have to worry about their e-bikes bursting in flames while they're riding. That's why our Product Development team takes extra precautions, like only using high-quality batteries manufactured with advanced technology, and testing all of our systems rigorously. At Tern, we prioritize customer safety to make sure your e-bike experience is fun and worry-free.
E-bike batteries need to be safe and reliable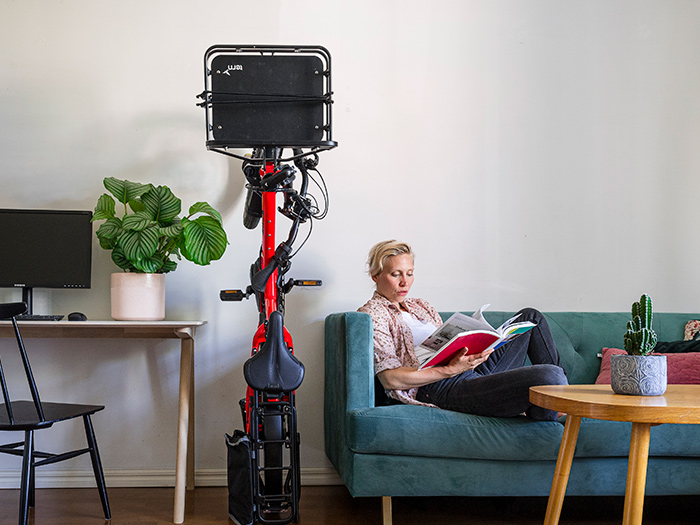 If you're one of the many people who have opted to replace their car with an electric bike, then you probably know how much time you and those close to you spend around your e-bike. Maybe you use it for daily errands, or to carry your kids or pets. You might store and recharge the battery in your house or garage. 
Considering this close proximity, riders should be able to trust that their e-bike and batteries are safe to use and handle, in any environment. So what potential dangers come with riding electric bikes?
Lithium-ion batteries are used in most e-bikes, but many are untested
Most electric vehicles produced today use lithium-ion batteries. Due to their high power densities, these batteries are efficient, compact, and reliable. 
Compared to cheaper lead acid batteries, lithium-ion batteries are also more sustainable because they're cleaner to produce, have longer life cycles, and are easier to dispose of.
However, the qualities that make lithium-ion batteries so energy-efficient also make them highly flammable under the wrong conditions, which can cause serious safety hazards.
Lithium-based batteries have a tendency to overheat, and they can be dangerous if they're mishandled or if they're not rigorously tested and certified. That's why Tern manufactures all of our e-bikes with Bosch eBike Battery Systems certified to the UL 2849 safety standard — the highest standard for e-bike systems.
The UL 2849 safety standard is the gold standard for e-bike battery systems
The UL 2849 standard is a voluntary e-bike battery safety standard that demands strict testing requirements to prevent incidents due to electrical, mechanical, and fire hazards. The standard covers more than just the e-bike's battery — it evaluates the functional safety of the entire e-bike system.
However, not all e-bikes in the market measure up to these safety standards. Certifying e-bike systems to the UL 2849 before launching them on the market isn't legally required. And testing is expensive, so manufacturers often use cheaper, untested electrical systems or opt to test only the battery and not the entire system.
Our comprehensive e-bike systems are rigorously tested to keep riders safe 
At Tern, we only manufacture e-bikes using highly tested batteries and electrical systems. We work with a battery supplier, Bosch, whose philosophy totally aligns with ours. Bosch's e-bike battery electrical system is one of the few systems in the e-bike market that's certified to UL 2849 safety standards — a totally voluntary certification. 
They've developed a comprehensive eBike Battery System to operate seamlessly in compliance with the voluntary UL 2849 certification. This compliance is ensured by third party field representatives that conduct unannounced on-site inspections of Bosch products at manufacturing locations worldwide.
This means all of Tern's e-bike systems, including the drive unit (motor, sensors, etc), battery, charger, wiring, and display, have been rigorously tested for user safety by a third party. Tern is committed to working with companies and suppliers that help ensure the safety of every system on our e-bikes.
Our e-bike batteries use the latest tech to maximize safety
Bosch certifies all of their eBike Systems to the voluntary UL 2849 safety standard. And Bosch doesn't test just the battery — they comprehensively test the entire "smart" electrical system too. All e-bike batteries require a battery management system (BMS). But Bosch lithium-ion batteries have a smart BMS that protects against battery cells overheating and detects other errors, like battery overload and over-discharging. The smart BMS doesn't just improve safety — it also extends the battery's life cycle.
And when a battery is at the end of its life cycle, it can be recycled. Bosch eBike Systems support sustainable recycling methods. For example, in the recycling processes used by the German GRS industry solution, more than 80% of valuable raw materials can be recovered and reused for new products. 
Beyond Bosch's smart BMS, the battery's individual cells are protected. Electrical isolation of each cell prevents reactions between cells resulting from increased current flow. And mechanical isolation of each cell — by means of a steel cup held in a flame-retardant plastic housing — protects against fires. The batteries are also sealed to protect against water damage.
Finally, batteries with the smart system are produced with a higher level of automation at manufacturing plants, reducing the risk of assembly errors.