Verge N8 可以說是TERN Performance 系列中最具進取的型號。 特別調低的豎管高度、狹窄的車把和堅硬的液壓成型 Verge 車架就會變得生動起來,能配合喜歡符合空氣動力學騎行姿勢和原始速度的您。 憑藉其固定高度的 Physis™ 3D 把手和 1 × 8 Claris 動力傳動系統,它是一款具有最大功率和實用性的機器。
入門級價值,但提供Verge 系列風格及性能
52T鍊餅齒配上11-32T飛輪,讓成車更有速度及爬坡更輕鬆
專利設計 Physis 3D 頭柱(豎管), OCL™ 摺疊連接扣及DoubleTruss™ 鋼線排列輪組提供騎行所需的剛性 
Schwalbe Kojak 外呔 - 防刺爆又高性能
10秒極速摺疊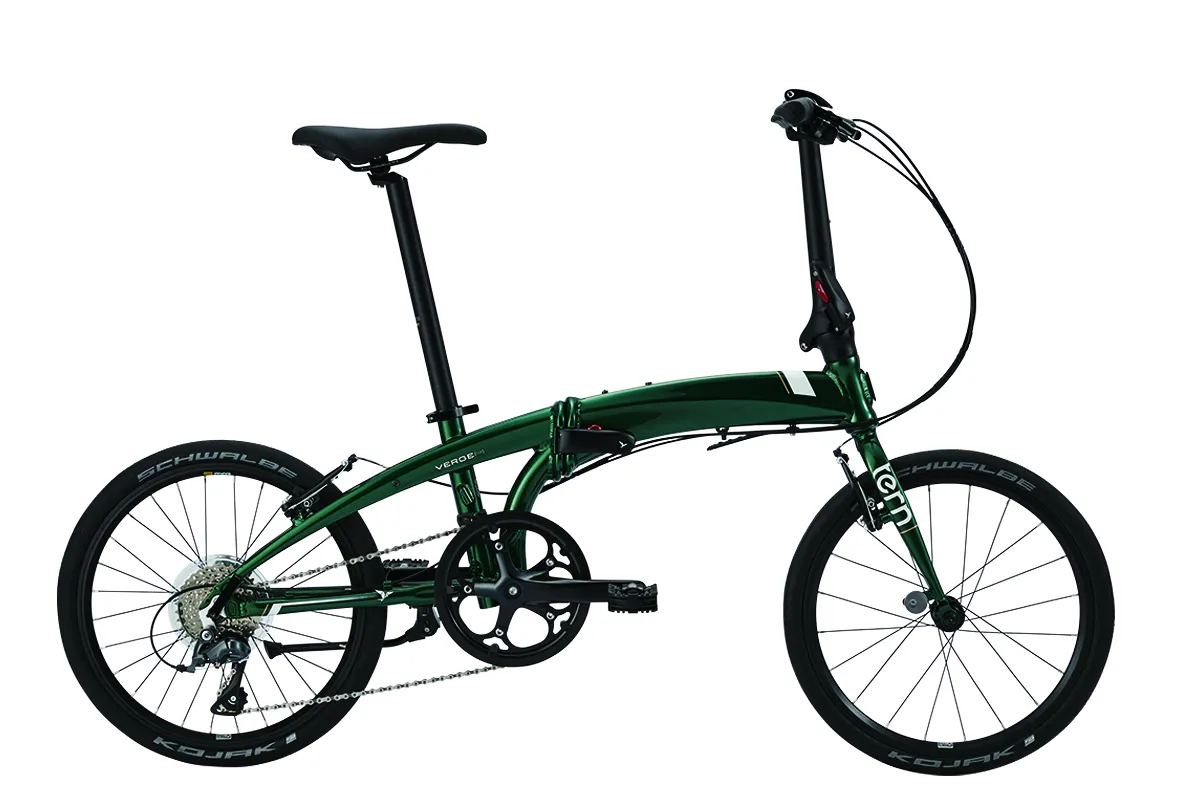 A fast, lightweight and comfortable bike.

Lucky Bikes
General Info
Gear Inches:
30.7" – 89.3" (2.45 – 7.13 m)
Folding Size:
380 × 790 × 720 mm (15 × 31.1 × 28.3 in)
Distance: Seatpost to Handlebar:
58 - 64 cm (22.8 - 25.2 in)
Distance: Saddle to Pedal:
69 - 95 cm (27.2 - 37.4 in)
Suggested Rider Height:
142 - 190 cm (55.9 - 74.8 in)
Frame
Frame:
Tern Verge, hydroformed aluminum, 3 patented technologies
Fork:
Integrated, hi-tensile steel
Cockpit
Handlepost:
Tern Physis 3D (G2), 3D forged, 5 patented technologies
Stem:
Fixed height, forged QR
Headset:
Flux, cartridge bearings, Physis integrated
Handlebar:
Flat bar, 6061-Al
Grips/Bar Tape:
Velo ergonomic, lock-on
Seatpost:
SuperOversize, 6061-Al, micro-adjust clamp
Seatpost Clamp:
SuperOversize, 6061-Al
Brakes
Front Brake:
V, aluminum, linear spring
Rear Brake:
V, aluminum, linear spring
Brake Levers:
V, aluminum bracket/lever
Brake Cable & Housing:
Anti-compression housing, slick cables
Wheels
Front Hub:
Mini, aluminum, QR
Rear Hub:
Formula, 8 spd cassette
Spokes and Nipples:
Sapim Leader, stainless steel
Rims:
Doublewall aluminum
Tires:
Schwalbe Kojak, 35-406, 95 psi, puncture protection
Transmission
Shifter(s):
Shimano trigger, 1x8 spd
Rear Derailleur:
Shimano Claris
Crankset:
Forged 6061 aluminum crank arms and spider, hand-polished
Cassette/Freewheel:
Shimano 8 spd, 11-32T
Bottom Bracket:
Cartridge, sealed bearings
Pedals:
Folding, alloy body
Shifter Cable & Housing:
SP
Bells & Whistles
Kickstand:
Deluxe center mount
Clip System:
Magnetix 2.0
Fenders:
Opt: RP Chromeplastic, stainless hardware
*Note: These are our standard model specifications. The bike's weight and folded dimension may not include racks and fenders. The specifications for your country may differ slightly. We do our best to ensure that the specifications listed here accurately reflect the exact parts found on our production bikes. However, component changes do occur for various reasons and there may be brief delays on site updates. We reserve the right to make component changes without prior notification, which may cause discrepancies with the information listed on the web.