2022年8月17日以降の新価格 ¥443,300 (税込)
ヨーロッパでマーケットリーダーの地位を確立したドイツのBosch製 e Bike Systemを搭載した"Vektron(ヴェクトロン)"が日本上陸!
アーバンバイクのプロフェッショナルとE-bikeユニットの雄による傑作がここに。
スポーティかつ安定感のある⾛⾏性だけでなく、誰もが利⽤しやすいコンパクトな収納性と携帯性を併せ持つ、「あらゆる実⽤性を兼ね備えた次世代コミューター」である。
・世界屈指のE-bikeユニット BOSCH Active Line Plusを搭載。
・大容量バッテリーで一回の充電で最大100kmもの走行が可能。 軽量かつ約2.5時間でフル充電が可能。
・ドイツの老舗メーカー"MAGURA"のHydraulic Discブレーキを採用
・太めのタイヤとリクライニングバッテリーを採用した低重心フレームにより、安定性とスポーティな走行性能の両立を実現。
・EFBE Prüftechnik社によるEN15194準拠の認証を受け、欧州のペダルアシスト式E-bikeの厳しい安全基準をクリア
・数秒で147~195cmのライダーに合わせてサドルポジションを変更できるので、1台のバイクを家族で共有することが可能
・2022年モデルではリアラック・フェンダー・チェーンガードをセット販売いたします.
★バッテリーに関する詳しい特徴などは、こちらからダウンロード可能です。
※掲載している写真や動画にて一部折りたたみ仕様のペダルが装着されておりますが、日本国内にて販売されている同モデルは全て「フラットペダル」となります。ご注意ください。
※掲載製品写真/重量(全てペダルレス)/サイズ等は全てサンプル車両に基づくため、量産品では多少変更される場合があります。
※新素材や部品の改良・開発などにより、予告なく価格及び一部の仕様が変更される場合があります。
※実際の商品には、ベル・リフレクターなどの保安部品が付属されます。
※Tern品質保証規定に関しては、商品に同梱しております。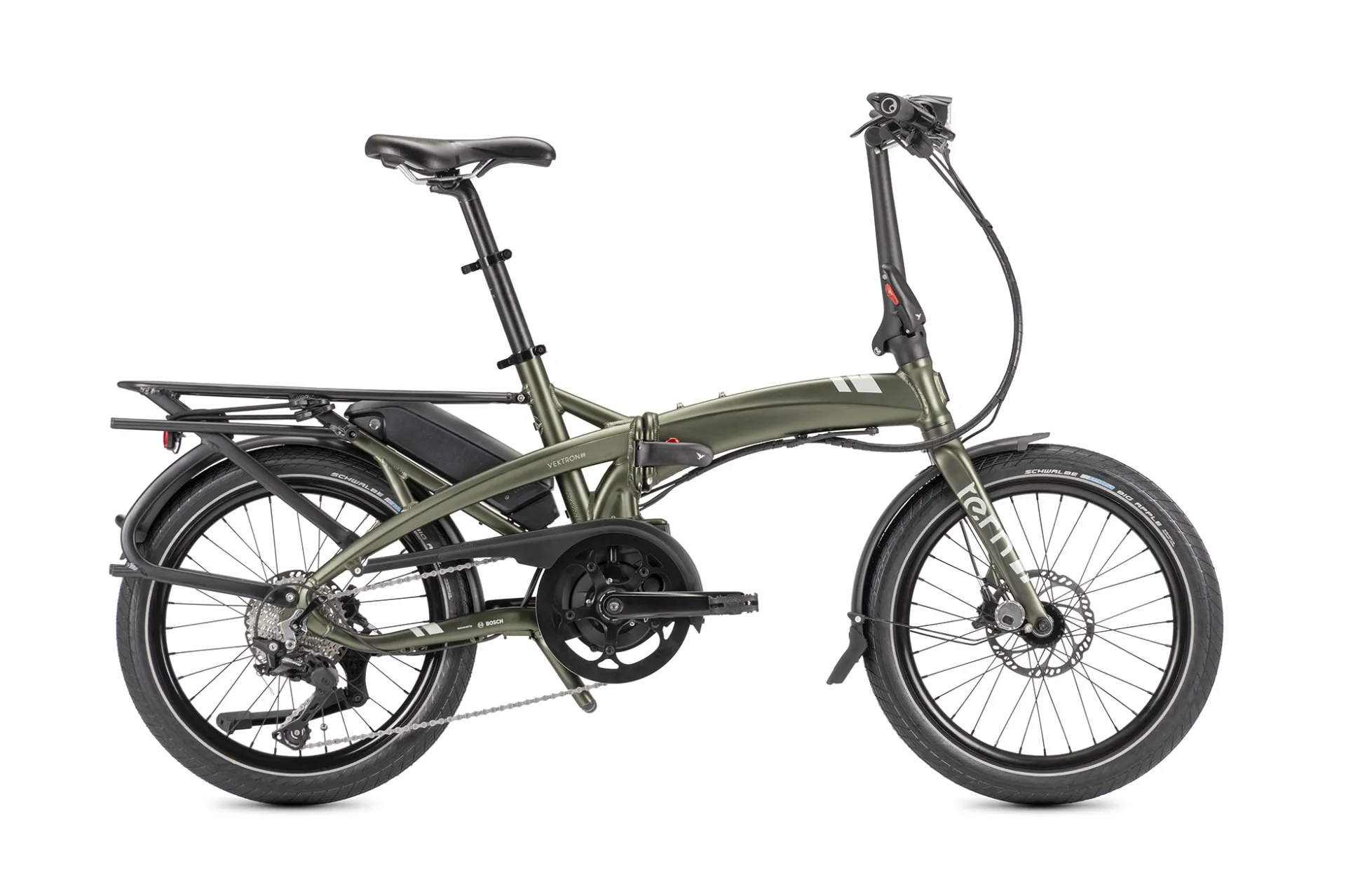 General Info
Gear Inches:
30" - 97" (2.36 - 7.72 m)
Folding Size:
410 × 860 × 680 mm (16.1 × 33.9 × 26.8 in)
Distance: Seatpost to Handlebar:
62 - 69 cm (24.4 - 27.2 in)
Distance: Saddle to Pedal:
67 - 110 cm (26.4 - 43.3 in)
Suggested Rider Height:
147 - 195 cm (57.9 - 76.8 in)
Max Gross Vehicle Weight:
Frame
Frame:
Tern Vektron, hydroformed 7005-AL, OCL+ joint, 3 patented technologies, Vektron G2 Frame
Fork:
Tern Tarsus, 6061-Al, hydroformed
Cockpit
Handlepost:
Physis 3D T-Bar, aluminum, 290mm, 12deg. / black
Stem:
Andros (G2), adjustable, 65mm / black
Grips/Bar Tape:
Ergon GP10
Saddle:
Tern Porter+, patented GripPad design, PrimeGel padding
Seatpost:
Telescope, Lite 2014-AL, ø34.9/30.9
Brakes
Front Brake:
Magura MT4, hydraulic disc
Rear Brake:
Magura MT4, hydraulic disc
Brake Levers:
Magura, hydraulic disc
Wheels
Front Wheel:
Kinetix Comp, QR, doublewall, disc, Novatec Hub, 100mm, 32H
Rear Wheel:
Kinetix Comp, QR, doublewall, disc, Novatec Hub, 135mm, 32H
Tires:
Schwalbe Big Apple, 406, 20×2.15 F/V
Transmission
Shifter(s):
Shimano Tiagra, 1 x 10 spd
Rear Derailleur:
Shimano Tiagra, 10 spd.
Crankset:
Vektron custom, forged 6061-AL crankarm, 52T
Cassette/Freewheel:
Shimano 11-32T, 10 spd.
Bottom Bracket:
Motor integrated
Pedals:
MKS UX-D, QR right / standard left
E-System
Motor:
Bosch Active Line Plus, 36V/250W
Battery:
Bosch PowerPack 300 Wh
Charger:
Bosch Standard Charger
Bells & Whistles
Kickstand:
URSUS MOOI, Rear mount
Clip System:
Magnetix 2.0
Front Light:
Tern Valo Direct, integrated, 41 lux/150 lumens
Rear Light:
Herrmans H-Trace, for eBike
*Note: These are our standard model specifications. The bike's weight and folded dimension may not include racks and fenders. The specifications for your country may differ slightly. We do our best to ensure that the specifications listed here accurately reflect the exact parts found on our production bikes. However, component changes do occur for various reasons and there may be brief delays on site updates. We reserve the right to make component changes without prior notification, which may cause discrepancies with the information listed on the web.