より手軽に、でも走りは妥協したくない。
Vektron S10の卓越したパフォーマンスはそのままに多用途性、スタイルを、手頃で便利なパッケージで実現したVektron 日本限定Newモデル誕生
世界屈指のE-bikeユニット BOSCH Active Line Plusを搭載。

大容量バッテリーで一回の充電で最大100kmもの走行が可能。軽量かつ約2.5時間でフル充電が可能。

160~190cmのライダーに合わせて数秒でサドルポジション変更可能

天候に左右されない制動力を持つ油圧ディスクブレーキ

素早い変速を可能にするSHIMANO Altusを使用

フェンダー、

チェーンガード

を装備し、雨の日も雪の日もあなたの通勤・通学をサポート
ディスプレイには小型で操作しやすいモニター一体型のPurionを搭載  詳しくはこちら
※生産ロットによりブレーキの種類が異なります。( SHIMANO or TEKTRO )
※掲載製品写真/重量(全てペダルレス)/サイズ等は全てサンプル車両に基づくため、量産品では多少変更される場合があります。
※新素材や部品の改良・開発などにより、予告なく価格及び一部の仕様が変更される場合があります。
※実際の商品には、ベル・リフレクターなどの保安部品が付属されます。
※Tern品質保証規定に関しては、商品に同梱しております。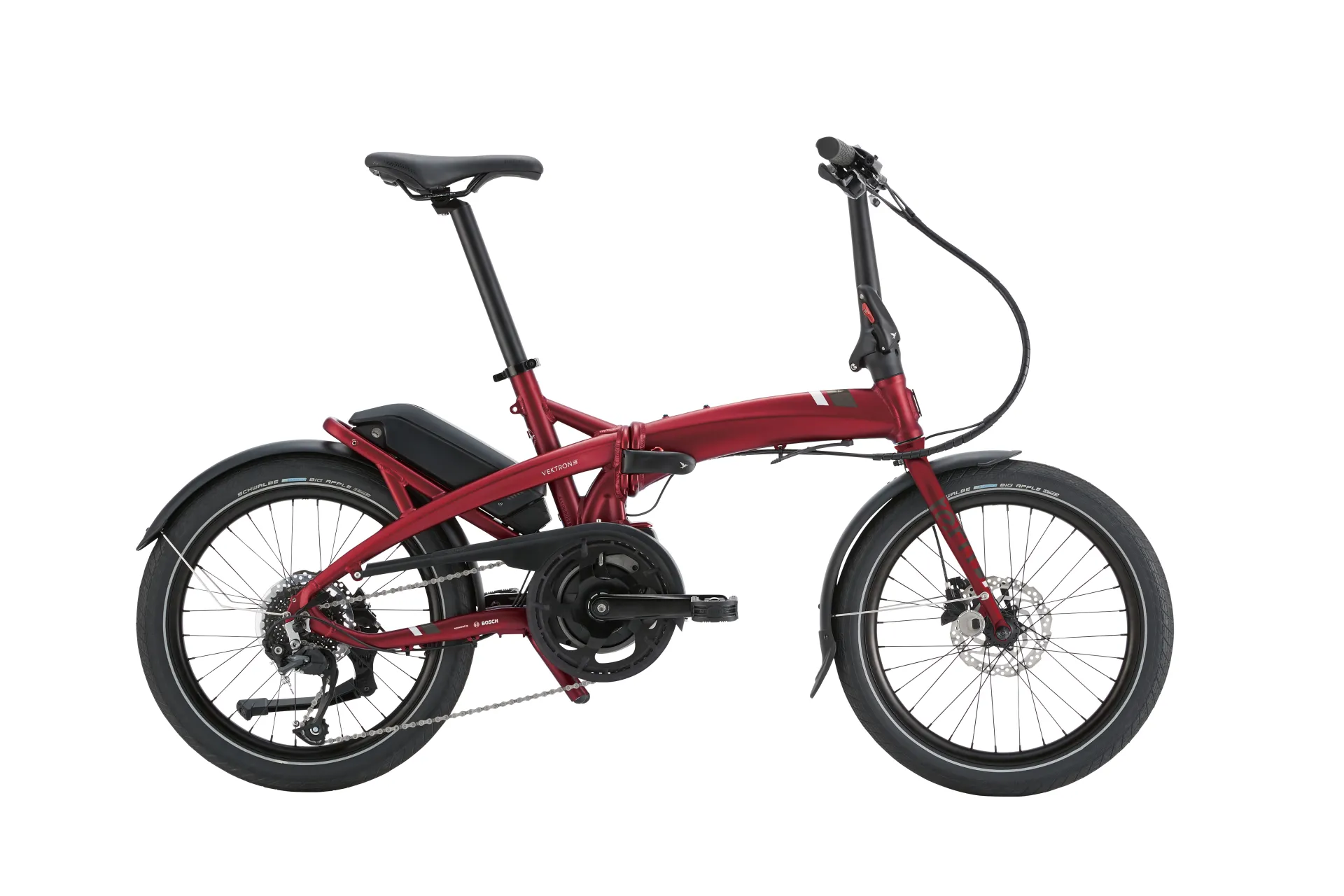 E Bike -Urban Portability-
General Info
Gear Inches:
32" – 94" (2.58 – 7.50 m)
Folding Size:
79 × 38 × 72 cm (31.1 × 15 × 28.3 in)
Distance: Seatpost to Handlebar:
Distance: Saddle to Pedal:
65 - 93 cm (25.6 - 36.6 in)
Suggested Rider Height:
160 - 190 cm (63 - 74.8 in)
Max Gross Vehicle Weight:
Frame
Frame:
Tern Vektron, hydroformed aluminum, OCL+ joint, 3 patented technologies
Fork:
Integrated, hi-tensile steel
Cockpit
Handlepost:
Tern Physis 3D (G2), 3D forged, 5 patented technologies
Stem:
Fixed height, forged QR
Headset:
Tern Flux, cartridge bearings, Physis integrated
Handlebar:
Flat bar, 6061-AL, Tern Andros adapted
Grips/Bar Tape:
Velo ergonomic, lock-on
Saddle:
Tern Porter, patented GripPad design
Seatpost:
SuperOversize, 34.9mm, 6061-Al, micro-adjust clamp
Seatpost Clamp:
Oversize, 6061-AL
Brakes
Front Brake:
SHIMANO or TEKTRO, hydraulic disc
Rear Brake:
SHIMANO or TEKTRO, hydraulic disc
Brake Levers:
SHIMANO or TEKTRO, hydraulic disc
Brake Cable & Housing:
SHIMANO or TEKTRO, hydraulic disc
Wheels
Front Wheel:
Double wall, Shimano, 100 mm, Centerlock disc mount, w/QR
Rear Wheel:
Double wall, Shimano, 135 mm, Centerlock disc mount, w/QR
Spokes and Nipples:
Stainless steel
Rims:
Kinetix Comp, for disc
Tires:
Schwalbe Big Apple, Active Line, 50-406, puncture protection, Reflex
Transmission
Shifter(s):
Shimano, 1 x 8 spd, trigger
Rear Derailleur:
Shimano Altus Shadow
Crankset:
Vektron custom, forged 6061-AL crankarm
Cassette/Freewheel:
Shimano 11-32T, 8 spd
Bottom Bracket:
Motor integrated
Chain:
8 spd, DHT for eBike, GST corrosion resistant coating, 120L
Pedals:
Folding, alloy body
Shifter Cable & Housing:
Anti-compression housing, slick cables
E-System
Motor:
Bosch Active Line Plus, max speed 24 kph
Battery:
Bosch PowerPack 300
Range:
300 Wh: 40 -114 km (25-71 mi) 100V, 4A (JP)
Bells & Whistles
Kickstand:
URSUS, rear mount
Clip System:
Magnetix 3.0
Fenders:
RP Chromeplastic, stainless hardware
*Note: These are our standard model specifications. The bike's weight and folded dimension may not include racks and fenders. The specifications for your country may differ slightly. We do our best to ensure that the specifications listed here accurately reflect the exact parts found on our production bikes. However, component changes do occur for various reasons and there may be brief delays on site updates. We reserve the right to make component changes without prior notification, which may cause discrepancies with the information listed on the web.