2016年先行発売モデル。Ternの魅力を凝縮したコンフォート8Spd.
標準モデルより40mm短くなったハンドルポスト、560mmのハンドルバーなど日本人の体格に合うようサイジングされ、
2013年に登場して以来絶大な人気を誇った同モデルがスペックアップして新登場
タイヤにシュワルベ「コジャック」を採用し、舗装路ので転がり抵抗を軽減し、足回りがより軽量かつ軽快に
ホイールもダブルウォールリムにアップグレードし、強度を上げながら走行性能をアップ
シフターも要望の多かったラピッドファイヤーシフターを標準採用
リアディレーラーもClarisへアップグレードし、確実な変速フィーリングを実現
泥除け標準装備で8段変速、通勤通学にはもちろん、休日のサイクリングにもマルチに使える
Ternスタンダードモデル
・ブログ紹介記事
http://ternbicycles.blogspot.jp/2015/03/link-n8.html
オプションパーツのTrolley Rackを装着すると、持ち運ぶのではなく、スーツケースのように転がして運ぶ事ができる。スモールフォールディングバイクの可能性をより多くの方へお届けする。
※2015年モデルは完売終了
※掲載写真はサンプル車体となります。新素材、部品の開発、改良などにより、価格及び一部仕様変更する場合がございます。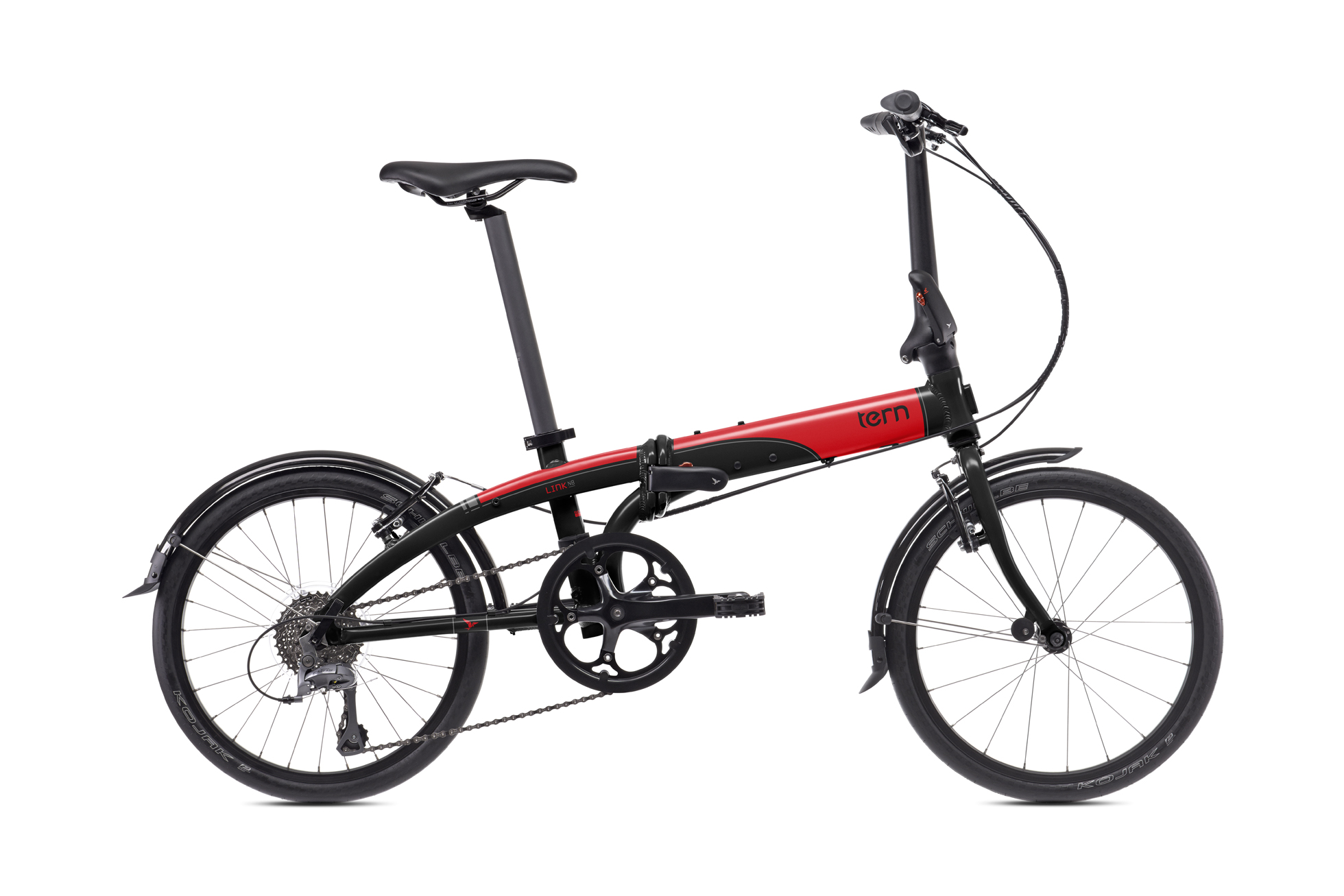 Folding Bikes -Performance & Around Town-
General Info
Folding Size:
380 × 790 × 720 mm (15 × 31.1 × 28.3 in)
Distance: Seatpost to Handlebar:
59 - 63 cm (23.2 - 24.8 in)
Distance: Saddle to Pedal:
70 - 96 cm (27.6 - 37.8 in)
Suggested Rider Height:
142 - 190 cm (55.9 - 74.8 in)
Frame
Frame:
Link, 6061-AL, patented OCL Joint, DoubleTruss
Fork:
Integrated, hi-tensile steel
Cockpit
Handlepost:
Physis QR, 3D forged aluminum, black/350mm/12°
Headset:
Flux, cartridge bearings, Tri-seal technology
Handlebar:
Flat bar, 6061-AL, balck/560mm/25.4mm
Grips/Bar Tape:
BioLogic Ergo, kraton
Seatpost:
SuperOversize, 6061-AL, casted clamp, black/580mm/33.9mm
Seatpost Clamp:
SuperOverize, 6061-AL
Brakes
Brake Levers:
V, aluminum
Brake Cable & Housing:
Anti-compression housing, slick cables
Wheels
Front Hub:
Mini by Formula, aluminum, QR/20H
Rear Hub:
Formula, cassette, QR,8spd./28H
Spokes and Nipples:
Stainless steel, brass nipples
Rims:
Aluminum, ground doublewalls, black
Tires:
Schwalbe Kojac, Reflex, all black, 406, 20×1.35 F/V
Transmission
Shifter(s):
Shimano SL-M310, 8 spd.
Rear Derailleur:
Shimano RD-2400, Claris 8spd.
Crankset:
Cold-forged 6061-AL, hand-polished/52T
Cassette/Freewheel:
Shimano CS-HG-41-8 spd., 11-32T
Bottom Bracket:
Semi-cartridge
Pedals:
Folding, alloy body
Shifter Cable & Housing:
SIS-SP, DuPont L3 lubricant
Bells & Whistles
Kickstand:
Aluminum, Dacromet bolt, black/255mm
Clip System:
Magnetix 2.0
Fenders:
RP, stainless hardware
*Note: These are our standard model specifications. The bike's weight and folded dimension may not include racks and fenders. The specifications for your country may differ slightly. We do our best to ensure that the specifications listed here accurately reflect the exact parts found on our production bikes. However, component changes do occur for various reasons and there may be brief delays on site updates. We reserve the right to make component changes without prior notification, which may cause discrepancies with the information listed on the web.