Enormously Useful. Surprisingly Smaller.
The HSD is mighty but mini: It's easy to handle, easy to share, extremely comfortable to ride, carries a whole lot of cargo—and all of this in a compact design that's shorter than a standard bicycle.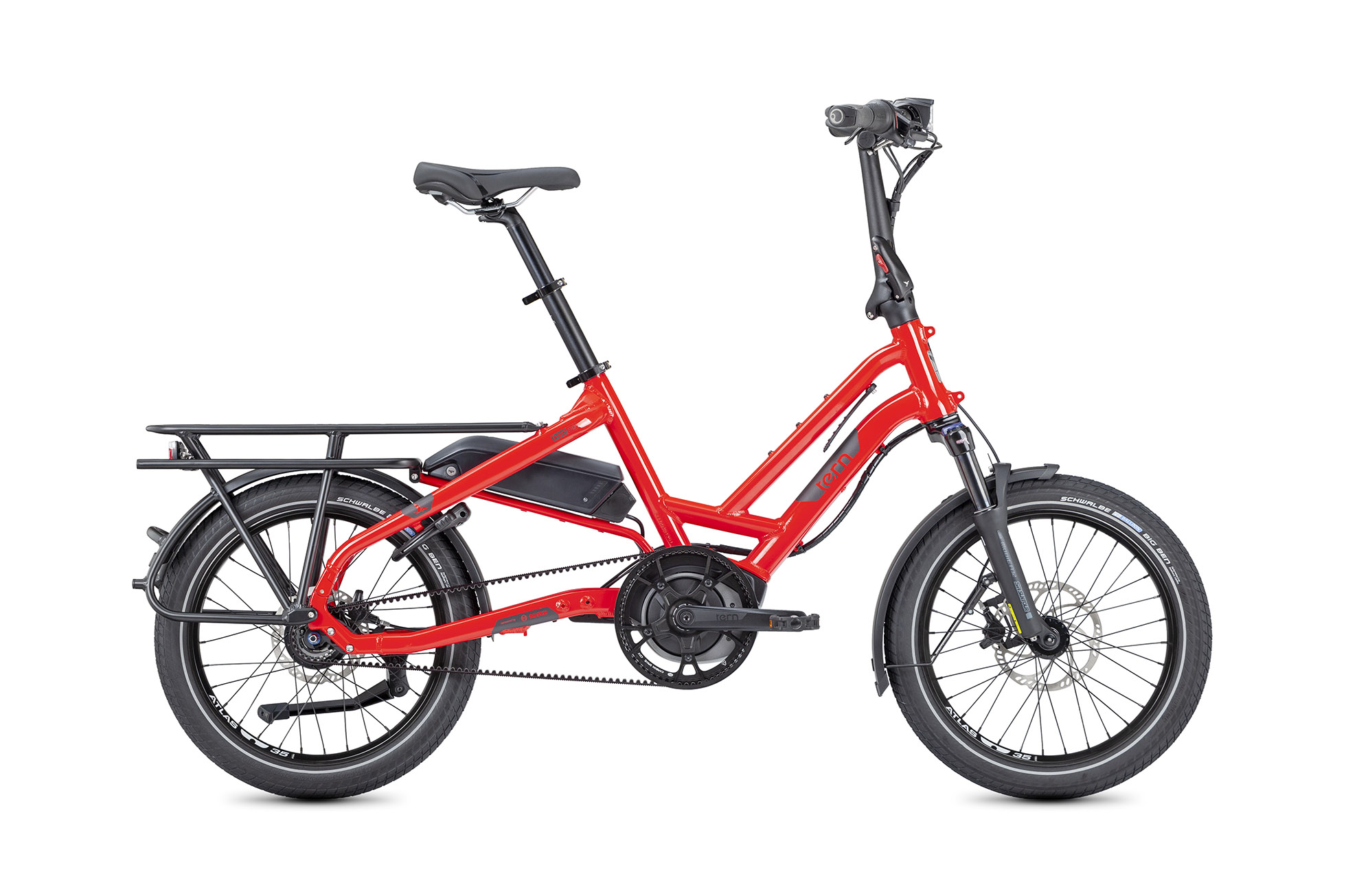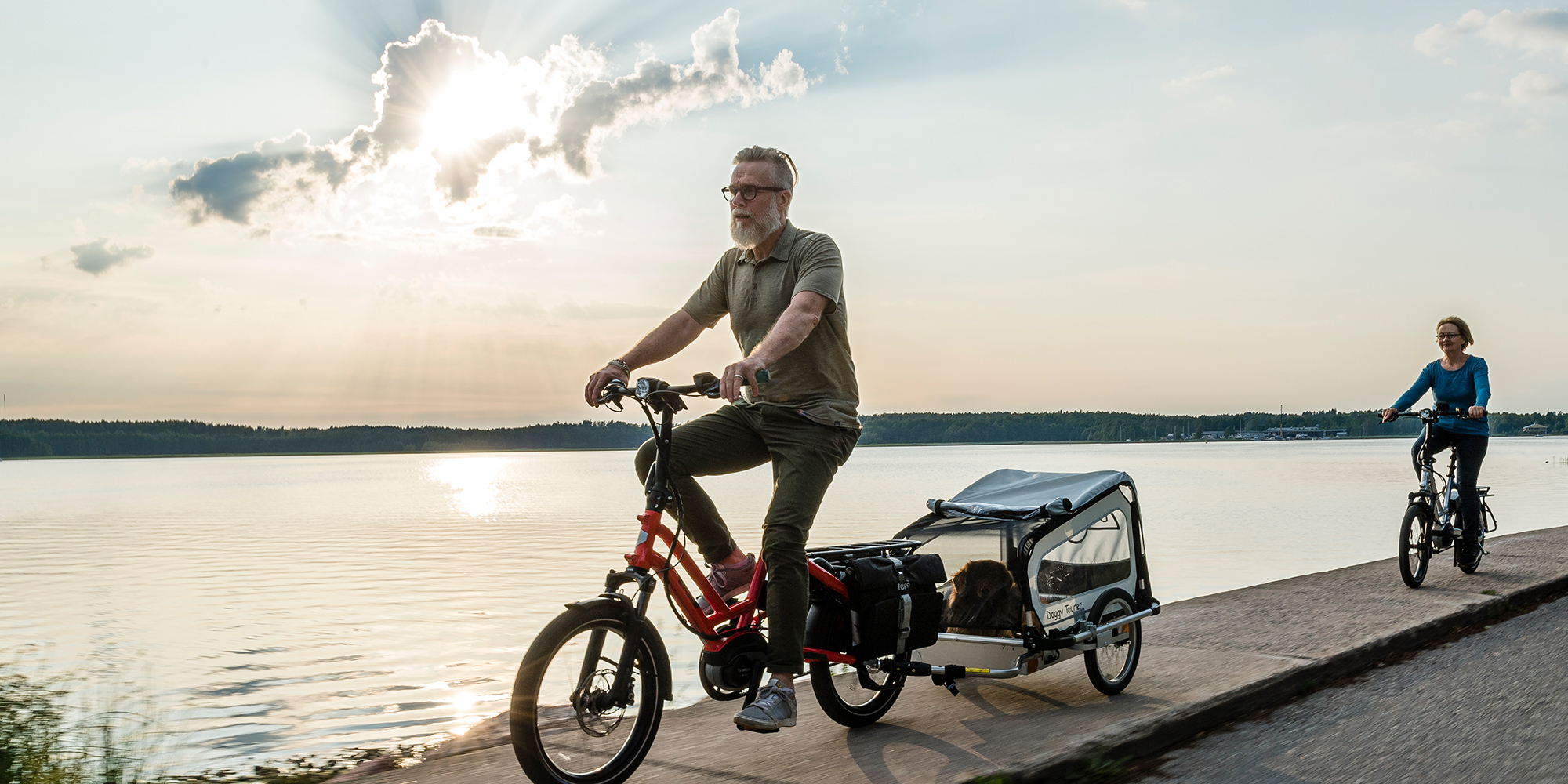 Easy to Handle
Whether you're riding, storing, or moving it around, the HSD is a breeze to handle. It's shorter than a regular bike and its weight is the same as a regular ebike.
Kiddie Carry
Bring the kiddo. The HSD's extra-long Atlas H Rack™ gives plenty of heel clearance and room for your kiddo to enjoy the view rather than being smushed up against your back. The rack is rated to 60 kg (132 lb), so when paired with the right Passenger System accessories, the HSD is ready for your growing family.
Need to carry a kid? Here's how you can safely carry passengers on the HSD.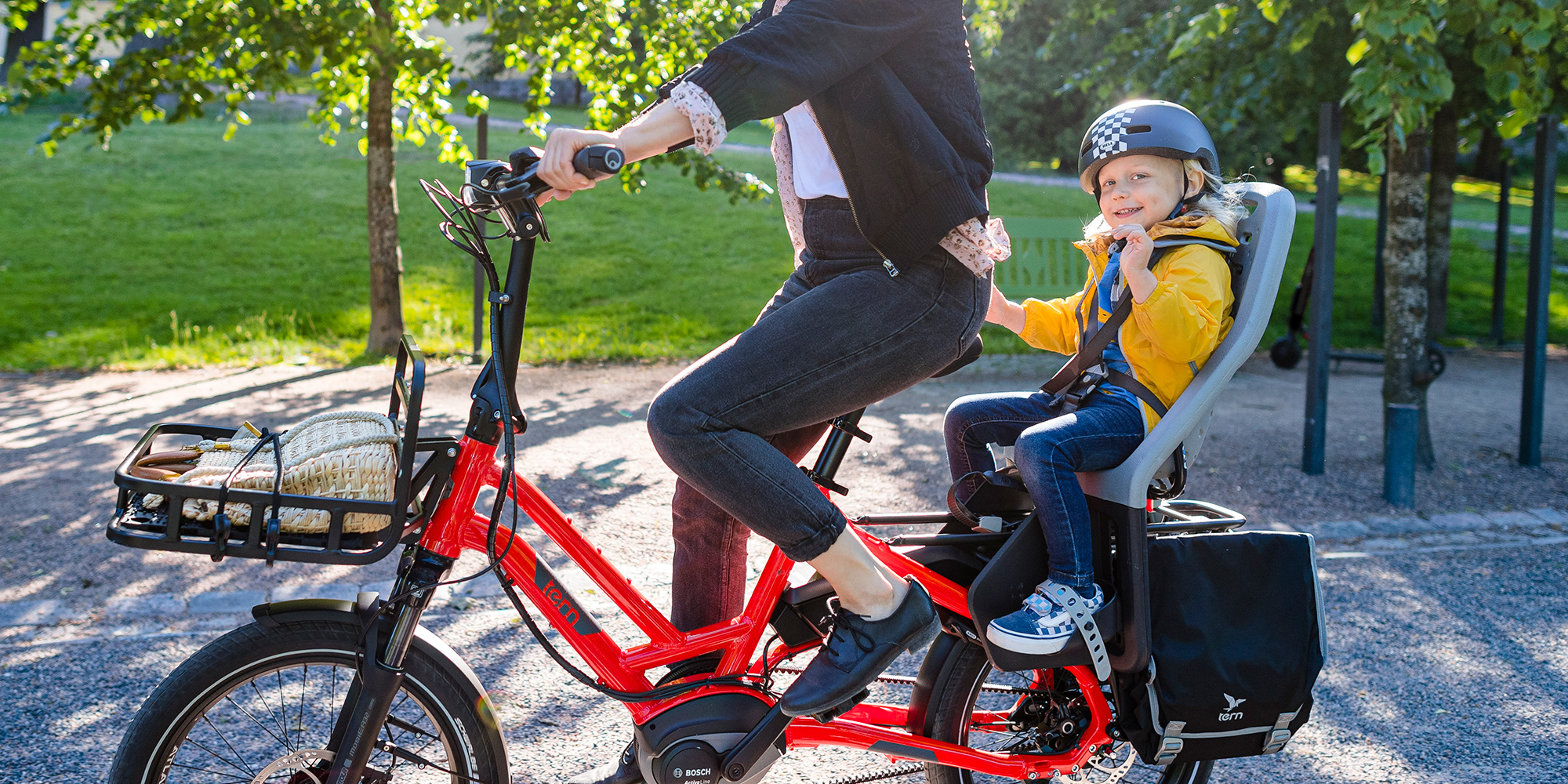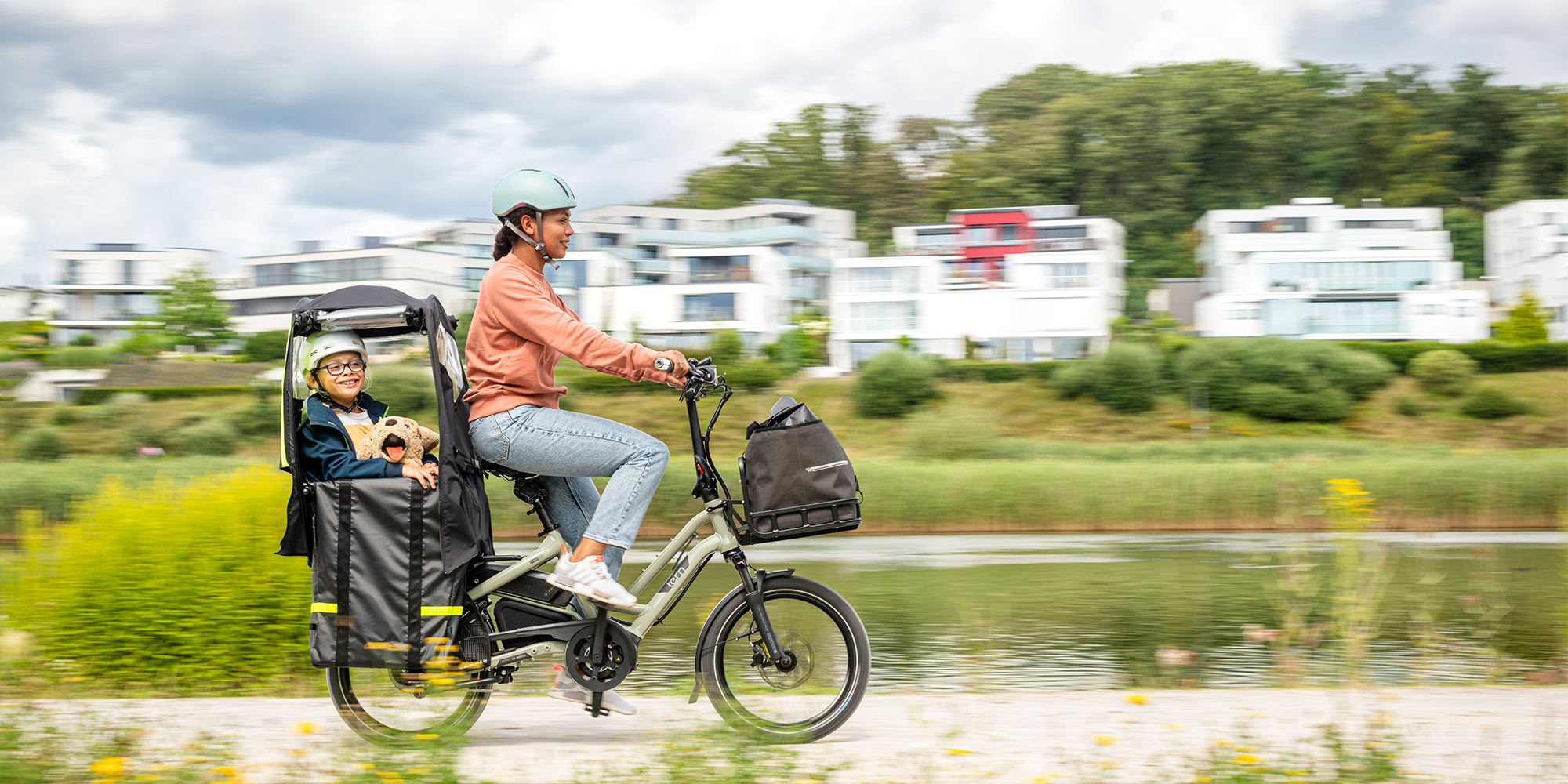 Year-Round Riding
Keeping your kid dry and cozy is the key to happier rides and fewer complaints. The Clubhouse Fort Mini transforms the HSD into an all-weather solution to carry your little one all year round.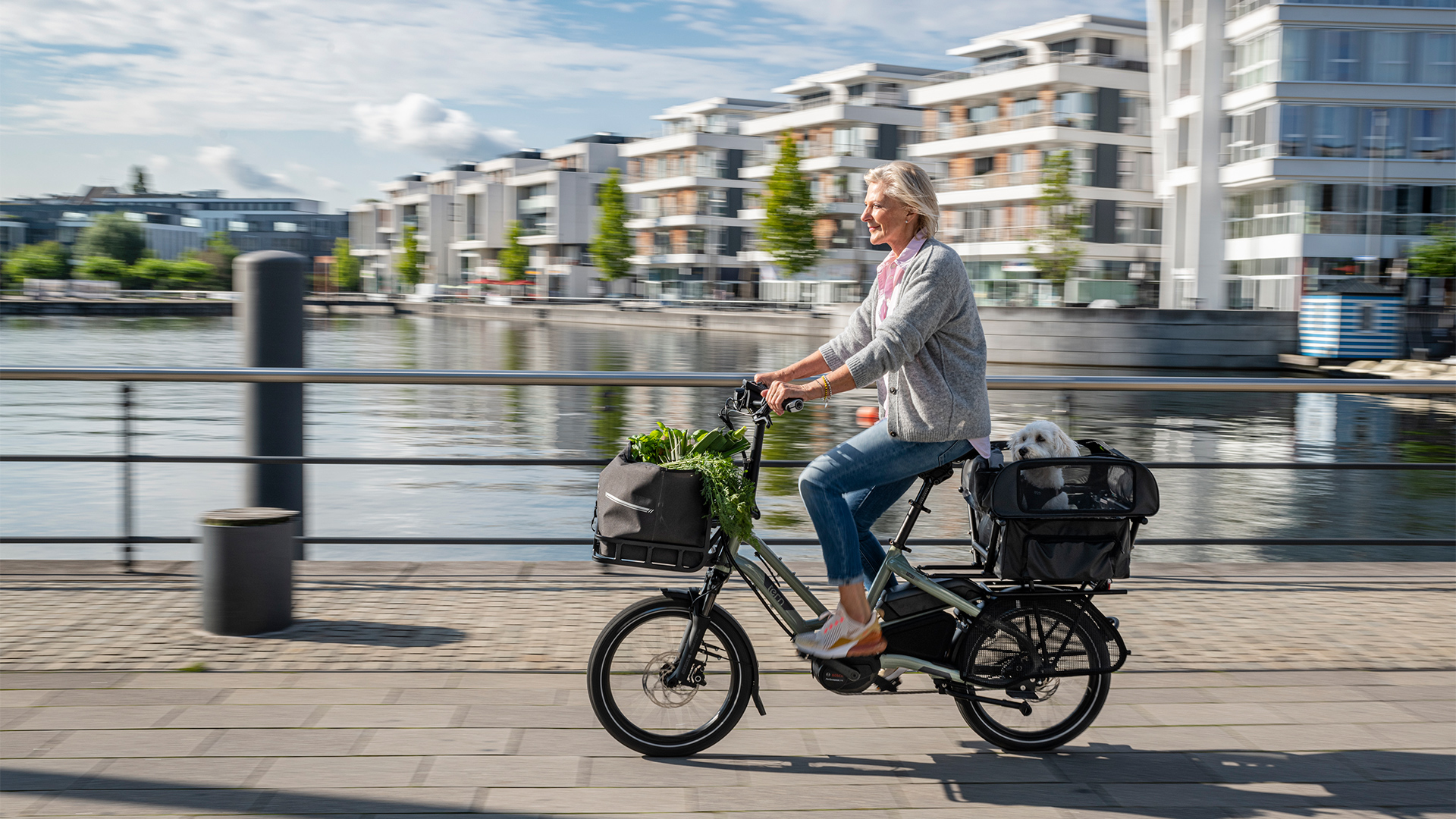 Bring Your Best Buddy
For many of us, dogs are family too. Build the Doghouse Mini and bring your favorite companion along for the ride.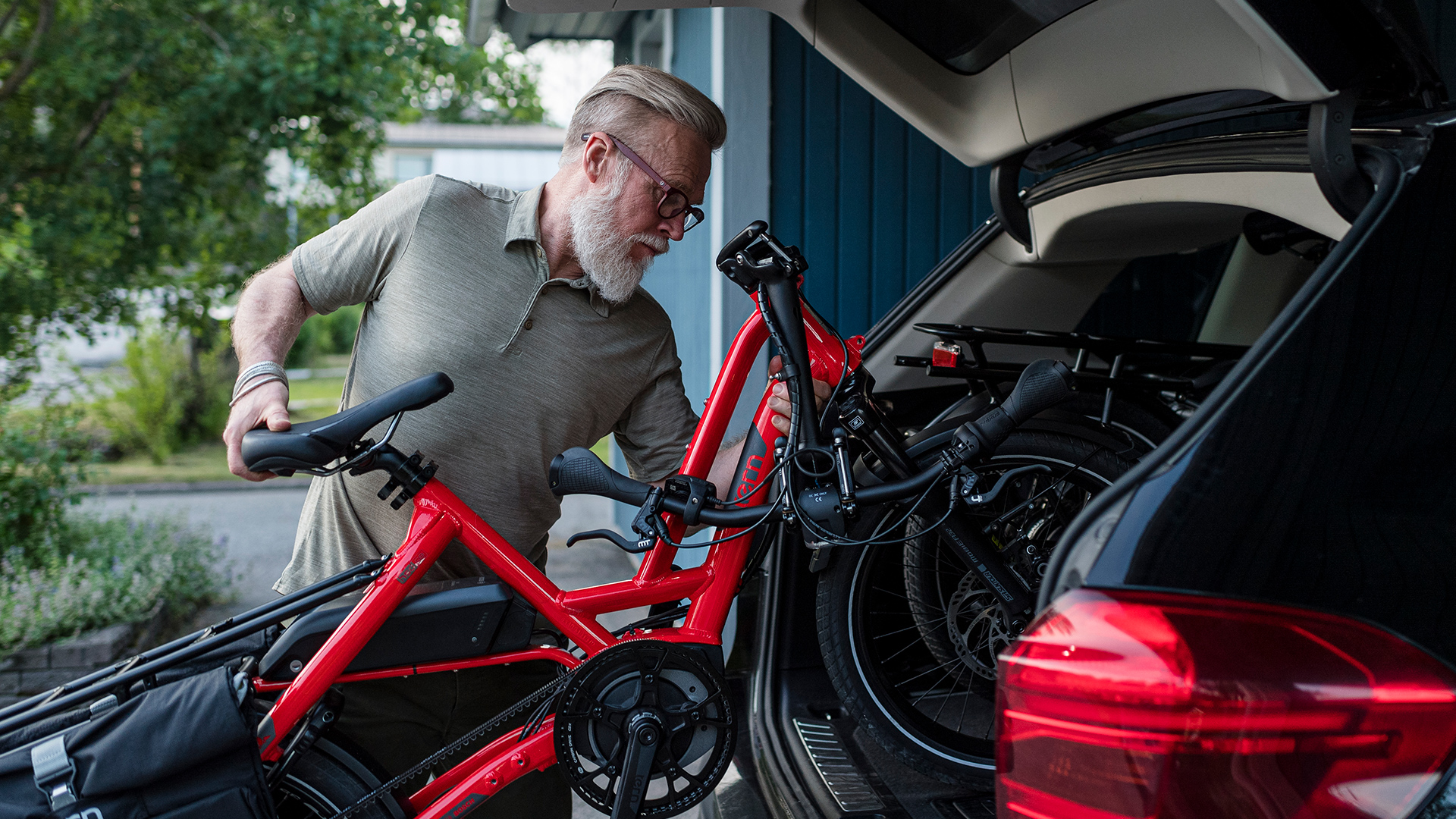 Flat Fold
Fifteen seconds and the HSD transforms into a flat package that's perfect for fitting into SUVs, station wagons, or bus storage compartments.
Ready to Haul
Despite its diminutive stature, the HSD is a mid-sized cargo bike with some serious hauling capacity. With a maximum gross vehicle weight of 170 kg (374 lb) and an XL-sized Atlas H Rack™, it'll carry a week's worth of groceries or camping equipment for the weekend. It even has a dedicated trailer mount, so adding extra cargo is a cinch.
Hauling big loads? Check out how to secure cargo and make good use of that 170 kg MGVW.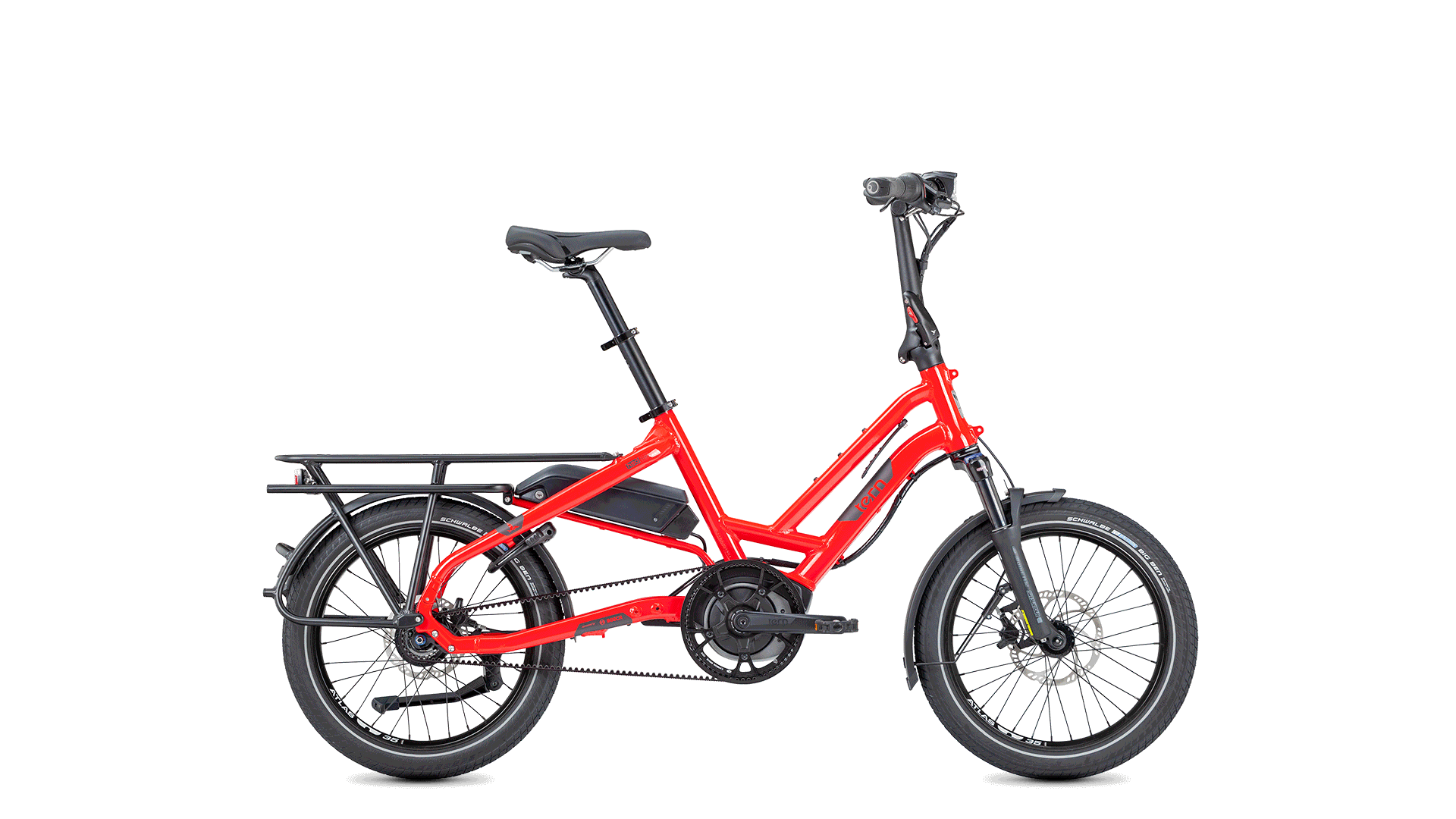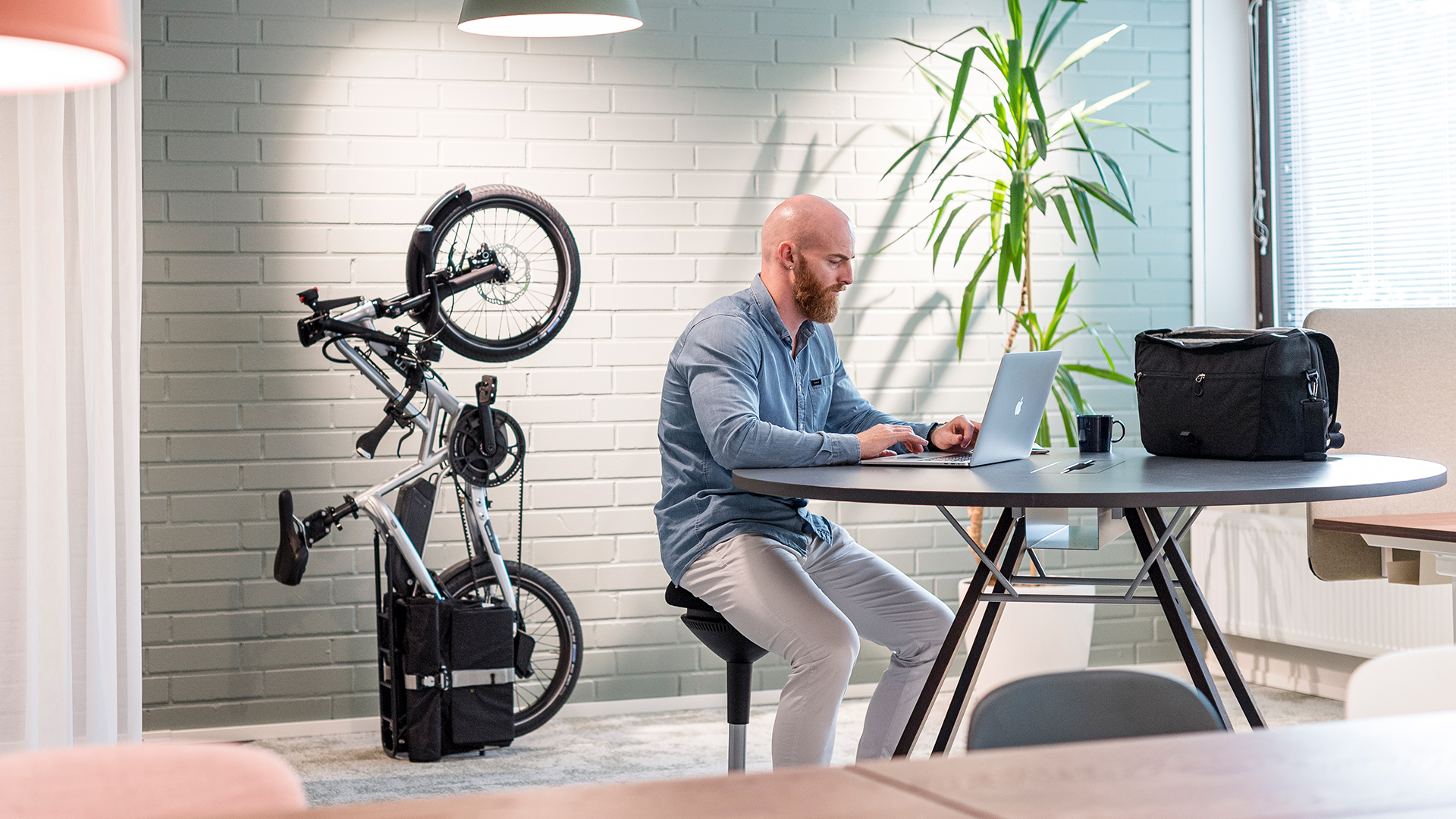 Vertical Parking
The HSD flips up for convenient vertical parking. Take it upstairs in an elevator and park it inside at home or at work—it needs just a wee bit of floor space.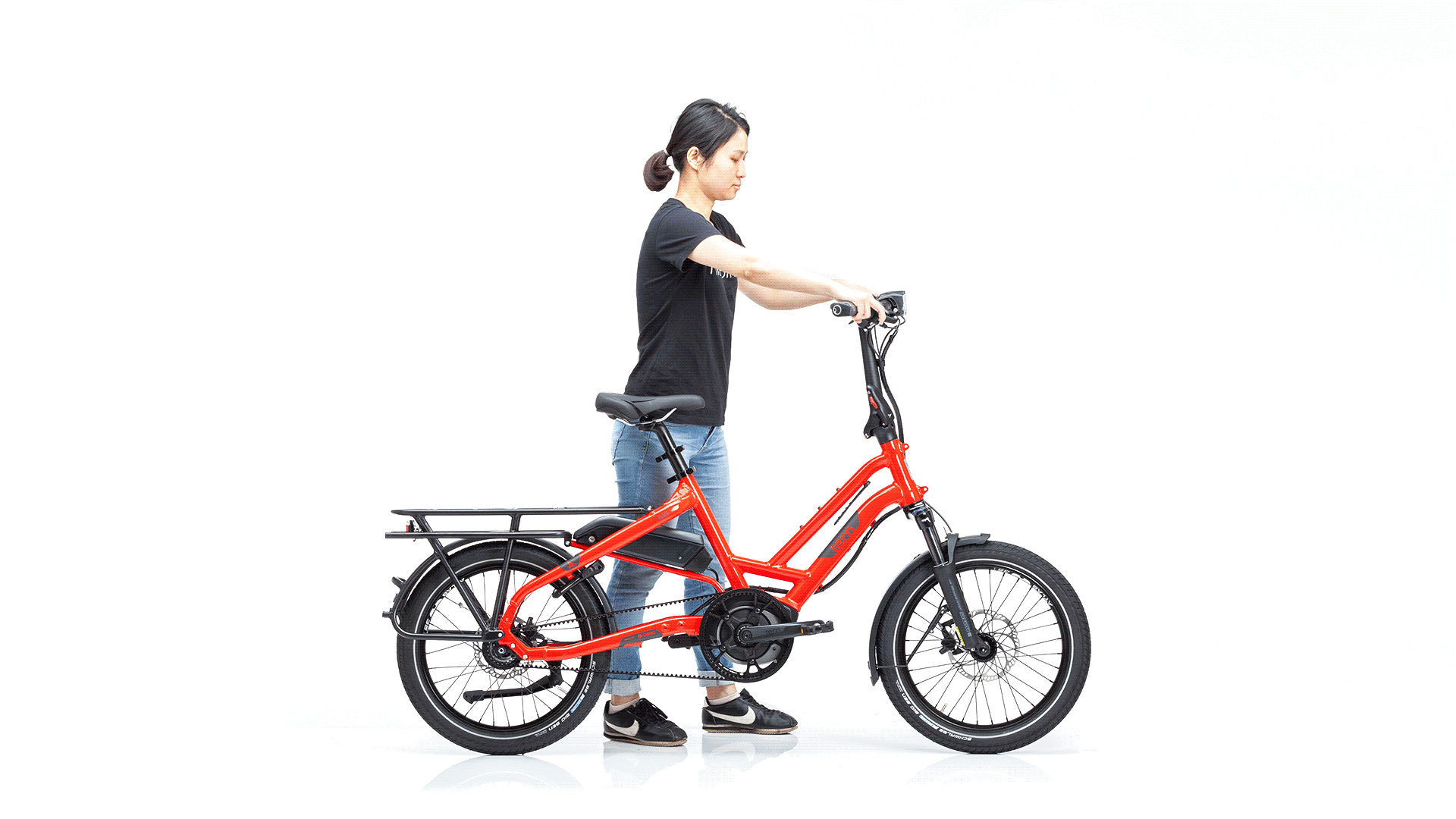 The HSD can handle up to 374 pounds, accepts one child seat, and works with a variety of cargo accessories for the front and rear for all your commuting and errand-running pleasure.
- Bicycling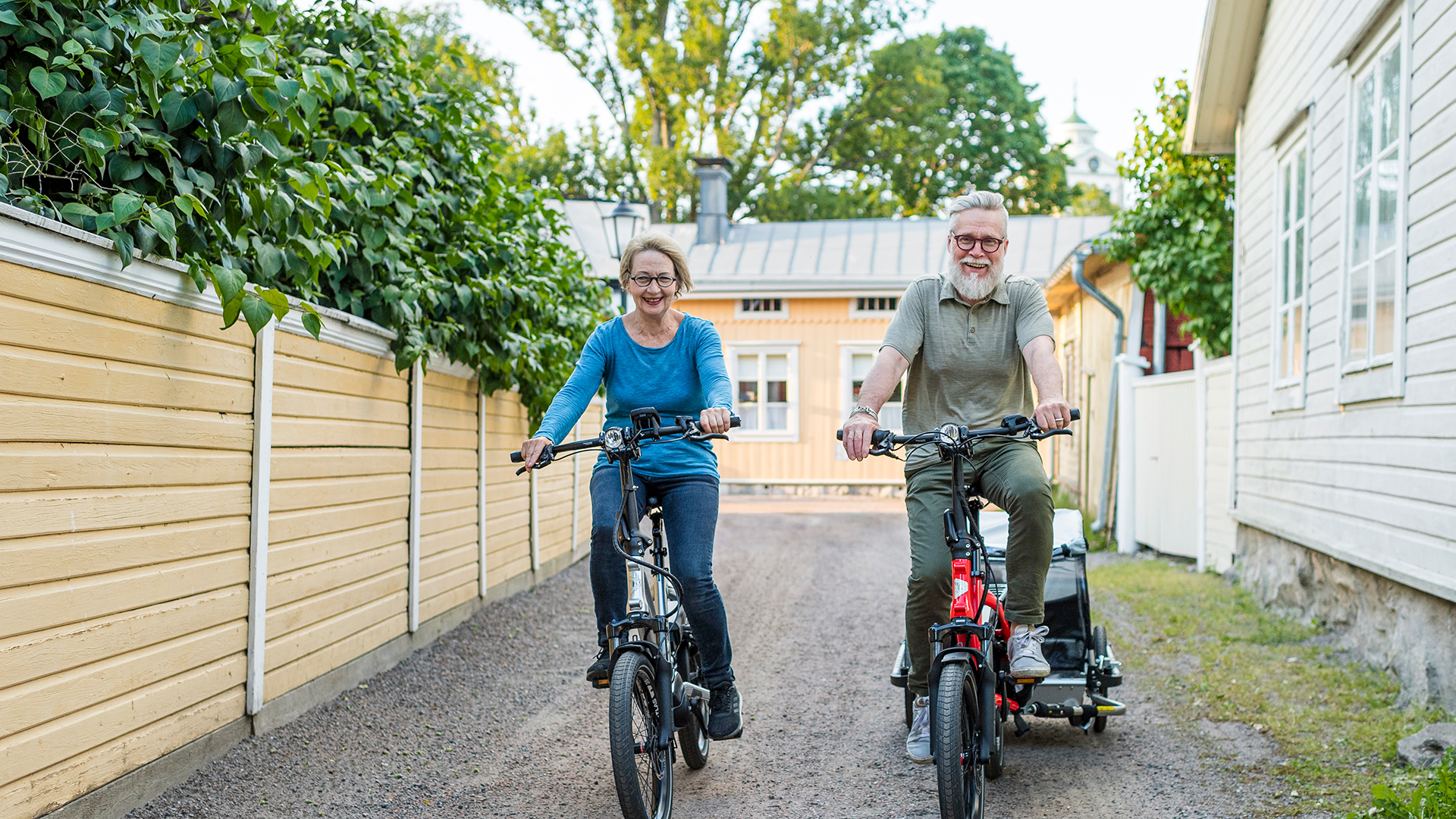 A Comfier Ride
With a longer wheelbase and extra-low center of gravity, the HSDis smoother and more stable than your standard ebike. Easy-Step frame design paired with an adjustable stem and seatpost offers a comfortable upright riding position for both taller and shorter riders. Add a suspension fork and balloon tires and even the meanest cobblestone roads are comfortably navigated.

Happiness Shared Daily
The best things in life are meant to be shared, and the HSD is one of them. The HSD resizes in seconds to fit riders from 150 to 195 cm (4'11" to 6'5") so everybody in the family—from teens to grandparents—can enjoy the ride. The Easy-Step frame design is nice and low for easy mounts and dismounts.
Automatic Shifting
The new Enviolo AUTOMATiQ system does all of the shifting for you, so you can worry less and bike more. All you need to do is pedal. It'll shift up as you accelerate from a standstill, and shift down when you reach a stoplight. Set your desired pedaling cadence on the integrated Bosch Intuvia controller and let Enviolo do the rest.
* Equipped on HSD S+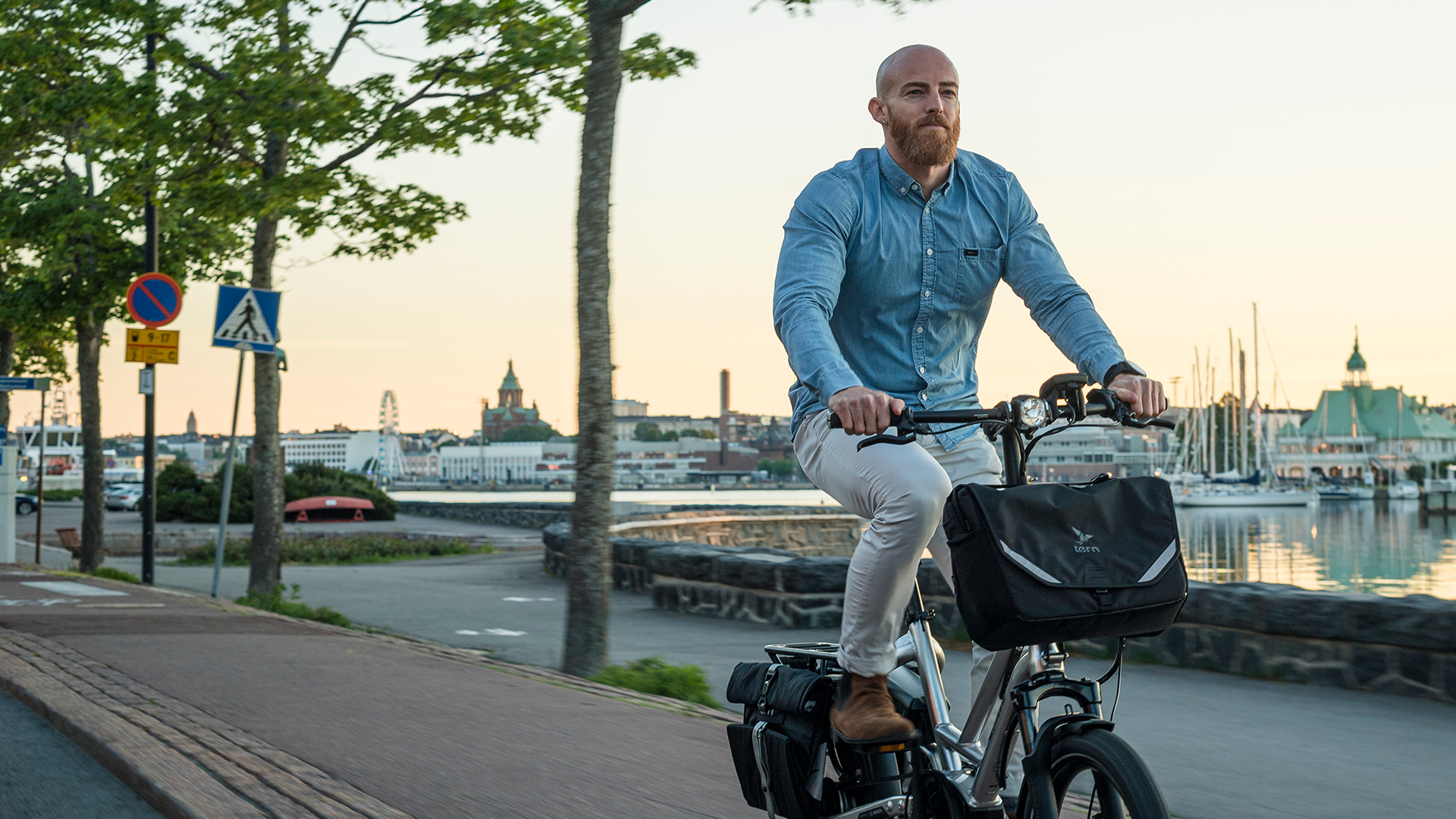 Cargo Bike Tough
The HSD gets its genes for strength and durability from the GSD. EFBE Prüftechnik GmbH, one of Europe's leading bicycle test laboratories, has tested the HSD frame and fork to 170 kg (374 lb) according to their own rigorous Tri-Test standard AND the German DIN 79010 cargo bike standards.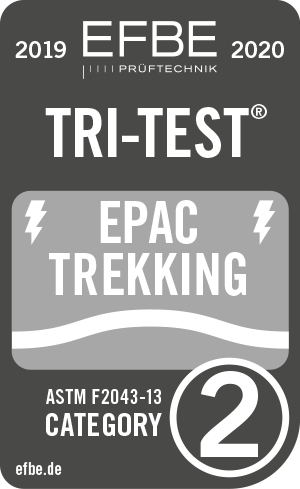 Why the HSD?
It's Extra-Comfy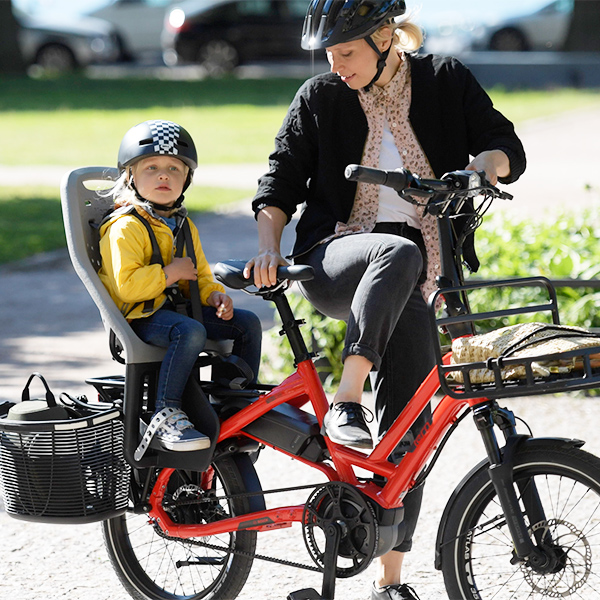 Easy-Step Frame Design
The new Easy-Step frame design offers a comfortable upright riding position for riders tall or small, as well as easy mounts and dismounts.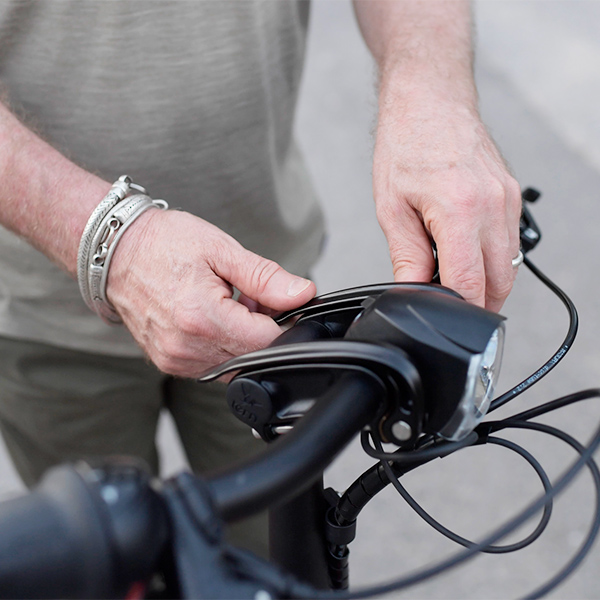 Adjustable Cockpit
Adjustable Andros stem, Sweep handlebars and precisely engineered Ergon grips combine for a phenomenally comfortable ride.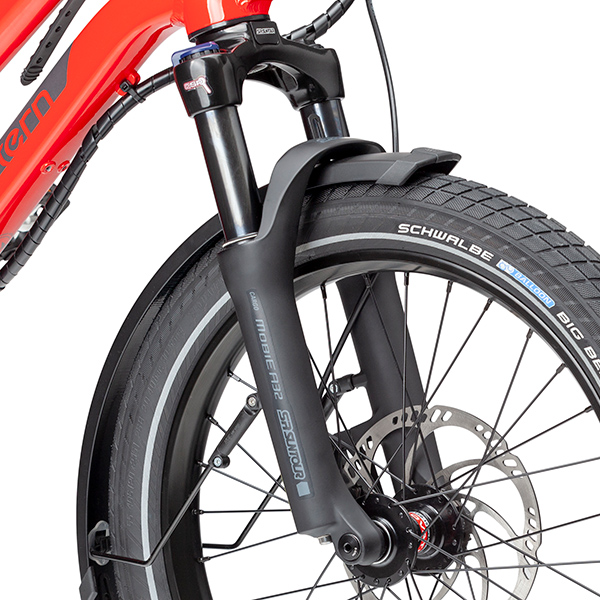 Suspension Fork
A custom Suntour suspension fork to soak up all those bumps on your daily ride—and to handle the 170kg load that the HSD is rated to.
It's a Better Hauler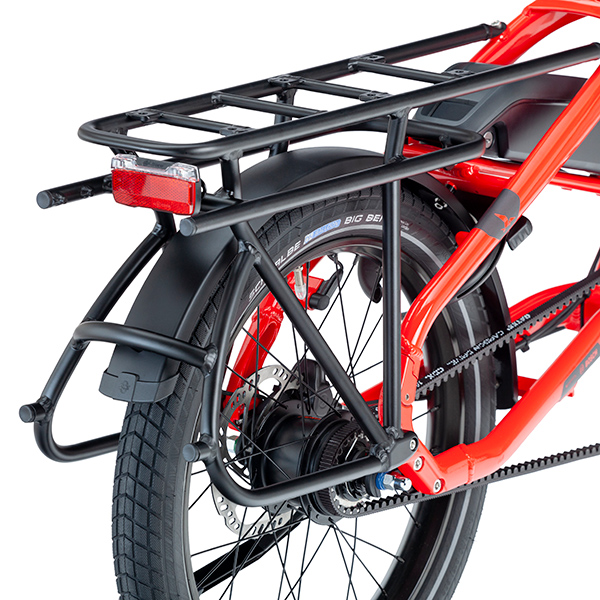 Atlas H Rack™
With a load capacity of up to 60 kg (132 lb), the HSD rack is custom-forged and loaded with features, including massively over-sized sliding dropouts, a belt access slot, a proprietary new rack mount design, and even a dedicated trailer mount.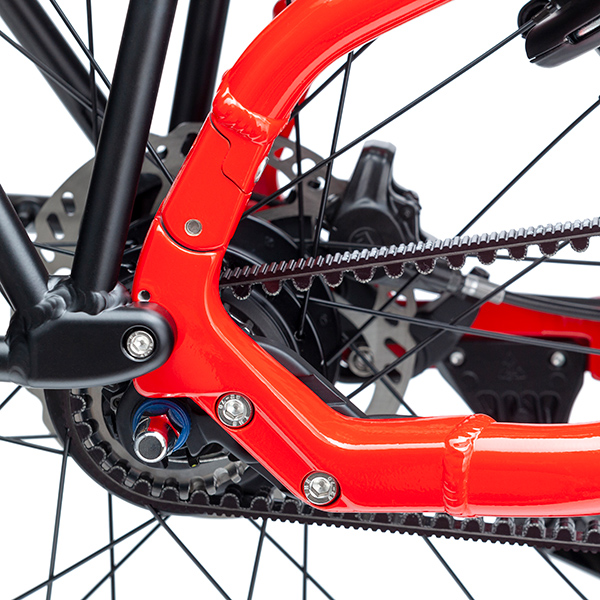 Atlas H Dropouts
Custom-forged and loaded with features, including massively over-sized sliding dropouts, a belt access slot, a proprietary new rack mount design, and even a dedicated trailer mount.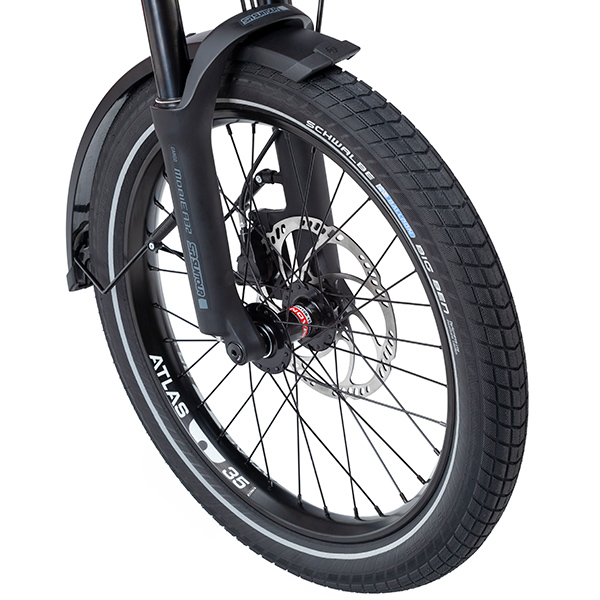 Atlas Wheels + Schwalbe Tires
Wide rims and thru-axle hubs are ready to handle all that weight. Add wide Schwalbe tires with puncture protection and you're ready to roll.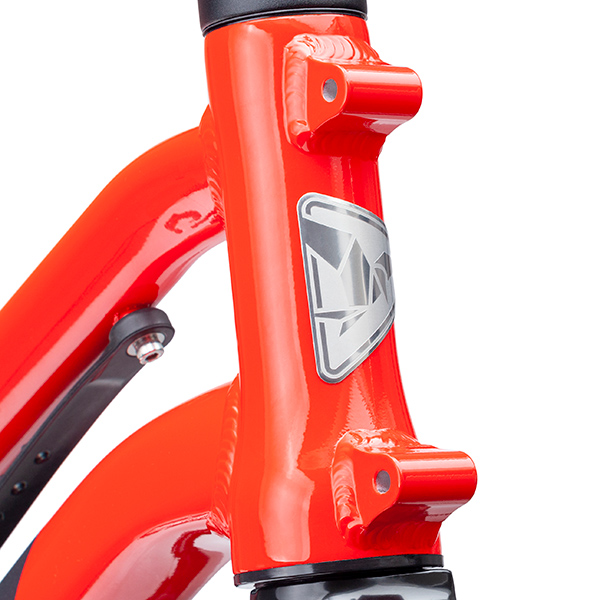 Combo Mount
Burly frame mount with multiple front cargo options. Add a messenger bag for your daily commute or a front rack for a few XL pizzas.
It's Safety-Ready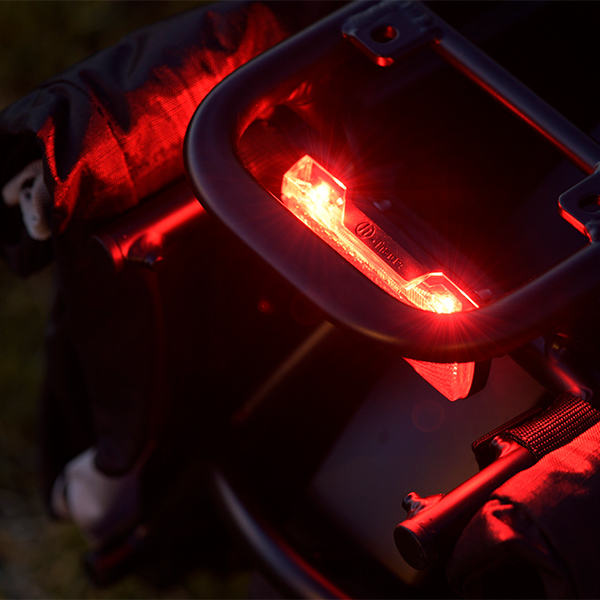 See and Be Seen
On-board lighting is connected to the main battery so you never need to worry about charging your lights, and reflective tires and decals give you additional night-time safety. And with an upright riding position, you can see and be seen over the tops of cars.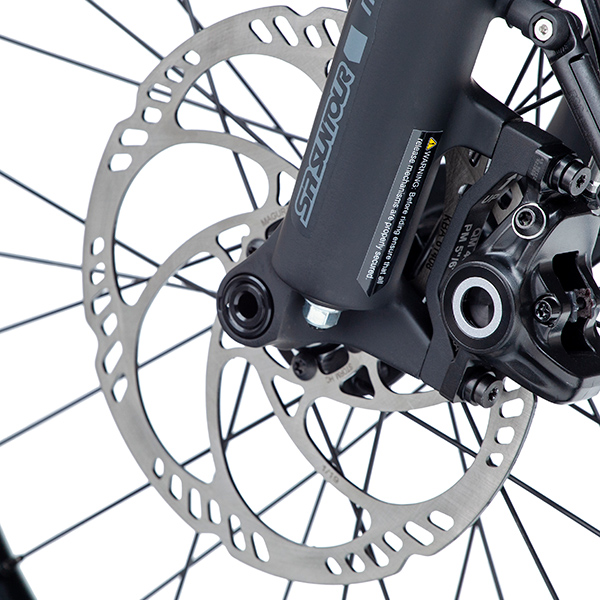 Hydraulic Disc Brakes
The HSD features hydraulic disc brakes for all-weather stopping power—which you'll definitely want when carrying precious cargo on rainy days.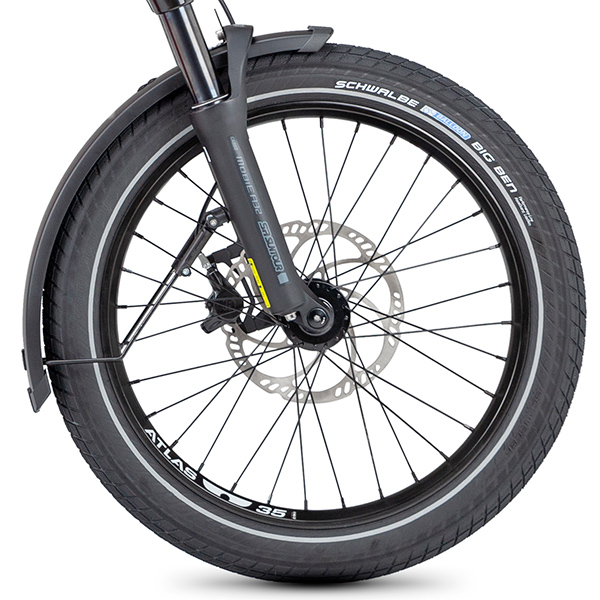 Puncture Resistant Tires
Schwalbe's RaceGuard puncture protection is a tough shield that'll keep you rolling through urban road debris.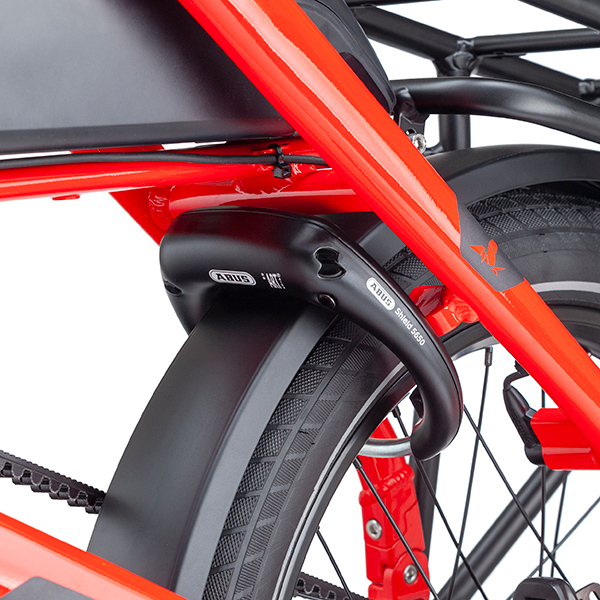 Abus Frame Lock
Added security for when you just need to make that quick stop to get your coffee. Best of all, it's keyed-alike to the battery for extra convenience.
It's a Whole Lot More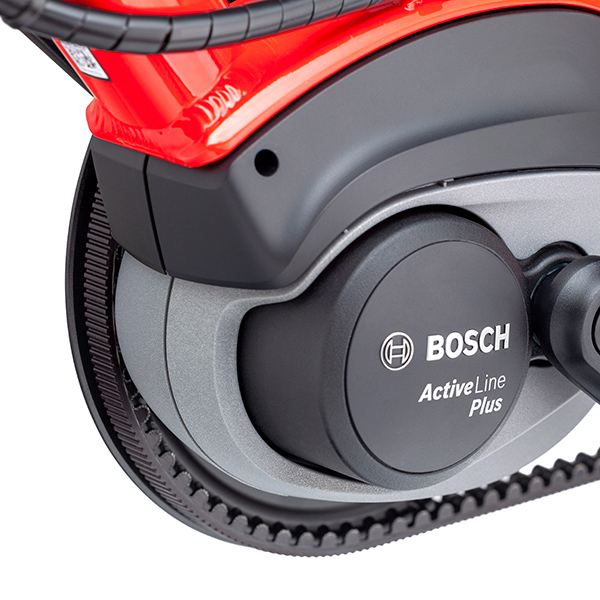 Bosch Drivetrain
With outstanding performance and the most extensive service network, the latest generation of Bosch motors deliver not just a smooth ride, but also that extra peace of mind.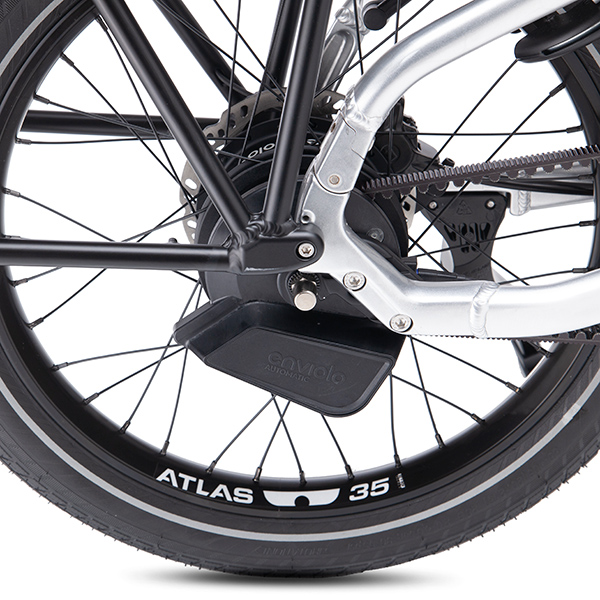 Enviolo Automatic Shifting
With the innovative Enviolo AUTOMATiQ, you really just have to pedal. An optional iOS/Android app lets you customize shifting behavior. Equipped on HSD S+.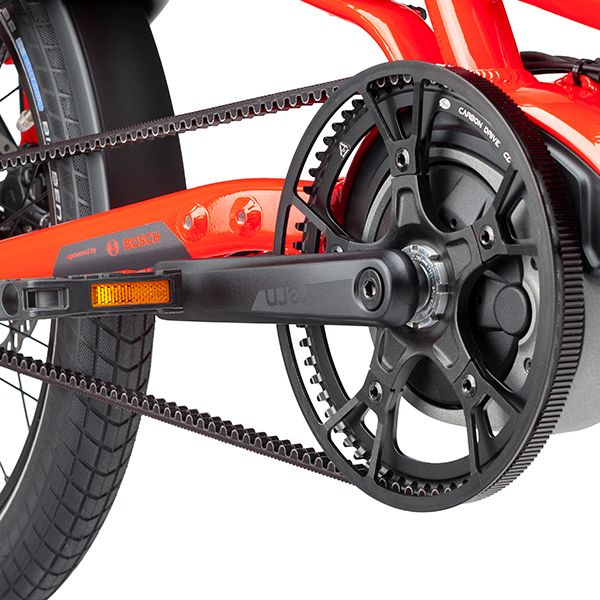 Gates Belt Drive
Smooth, silent, clean, durable, and maintenance-free—so you can spend more time riding, and less time cleaning your bike chain. Equipped on HSD S+/S8i.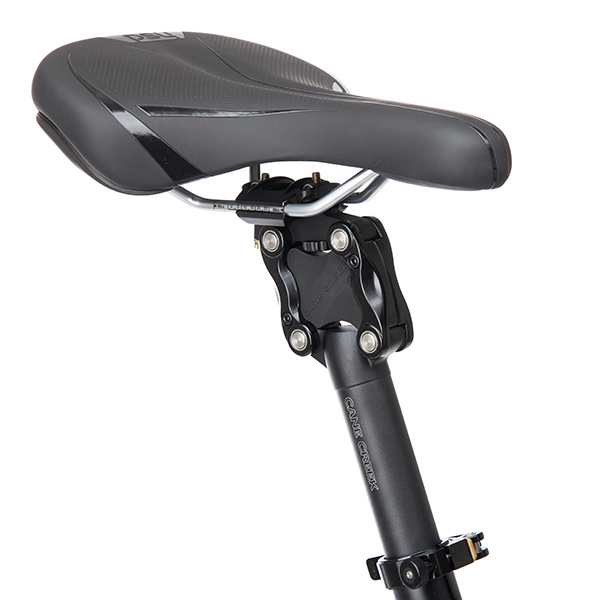 Cane Creek Thudbuster ST
Exceptional comfort. With a suspension seatpost, you've got extra cush for your tush. Equipped on HSD S+.
See For Yourself
We could go on and on about how the HSD is a great bike. But nothing beats going for a test ride and finding out what's the best match for you.
Support a Local Business
Your local bike shop is one of the essential businesses that hold your community together. But there are several other reasons why you should buy local.
Sammenlign cykler
Tilføj cykler til sammenligning