Verge D9 จ้าวแห่งความเร็ว ถูกดีไซน์ขึ้นมาบนล้อขนาด 451 โดยใช้ปรัชญาของ Verge โดยมีขนาดล้อที่ใหญ่ขึ้น ใช้เทคโนโลยี T-Tuned™ geometry และกรุ๊ปเซต 1x ซึ่งมีระยะของเกียร์ค่อนข้างกว้าง สามารถใช้งานได้ทุกสภาพเส้นทาง Verge D9 คือการควบแน่นของทุกองค์ประกอบที่เราอยากให้มีใส่ลงไปในจักรยานรุ่นนี้ และมันพร้อมสำหรับการทุกการอัพเกรดอะไหล่ที่คุณอยากจะใส่ลงไป
คุณภาพ สไตล์ ประสิทธิภาพระดับ Verge แต่ราคาระดับเริ่มต้น
พับเร็วต่ำกว่า 10 วินาที และสามารถใส่ลงไปใต้โต๊ะทำงานของคุณได้
ให้ฟิลลิ่งการปั่นที่สบายตัวและเสถียร ต้องขอบคุณเทคโนโลยีที่เป็นเอกลักษณ์ของเรา และ T-Tuned geometry
ล้อขนาด 20" 451 ใช้ความรู้สึกเหมือนปั่นจักรยานไซส์ปกติ แต่สามารถพับเหลือแค่คันนิดเดียว
มั่นใจในตลอดการเดินทางด้วยดิสก์เบรคน้ำมันของ Shimano 
กรุ๊ปเซต Shimano Acera , เฟืองขนาด 11-36T เพื่อความเอนกประสงค์ในการใช้งาน
เบาะ Tern Porter™ สำหรับเอาจักรยานขึ้นไหล่ เพื่อขนย้ายที่สะดวกขึ้น
มีบังโคลนเป็นออปชั่นเสริมสำหรับวันที่ฝนตก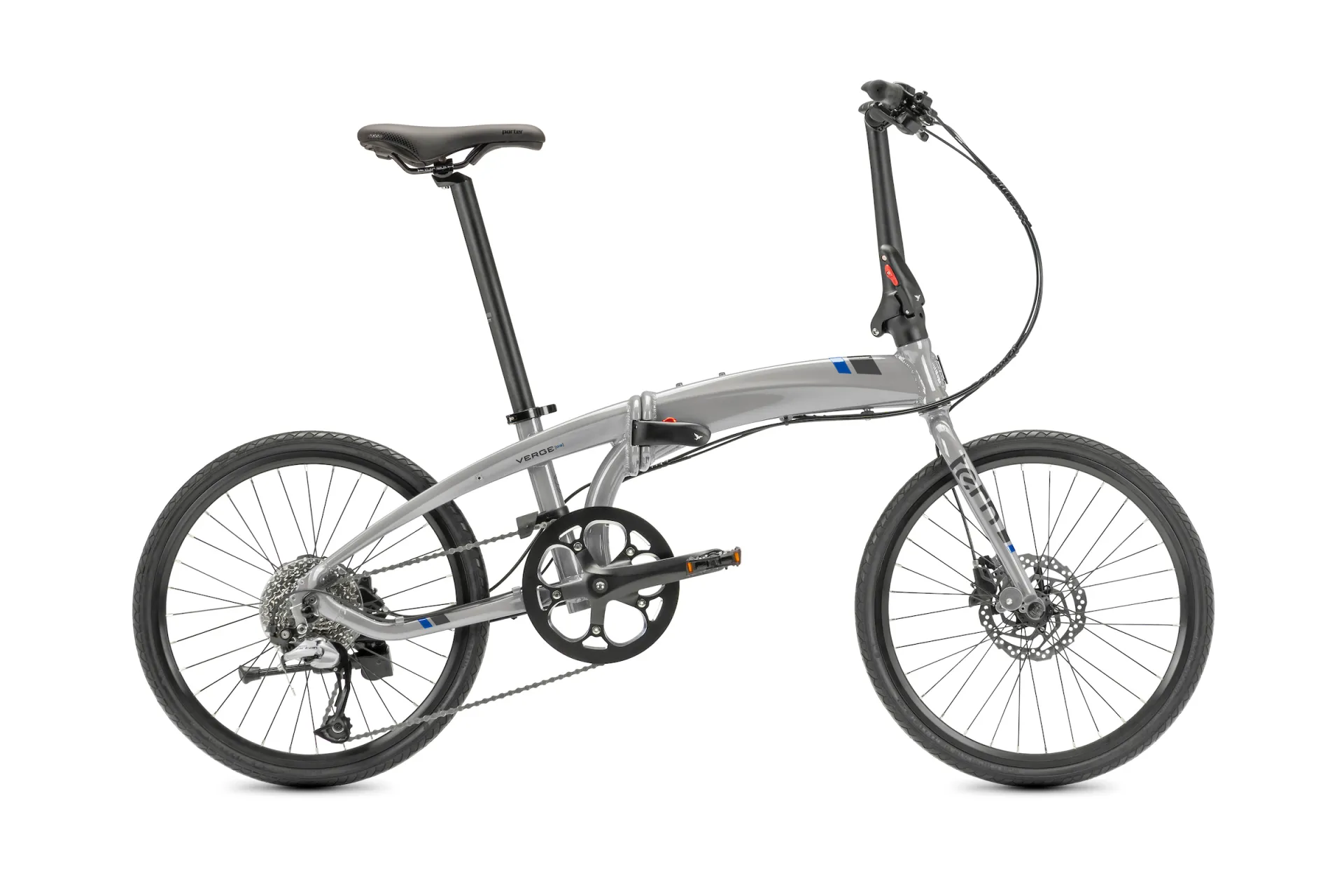 General Info
Gear Inches:
30" - 97" (2.36 - 7.72 m)
Folding Size:
440 × 800 × 740 mm (17.3 × 31.5 × 29.1 in)
Distance: Seatpost to Handlebar:
62 - 67 cm (24.4 - 26.4 in)
Distance: Saddle to Pedal:
70 - 96 cm (27.6 - 37.8 in)
Suggested Rider Height:
142 - 190 cm (55.9 - 74.8 in)
Max Gross Vehicle Weight:
Frame
Frame:
Tern Verge, hydroformed aluminum, OCL+ joint, 3 patented technologies
Fork:
Integrated, hi-tensile steel
Cockpit
Handlepost:
Tern Physis 3D (G2), 3D forged, 5 patented technologies
Stem:
Syntace VRO, adjustable, Built for Tern
Headset:
Flux, cartridge bearings, Physis integrated
Handlebar:
Flat bar, 6061-Al
Grips/Bar Tape:
Velo ergonomic, lock-on
Saddle:
Tern Porter, patented GripPad design
Seatpost:
SuperOversize, 6061-Al, micro-adjust clamp
Seatpost Clamp:
SuperOversize, 6061-Al
Brakes
Front Brake:
Hydrolic Disc Brake
Rear Brake:
Hydrolic Disc Brake
Brake Levers:
aluminum bracket/lever
Brake Cable & Housing:
Anti-compression housing, slick cables
Wheels
Front Hub:
Mini, aluminum, QR
Rear Hub:
Formula, 9 spd cassette
Spokes and Nipples:
Stainless steel
Rims:
Doublewall aluminum
Tires:
CST, 37-451, light skinwall, 60 tpi
Transmission
Shifter(s):
Shimano, trigger, 1 x 9 spd
Rear Derailleur:
Shimano Acera Shadow
Crankset:
Forged 6061 aluminum, 53T
Cassette/Freewheel:
11-36T, 9 spd
Bottom Bracket:
Cartridge, sealed bearings
Pedals:
Folding, alloy body
Shifter Cable & Housing:
SP
Bells & Whistles
Kickstand:
Deluxe rear mount
Clip System:
Magnetix 2.0
Fenders:
Opt: RP Chromeplastic, stainless hardware
*Note: These are our standard model specifications. The bike's weight and folded dimension may not include racks and fenders. The specifications for your country may differ slightly. We do our best to ensure that the specifications listed here accurately reflect the exact parts found on our production bikes. However, component changes do occur for various reasons and there may be brief delays on site updates. We reserve the right to make component changes without prior notification, which may cause discrepancies with the information listed on the web.