Verge X18 คันนี้อาจจะมองดูเหมือนเล็ก แต่ถ้าคุณได้ขี่มันคุณจะลืมไปเลยว่ามันคือจักรยานพับ แต่มันคือเสือหมอบ Hi Performance ที่คุณสามารถพับแล้ววางใต้โต๊ะทำงานของคุณ
แฮนด์หมอบ Kinetix™ Pro X จับคู่กับชุดมือเกียร์ Shimano 2×9 spd
ดุมหลัง Shimano Capreo สำหรับเฟืองเล็กขนาดพิเศษ เพื่อเพิ่มระยะ gear inches ให้พร้อมซิ่งในทุกย่างความเร็ว
ตีนผี Shimano Ultegra สำหรับการชิฟท์เกียร์อันแสนแม่นยำ
ล้อแอโร่ Kinetix Pro X ขึ้นซี่แบบคู่ เอกสิทธิ์จาก Rolf
ซี่ลวดล้อแบบแอโร่ และดุมล้อหน้าสุดลื่นจาก American Classic
ตะเกียบหน้า Hydroformed Tarsus™ พร้อมช่องเดินสายด้านในตะเกียบเพื่อความเรียบร้อยและเสริมแอโร่ไดนามิก
สามารถพับให้เล็กสุดได้อย่างง่ายดายภายใน 10 วินาที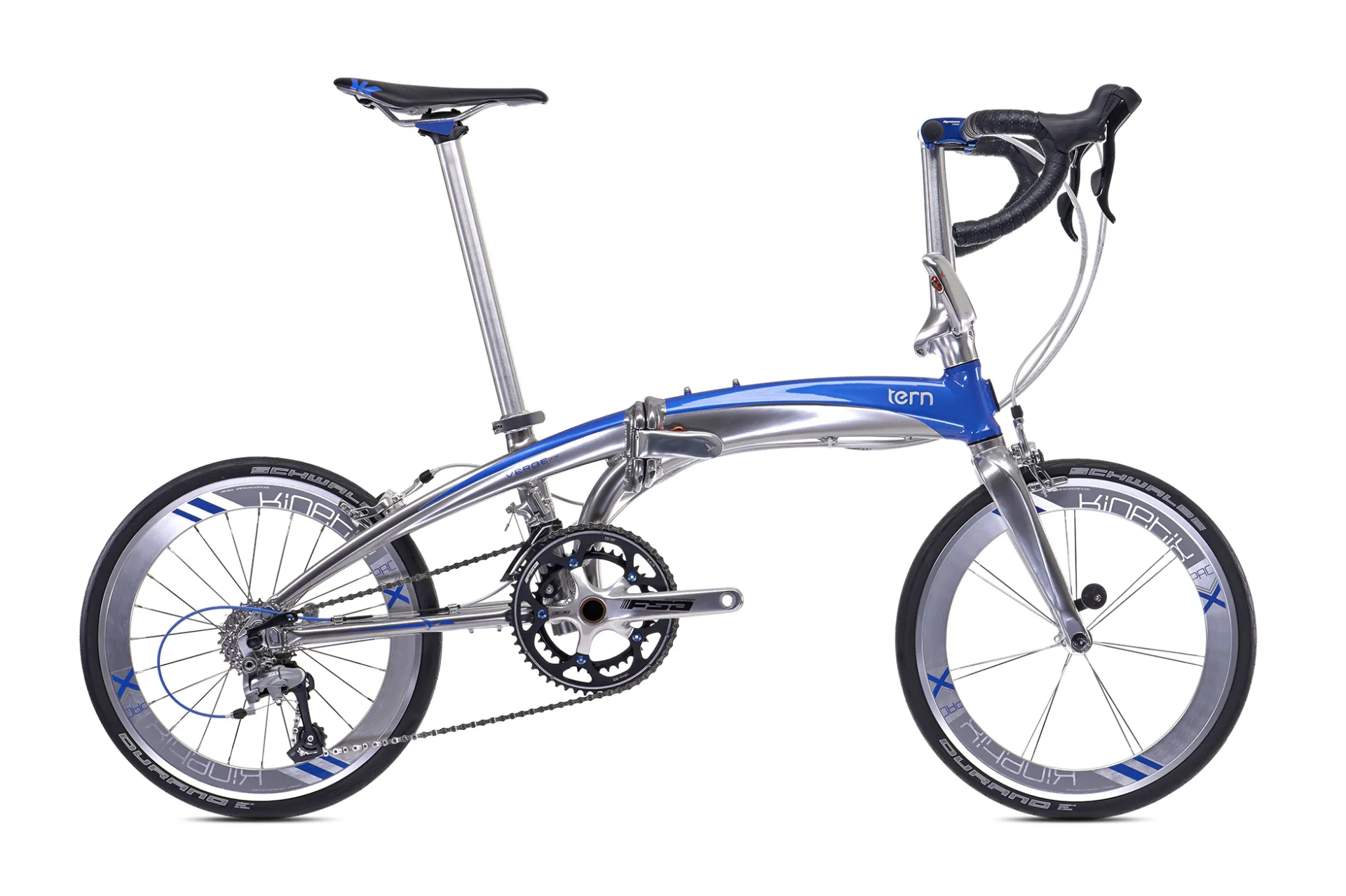 General Info
Gear Inches:
28" - 109" (2.21 - 8.70 m)
Folding Size:
420 × 770 × 710 mm (16.5 × 30.3 × 28 in)
Distance: Seatpost to Handlebar:
Distance: Saddle to Pedal:
67 - 95 cm (26.4 - 37.4 in)
Suggested Rider Height:
142 - 190 cm (55.9 - 74.8 in)
Frame
Frame:
Tern Verge, hydroformed 7005-Al w/ smooth TIG welding, 3 patented technologies
Fork:
Tarsus, 6061-AL, hydroformed
Cockpit
Handlepost:
Tern Physis 3D, 3D forged, 5 patented technologies
Stem:
Syntace VRO, adjustable, Built for Tern
Headset:
Flux Pro, angular contact bearings, Physis integrated
Handlebar:
Kinetix Pro X Drop, 7050-AL, 42 cm, multi-butted, compact drop, for VRO
Saddle:
Kore Road Performance
Seatpost:
Stasis by Syntace, 7050-AL, hard-anodized
Seatpost Clamp:
Syntace OverLock
Brakes
Front Brake:
Kinetix, dual pivot caliper
Rear Brake:
Kinetix, dual pivot caliper
Brake Levers:
Shimano Sora STI
Brake Cable & Housing:
Jagwire, anti-compression housing, slick cables, Slick Lube liner, alloy ferrules
Wheels
Front Hub:
Kinetix Pro by American Classic
Spokes and Nipples:
Sapim CX-Sprint Bladed, custom forged
Rims:
Kinetix Pro X Aero, 6061-T10 aluminum, Patented Rolf paired spoke design
Tires:
Schwalbe Durano, 28-406, foldable, puncture protection, 120 psi
Transmission
Shifter(s):
Shimano STI, 2 x 9
Front Derailleur:
Shimano Sora
Rear Derailleur:
Shimano Ultegra
Crankset:
FSA Gossamer, 53/39T, MegaEVO BB386, Built for Tern
Cassette/Freewheel:
Shimano Capreo, 9-26T, 9 spd
Bottom Bracket:
FSA BB386
Shifter Cable & Housing:
Jagwire LEX-SL, slick treatment, alloy ferrules
Bells & Whistles
Clip System:
Magnetix 2.0
Rear Light:
BioLogic TailLight
*Note: These are our standard model specifications. The bike's weight and folded dimension may not include racks and fenders. The specifications for your country may differ slightly. We do our best to ensure that the specifications listed here accurately reflect the exact parts found on our production bikes. However, component changes do occur for various reasons and there may be brief delays on site updates. We reserve the right to make component changes without prior notification, which may cause discrepancies with the information listed on the web.