Link A7讓你用最能負擔的價格,發掘、體驗我們的折疊車多樣化的功能性。7段變速、訂製的伸縮豎管,非常易於精確的調整到妳需要的騎行姿勢。設計保留後貨架接孔,讓你能依照自己的需求選擇加裝,成為更全面的都市通勤機器。
折疊小巧卻有大車的順暢騎行
20"輪徑在都市中更加來去自如
7速傳動,滿足都市中的坡道騎行及競速需求
折疊收納於室內,完美防竊
可調整以符合不同的騎乘者所需
後貨架孔座
可選配土除,雨天騎行更舒適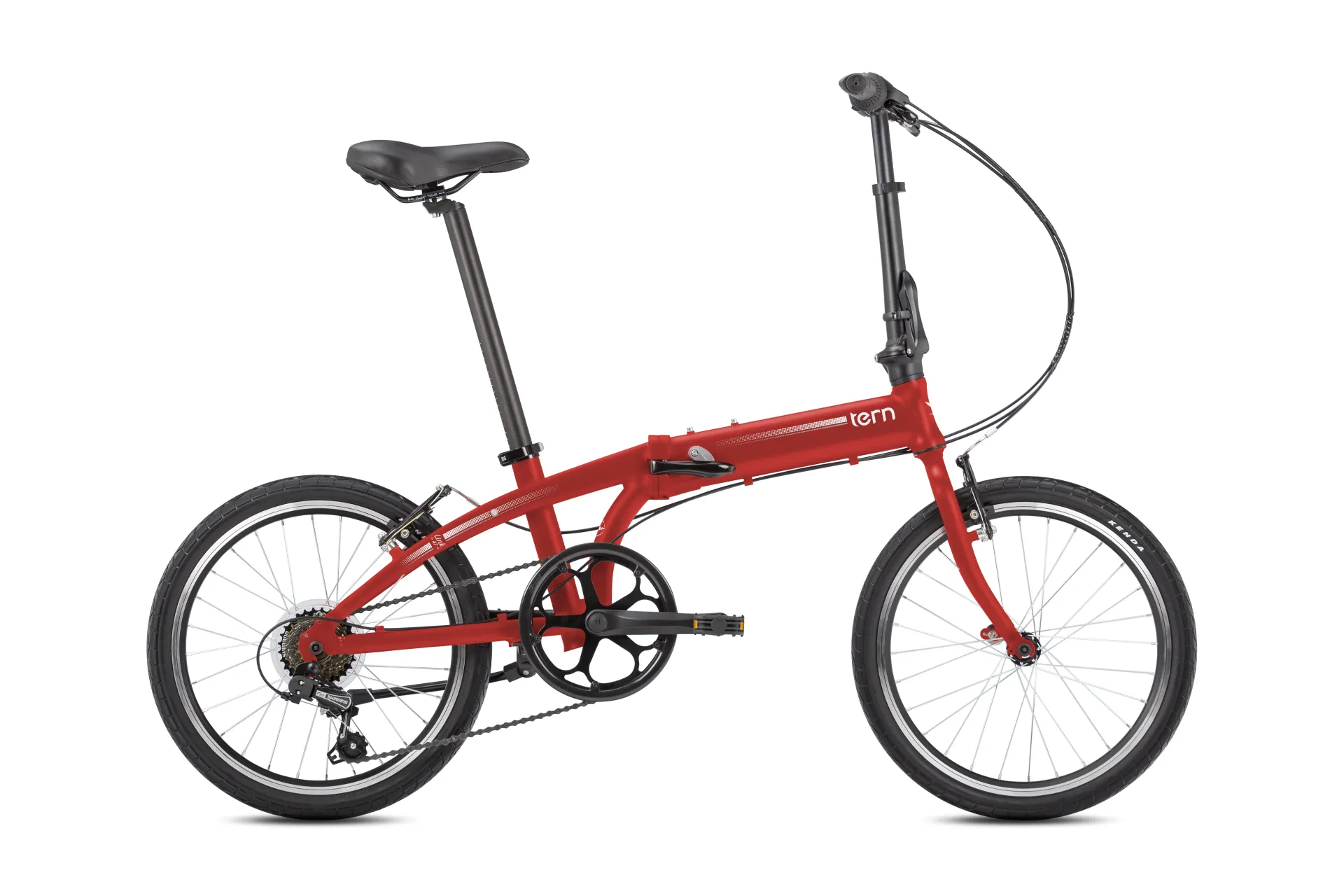 General Info
Gear Inches:
36" - 72" (2.86 - 5.72 m)
Folding Size:
39.5 × 80 × 73 cm (15.6 × 31.5 × 28.7 in)
Distance: Seatpost to Handlebar:
Distance: Saddle to Pedal:
70 - 96 cm (27.6 - 37.8 in)
Suggested Rider Height:
142 - 190 cm (55.9 - 74.8 in)
Max Gross Vehicle Weight:
Frame
Frame:
Tern Link, aluminum, FBL joint
Cockpit
Handlepost:
Telescopic Handlepost
Handlebar:
Flat bar, 6061-AL
Seatpost:
SuperOversize, 6061-AL, micro-adjust clamp
Seatpost Clamp:
SuperOversize, 6061-AL
Brakes
Front Brake:
V, aluminum, linear spring
Rear Brake:
V, aluminum, linear spring
Brake Levers:
V, aluminum bracket/lever
Brake Cable & Housing:
Anti-compression housing, slick cables
Wheels
Front Hub:
Mini, aluminum
Rear Hub:
7 spd, aluminum
Spokes and Nipples:
Stainless steel
Rims:
Aluminum, double wall
Tires:
Kenda Kwest, 20 x 1.75"
Transmission
Shifter(s):
Shimano, 1 x 7 spd, twist
Rear Derailleur:
Shimano Tourney
Crankset:
Forged 6061 aluminum, 52T
Cassette/Freewheel:
Shimano 14-28T, 7 spd
Bottom Bracket:
Two-piece
Pedals:
Folding, alloy body
Shifter Cable & Housing:
SP
Bells & Whistles
Kickstand:
Deluxe center mount
Fenders:
Opt: RP Chromeplastic, stainless hardware
*Note: These are our standard model specifications. The bike's weight and folded dimension may not include racks and fenders. The specifications for your country may differ slightly. We do our best to ensure that the specifications listed here accurately reflect the exact parts found on our production bikes. However, component changes do occur for various reasons and there may be brief delays on site updates. We reserve the right to make component changes without prior notification, which may cause discrepancies with the information listed on the web.