La Node D7i está diseñada para los desplazamientos urbanos. Versátil sistema de cambios interno de 7 velocidades. Bajo nivel de mantenimiento, guardabarros y portapaquetes trasero integrado. Con manubrio curvo hacia atrás y poste de manubrio ajustable Andros™, siempre lista para cualquier hueco e incluso para las tormentas. Para obtener una mayor utilidad, diseñamos una versión con luz integrada y un dínamo para generar energía eléctrica.
Bajo nivel de mantenimiento, versátil sistema de cambios internos
Manubrio curvo hacia atrás que ofrece una posición erguida y cómoda
Cubrecadena FreeDrive™ para proteger tu ropa de grasa y suciedad
Incluye guardabarros Freelance™ y Portapaquetes Freight™
Stem ajustable Andros™ para una óptima y cómoda posición de viaje
Cubiertas Schwalbe Big Apple de alta resistencia a los pinchazos con protección en Kevlar
Se pliega de forma compacta en 10 segundos para el guardado y el transporte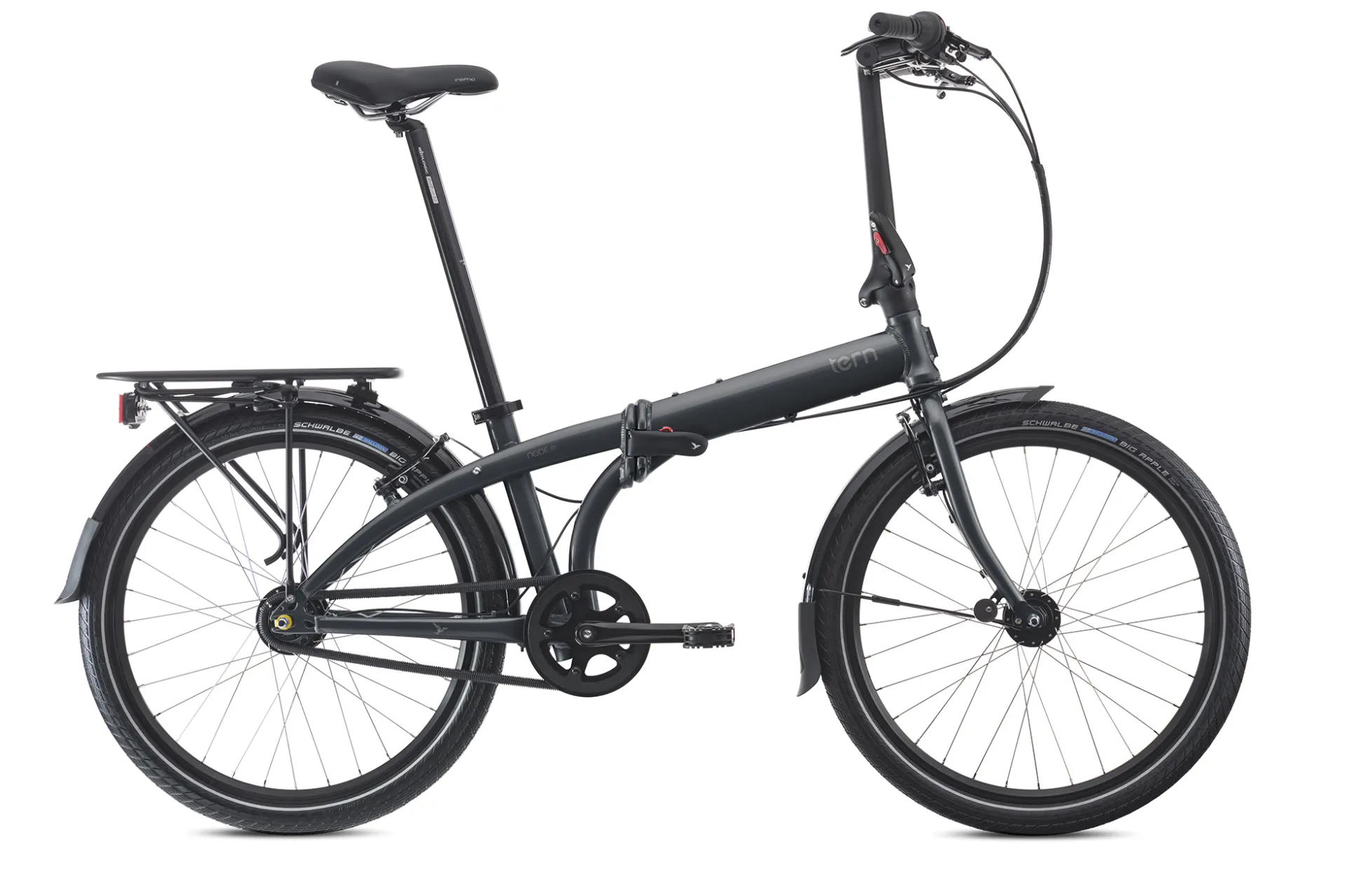 General Info
Gear Inches:
34" - 83" (2.71 - 6.62 m)
Folding Size:
390 × 860 × 840 mm (15,4 × 33,9 × 33,1 in)
Distance: Seatpost to Handlebar:
67 - 73 cm (26,4 - 28,7 in)
Distance: Saddle to Pedal:
79,5 - 105 cm (31,3 - 41,3 in)
Suggested Rider Height:
148 - 195 cm (58,3 - 76,8 in)
Max Gross Vehicle Weight:
Frame
Frame:
Tern Node, aluminio, 2 tecnología patentadas
Fork:
Integrada, acero hi-tensile
Cockpit
Handlepost:
Tern Physis 3D (G2), 3D forjado, 5 tecnologías patentadas
Stem:
Tern Andros (G2), ajustable, forjado, tecnología patentada
Headset:
Flux, topes de goma, Physis integrado
Handlebar:
Tern Sweep, 6061-Al, Tern Andros butted
Grips/Bar Tape:
Velo ergonomic, lock-on
Saddle:
BioLogic Como DLX
Seatpost:
SuperOversize, 6061-Al, micro-adjust clamp
Seatpost Clamp:
SuperOversize, 6061-AL
Brakes
Front Brake:
V, aluminio, resorte lineal
Rear Brake:
V, aluminio, resorte lineal
Brake Levers:
V, aluminio, resorte lineal
Brake Cable & Housing:
Cobertura anti compresión, cable cromado
Wheels
Front Hub:
Mini, aluminio
Rear Hub:
Shimano Nexus 7 freewheel
Spokes and Nipples:
Acero inoxidable
Rims:
Doble pared, aluminio
Tires:
Schwalbe Big Apple, 50-507, protección anti-pinchaduras, Reflex
Transmission
Shifter(s):
Shimano Nexus 7 velocidades
Crankset:
Palanca de aluminio-6061 forjado al frío, pulido a mano
Bottom Bracket:
Cartridge, sealed bearings
Pedals:
Plegables, estructura de aleación
Shifter Cable & Housing:
Shimano
Bells & Whistles
Chainguard:
BioLogic FreeDrive
Kickstand:
Soporte deluxe central
Clip System:
Magnetix 2.0
Fenders:
Freelance, stainless hardware
Rack(s):
Tern Freight Rack
*Note: These are our standard model specifications. The bike's weight and folded dimension may not include racks and fenders. The specifications for your country may differ slightly. We do our best to ensure that the specifications listed here accurately reflect the exact parts found on our production bikes. However, component changes do occur for various reasons and there may be brief delays on site updates. We reserve the right to make component changes without prior notification, which may cause discrepancies with the information listed on the web.