Selecting the Right Clubhouse for Your Family
Heads up!
This article mentions third-party child seats that are not manufactured by Tern. Please note that child seat designs might change, and that their manufacturers may choose to maintain the same product name even after the design has changed.
Always consult with your bike dealer, or with the child seat manufacturer or reseller, to make sure you have the right seats to safely carry your kid(s).
With an extensive ecosystem of accessories to suit your needs, our cargo bikes like the GSD, HSD, Quick Haul, and Short Haul help you tackle day-to-day tasks without ever needing to reach for your car keys. Now, if you're looking to use your cargo bike for school drop-offs or playground runs, you'll also need a passenger system that includes seating, handhold, foot support, and foot and leg protection to safely transport the little ones.
Our line of Clubhouse carriers contribute to the framework for a reliable passenger system. In this article, we'll introduce the different Clubhouse models and their intended passenger setup, which bike models they are compatible with, and some useful accessories you may be interested in. Let's get started!
Contents
An overview of the Clubhouse lineup
Our Clubhouse carriers are passenger rails that turn the upper deck of your bike's rear rack into an enclosed, supportive cabin for your kids to enjoy the ride from. These carriers are made of strong aluminum tubings that provide a sturdy handhold for bumps and turns on the road, and are designed with extended side rails for added hand protection.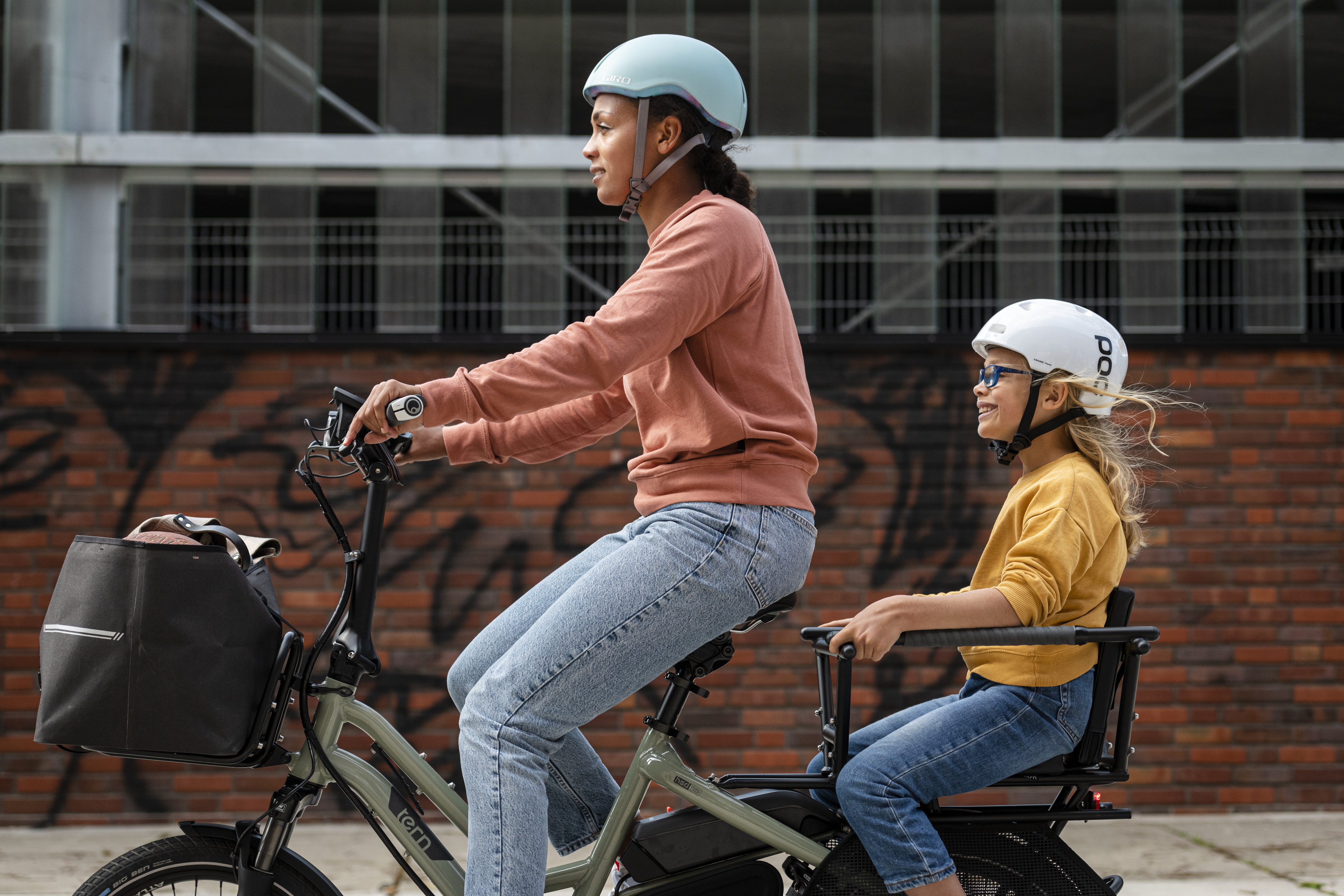 The Clubhouse lineup is primarily made up of three models: Clubhouse Mini, Clubhouse Gen 3, and the Clubhouse+. Although there are overlapping usage scenarios among the three, each is created to fulfill specific passenger-carrying needs, as we will explain next.
What is the Clubhouse Mini?
The Clubhouse Mini is the smallest among the Clubhouse family. With 400 x 400 mm of interior space, it's the perfect-size kid corral for single-child families looking to carry a younger child in a child seat, or a big kid (approximately 5 - 10 years old) when used with a seating accessory such as the Clubhouse Backrest plus one Clubhouse Seat Pad combo. The Clubhouse Mini is ideal for our compact cargo bikes, such as the HSD (Gen 1 or Gen 2), Quick Haul, and Short Haul.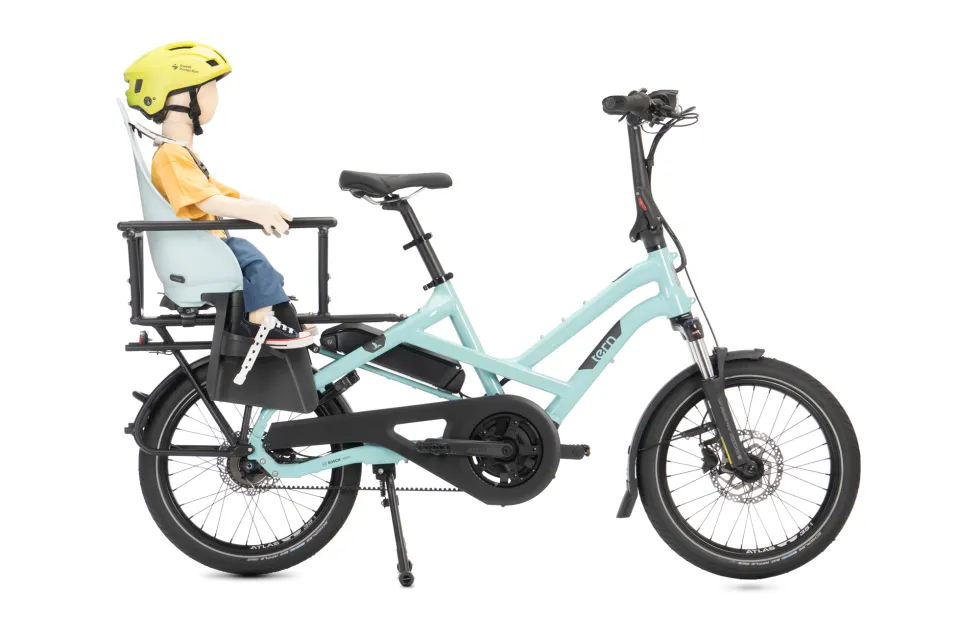 Does your bundle of joy come in two? For families looking to carry two kids by bike, we created the Clubhouse Gen 3 and the Clubhouse+ to handle double the cuteness.
What is the Clubhouse?
The previous version of the Clubhouse kid corral was designed exclusively for the GSD Gen 1, and although it faithfully served families with two big kids, we realized that a good number of folks want to ride with their wee ones as well. And how can we say no to the thought of giggling, waiving tots?
The Clubhouse Gen 3 is especially created for families who wish to carry two younger kids on the GSD Gen 1 or Gen 2. It comes with an interior space of 600 x 400 mm that can be expanded by swapping the Flat Bar for the Child Seat Expansion Bar to support up to two rack-mounted child seats. Parents have the freedom to choose from a wide range of models, including Bobike GO Maxi, Urban Iki rear seats, and Thule Yepp Maxi (version 1), Yepp 2 Maxi, and Yepp Nexxt Maxi.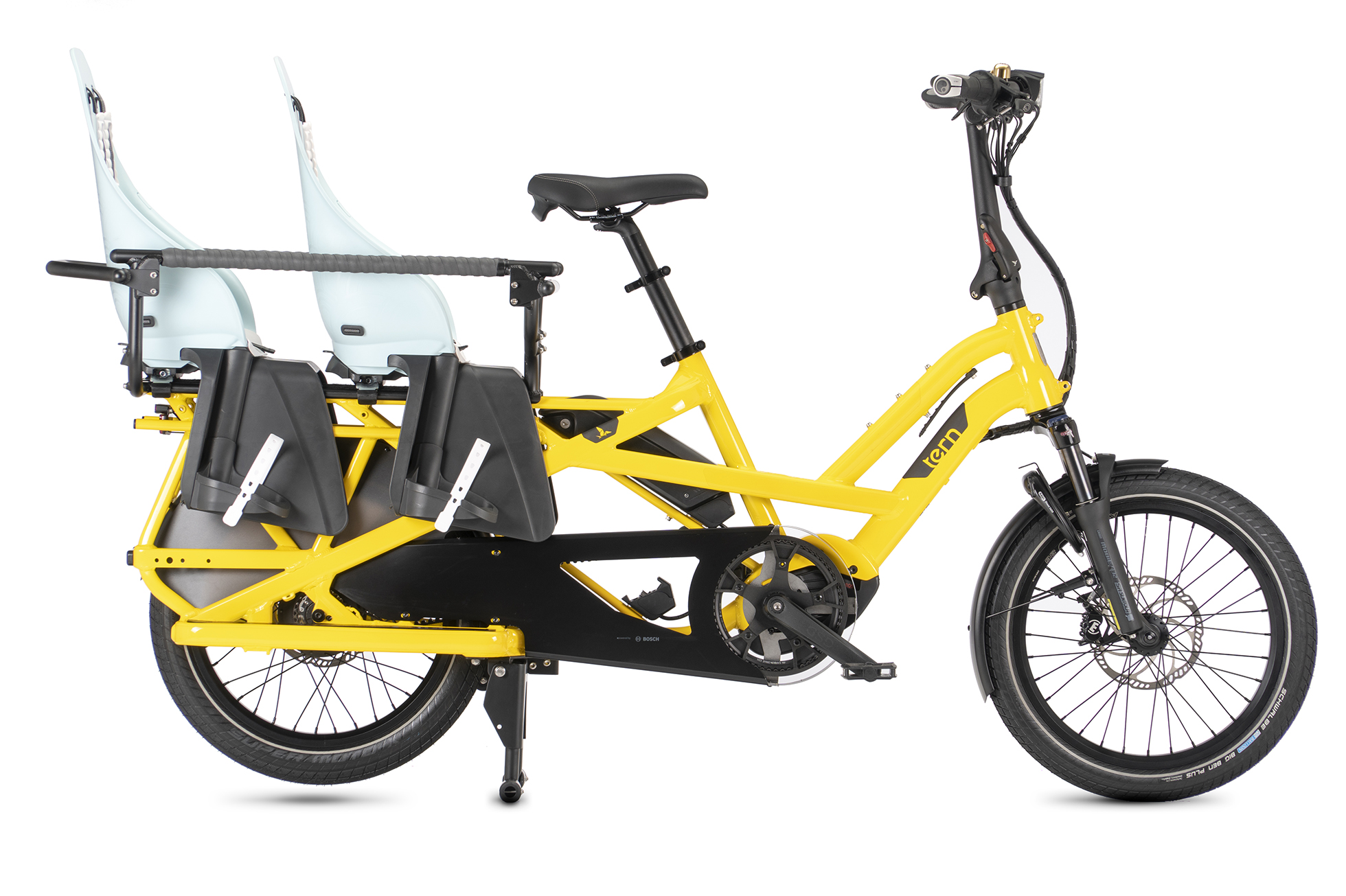 To give our riders even greater flexibility to build setups that suit their budgets and ever-changing needs, the Clubhouse Gen 3 is offered with the backrest, seat pads, and bar tape as optional add-ons. For example, families with two very young kids seated in child seats will not need seat pads and a backrest anytime soon. For these folks, the Clubhouse Gen 3 is an economical and practical carrier choice that allows them to add seating accessories later on when the kids are ready to ride without child seats.
What is the Clubhouse+?
With included seat pads, backrest, and bar tape for all-round padded comfort, the Clubhouse+ is most ideal for families with two big kids, readily providing a cozy 600 x 400 mm hangout space for the kiddos on the back of the GSD (Gen 1 or Gen 2).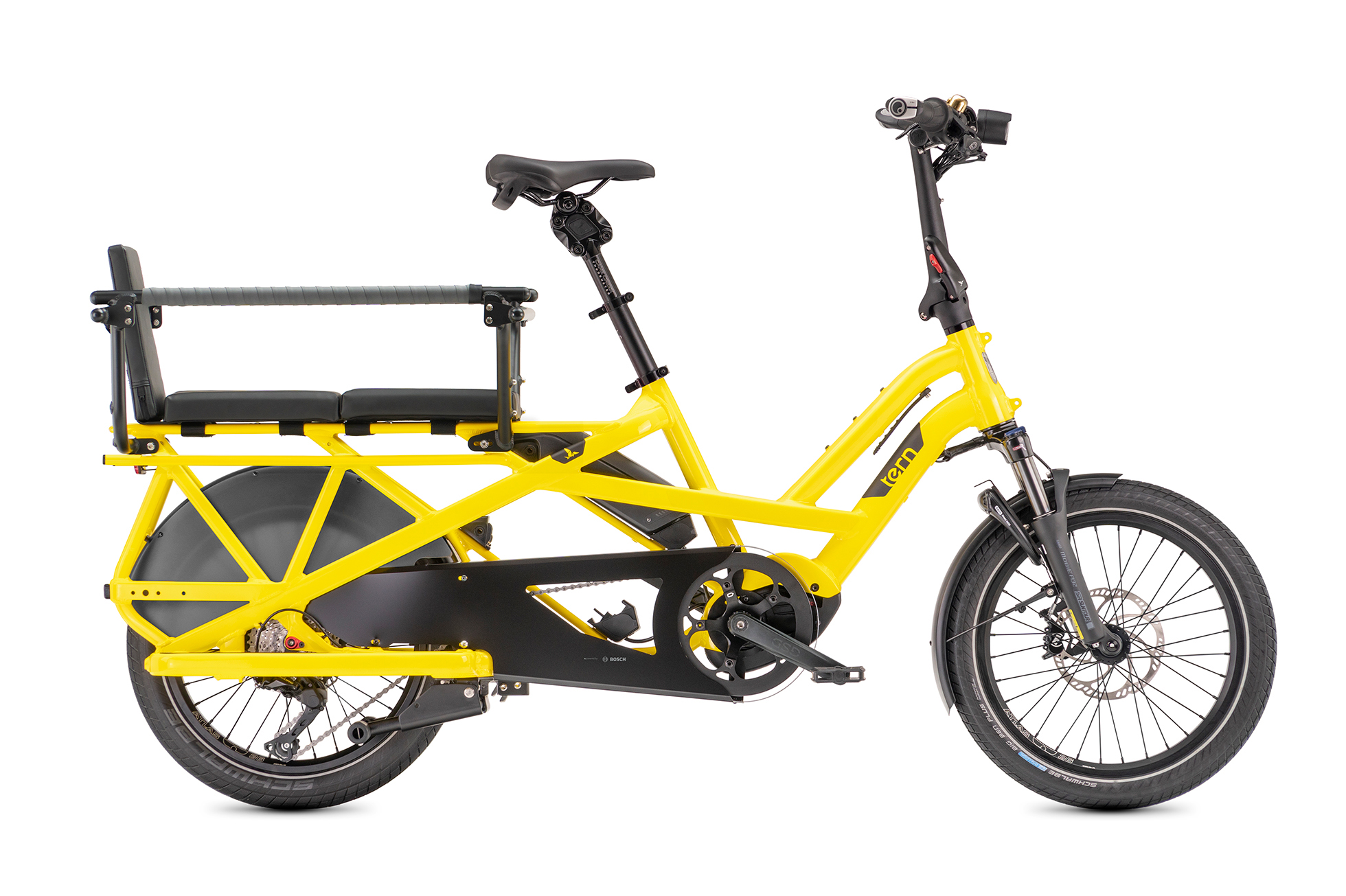 The Clubhouse+ also comes with the Child Seat Expansion Bar, making it great for supporting one compatible child seat in the rear position when a rider wants to carry a young kid with an older sibling.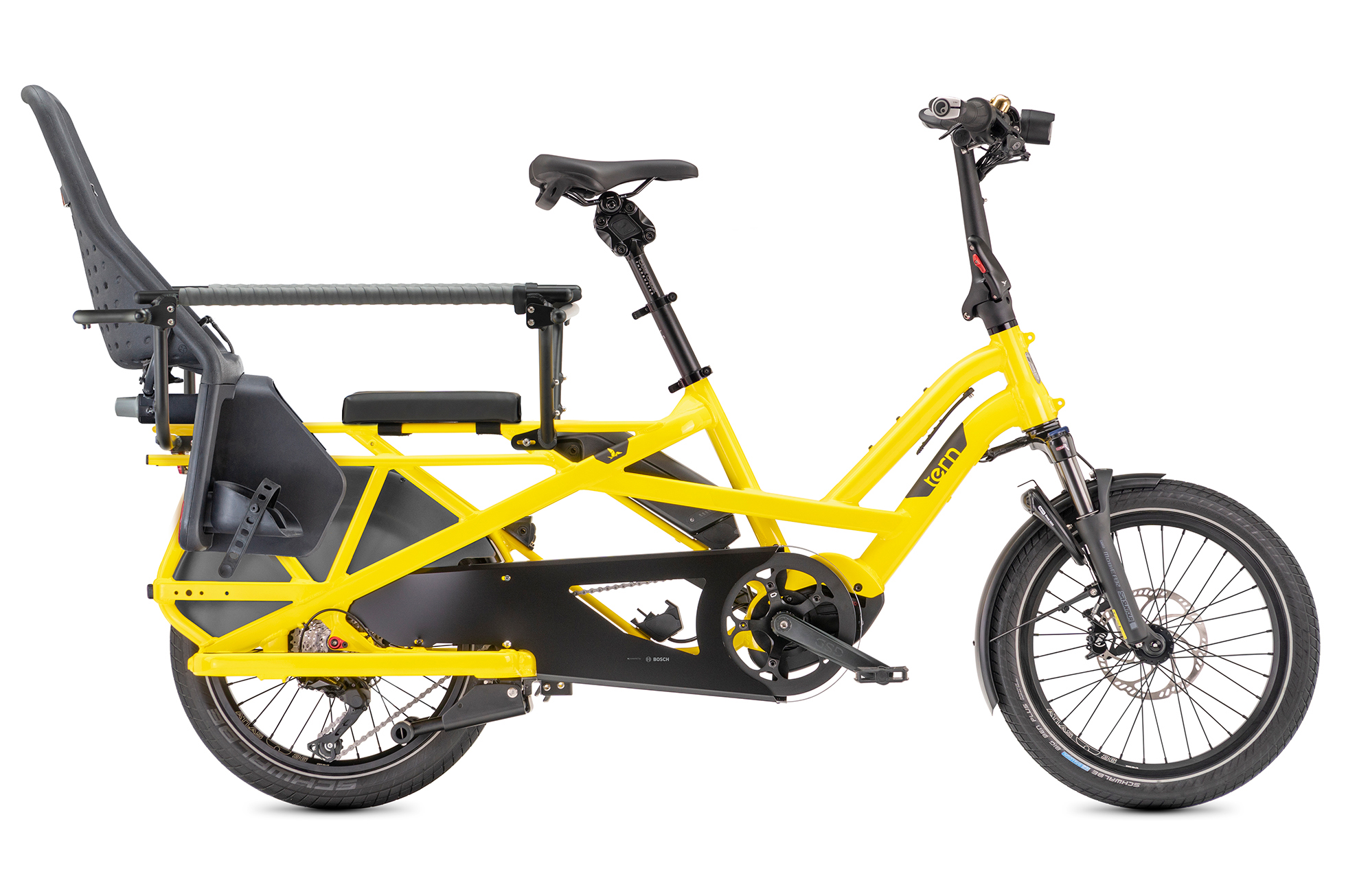 GSDers—need something quick to help you decide between the Clubhouse and Clubhouse+?
Here's a handy chart we've created to help you find the right Clubhouse and/or child seat(s). Save it on your phone or print it out for something quick you can refer to when you visit your dealer.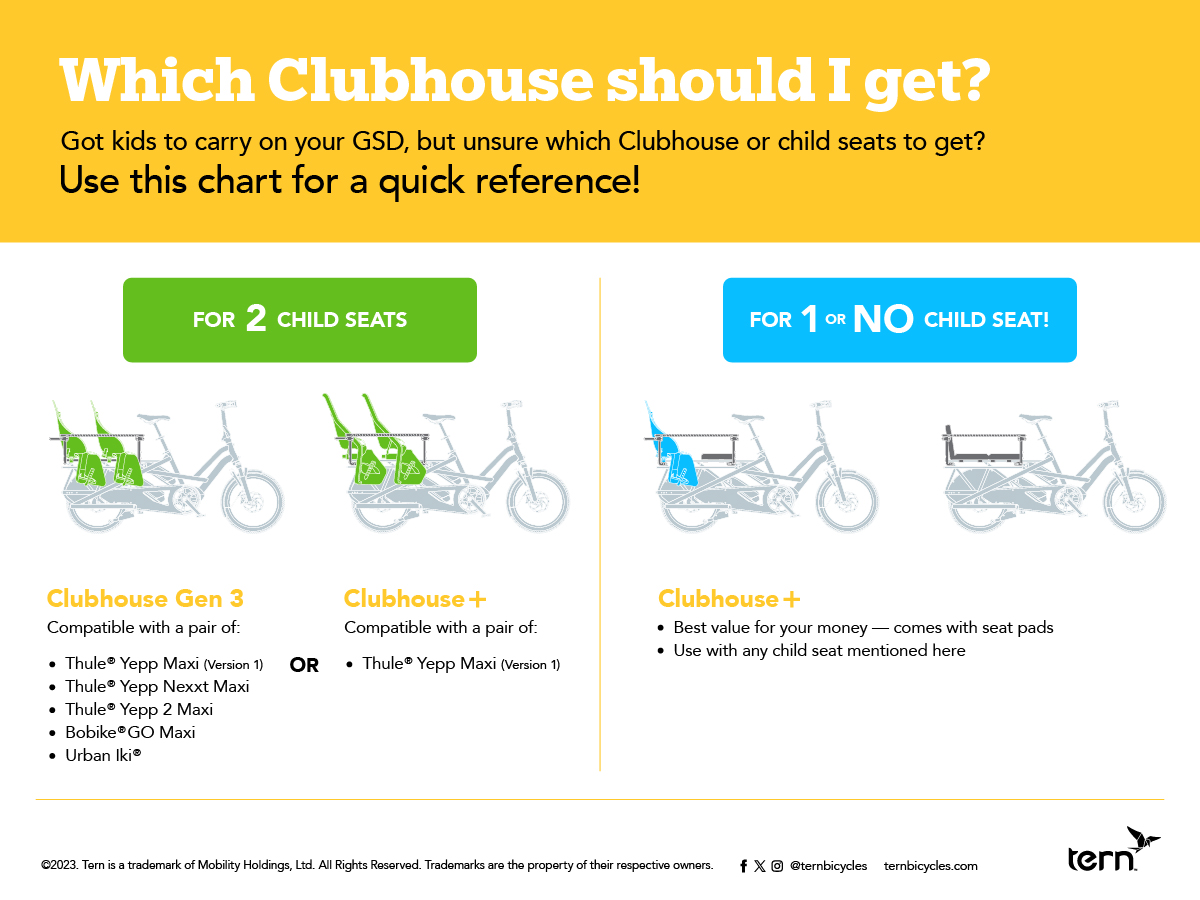 What other Tern accessories can I use with the Clubhouse carriers?
As part of Tern's vast ecosystem of accessories, all Clubhouse carriers are designed with a modular approach to allow riders to mix-and-match accessories and build setups tailored to their needs. Here's a couple of accessory options you may want to consider to enhance the comfort and safety of your little passengers.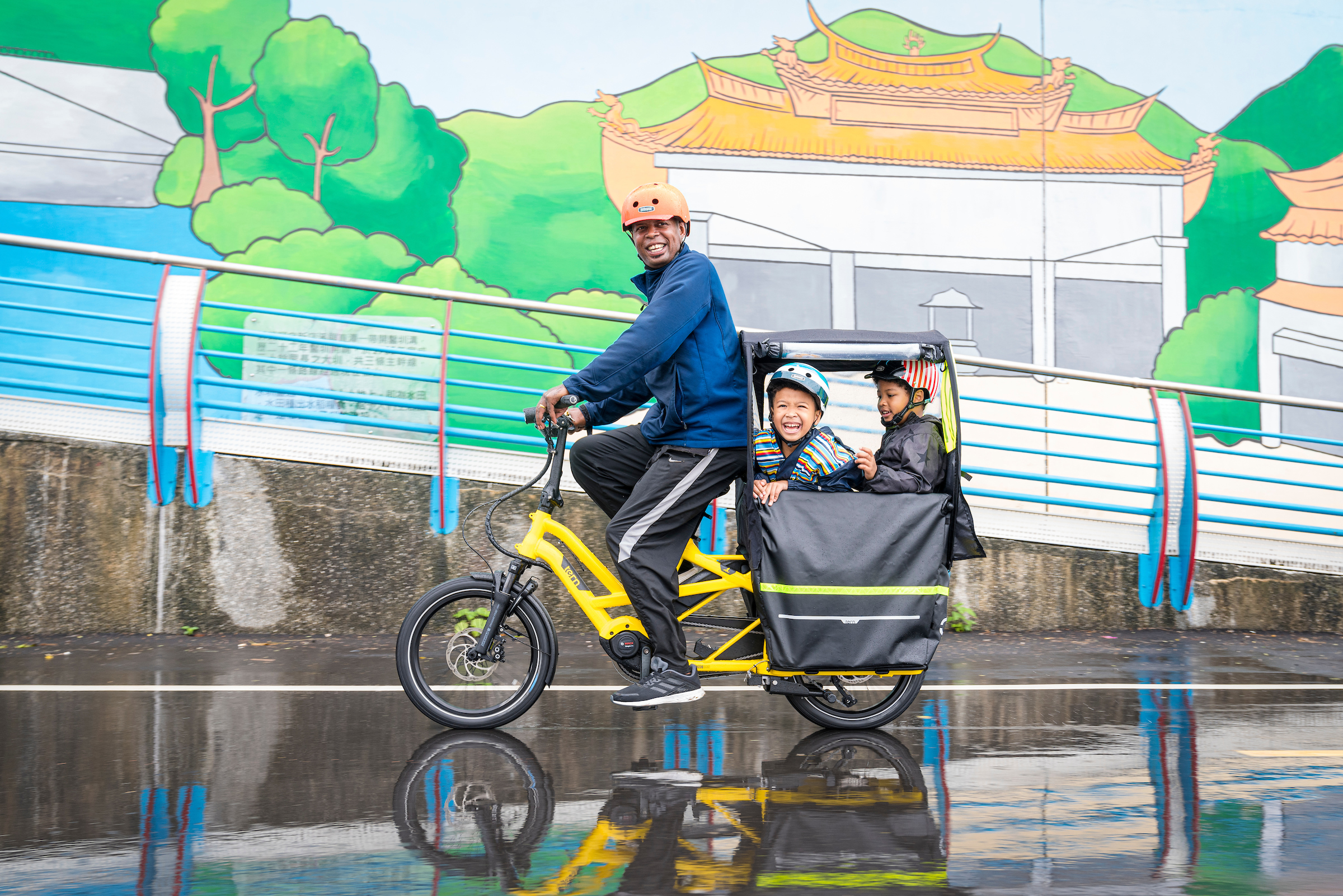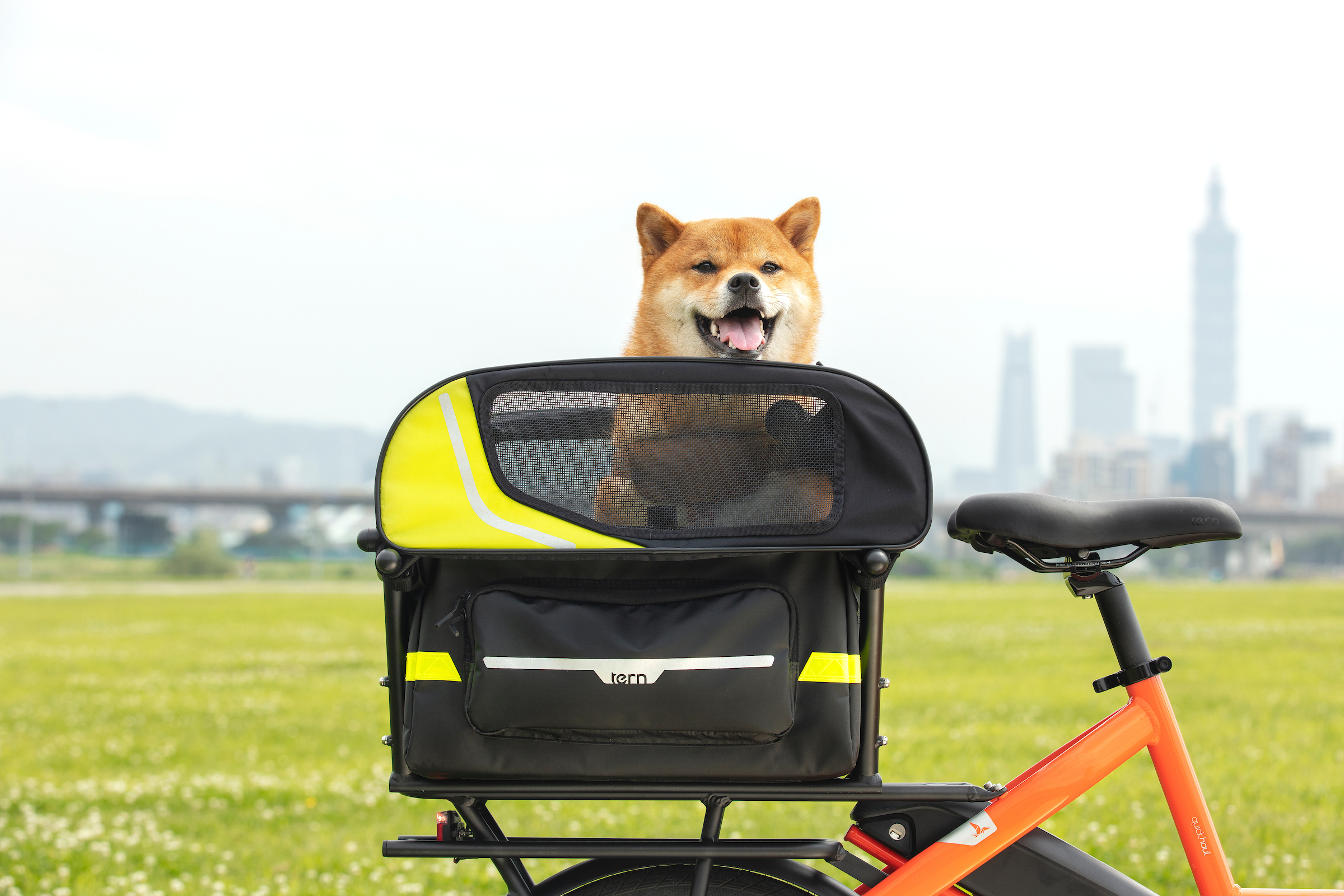 The Doghouse Mini lets you safely carry a small to medium-sized canine passenger even during rainy days.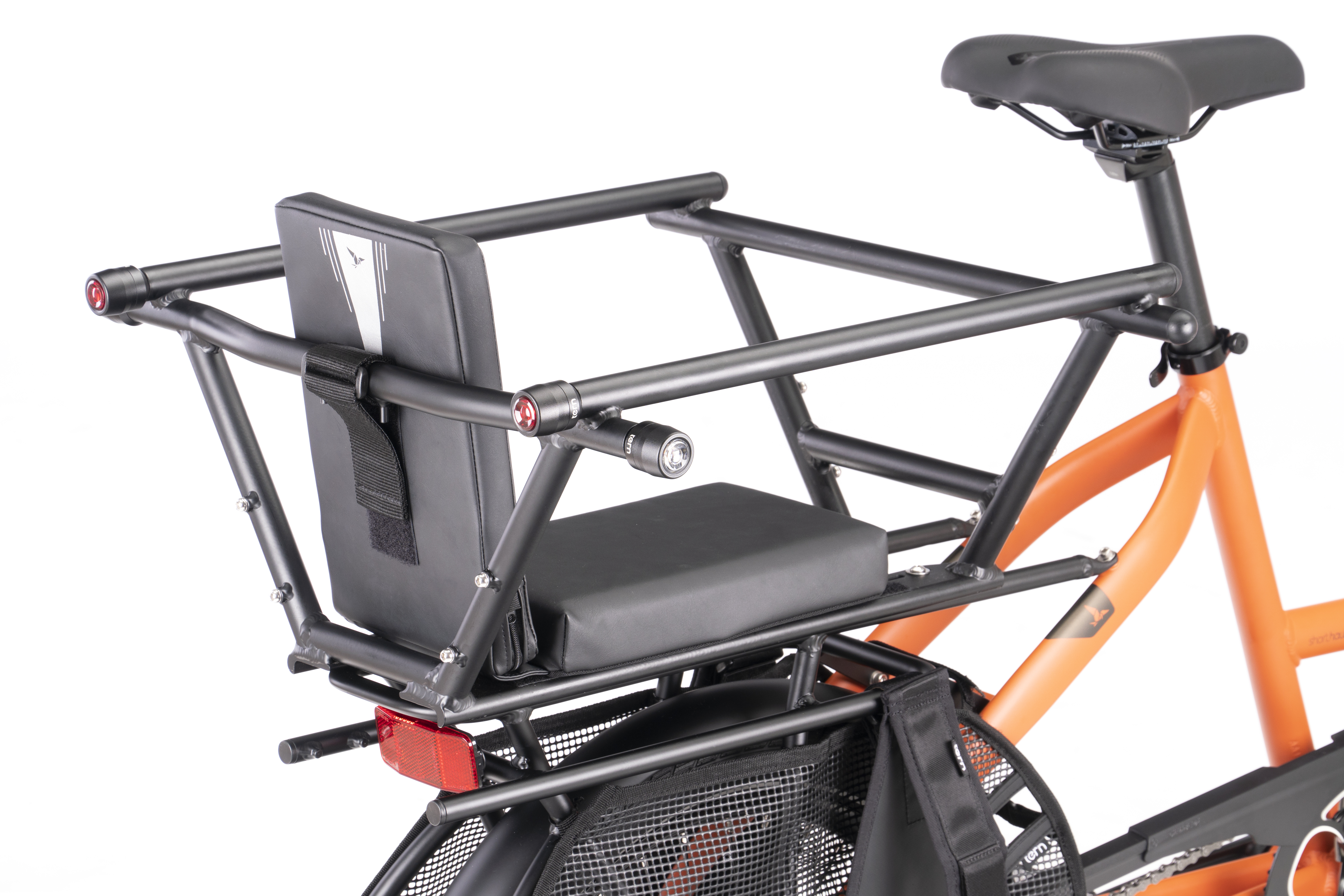 Summary
Our Clubhouse carriers may share similarities in terms of appearances and overlapping features, but ultimately, each has its own distinct purpose to serve when it comes to carrying little passengers. To help you summarize, here's a side-by-side comparison of all our Clubhouse models:
 
Clubhouse Gen 3
Clubhouse+
Clubhouse Mini
Clubhouse Gen 1
(discontinued)
 
Ideal for
GSD
GSD
GSD Gen 1 only
Maximum number of passengers
2
2
1
2
Included seat pad(s) and backrest
No
Yes
No
Yes
Compatible with 2 child seats
Yes
Yes
No
No
Compatible rack-mounted seats for 2-kid setup

BoBike GO Maxi
Urban Iki rear seat
Thule Yepp Maxi
Thule Yepp 2 Maxi
Thule Yepp Nexxt Maxi

n/a
n/a
Recommended add-ons

GSD Gen 2

GSD Gen 1

Clubhouse Gen 3 with two child seats

GSD Gen 2

GSD Gen 1

Clubhouse+ with up to two child seats

Doghouse Mini
Clubhouse Fort Mini

GSD Gen 1:

Storm Box (with a hack)
Storm Shield
Lastly, no matter which Clubhouse passenger system you choose to go with, let your kids take part in decorating it to truly make it their seat of honor. With bar tape coming in all sorts of colors and patterns, stickers, attachable toys, and other trinkets made for bikes, there's bound to be something that makes them feel extra special each time they climb into the Clubhouse. Or, get your creative juices flowing—like our clever GSD rider Max Elman, who designed a super fun Clubhouse-mounted bubble machine for his kiddo! Just make sure to keep safety on your mind and have everything secured so they don't fly off during your ride.
We hope you found this article useful in helping you determine which Clubhouse carrier is right for your family—nothing makes us happier than seeing families creating lasting memories on bikes! For more information on carrying passengers on a Tern cargo bike, check out our Passenger Guide and select your cargo bike model. Happy riding with the whole gang!
P.S. Our passenger-carrying accessories, including all Clubhouse models, are also perfect for hauling groceries or anything you may need for tackling errands when the kids are away at school. Check out our Cargo Guide for some setup ideas!