2023年5月より発売開始
Bosch Active Line Plusのモーターは最大50Nmのトルクと270%のサポート力を提供します
1x8-speed  Microshift  Mezzo シフター採用
Quick Haul Highlights
積載量:リアキャリアで50kg、オプションのフロントキャリアでさらに20kgを追加可能
工具不要で調整可能なシートポストとSpeedlifterステムを標準装備し身長150~195cmのライダーに対応
Quick Haul用アクセサリーを多数用意し、自分好みのセットアップが可能
※日本国内においては日本の基準に則りチャイルドシートの取り付けを推奨いたしません。詳しくはTern正規ディーラーへお問い合わせください
非常に低い490mm(19インチ)のスタンドオーバーハイトにより、荷物を積んでいるときでもより安全で簡単に取り付け・取り外しが可能
重い荷物を積んで走行する場合でも、確実に制動力を発揮するTEKTRO製油圧式ディスクブレーキ
ヨーロッパ有数の自転車試験所である「EFBE Prüftechnik GmbH」にて、フレームとフォークが最大150kgの車両総重量に対応できる試験に合格した高強度と高耐久性に優れたフレーム

※掲載製品写真/重量(全てペダルレス)/サイズ等は全てサンプル車両に基づくため、量産品では多少変更される場合があります。

※新素材や部品の改良・開発などにより、予告なく価格及び一部の仕様が変更される場合があります。

※実際の商品には、ベル・リフレクターなどの保安部品が付属されます。

※Tern品質保証規定に関しては、商品に同梱しております。※こちらの商品は「駆動補助機付自転車型式認定(交N23-41)」を取得しています。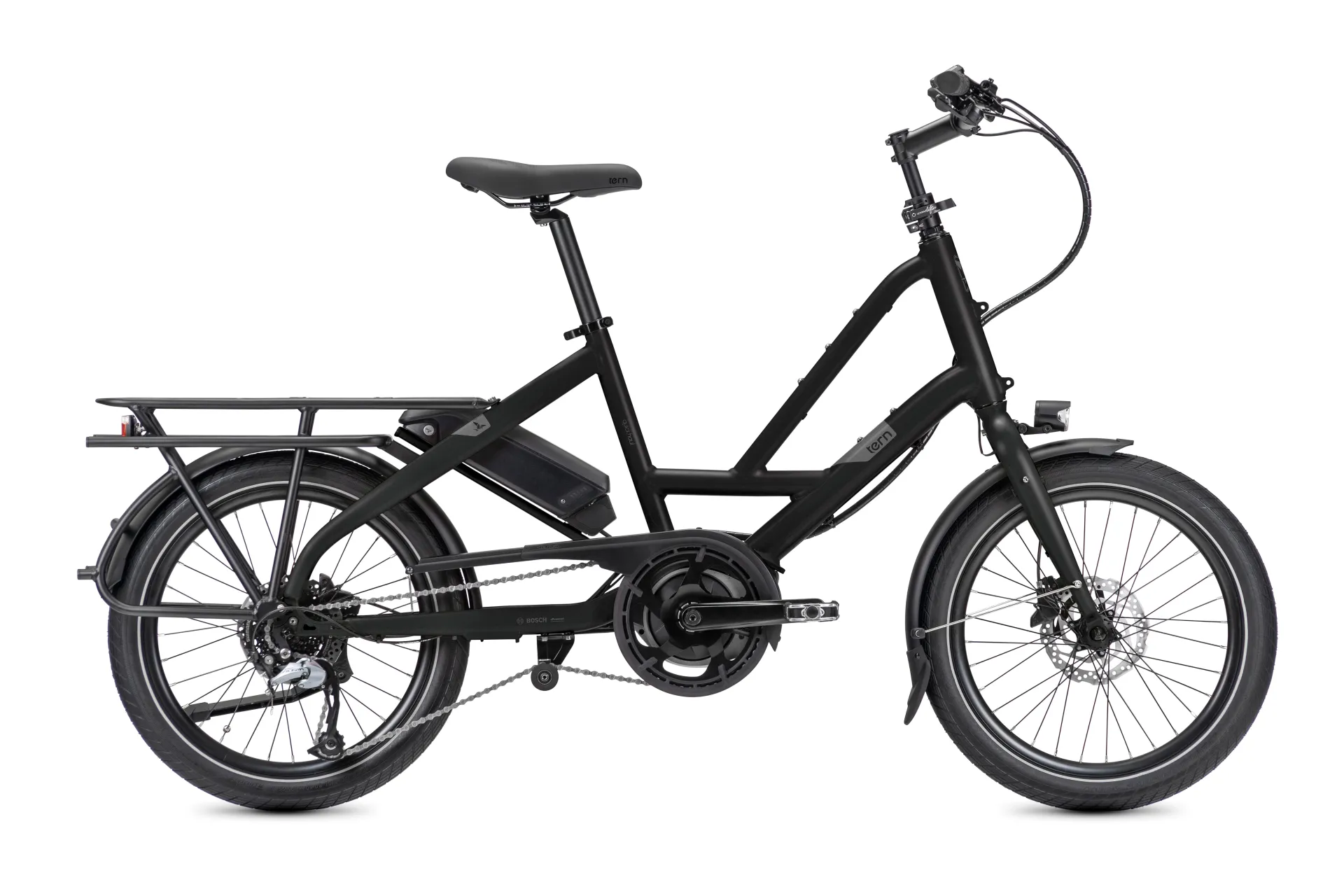 E Bike -Urban Portability-
General Info
Gear Inches:
31" - 95" (2.45 - 7.57 m)
Distance: Seatpost to Handlebar:
60 - 64 cm (23.6 - 25.2 in)
Distance: Saddle to Pedal:
68 - 110 cm (26.8 - 43.3 in)
Suggested Rider Height:
160 - 195 cm (63 - 76.8 in)
Max Gross Vehicle Weight:
Frame
Frame:
Tern Quick Haul, Patented Design, 6061-AL, EFBE Tri-Test approved: 150 kg
Fork:
Cargo, steel, EFBE approved: 150 kg
Cockpit
Stem:
Speedlifter, 150 mm extension, 3D Forged stem, 31.8
Headset:
TH, cartridge bearings
Handlebar:
580mm, 31.8, 6061-AL, No rise
Grips/Bar Tape:
OXO Card Grip
Seatpost:
31.6 mm, 6061-AL, micro-adjust clamp
Seatpost Clamp:
Tern Collar
Brakes
Front Brake:
TEKTRO, hydraulic disc
Rear Brake:
TEKTRO, hydraulic disc
Brake Levers:
TEKTRO, hydraulic disc
Brake Cable & Housing:
TEKTRO, hydraulic disc
Wheels
Front Hub:
Disc, aluminum
Rear Hub:
8 spd, disc, aluminum
Spokes and Nipples:
Stainless steel
Tires:
GMD, 20X2.35, 603, ALL BLACK or Schwalbe Big Apple, 55-406, puncture protection, Reflex
Transmission
Shifter(s):
Microshift Mezzo, 1 x 8 spd, trigger, Thumb-tap shifters
Rear Derailleur:
Microshift Mezzo,
Crankset:
Tern custom, forged 6061-AL crankarm
Cassette/Freewheel:
Microshift Mezzo, 11-34T, 8 spd
Bottom Bracket:
Motor integrated
Chain:
KMC for eBike, 8 spd
Pedals:
Urban with non-slip surface
Shifter Cable & Housing:
SP
E-System
Motor:
Bosch Active Line Plus
Battery:
Bosch PowerPack 300
Range:
300 Wh: 54 - 105 km (33.6 - 65.2 mi)
Charger:
Compact Charger, 100-240V, 2A
Bells & Whistles
Kickstand:
Pletscher design, rear mount
Luggage Socket:
Combo Mount
Front Light:
Herrmans, 120 lumens
Fenders:
Chromeplastic, stainless hardware
Rack(s):
Atlas Q Rack, UpperDeck Mount System, Vertical Parking, 50 kg capacity
*Note: These are our standard model specifications. The bike's weight and folded dimension may not include racks and fenders. The specifications for your country may differ slightly. We do our best to ensure that the specifications listed here accurately reflect the exact parts found on our production bikes. However, component changes do occur for various reasons and there may be brief delays on site updates. We reserve the right to make component changes without prior notification, which may cause discrepancies with the information listed on the web.