Vektron是產業最佳的電動輔助折疊自行車,能在10秒內折疊,方便攜帶收納。有了電力助動,20"小輪車也能像700C輪徑大車一樣快速。這意味騎乘者能享受所有小輪車帶來的好處:小巧的體積、低重心、迅速的啟動加速、更佳的操控性以及足夠的載貨空間,並以大輪徑的速度前進。
Vektron D8帶來極佳的效能、多功能且有型,且價位親民。配有碟煞、土除。不論晴雨、下雪,任何氣候都能安心騎行。
Bafang M400 Drive System – 250 watts 精準可靠的輔助動能
油壓碟煞、任何天氣狀況都能有足夠煞車力道
Tern Valo Direct 前燈,150流明,帶來24小時能見度
400 Wh電池,續航力可至90公里
Andros立管, 不須工具就能輕鬆調整妳喜好的騎行姿勢
Shimano Claris 後變速器,快速靈敏的變速切換
*2022/10月後到貨之Vektron D8電池規格變更為482Wh,Samsung cells,續航力46-103 km
*官網圖片僅供參考,實車電池&充電器廠牌及形狀與圖片不同,以實車為準。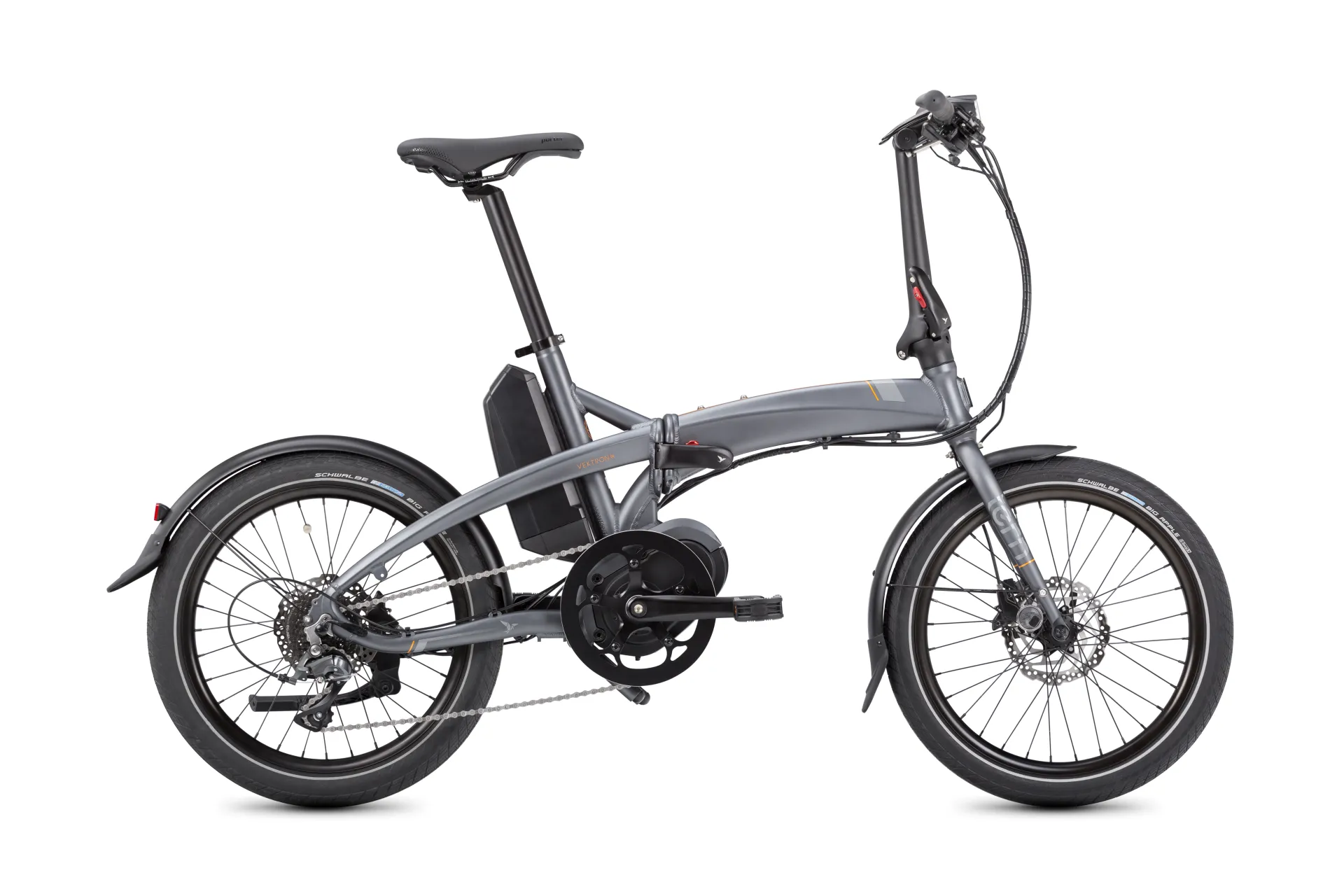 General Info
Gear Inches:
33" - 95" (2.60 - 7.57 m)
Folding Size:
410 × 860 × 680 mm (16.1 × 33.9 × 26.8 in)
Distance: Seatpost to Handlebar:
62 - 69 cm (24.4 - 27.2 in)
Distance: Saddle to Pedal:
78 - 99 cm (30.7 - 39 in)
Suggested Rider Height:
160 - 195 cm (63 - 76.8 in)
Max Gross Vehicle Weight:
Frame
Frame:
Tern Vektron, hydroformed aluminum, OCL+ joint, 3 patented technologies
Fork:
Integrated, hi-tensile steel
Cockpit
Handlepost:
Tern Physis 3D (G2), 3D forged, 5 patented technologies, 12°, 320 mm
Stem:
Tern Andros (G2), adjustable, forged construction, patented technology
Headset:
Tern Flux, cartridge bearings, Physis integrated
Handlebar:
Flat bar, 6061-Al, Tern Andros adapted
Grips/Bar Tape:
Velo ergonomic, lock-on
Saddle:
Tern Porter, patented GripPad design
Seatpost:
SuperOversize, 6061-Al, micro-adjust clamp
Seatpost Clamp:
Oversize, 6061-Al
Brakes
Front Brake:
Shimano, hydraulic disc
Rear Brake:
Shimano, hydraulic disc
Brake Levers:
Shimano, hydraulic disc
Brake Cable & Housing:
Shimano, hydraulic disc
Wheels
Spokes and Nipples:
Stainless steel
Rims:
Kinetix Comp, for disc
Tires:
Schwalbe Big Apple, Active Line, 50-406, puncture protection, Reflex
Transmission
Shifter(s):
Shimano, 1 x 8 spd, trigger
Rear Derailleur:
Shimano Claris
Crankset:
Vektron custom, forged AL6061 crankarm
Cassette/Freewheel:
Shimano 11-32T, 8 spd
Bottom Bracket:
Motor integrated
Chain:
8 spd, DHT for eBike, GST corrosion resistant coating
Pedals:
Folding, alloy body
Shifter Cable & Housing:
Anti-compression housing, slick cables
E-System
Motor:
Bafang M400 Drive System, 36 V/250 W, max speed 25 kph (EU); max speed 20 mph (US), max torque 80 Nm
Battery:
482 Wh, Samsung cells
Display:
Bafang M400 Drive System Display, 5 mode selectable, walk assist
Range:
46-103 km (29-64 mi)
Bells & Whistles
Kickstand:
Rear mount, Pletscher design
Clip System:
Magnetix 2.0
Front Light:
Tern Valo Direct, integrated, 41 lux/150 lumens
Rear Light:
Herrmans H-Trace / H-Trace Mini, for eBike
Fenders:
SplashGuard, stainless hardware
Rack(s):
Optional: Tern Loader Rack; Max load weight: 25 kg (55 lb)
*Note: These are our standard model specifications. The bike's weight and folded dimension may not include racks and fenders. The specifications for your country may differ slightly. We do our best to ensure that the specifications listed here accurately reflect the exact parts found on our production bikes. However, component changes do occur for various reasons and there may be brief delays on site updates. We reserve the right to make component changes without prior notification, which may cause discrepancies with the information listed on the web.