La Rally es todo en detalles— cuanto más cerca la mires, mejor se pone. Desde el stem pulido, hasta los grips de cuero, y el clásico plato palanca plateado, es diseño atemporal en bicis, con un toque moderno. Lo mejor de todo, está disponible en ruedas 650c y 700c, por lo que se mueve igualmente bien talles pequeños y grandes.
Ruedas 650c en talles pequeños, y 700c en talles grandes, para una geometría optimizada.
Acero real, cuadro cromado para confort clásico al andar.
Llantas pulides, guardabarros personalizados de aleación, cubiertas de pared lateral.
Grips de cuero de alta calidad.
Sistema 1×8 Claris para una versatil simplicidad.
Orificios para guardabarros y portapaquetes delantero y trasero.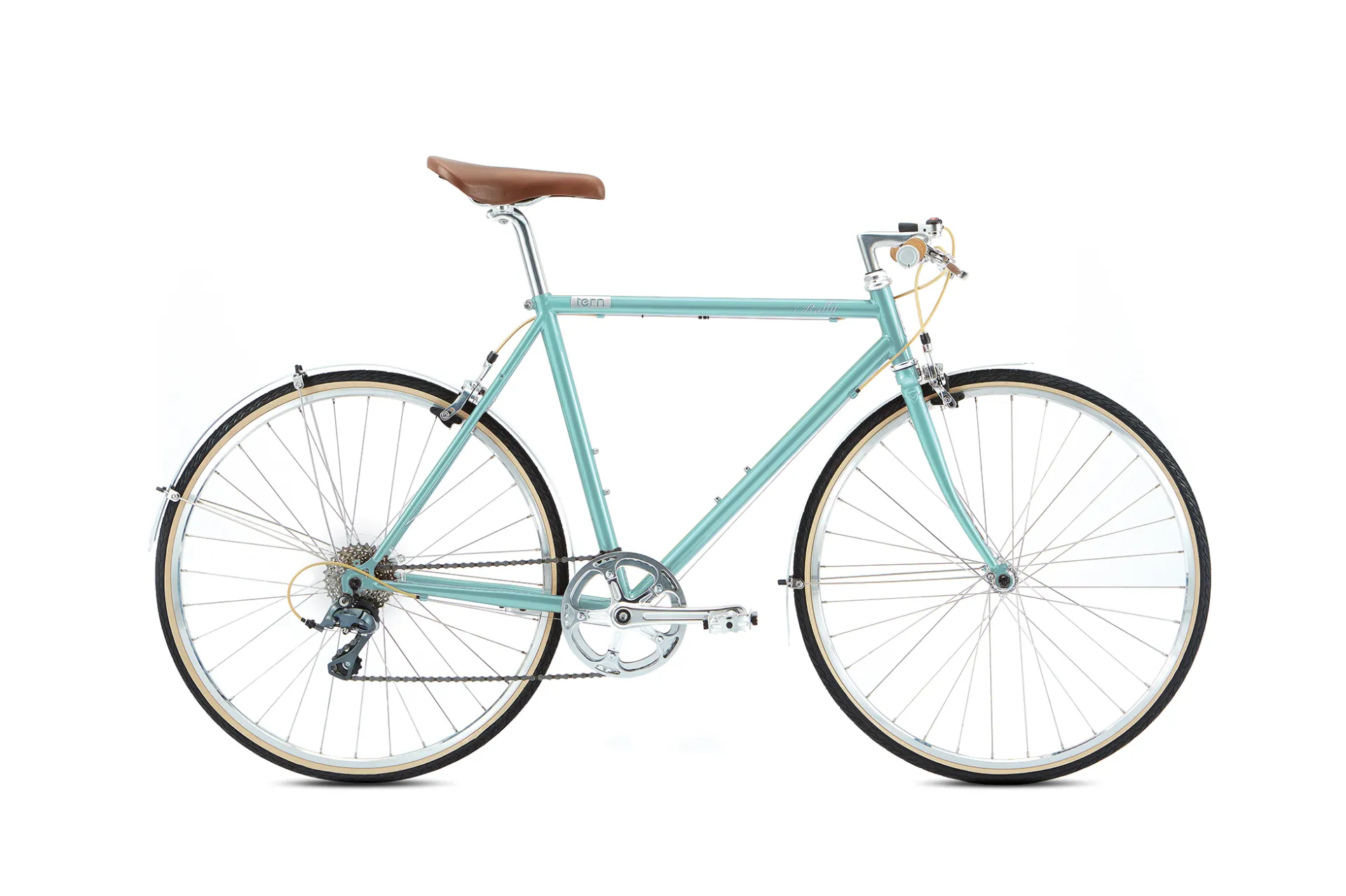 General Info
Gear Inches:
650c: 39" - 100" (3.13 - 7.97 m); 700c: 42" - 108" (3.36 - 8.54 m)
Frame Sizes:
46 cm (650c); 50 cm (650c); 54 cm (700c); 56 cm (700c); 58 cm (700c)
Frame
Frame:
Tern x Kitt Design Rally, cromados, cuadro horizontal
Fork:
Tern x Kitt Design, cromada, horquilla curva soldada
Cockpit
Handlebar:
Kitt Custom, barra recta
Grips/Bar Tape:
Tern, cuero
Saddle:
Kitt Custom, Classic
Seatpost:
Forjado en aleación
Brakes
Front Brake:
Forjado en aleación
Rear Brake:
Forjado en aleación
Brake Levers:
Palancas de aleación
Wheels
Front Wheel:
Kitt Custom, Classic Wheel Set
Rear Wheel:
Kitt Custom, Classic Wheel Set
Tires:
Kitt Custom, Classic Comfort, 650 x 28c / 700 x 28c
Transmission
Shifter(s):
Shifter de pulgar, 1x8 velocidades
Rear Derailleur:
Shimano Claris
Crankset:
Kitt Custom, Classic Crank, 44T
Cassette/Freewheel:
Shimano, 11-28T
Pedals:
Aleación, plateados
*Note: These are our standard model specifications. The bike's weight and folded dimension may not include racks and fenders. The specifications for your country may differ slightly. We do our best to ensure that the specifications listed here accurately reflect the exact parts found on our production bikes. However, component changes do occur for various reasons and there may be brief delays on site updates. We reserve the right to make component changes without prior notification, which may cause discrepancies with the information listed on the web.