The Clubhouse Fort Mini: What It Is and How to Build It
To read it in other languages, click here.
We've made no secret of the fact that we envision Tern bikes as real car replacements. You don't leave your car in the garage on rainy days, and the same should be true of your bike.
We heard from many GSD owners that the only thing stopping them from carrying their families every day was wet weather. So, we created the Clubhouse Fort to keep little passengers dry and cozy on the GSD.
The ensuing flood of pictures of smiling Clubhouse Fort passengers gave extra urgency to our next project: creating a similar (but smaller) weather protection system for our more compact bikes that only carry one kid, like the HSD and Quick Haul.
What is the Clubhouse Fort Mini?
The Clubhouse Fort Mini is a combination of three accessories that turns the back of your bike into a weather-protected compartment for a child passenger.
It's designed to fit one kid, in or out of a child seat. The recommended maximum passenger height is 140 cm, plus a helmet (assuming your passenger is seated on the Clubhouse MadPad and not on a thicker seat pad).
From your perspective, it keeps your child dry, cozy, and content in all kinds of weather. From your kid's perspective, it's a comfy cockpit, a seat of honor, and maybe even a magical play space that makes riding that much more enticing.
Here's what it looks like: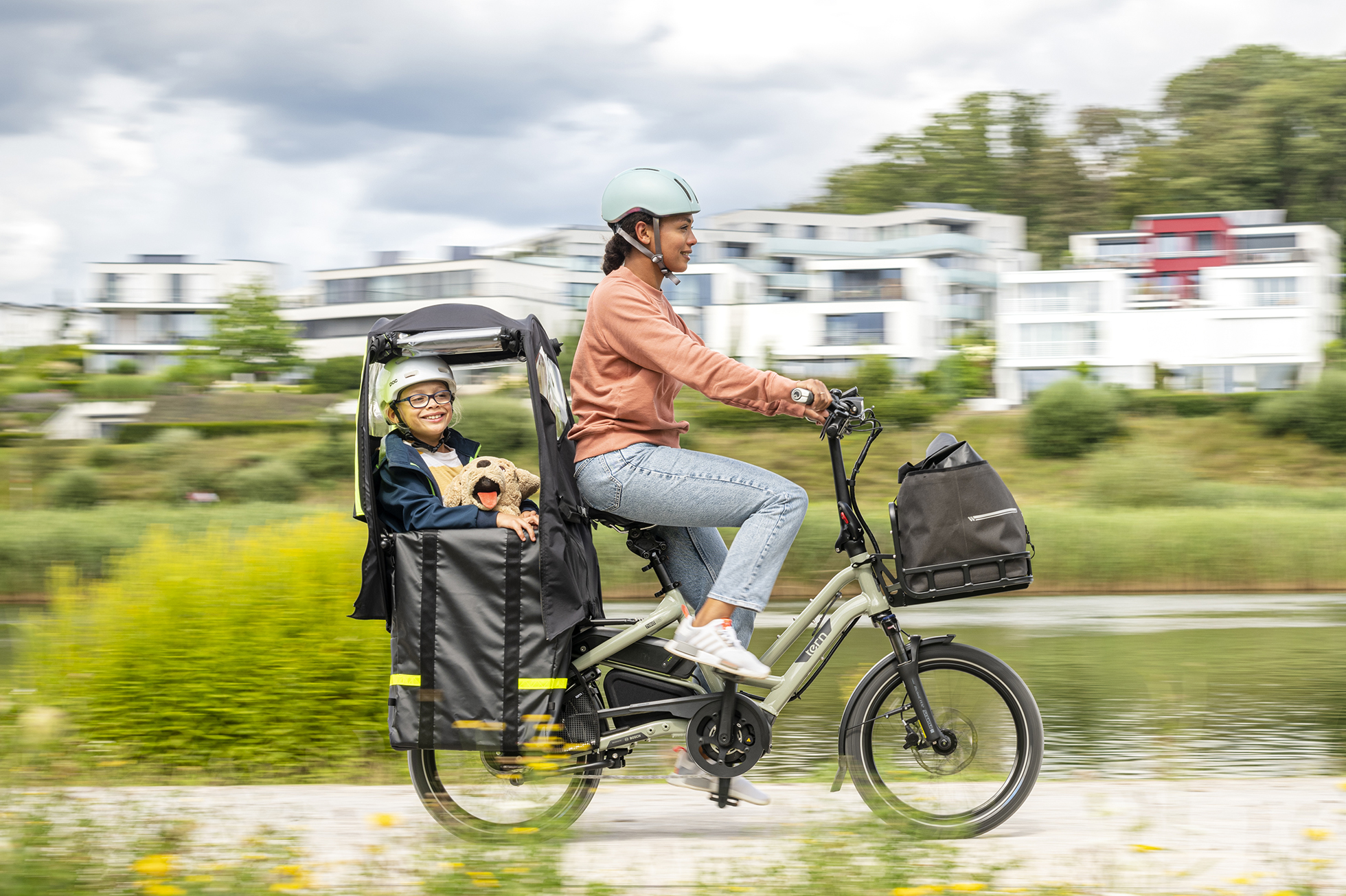 Which bikes does the Clubhouse Fort Mini fit on?
As we mentioned in the previous section, the Clubhouse Mini was designed for our more compact bikes that only carry one kid. However, it also fits on the GSD as a one-kid alternative to the full-size Clubhouse Fort.
Key elements of the Clubhouse Fort Mini mount to the bike using a Tern-standard rear rack system called the Upper Deck System. So, the Clubhouse Fort Mini may work with future bikes that also feature the Upper Deck System.
Which accessories make up the Clubhouse Fort Mini?
Three accessories make up the Clubhouse Fort Mini. Each accessory is sold separately. The three accessories are: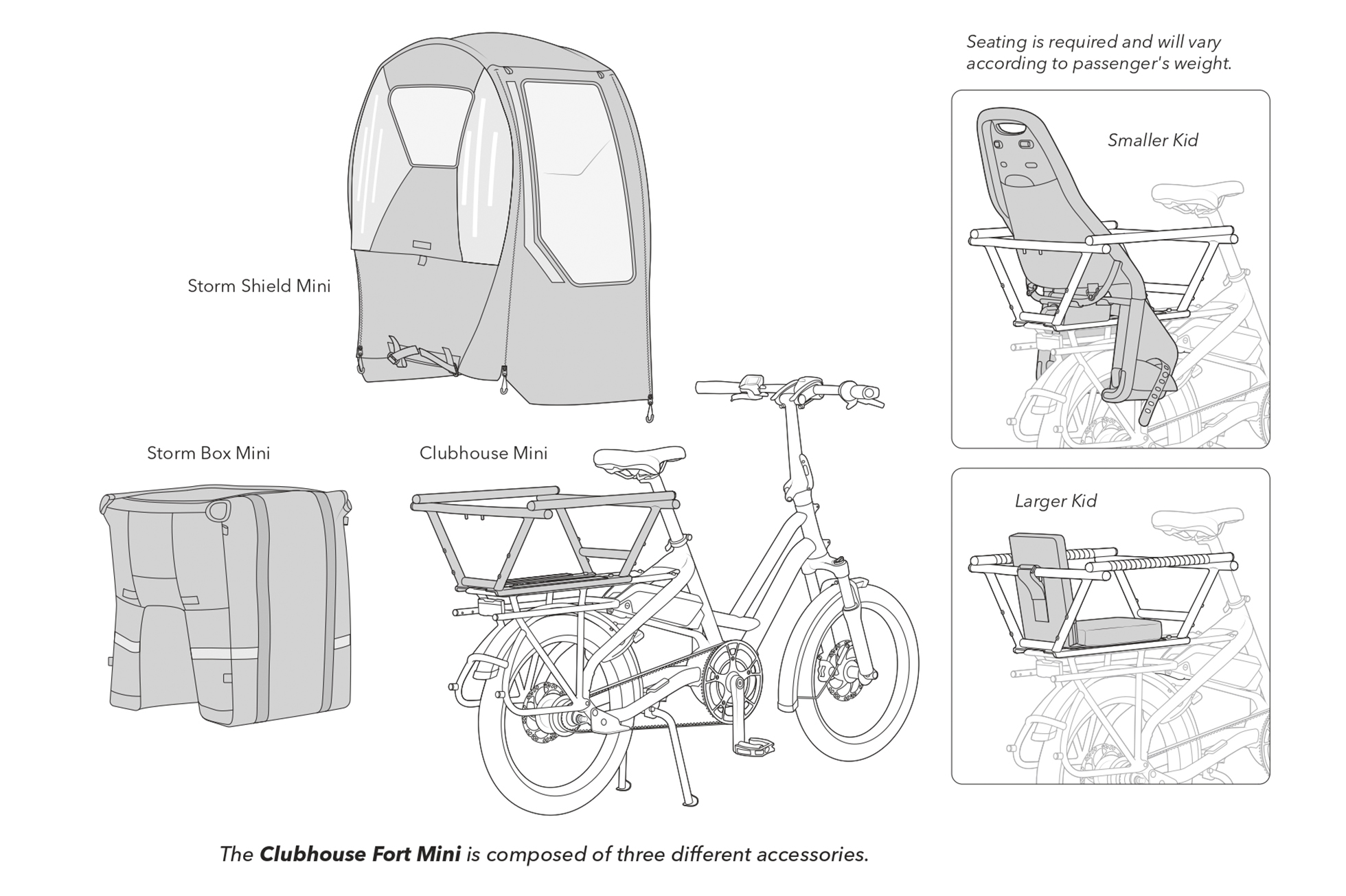 Is riding with a big black box on the rear of my bike safe?
We added plenty of reflective strips to the Storm Box Mini and the Storm Shield Mini to boost visibility. Both accessories also include rear loops for attaching safety lights to make nighttime riding safer.
Of course, you know your area and riding conditions best, so exercise judgment and caution when using the Clubhouse Fort Mini.
How to Build the Clubhouse Fort Mini
The Clubhouse Mini forms the frame of the Clubhouse Fort Mini. It's required to install both the Storm Box Mini and the Storm Shield Mini.
The Storm Box Mini is a big, soft-but-sturdy box that helps protect your child from the elements. The Storm Box Mini was designed with kid-carrying in mind, as you can see from the following features:
Includes a water-resistant Kid Lid Mini that cinches tight around a little passenger, sort of like the spray skirt of a kayak
Supported by two built-in bottom plates that serve as foot support for a big kid
Handy opening in the back for easy access to a Yepp Maxi or Nexxt Maxi child seat's knob
Inner pockets for holding snacks, toys, and other gear
Incredibly effective at catching all the toys, clothes, and other items that may fall from little hands while riding
But the Storm Box Mini also serves another purpose: when you're not carrying a kid, you can toss in up to 100 L of cargo.
3. Install your seating of choice
You'll need to install passenger seating inside the Clubhouse Mini. Options include:
Child seat of your choice (for a little kid)
Clubhouse MadPad (for a bigger kid)
The Storm Shield Mini is a weather-resistant canopy that protects your kid from harsh weather conditions like rain, cold wind, and even extreme sun.
The is made from waterproof nylon that keeps your passenger dry on wet days. We added a rear ventilation panel for airflow to prevent the passenger cabin from getting too stuffy. See-through inserts in the side panels let your kid enjoy the view, while the Storm Shield Mini's fiberglass tent pole structure is designed to hold its shape, even on windier days.
So what do you do with the Storm Shield Mini on sunny days? Well, you've got two choices. The first is to roll up the side panels and use the Storm Shield Mini for UV protection. The second is to remove the Storm Shield Mini and store it until the next time you need it—it folds down flat to make this easier.
To view complete installation instructions for the Clubhouse Fort Mini, check out this video:
Still have questions?
Check out our FAQ.