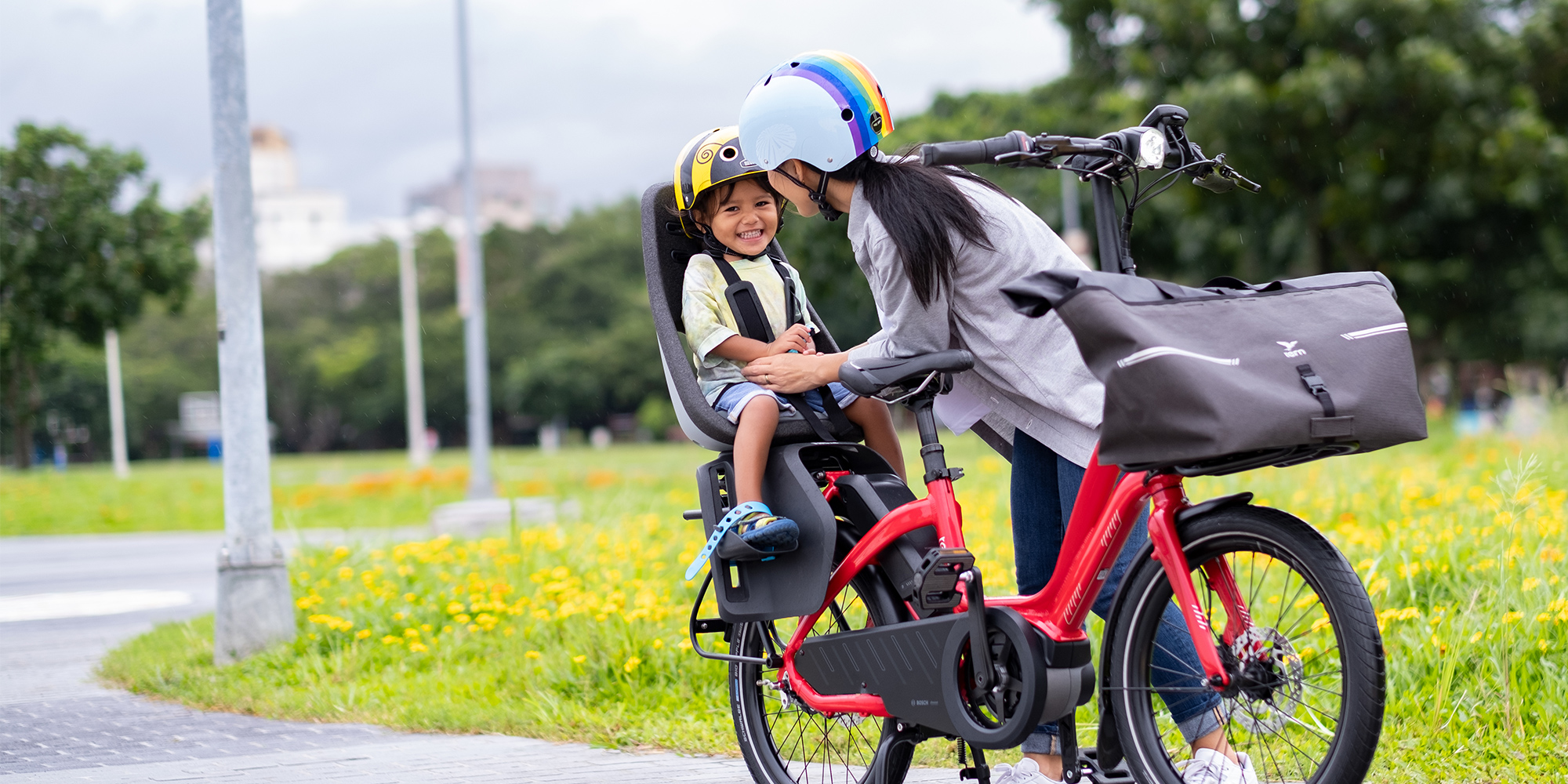 Smiles for Miles
The NBD is a welcoming e-bike that's as easy to ride as it is easy to love. From the moment you hop on, to each gentle pedal you take—everything about the NBD is simply a dream. The secret is in its accommodating design, complemented by handpicked essentials for one superbly comfy ride. Freedom on two wheels this easy? That's gotta be something to smile about each time you set off on the NBD.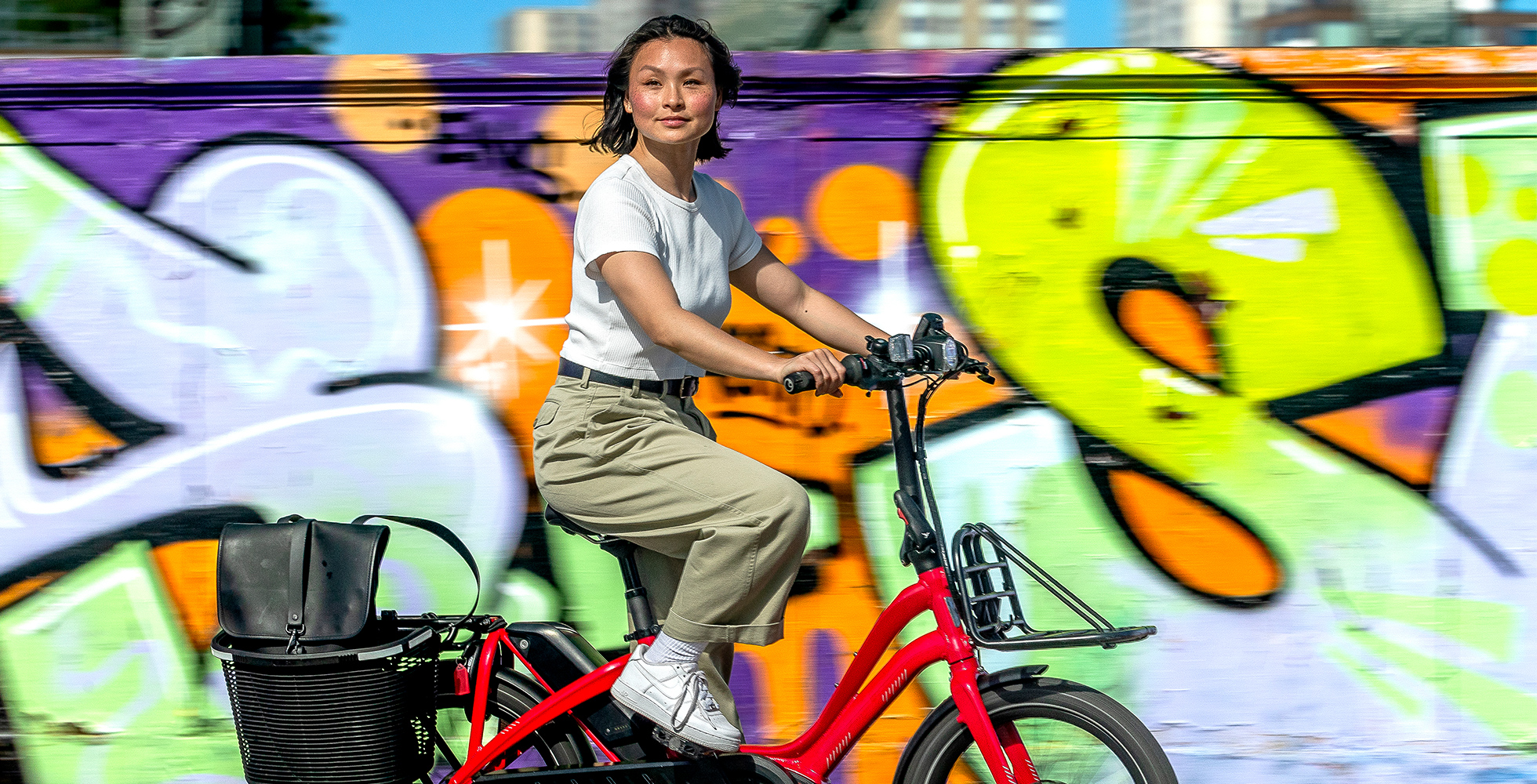 Easy to Ride
Our most accessible bike yet, the NBD makes cycling No Big Deal. Maneuvering along streets while staying in balance is now second nature thanks to a low center of gravity that's key to a super stable ride. Riders have maximum control and power at their feet to tackle any adventure that awaits. And the ultra-low stepover height makes getting off and then back on again a breeze—even if you're on the petite side.
Easy to Share
The NBD has an adjustable cockpit that only takes seconds to resize, all without tools. Riders 147 – 190 cm tall (4'10" – 6'3") comfortably fit the NBD, so it comes ready for you to share with loved ones.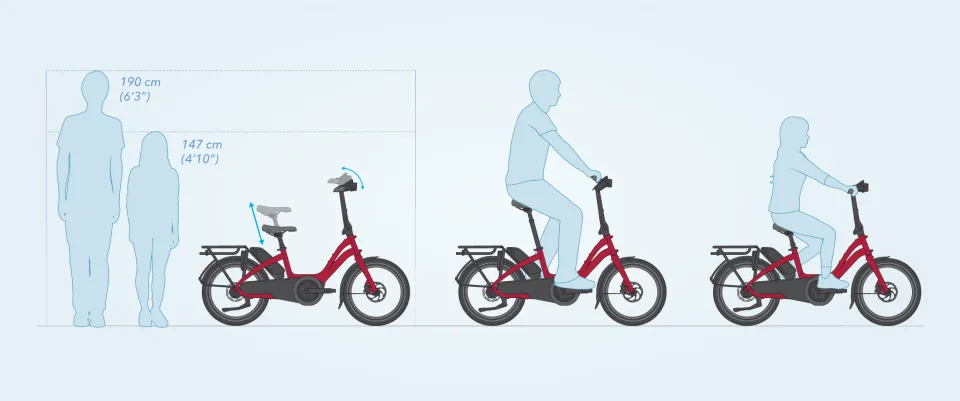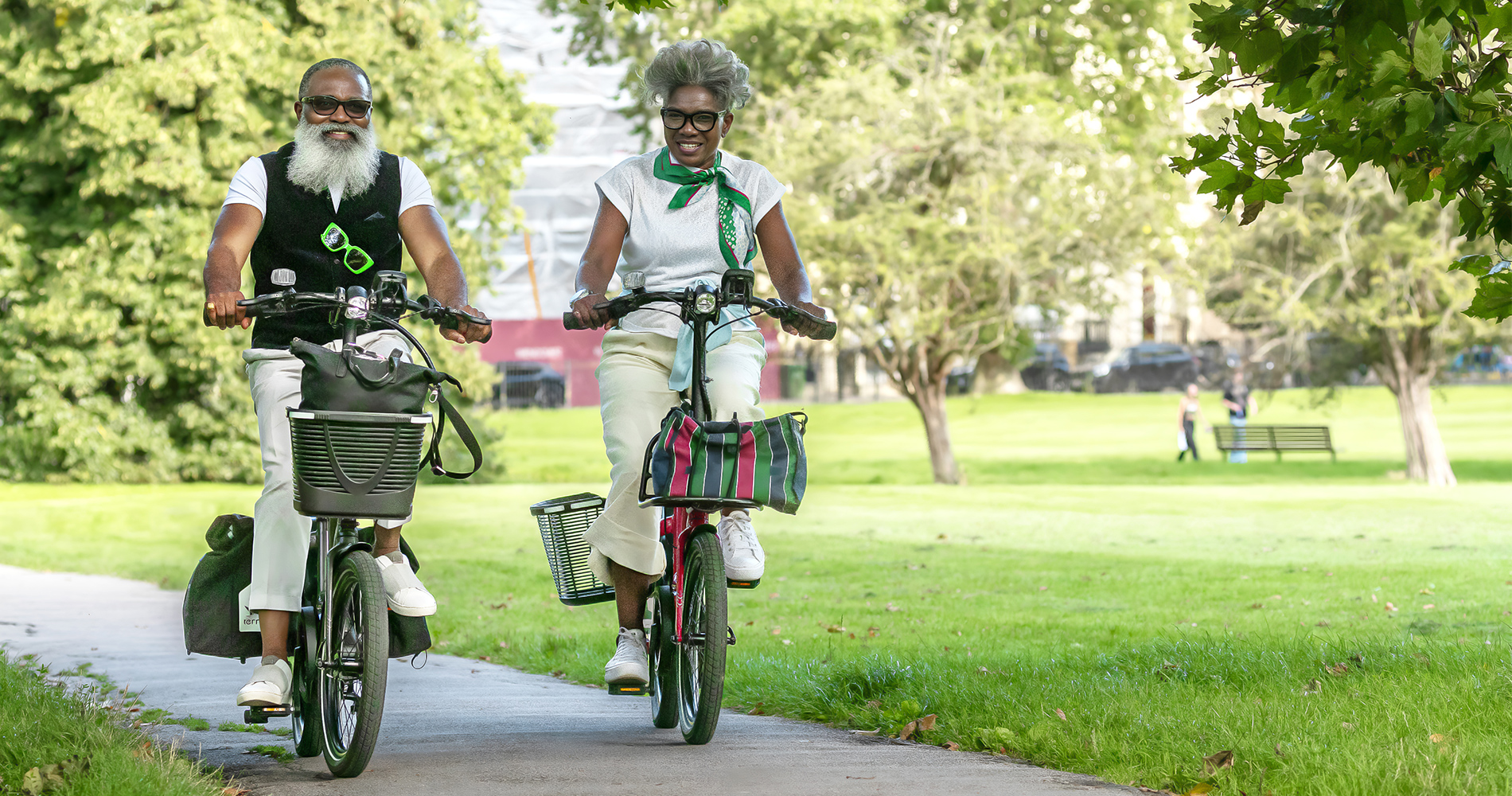 Easy for Everyone
The simple joy of riding your favorite bike as a kid is unlike any other, and the NBD is here to help you rediscover that feeling. With inclusive design at the forefront, people of many different sizes and abilities can share the fun of riding thanks to the NBD's accommodating geometry and unique frame design.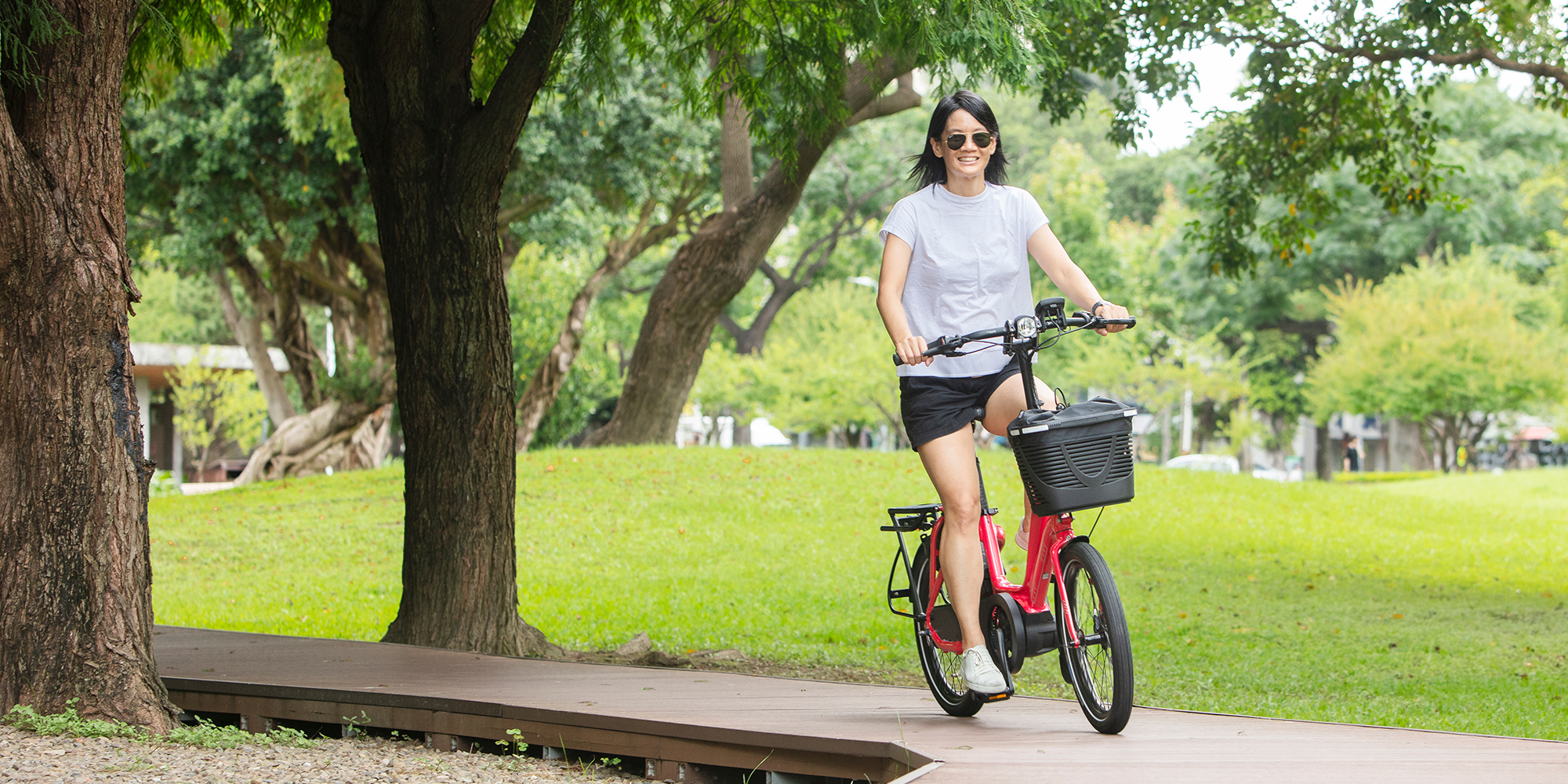 As Comfortable as Can Be
You ride to melt away stress, not to add to it. With wide, ergonomic grips on swept handlebars, an upright riding position, and a multi-adjustable stem, the NBD is our most comfortable bike. Add wide balloon tires and a suspension seatpost to the mix, and most road vibration becomes a thing of the past.
Built to Last
Our philosophy is to keep our bikes on the road for as long as possible, not to create disposable products that are built to fail. We start with intentional design choices that make the bike serviceable and safe—and end up with a reliable vehicle you can use day in, day out. Then, we back it up with great local service and a 10-year warranty for peace of mind.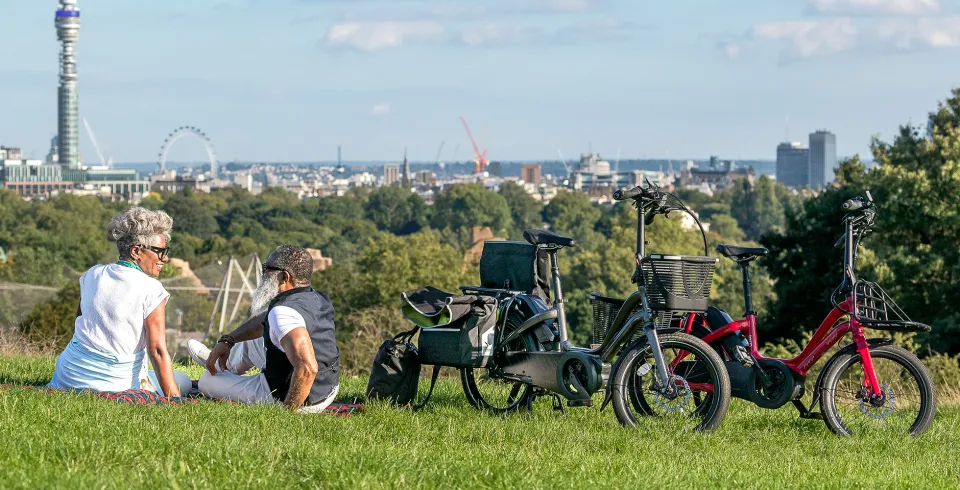 Tough and Tested

EFBE Prüftechnik GmbH, one of Europe's leading bicycle testing labs, put the NBD through its paces to prove the frame and fork can handle the 140 kg (309 lb) max gross vehicle weight, ride after ride. You can rest assured that the NBD is fit to safely carry your most precious cargo.
UL Tested and Certified

The NBD's Bosch motor system, battery, and charger are UL-2849 certified. That means they've been carefully examined and tested according to the industry's gold standard for fire and electrical safety to offer an added layer of protection against potential hazards.
Assembled and Serviced by Local Experts
Your NBD is carefully assembled by a certified Tern Dealer near you, who will run through a thorough pre-delivery safety checklist before handing over your new bike. They have the expertise to keep your bike in tip-top condition, and are ready to answer any questions you may encounter to give you the best e-bike experience possible.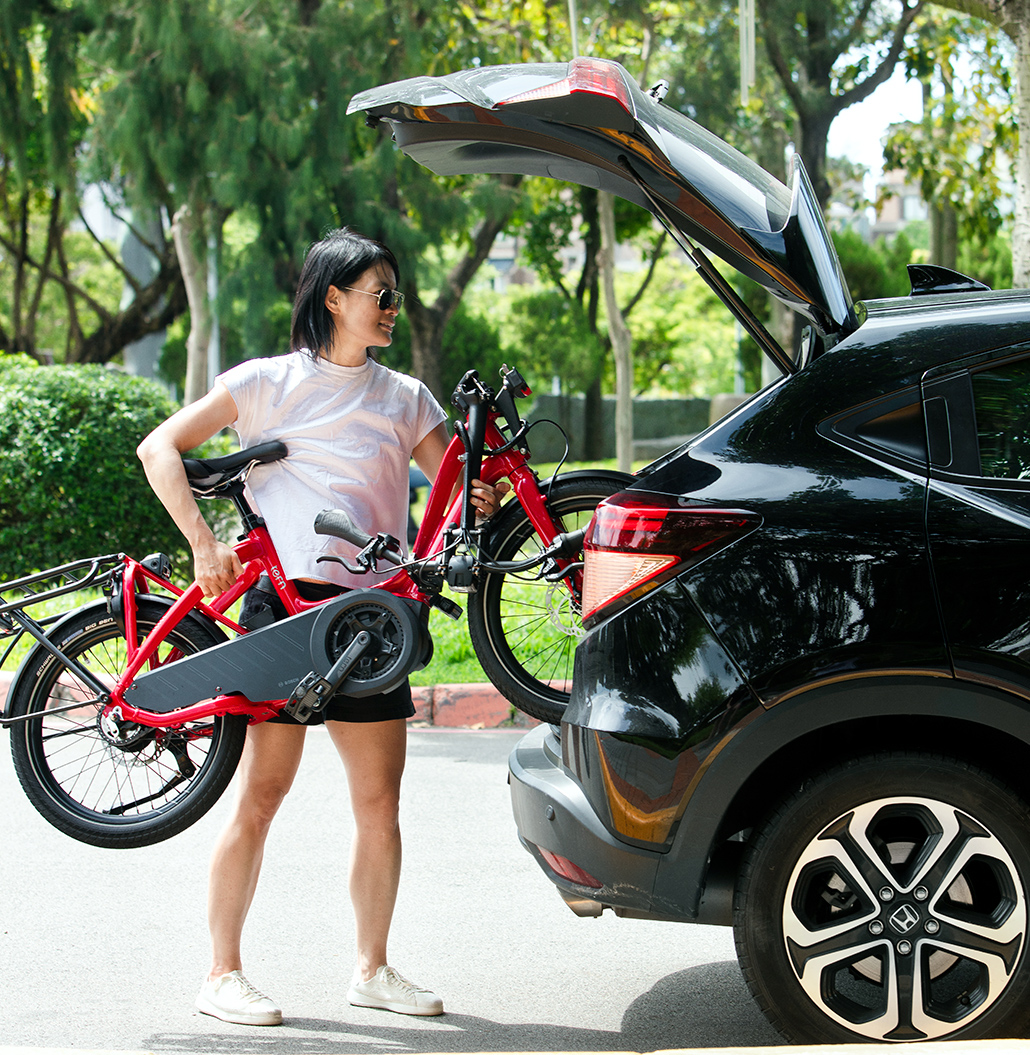 Easy to Transport
Add an e-bike to your travel plans! The NBD's FlatFold feature makes it easy to fit the bike into trains, buses, RVs, and even smaller cars. Just lower the seatpost, fold down the Physis Handlepost, and the NBD transforms into a low and flat package ready for a weekend of exploring new places by bike. No bike racks necessary.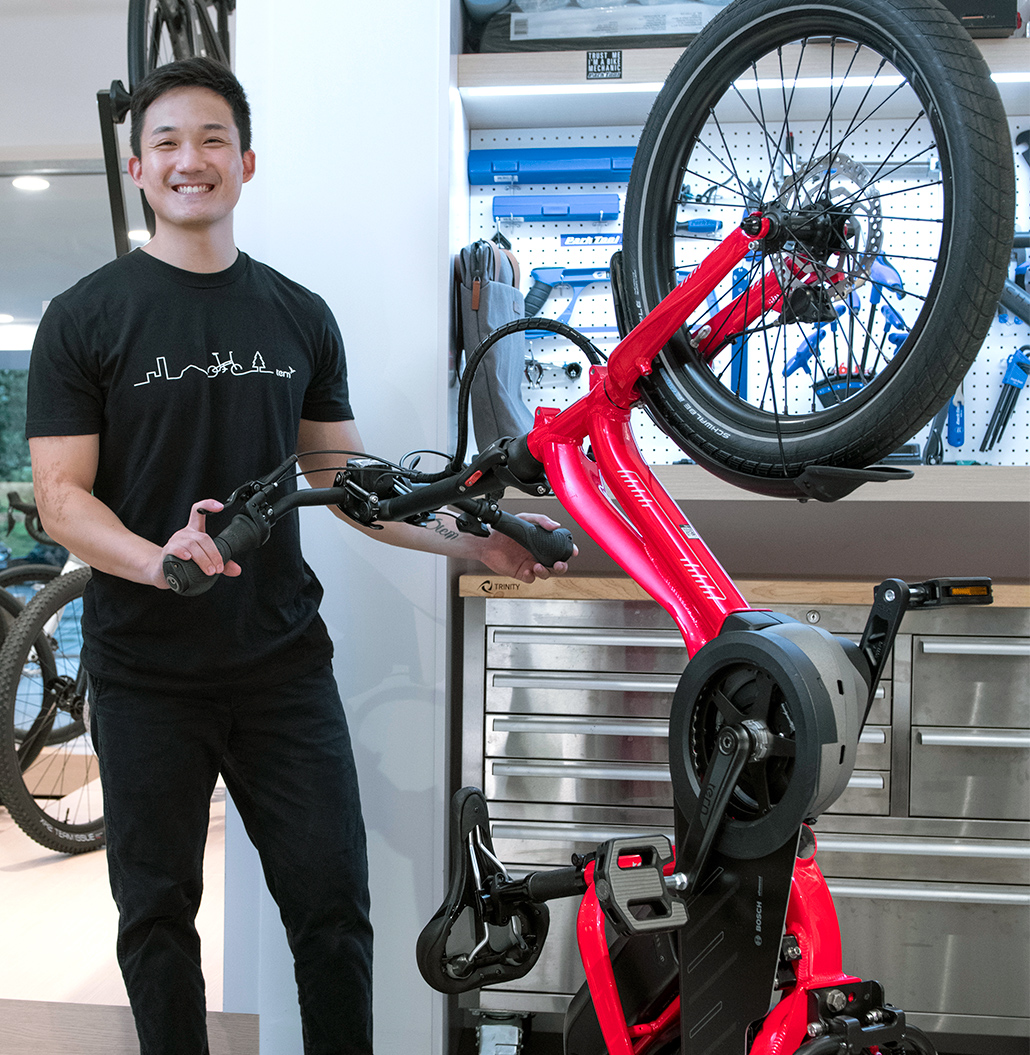 Easy to Store
No more bike-theft anxiety when you're done riding for the day. The NBD parks and rolls vertically, so it's easy to store safely indoors. Roll it vertically into elevators, and conveniently park it just about anywhere in your home or office—all it needs is a bit of floor space.
Share the Adventure
Have a kiddo? Take them along for the ride! The specially designed Gaia Rack is built strong and pairs well with many child seats. The NBD's ultra-low center of gravity makes it much easier to stay in control.
Best of all is getting on the bike. Low, gentle steps are all that's required to get on or off the NBD, so there's never any hassle.
Riding with a small passenger? Check out how to do it safely.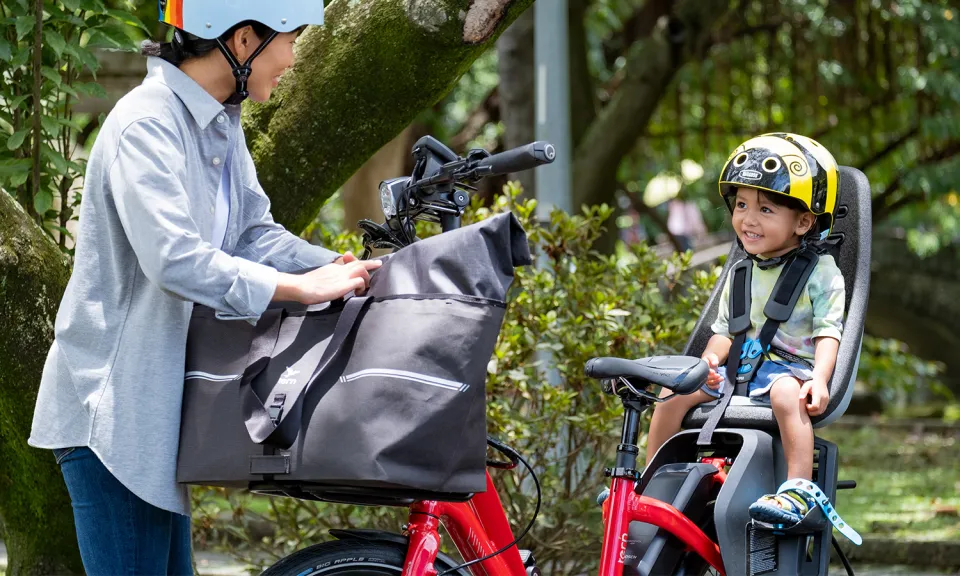 Why the NBD?
It's Really for Everyone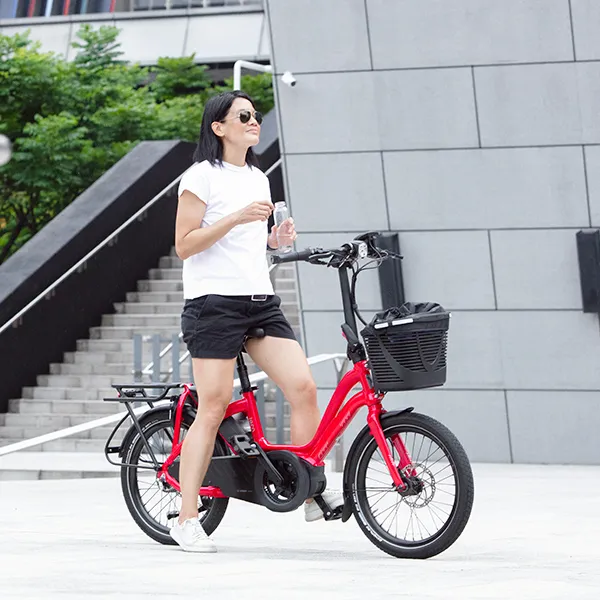 SimpleStep Frame Design
The NBD's unique frame design makes it super easy to get on and off the bike, ride in comfort, and place your feet on the ground at a red light. Finally, your tippy-toes can now rest.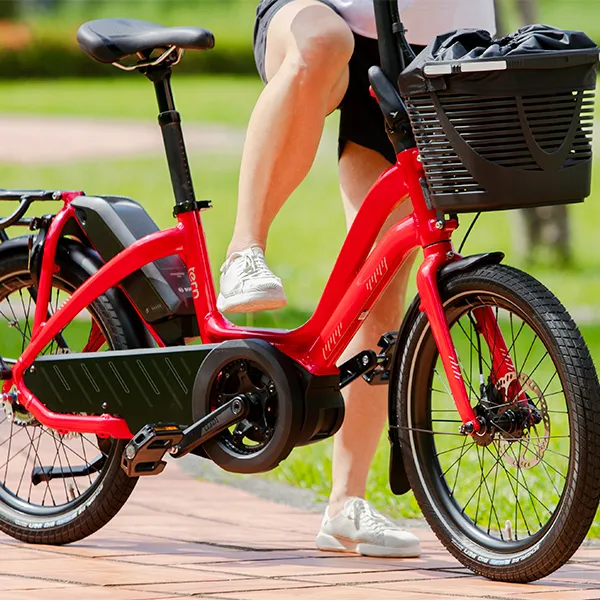 Low, Low, Low Step
A step-through frame that's both ultra-low (39 cm/15.4") and ultra-long means it takes only one small step to get on and go. Easy peasy.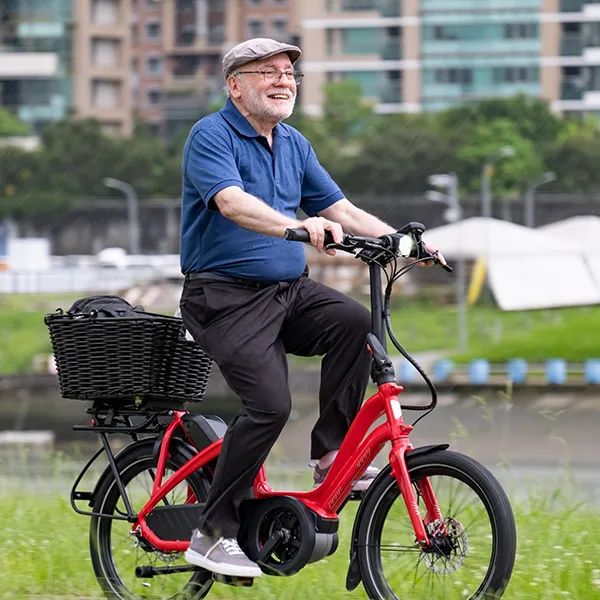 Fits Most Sizes and Shapes
The adjustable Andros Stem makes the NBD feel like it was tailor-made. Riders of different sizes can all find their most comfortable position. And when it's time to share with a loved one, they can re-adjust the fit in seconds.
It's Really That Comfy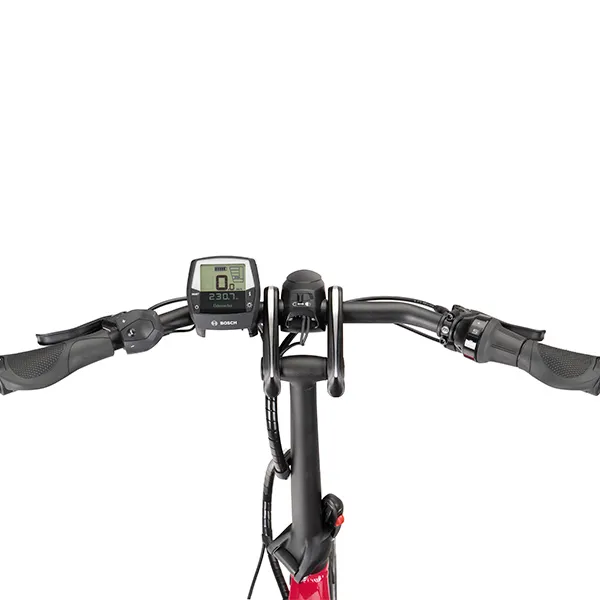 Ergonomic Cockpit
Swept handlebars and Ergon grips make the NBD just about the most comfortable cockpit you'll find on a bike. The slack seat tube enables all riders—even the smaller in stature—to place their feet on the ground at stops.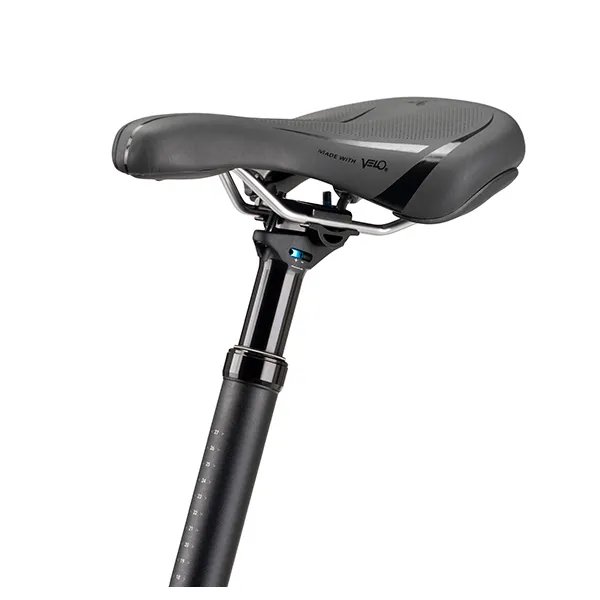 RideEasy Suspension Seatpost
The custom short-stack suspension seatpost adjusts to fit riders of different heights, and allows even smaller sized riders to travel without feeling road vibrations.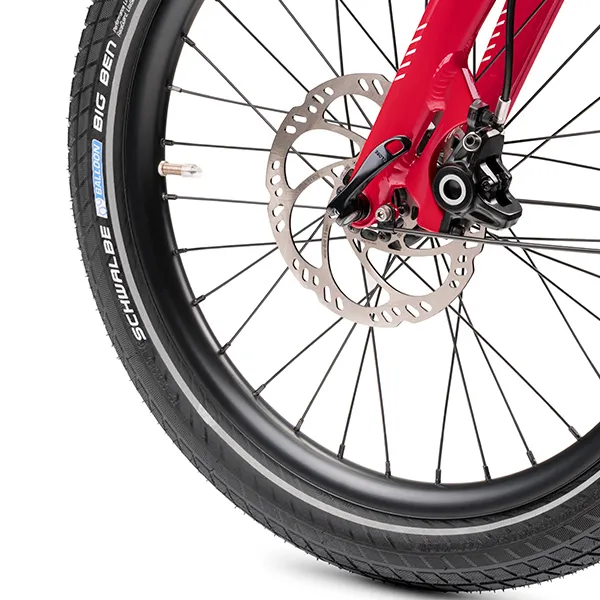 Air-Cushion Balloon Tires
No special technology needed—air suspension is already built in. The air cushion from Schwalbe's wide balloon tires give a smooth ride, helping to reduce bumps and other road vibrations when riding.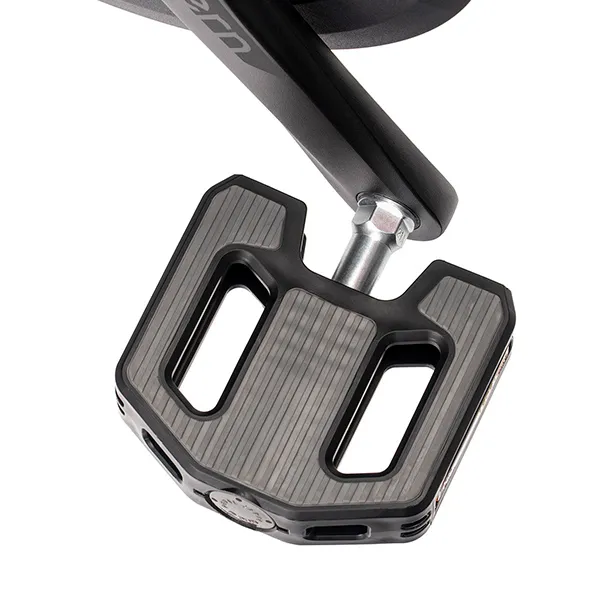 Feet-Friendly Pedals
The platform of the pedal is extra-large for boosted foot stability. Feet naturally and securely snug into its gentle concave shape. And the pedal has an improved grip for all types of shoes.
It's Really That Great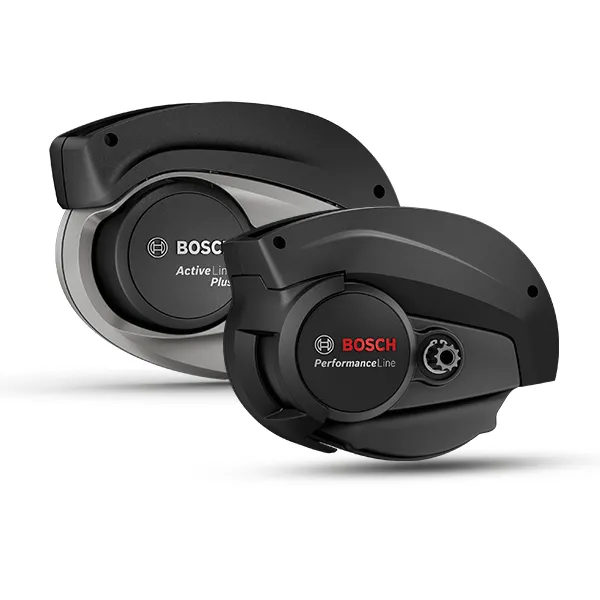 Smooth, Powerful Motor
The Bosch e-assist motor system is powerful, efficient, smooth, and supremely quiet. It's also backed with best-in-class service and support, and a network of thousands of trained dealers in cities around the world.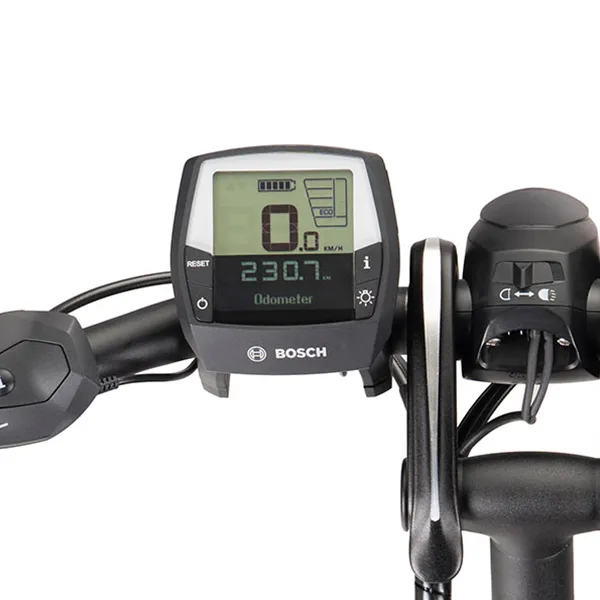 Bold, Bright, and Easy to Read Display
The Bosch Intuvia display has all the information you need. It's easy to read on your daytime rides, and brightly lit for when you ride at night. Plus, the entire display is removable and perfectly sized for pockets, so you can carry it with you after you park for added peace of mind.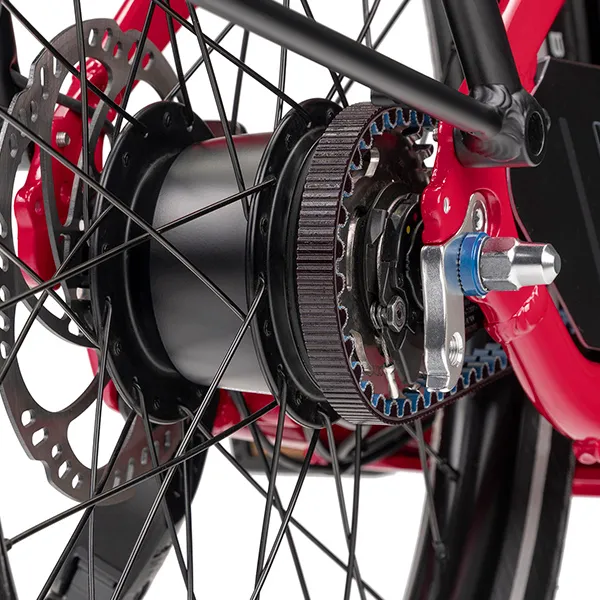 Hassle-Free Belt Drive
Bike chains are great, but often need cleaning and lubing. The NBD S5i comes equipped with a Gates belt drive for durability, low maintenance and a smoother and quieter ride, so you can spend less time cleaning, and more time riding.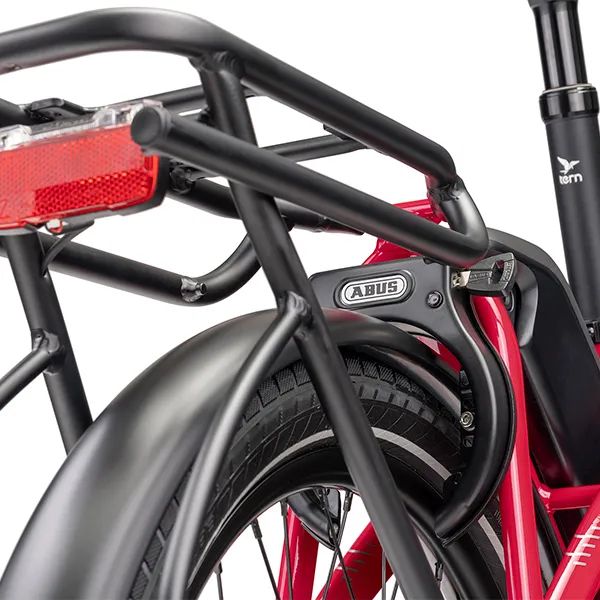 Easy-Access Frame Lock
With an Abus frame lock at the top of the rear wheel, most riders can lock up without having to bend down low. And for added simplicity, you'll need only one key, as the frame lock and battery lock are keyed alike.
Need Accessories?
Tailor the NBD to fit your life. Check out our recommended child seats and Tern accessories.