Tern Launches the Short Haul: Compact, Practical, and Built to Last
New cargo bike for everyday riding helps replace more car trips with bike trips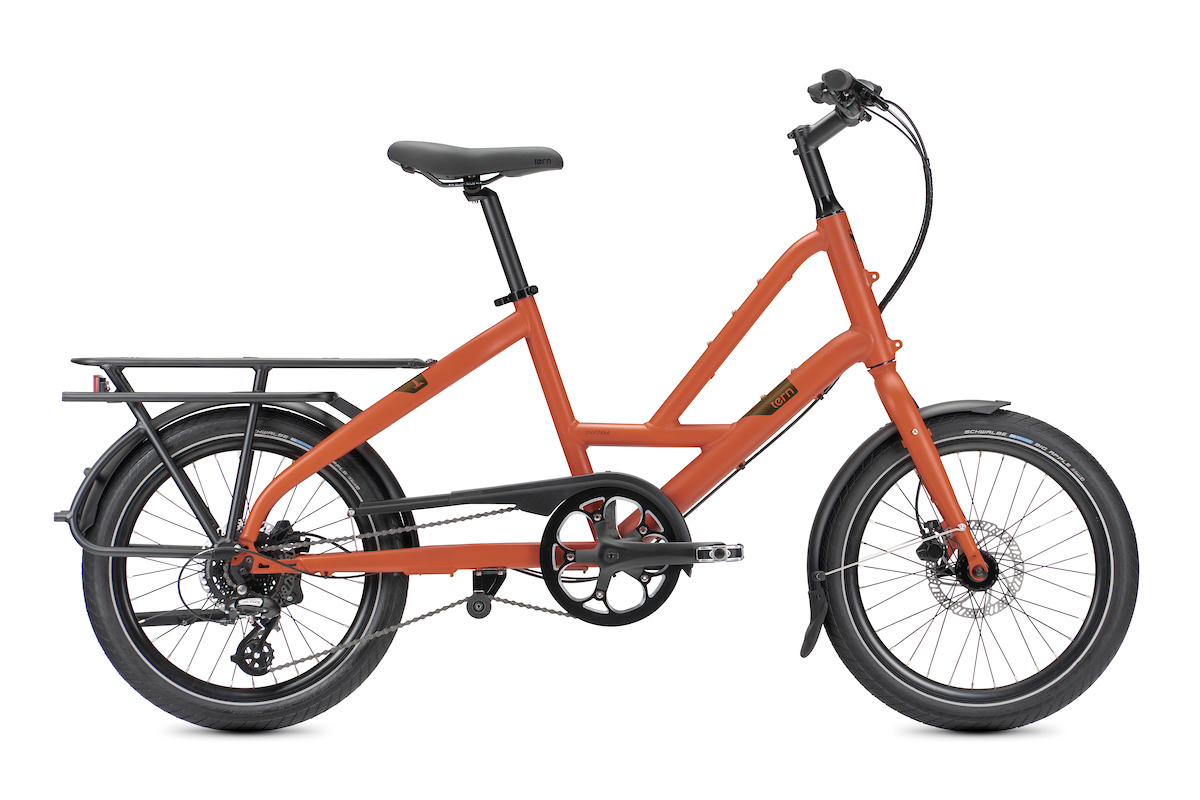 June 1st, 2022 — Urban mobility specialist, Tern, today unveiled the new Short Haul compact cargo bike. The Short Haul is a practically-priced bike designed to get a rider, plus an extra passenger and cargo, from home to work, to school, and everywhere in between. The Short Haul is a sister platform to the recently launched Quick Haul, which is additionally equipped with a Bosch electric drivetrain.
"The Short Haul is our vision of how a bicycle designed for urban transportation should look," stated Josh Hon, Tern Team Captain. "It's shorter and easier to handle than a regular bike, but it'll carry much more. It's the perfect bike for people who want the function of a quality cargo bike but are working within a budget. It's simple but very capable."
Better for Kids and Cargo
With a max gross vehicle weight of 140 kg (308 lb), the Short Haul can easily carry an extra passenger and plenty of cargo. The bike's extra-long, extra-strong rear rack is rated to carry a hefty 50 kg (110 lb) and can be configured to carry a child in a child seat, an older kid, or even a small adult.
In addition to its rear cargo capacity, the Short Haul can also carry up to 20 kg (44 lb) with an optional front-mounted rack.
Better Ride
Most cargo bikes are big and unwieldy. Most city bikes are easy enough to handle but are simply unable to carry much cargo. Shorter than a regular city bike, the Short Haul is nimble and fun to ride. But with an extra long wheelbase and low center of gravity, the Short Haul delivers a stable ride, even when carrying heavy loads. The Short Haul offers the best of both worlds, packing a sturdy build and a hefty cargo capacity into a compact package that simply rides better.
Conveniently Compact
The Short Haul's compact size makes it easy to maneuver in crowded places or small spaces, and to transport on buses or trains. For extra convenience, the rear rack design allows the bike to be vertically parked—so rolling it into an elevator and taking it upstairs is just as easy.
Tough and Tested
Despite a light total bike weight of 16.1 kg (35.4 lb), the Short Haul is built to last and tested for strength. The bike has been put through the brutally rigorous Tri-Test at EFBE Prüftechnik, one of Europe's leading bicycle testing labs.
The EFBE Tri-Test is a custom testing protocol that builds upon a new and comprehensive German standard for cargo bikes (DIN 79010:2020-02). At EFBE, the Short Haul's frame and fork went through extensive testing simulating hundreds of thousands of cycles of multi-directional stress, up to the claimed max gross vehicle weight, to ensure the bike is safe and reliable under heavy load.
Tern Accessory Ecosystem
Riders can equip the Short Haul with a wide range of Tern accessories to carry everything from a yoga mat, to fishing poles, to an ice chest, or even the family dog. The bike's robust rear rack is compatible with Upper Deck System accessories—meaning the Short Haul is compatible with all the useful cargo and passenger accessories Tern has developed for the HSD and the Quick Haul.
Some of the accessory options include the fully-enclosed Clubhouse Fort Mini for all-weather riding with a little one in cold and rainy conditions, and the Doghouse Mini for pet parents in need of a specially-designed solution for their favorite companion. The Short Haul also has an exclusive water-resistant storage compartment: The all-new Carryall Trunk transforms unused space into the perfect place to stash ride essentials.
Ready for Business
Its practical design and cargo capability also make the Short Haul a great option for commercial applications, with modular accessories that allow businesses to build the ideal bike setup to fit their needs—whether that means delivering goods, handling logistics and operations, or providing hospitality services.
The Short Haul is built with high-quality components that are durable and easy to service, meaning less downtime and better ROI when compared to cheaper alternatives. Businesses looking for an affordable fleet solution can also find more customization options under Tern Business—a Tern-backed initiative that helps organizations integrate bicycles into their business operations.
Pricing and Availability
At $1099/€1249, the Short Haul is Tern's most affordable cargo bike yet. Bikes will start arriving in stores in Q3/2022.
"Climate change is here. And we've only just started to feel its severe effects," continued Hon. "The Short Haul is a bicycle that will help families everywhere opt for a more sustainable lifestyle without breaking the bank. And we're confident the Short Haul will be a game-changer for anyone who's ever needed a reliable car replacement, but found the cost of a cargo bike prohibitive."
More Information