How to Add a DuoStand to Your HSD Gen 1
This article refers to the HSD Gen 1. If you need to install a kickstand on the NBD, Quick Haul, or Short Haul, check out this article instead.
---
The DuoStand is a dual-leg, center-mount kickstand that fits the HSD. Adding the DuoStand to your HSD gives you extra stability when loading and unloading kids and cargo.
Installing the DuoStand is simple, but the hardware required for installation varies from case to case. In some cases, you may need additional hardware beyond what's included in your DuoStand package.
That's because there are two different generations of DuoStands on the market, along with two HSD frame variants (the difference between the two frame types is extremely subtle and only affects kickstand installation).
In this article, you'll learn:
How to figure out which HSD frame type you own;
How to figure out which generation of DuoStand you own;
What parts and instructions you'll need to install your DuoStand on your HSD.
Contents
---
1. Identifying Your HSD Gen 1 Frame Type
Two types of HSD Gen 1 frames have been produced and sold. We refer to them as HSD Gen 1 and HSD Gen 1A. The only difference between these two frame types is the shape of the kickstand mount. Otherwise, the two frame types are completely identical.
Let's take a look at the kickstand mount for each frame type. It's located on your HSD's chainstay, just in front of the rear wheel.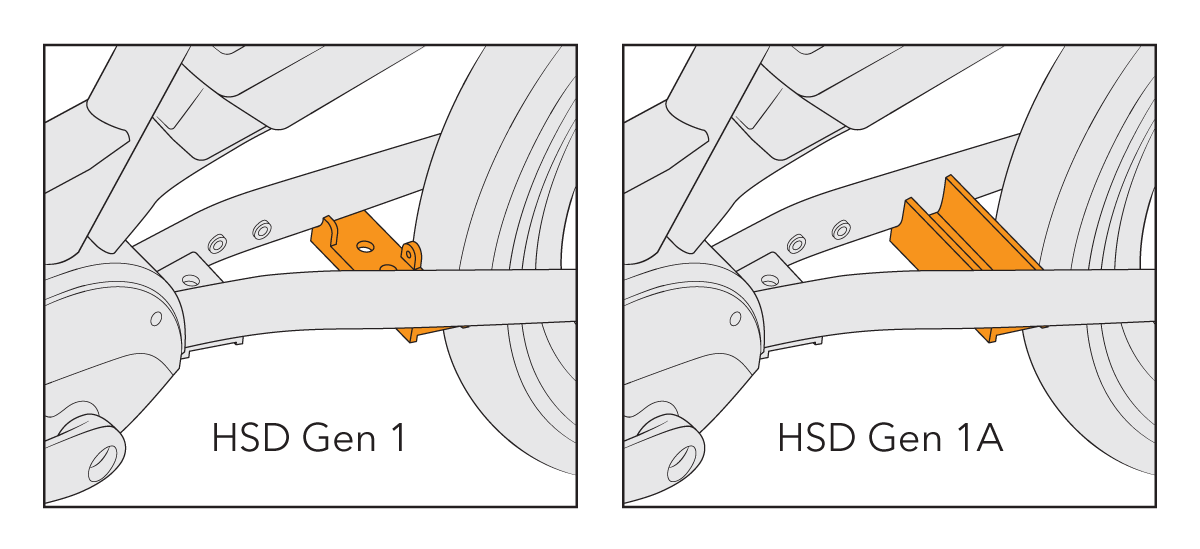 As you can see, the HSD Gen 1 has a flat kickstand mount. On the HSD Gen 1A, the kickstand mount also has vertical "walls." These little walls provide built-in reinforcement for the kickstand mount.
2. Identifying Your DuoStand Generation
There are also two generations of the DuoStand. We refer to them as DuoStand Gen 1 and DuoStand Gen 2. The DuoStand Gen 2 is an updated version of the Gen 1, and there are some functional differences between the two.
Here's what the two DuoStand generations look like:
| | |
| --- | --- |
| | |
| DuoStand Gen 1 | DuoStand Gen 2 |
As you can see, the two generations are quite visually distinct. The DuoStand Gen 2 has height-adjustable legs and rubber feet extending out to widen the stand's support base.
3. Required Parts & Instructions
Now that you've figured out which HSD frame type and DuoStand generation you own, here's what you'll need to put it all together.
4. Learn More: Video
To get this information via video and learn more about our updates to the DuoStand, check out this video: