Tern Non-Electric Bike Buyer's Guide
At Tern, we make bikes and accessories for all types of riders. As you're browsing through our collection, you may find that choosing a Tern bike that suits both your wants and needs is not an easy task! But whatever your requirements are, rest assured that we always strive to get the right proportion of functionality, comfort, and convenience. So, if you're already eyeing a Tern non-electric bike, this article is for you.
Contents
Main Similarities and Differences
---
Main Similarities and Differences
Starting off, here are some key points you could keep in mind as you go through this buyer's guide.
Similarities
Compact and convenient: We take urban mobility pretty seriously, so we ensure that our bikes are compact. Many of our bikes can be brought on public transport and fit inside a car trunk when necessary.
Built to last: Made with high-quality components and tested to the highest safety standards, Tern bikes can reliably handle the daily grind.
Modularity for maximum fun and functionality: Our bikes are designed to work with a wide variety of accessories. Mix and match to find the right setup that works for you.
Differences
All of our acoustic bikes fold, except for the Short Haul.
Different wheel sizes: Our acoustic bikes have a variety of wheel sizes, ranging from 20" to 24" and 26".
Different platforms for different needs: Our broad selection of bike models can tackle a variety of tasks and is suitable for all kinds of riding habits.
Fits every wallet: We offer durable bikes at every price point.
---
1. BYB: Our Most Compact Folding Bike
We'd like to start our comparison small—really small. The BYB is our ultra-compact folding bike that folds 30% smaller than the average 20-inch folding bike.
The BYB fits comfortably inside a closet and under your desk at work. It's a multimodal commuter bike for those who need to zigzag through busy stations and squeeze themselves into a train. When equipped with the Metro Transit Rack, the BYB can be trolleyed like a suitcase for easy storage and transportation.
If you prioritize portability and versatility, then the BYB is your ideal choice. The BYB S11 and P8 are best suited for commuting, but the sportier P10 is better adapted for free time adventures.
---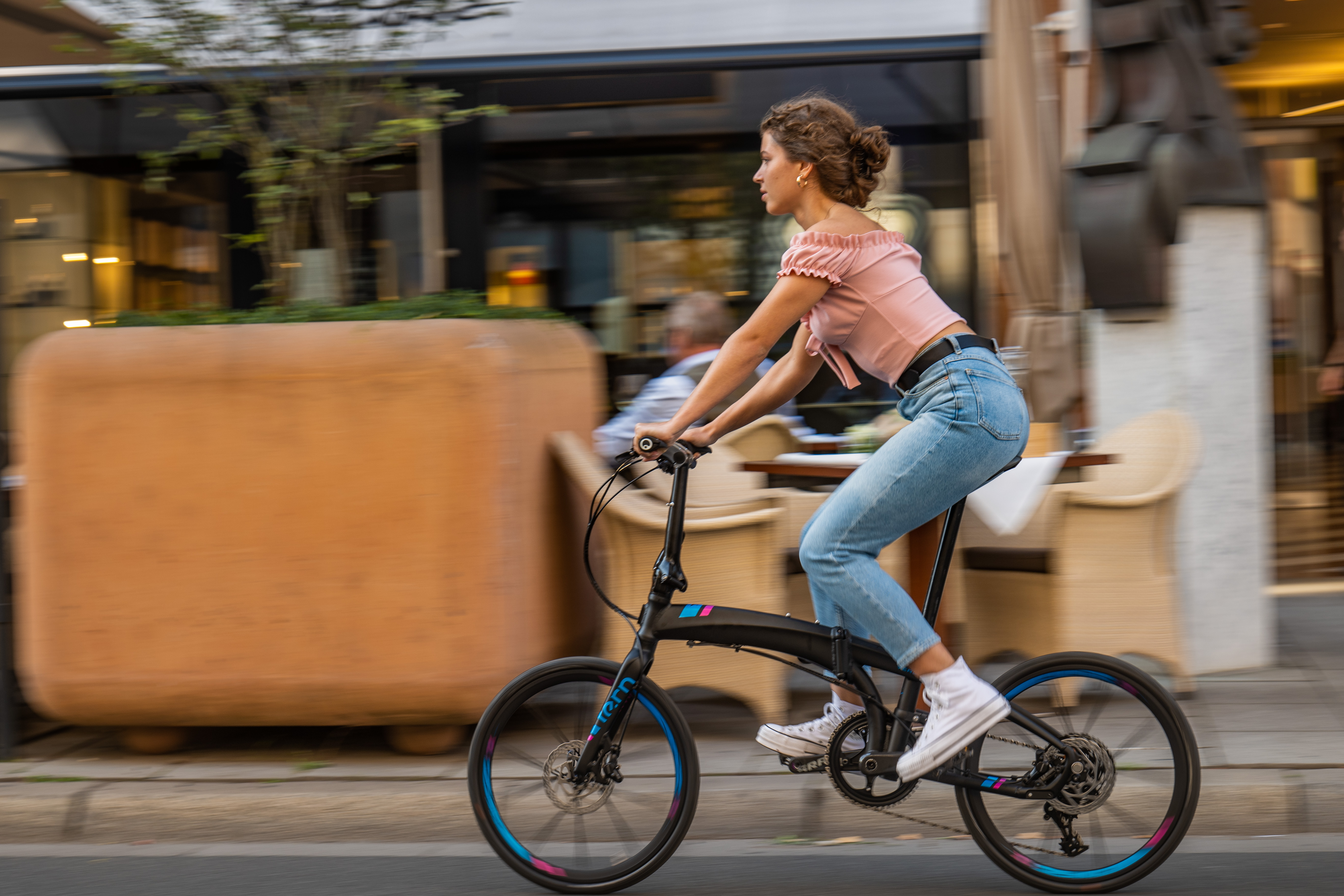 2. Verge: Our High-Performance Folding Bike
The Verge is a pedal-powered speed machine, as it's a Tern folding bike built for fast, swift, and stable riding to get you to your destination in style.
It's a high-performance bike with an aerodynamic design and sportier riding position, suitable for those with a need for speed. The Verge stands out for its agility and prompt acceleration, offering convenience for short commutes and the capacity to cover larger distances.
If you're a true urbanite with a fast-paced routine, we think the Verge will be a good match.
---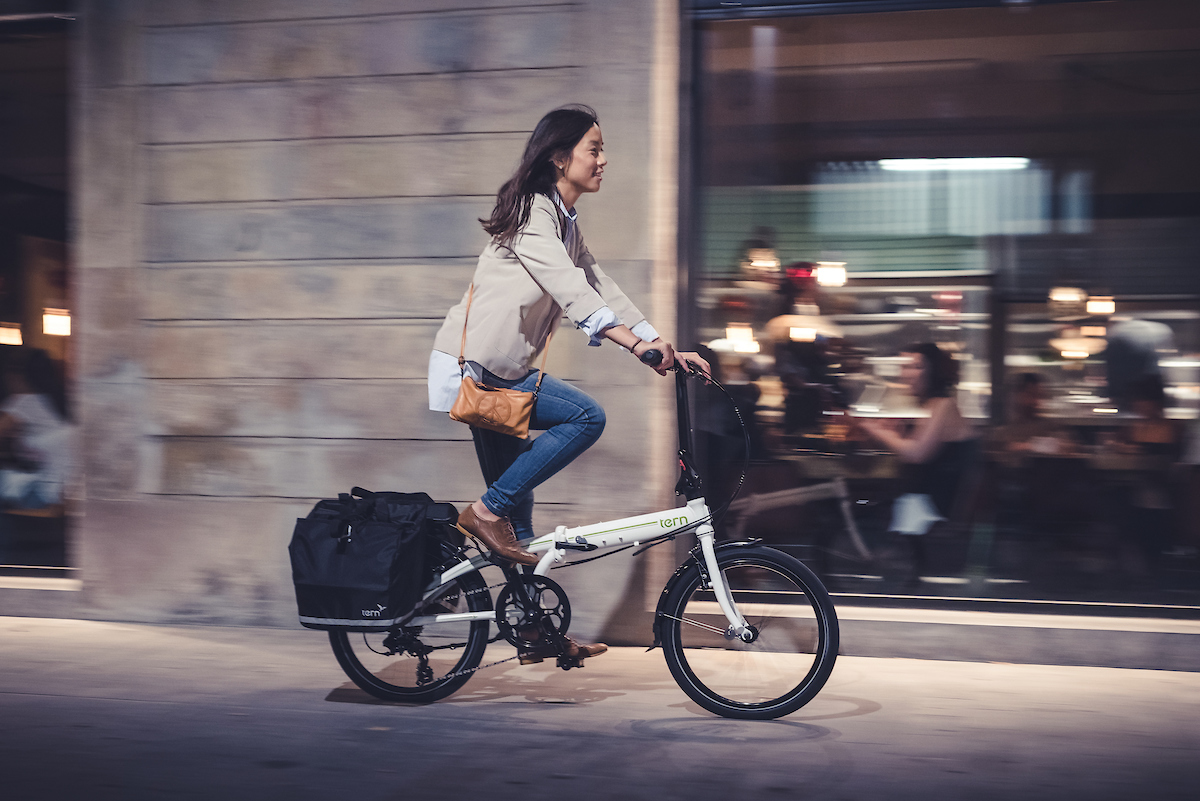 3. Link: Our Most Affordable Folding Bike
The Link is the most affordable platform in our lineup and provides the convenience that you'd expect from a Tern folding bike. It goes everywhere you go—from the subway train to your office desk, but also from one campus building to another.
Tern's nifty folding technology makes it fold fast and small, and it's also highly customizable. Pick and choose from any compatible Tern bike rack to add some luggage room for your work bag, a bit of shopping, or some books to read in the park.
The Link offers simplicity and practicality made possible with Tern's characteristic fold. If you're in the market for a no-fuss bike that gets the job done, then the Link suits you best.
---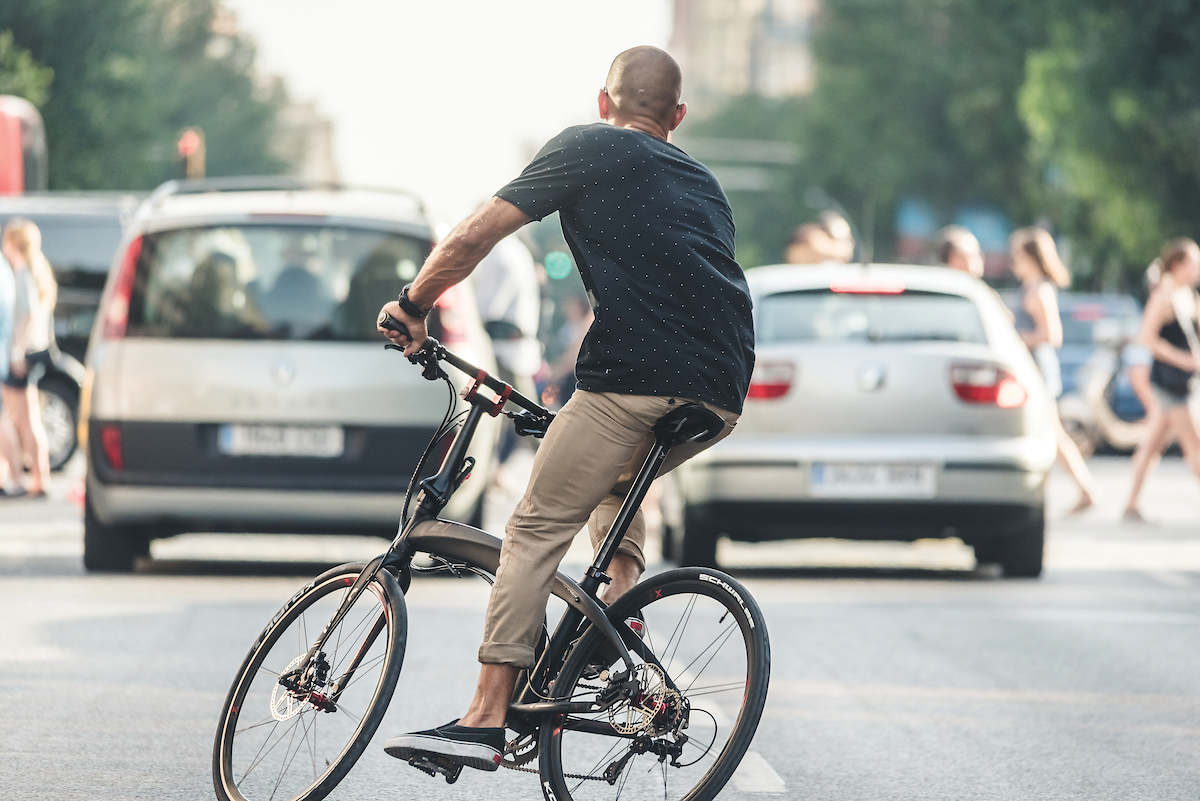 4. Eclipse: Folding Bike with Full-Sized Wheels
The Eclipse has an equally easy fold as all other Tern folding bikes, but it's distinguished by its 26-inch wheels and high-end road bike feel.
The Eclipse is a premium sporty bike for those who love going on outdoor adventures in their free time. It has a wide range of gears and powerful brakes for going up and down hills. Despite its wheel size, it's still lightweight enough to be lifted into your car trunk and taken with you on a trip.
If you are a weekend warrior who's looking for a Tern folding bike with the characteristics of a high-performing road bike, then the Eclipse is the one for you.
---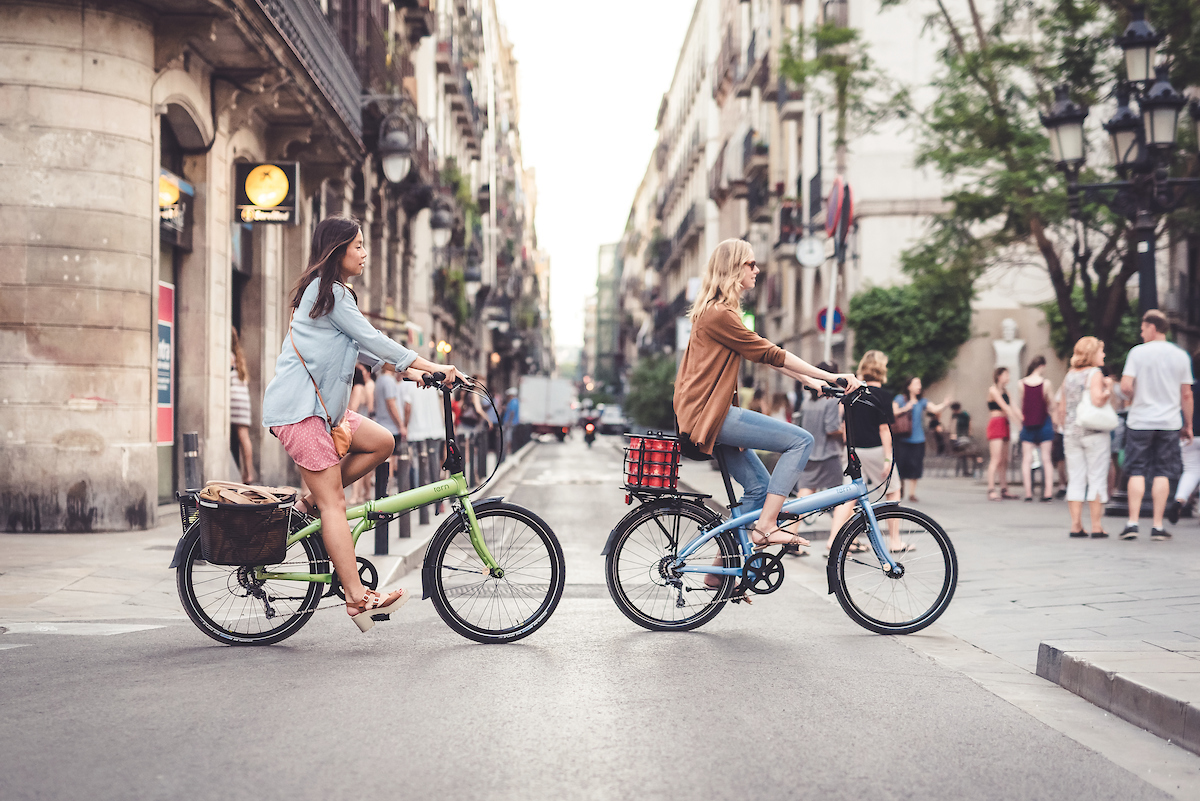 5. Node: A Bike with the Right Mix of Comfort and Convenience
The Node is a bike for your everyday routine, ranging from shopping and going to the gym to leisurely meandering in the park.
With 24" wheels, the Node offers the comfort of a full-sized bike and the practicality of a Tern folding bike. It has swept-back handlebars for an upright and cozy riding position, and it's great for riding short to medium distances in the city. The Node is also ideal for communal rides, perfect for family and friends to enjoy together.
If you'd like to get a bike that has the right level of ease and comfort that can help you get daily errands done, then the Node might be just for you.
---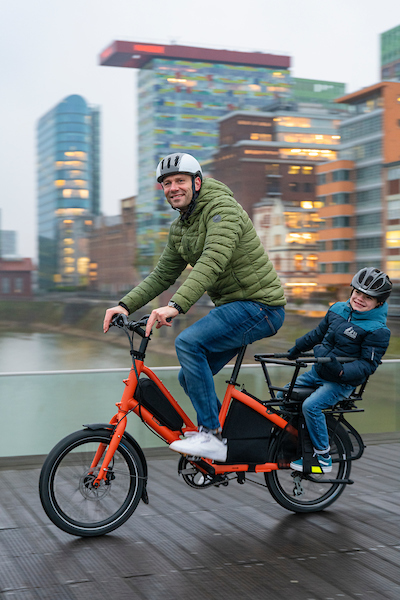 Short Haul with kid passenger in a Clubhouse Mini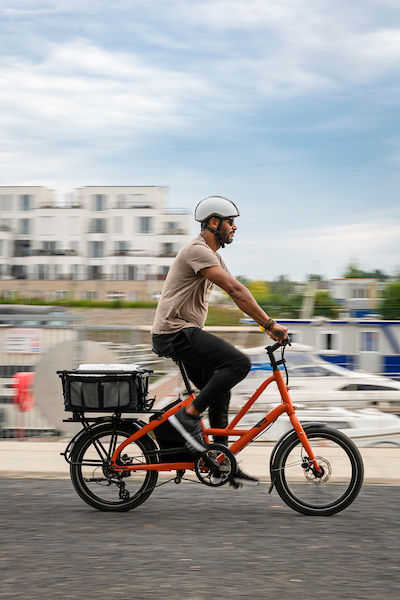 Short Haul with cargo in a Soft Crate Mini
6. Short Haul: Our Most Affordable Cargo Bike
Last but not least, the Short Haul is our acoustic cargo bike that can handle hefty loads and fit a vast range of Tern accessories.
The Short Haul is as functional as it is durable. Its extra sturdy rear rack can carry up to 50 kg (110 lb), making it suitable for bringing your kid to school or delivering merchandise to your customers. If you need extra room, it's possible to install a front rack and place a maximum of 20 kg (44 lb) of extra stuff on it.
The Short Haul is unmissable for your daily activities. If you've been looking for a sturdy bike that can help you get through the day no matter what kind of cargo—either packages or your child—the Short Haul is your top choice.
---
Summary
Choosing a Tern bike is an exciting journey that involves thoughtful decision-making. If you're looking to make things easier, take a look at the chart below.
|   | BYB | Verge | Link | Eclipse | Node | Short Haul |
| --- | --- | --- | --- | --- | --- | --- |
| Get this for... | Commuting or performance | Performance | Commuting | Performance | Commuting | Carrying a passenger or cargo |
| Type | Ultra-compact folding bike | Folding bike | Folding bike | Folding bike | Folding bike | Cargo bike |
| Wheel size | 20" | 451 | 20" | 26" | 24" | 20" |
| Suggested rider height | 147 - 195 cm (4'10" - 6'5") | 142 - 190 cm (4'7" - 6'3") | 142 - 190 cm (4'7" - 6'3") | 148 - 195 cm (4'9" - 6'4") | 148 - 195 cm (4'9" - 6'4") | 147 - 190 cm (4'10" - 6'3") |
| Max. rider weight | 105 kg (230 lb) | 105 kg (230 lb) | 105 kg (230 lb) | 105 kg (230 lb) | 105 kg (230 lb) | 120 kg (264 lb) |
---
More Information
We hope that this Tern buyer's guide has given you some impressions of our non-electric bikes' capabilities and will help you make the right decision.
But to get to know our bikes even better, we highly recommend you visit your nearest Tern bike dealer for a test ride and see for yourself! A test ride will give you the most accurate sense of how the bike performs, and you'll get to ask the Tern dealer all sorts of questions.
You could also go to our bike overview page and click on "Compare" (just below each bike icon) to make a comparison list of a maximum of five bikes. But if you're also interested in e-bikes, you might want to check out our E-Bike Buyer's Guide here.
Happy shopping!