Verge S8i คือจักรยานพับที่ต้องการการบำรุงรักษาน้อยที่สุดในโลก มันถูกดีไซน์ขึ้นมาเพื่อให้ใช้กับการขับเคลื่อนด้วยสายพาน Gates และเกียร์ดุม Shimano Alfine 8 speed พร้อมเฟรมสีดำเซรามิก มันคือรถที่ขับเคลื่อนได้อย่างเงียบเชียบ และไม่ต้องกังวลกับชิ้นส่วนที่เปรอะไปด้วยคราบน้ำมันหรือตีนผีที่ยื่นออกมา Verge S8i คันนี้มีฐานล้อที่ยาวพิเศษ และใส่ยางใหญ่พิเศษอย่าง Schwalbe รุ่น Big apple มันจะทำให้คุณคลายกัลวลเรื่องสภาพพื้นผิวบนถนนและหลุมบ่อต่างๆ มันจะพาคุณไปสู่จุดหมายได้อย่างรวดเร็ว สะอาด และสำคัญที่สุดคือ..ไปอย่างมีสไตล์
เกียร์ดุม Shimano Alfine 8 speed ที่แทบไม่ต้องการบำรุงรักษา
สายพาน Gates อันลือลั่น สำหรับการปั่นที่เงียบ ไร้คราบ และน้ำหนักเบา
ดิสก์เบรคไฮโดรลิก Shimano Deore แรงเบรคมหาศาลแค่กดเบาๆที่ปลายนิ้ว
สเตม Andros™ เอกสิทธิ์เฉพาะกับจักรยาน Tern เท่านั้น ที่ทำให้คุณสามารถปรับระยะสเตมโดยปราศจากเครื่องมือ
ไฟหน้า Valo™ 2 ให้ลำแสงสุดกว้างและสว่าง โดยใช้พลังงานจากดุม BioLogic Joule™ 3
ยาง Schwalbe Big Apple พร้อมเทคโนโลยีกันหนาม
สามารถพับให้เล็กสุดได้อย่างง่ายดายภายใน 10 วินาที
มาพร้อมบังโคลนสำหรับลุยน้ำ
สามารถติดแรคหลังเป็นอะไหล่เสริม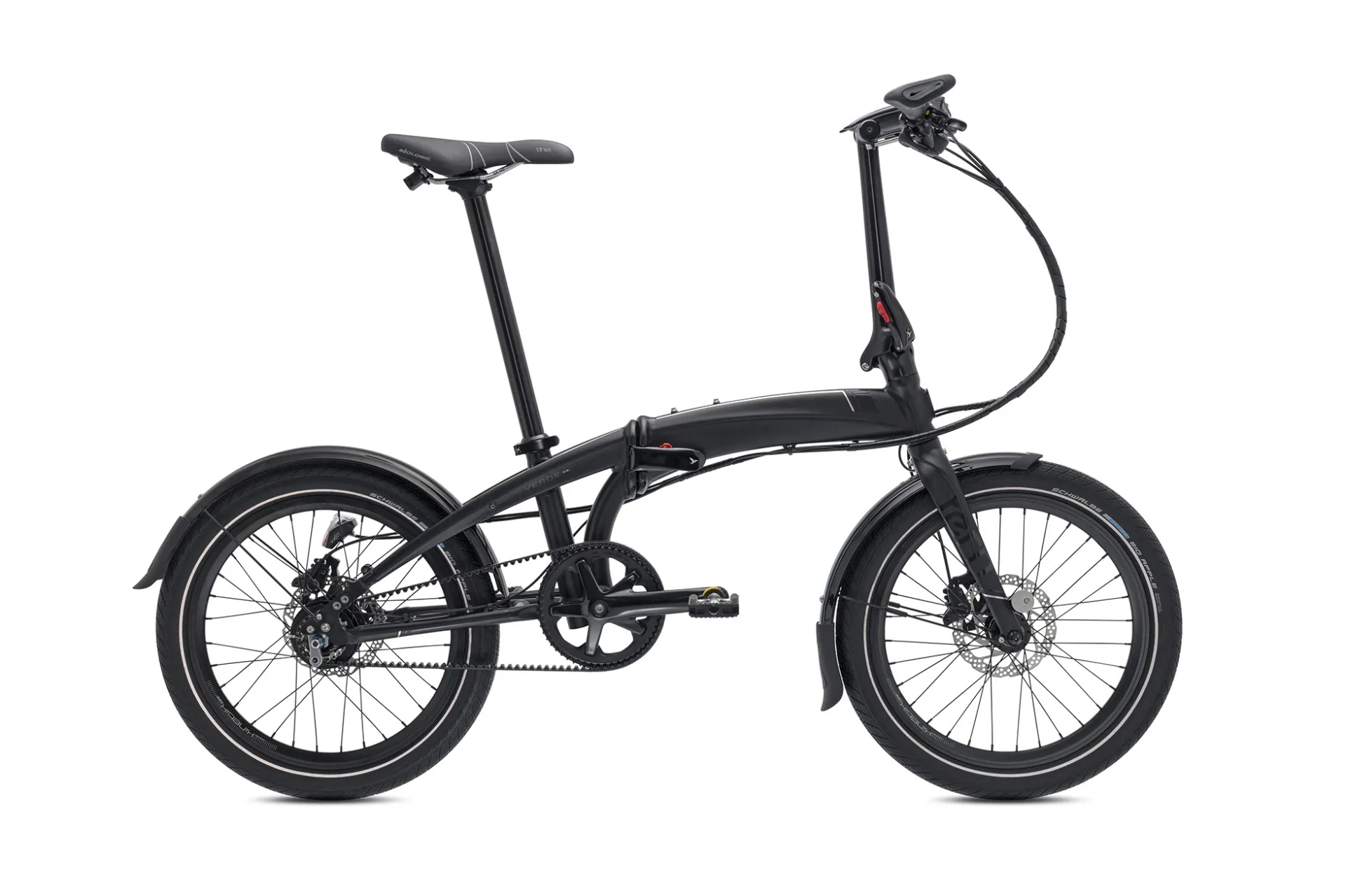 General Info
Gear Inches:
27" - 83" (2.15 - 6.60 m)
Folding Size:
420 × 810 × 730 mm (16.5 × 31.9 × 28.7 in)
Distance: Seatpost to Handlebar:
57 - 64 cm (22.4 - 25.2 in)
Distance: Saddle to Pedal:
71 - 96 cm (28 - 37.8 in)
Suggested Rider Height:
142 - 190 cm (55.9 - 74.8 in)
Max Gross Vehicle Weight:
Frame
Frame:
Tern Verge, hydroformed 7005-Al w/ smooth TIG welding, 3 patented technologies
Fork:
Tarsus, 6061-AL, hydroformed
Cockpit
Handlepost:
Tern Physis 3D, 3D forged, 5 patented technologies
Stem:
Tern Andros, adjustable, forged construction, patented technology
Headset:
Flux Pro, angular contact bearings, Physis integrated
Handlebar:
Kinetix Comp, double-butted 6061-Al
Grips/Bar Tape:
Phorm, w/ bar end
Saddle:
Tern Porter+, patented GripPad design, PrimeGel padding
Seatpost:
Stasis by Syntace, 7050-Al, hard-anodized
Seatpost Clamp:
Syntace OverLock
Brakes
Front Brake:
Shimano Deore, hydraulic disc
Rear Brake:
Shimano Deore, hydraulic disc
Brake Levers:
Shimano Deore, hydraulic disc
Brake Cable & Housing:
Shimano
Wheels
Front Hub:
BioLogic Joule 3 dynamo, disc
Rear Hub:
Shimano Alfine, 8 spd
Spokes and Nipples:
Stainless, double-butted
Rims:
Kinetix Comp, doublewall
Tires:
Schwalbe Big Apple 55-406, puncture protection, Reflex
Transmission
Shifter(s):
Shimano Alfine, 8 spd
Crankset:
Gates Carbon Drive
Cassette/Freewheel:
Gates CDX, precision CNC machined cog
Bottom Bracket:
Cartridge, sealed bearings
Chain:
Gates Carbon Drive belt
Pedals:
MKS UB-LITE EZY, QR
Shifter Cable & Housing:
Shimano
Bells & Whistles
Kickstand:
Rear mount, Pletscher design
Clip System:
Magnetix 2.0
Front Light:
Tern Valo 2, integrated, 41 lux/150 lumens
Rear Light:
Spanninga Pixeo XDS
Fenders:
SplashGuard, stainless hardware
Rack(s):
Opt: Tern Cargo Rack
*Note: These are our standard model specifications. The bike's weight and folded dimension may not include racks and fenders. The specifications for your country may differ slightly. We do our best to ensure that the specifications listed here accurately reflect the exact parts found on our production bikes. However, component changes do occur for various reasons and there may be brief delays on site updates. We reserve the right to make component changes without prior notification, which may cause discrepancies with the information listed on the web.