Eclipse D16 จัดว่าเป็นจักรยานที่ดีที่สุดของเราหากมองในอัตราส่วนราคาต่อประสิทธิภาพ ถูกสร้างขึ้นมาบนล้อ 26" สเตมปรับระดับได้ ดิสก์เบรคแบบน้ำมัน และเฟรมทาง Eclipse ที่ถูกสร้างขึ้นมาด้วยกรรมวิธี Hydroform สุดแข็งแกร่ง สิ่งเหล่านี้คือของที่ดีที่สุดที่เรามี และเราสามารถใส่พวกมันลงไปในจักรยานคันนี้ด้วยราคาที่ถูกจนน่าประหลาดใจ
รุ่นเริ่มต้นที่ปั่นดีที่สุดของเรา ต้องขอบคุณล้อขนาด 26" และวิธีพับอันเป็นเอกลักษณ์
พับได้เร็วภายใน 10 วินาที 
คันเดียวสามารถปั่นได้ทั้งครอบครัว ปรับขนาดได้อย่างรวดเร็วภายในไม่กี่วินาที
ปรับความยาวสเตมได้อย่างง่ายดาย โดยไม่ต้องใช้เครื่องมือใดๆ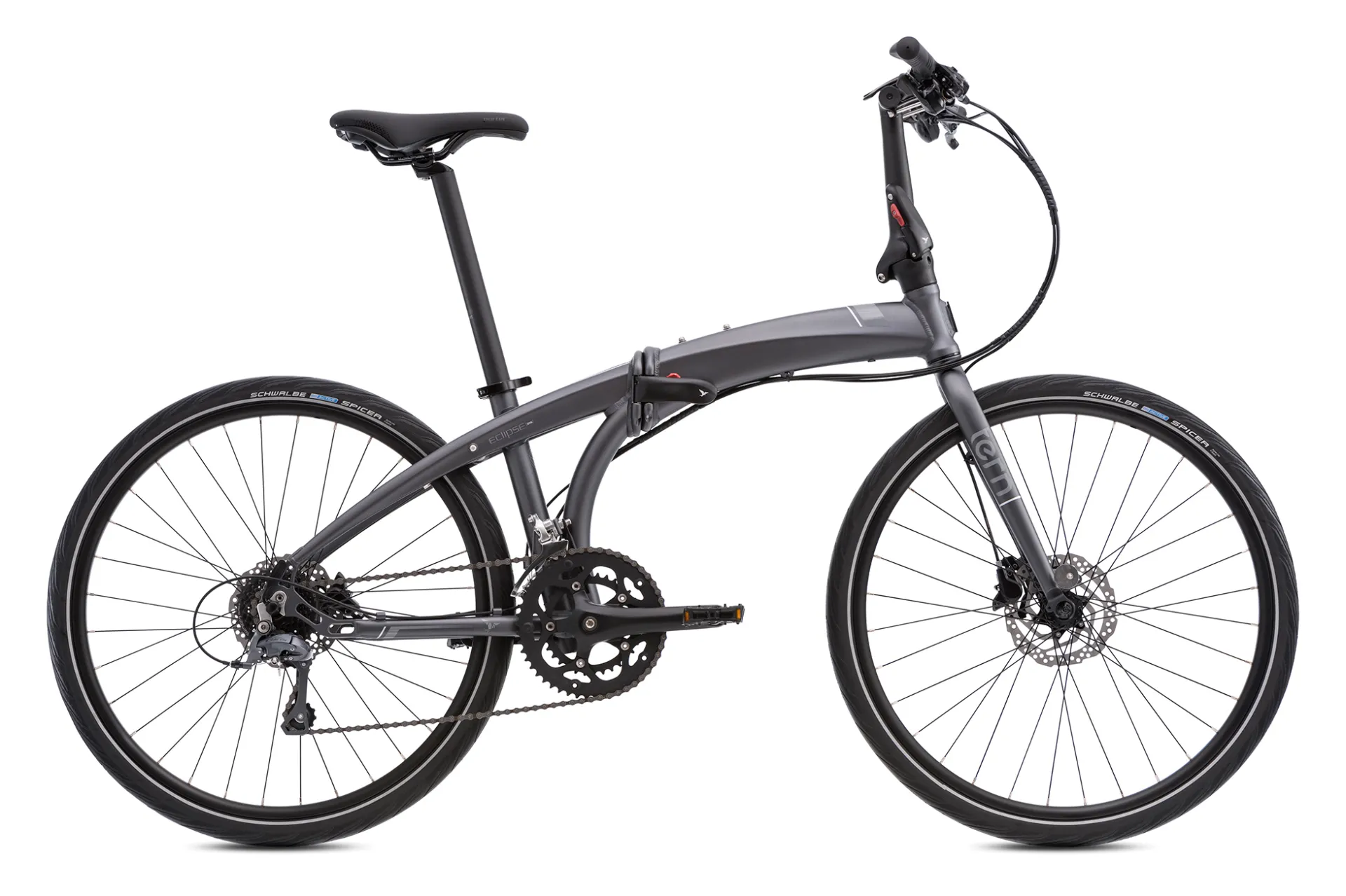 General Info
Gear Inches:
29" - 115" (2.28 - 9.14 m)
Folding Size:
440 × 910 × 750 cm (173.2 × 358.3 × 295.3 in)
Distance: Seatpost to Handlebar:
63 - 70 cm (24.8 - 27.6 in)
Distance: Saddle to Pedal:
79.5 - 105 cm (31.3 - 41.3 in)
Suggested Rider Height:
148 - 195 cm (58.3 - 76.8 in)
Max Gross Vehicle Weight:
Frame
Frame:
Tern Eclipse, hydroformed aluminum, 3 patented technologies
Fork:
Integrated, hi-tensile steel
Cockpit
Handlepost:
Tern Physis 3D (G2), 3D forged, 5 patented technologies, 12°, 250 mm
Stem:
Tern Andros (G2), adjustable, forged construction, patented technology
Headset:
Flux, cartridge bearings, Physis integrated
Handlebar:
Flat bar, 6061-Al
Grips/Bar Tape:
Velo ergonomic, lock-on
Saddle:
Tern Porter, patented GripPad design
Seatpost:
SuperOversize, 6061-Al, micro-adjust clamp
Seatpost Clamp:
SuperOversize, 6061-Al
Brakes
Front Brake:
Shimano, hydraulic disc
Rear Brake:
Shimano, hydraulic disc
Brake Levers:
Shimano, hydraulic disc
Brake Cable & Housing:
Shimano
Wheels
Front Hub:
Shimano, Centerlock disc
Rear Hub:
Shimano, Centerlock disc
Spokes and Nipples:
Stainless steel
Rims:
Doublewall aluminum, disc only
Tires:
Schwalbe Spicer, 40-559, puncture protection, Reflex
Transmission
Shifter(s):
Shimano, trigger, 2 x 9 spd
Front Derailleur:
Microshift
Rear Derailleur:
Shimano Sora
Crankset:
Forged 6061 aluminum crank, 50/34T
Cassette/Freewheel:
Shimano, 11-32T, 9 spd
Bottom Bracket:
Cartridge, sealed bearings
Pedals:
Folding, alloy body
Shifter Cable & Housing:
SP
Bells & Whistles
Kickstand:
Deluxe center mount
Clip System:
Magnetix 2.0
Fenders:
Opt: RP Chromeplastic, stainless hardware
*Note: These are our standard model specifications. The bike's weight and folded dimension may not include racks and fenders. The specifications for your country may differ slightly. We do our best to ensure that the specifications listed here accurately reflect the exact parts found on our production bikes. However, component changes do occur for various reasons and there may be brief delays on site updates. We reserve the right to make component changes without prior notification, which may cause discrepancies with the information listed on the web.