Clubhouse Fort: What it is and How to Build it
This article refers to GSD Gen 2 bikes.
No matter how convenient carrying kids on the GSD may be, we know the weather is a huge wildcard. After all, no one wants their little ones to experience discomfort while riding (and we're pretty sure you don't want to experience their complaining, either!).
That's why we created the Clubhouse Fort for the GSD Gen 2. This complete weather protection system makes every day a great day to carry kids. In this article, we'll explain what it is, how you can build the Clubhouse Fort, and what your family will get out of it once you do.
What Is the Clubhouse Fort?
The Clubhouse Fort is a combination of four accessories that turns the back of the GSD Gen 2 into a weather-protected compartment for kids. It's designed to fit up to two kids, in or out of child seats, with a maximum recommended height of 140 cm (with a little extra room for a helmet).
From your perspective, it keeps kids dry, cozy, and content in all kinds of weather. From your kids' perspective, it's a comfy cockpit, a seat of honor, and maybe even a magical play space that makes riding that much more enticing.
Here's what it looks like: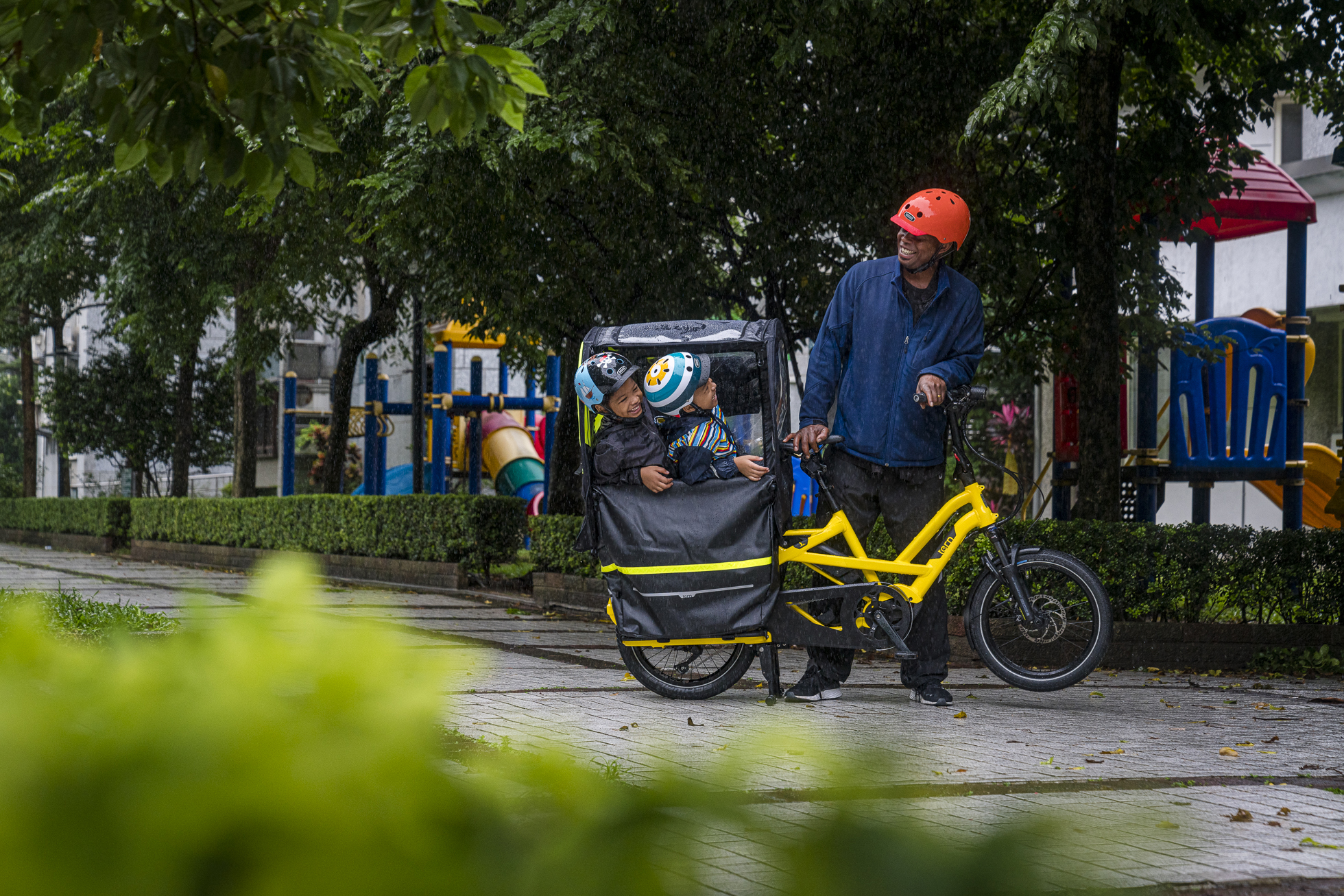 Which Accessories Make Up the Clubhouse Fort?
As we mentioned above, the Clubhouse Fort is made up of four accessories. Each accessory is sold separately. The four accessories are: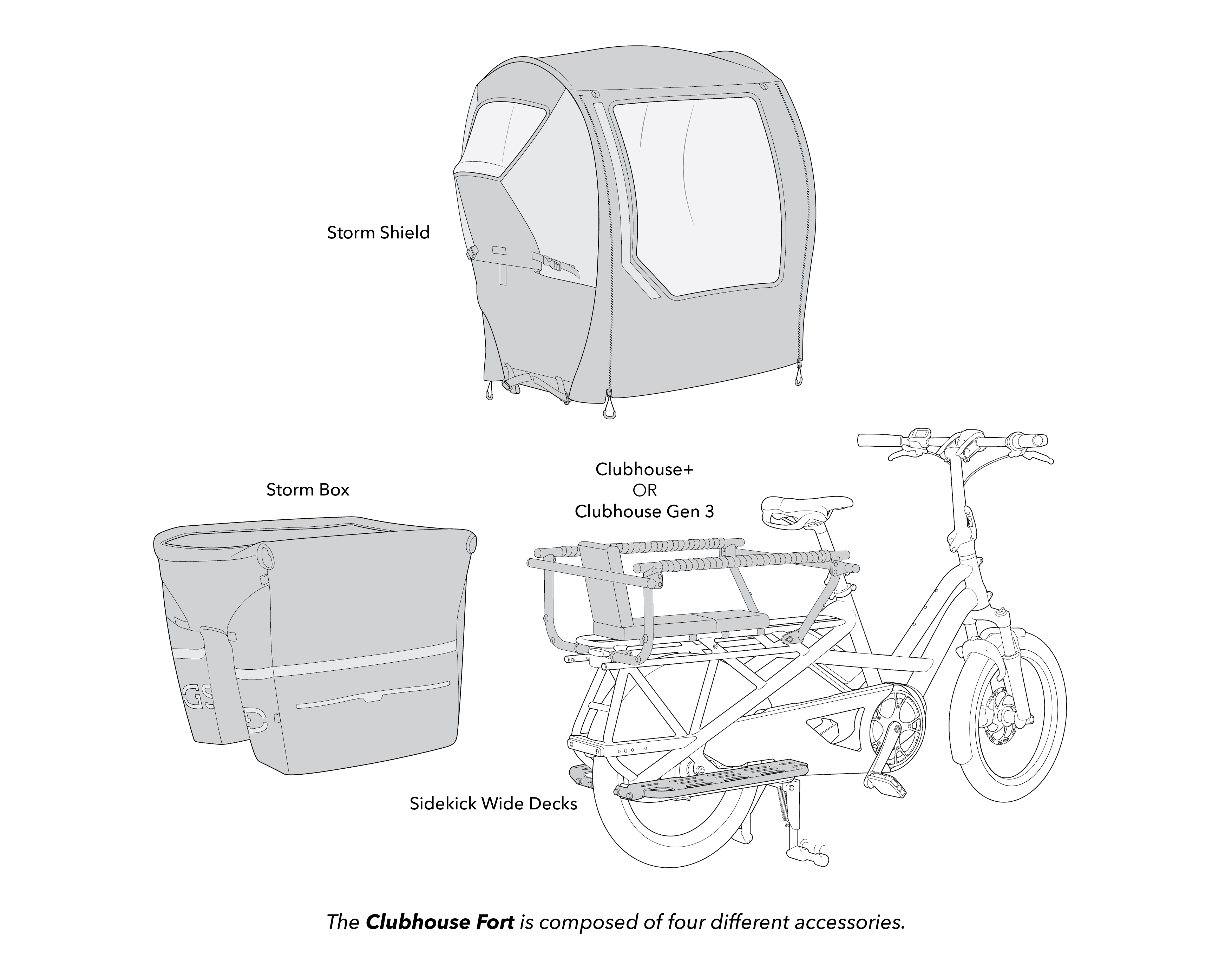 How to Build the Clubhouse Fort
1. Install the Sidekick Wide Decks
The Sidekick Wide Decks form the base of the Clubhouse Fort. They're required to install the Storm Box.
2. Install the Clubhouse
The Clubhouse forms the frame of the Clubhouse Fort. You will need either the Clubhouse Gen 3 or the Clubhouse+ to install the Storm Box and the Storm Shield. You can install the Clubhouse Fort when either the included Flat Bar or Child Seat Expansion Bar is in use.
If you have younger children, you'll need to add a child seat or two. In a one-seat setup, any child seat that's compatible with the GSD will work. In a two-seat setup, which child seats to use will largely depend on the Clubhouse model your Fort is built upon. Check out this article for more information about using child seats on your GSD.
3. Install the Storm Box
The Storm Box is a massive, soft-but-sturdy box that helps protect kids from the elements. It includes a water-resistant Kid Lid that cinches tight around little passengers, sort of like the spray skirt of a kayak.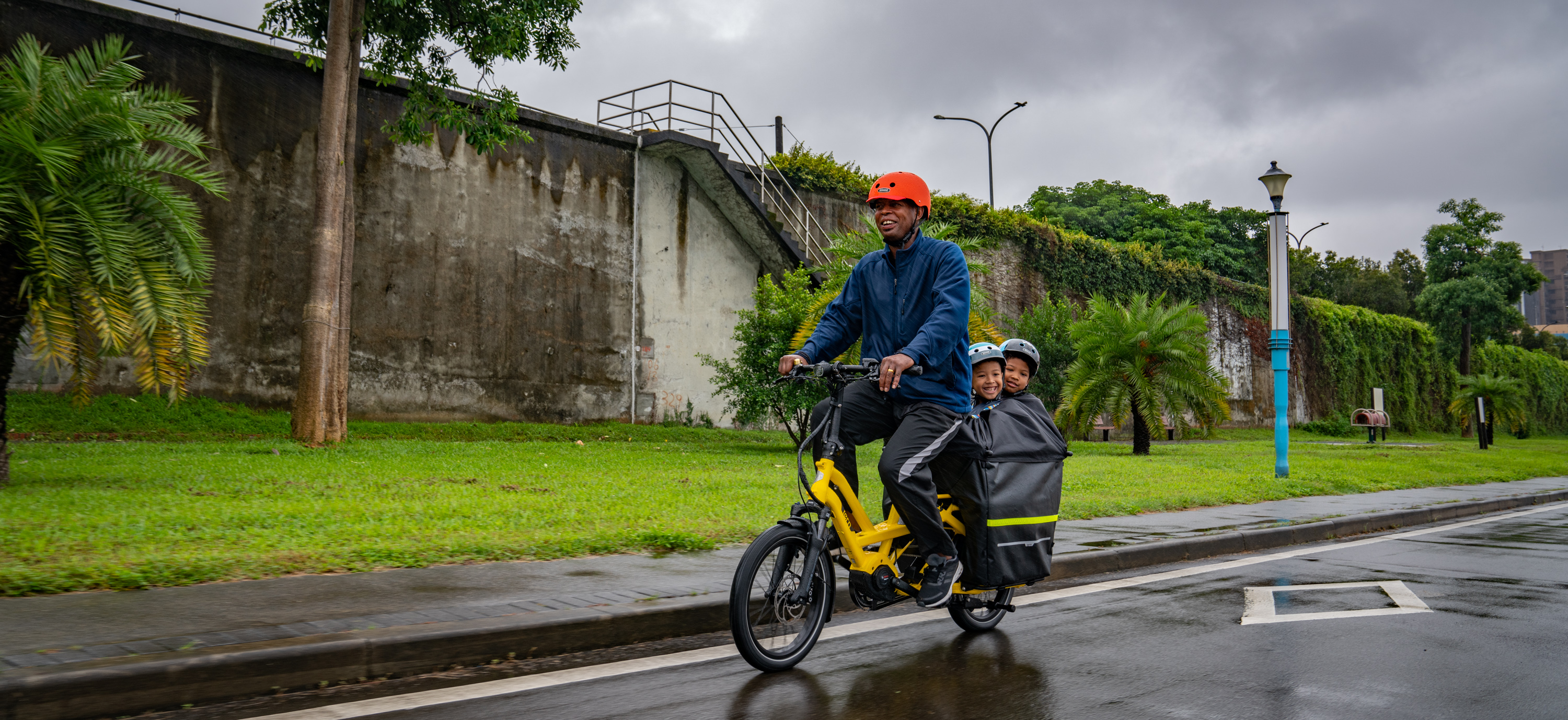 The Storm Box was designed with kid-carrying in mind. It even has a handy opening in the back for easy access to the rear Yepp child seat's knob. It's also incredibly effective at catching all the toys, clothes, and other items that may fall from little hands while riding—just scoop your kids' missing mittens out of the bottom of the Storm Box.
But the Storm Box also serves another purpose: when you're not carrying kids, you can toss in up to 160 L of cargo. Check out this article for more info on using the Storm Box for cargo.
4. Install the Storm Shield
The Storm Shield is a weather-resistant canopy that protects kids from harsh weather conditions like rain, cold wind, and even extreme sun.
The Storm Shield is made from waterproof nylon that keeps kids dry on wet days. We added a rear ventilation panel for airflow, to prevent the passenger cabin from getting too stuffy. See-through inserts in the side panels let your kids enjoy the view, while the Storm Shield's fiberglass tent pole structure is designed to hold its shape, even on windier days.
So what do you do with the Storm Shield on sunny days? Well, you've got two choices. The first is to roll up the side panels and use the Storm Shield for UV protection.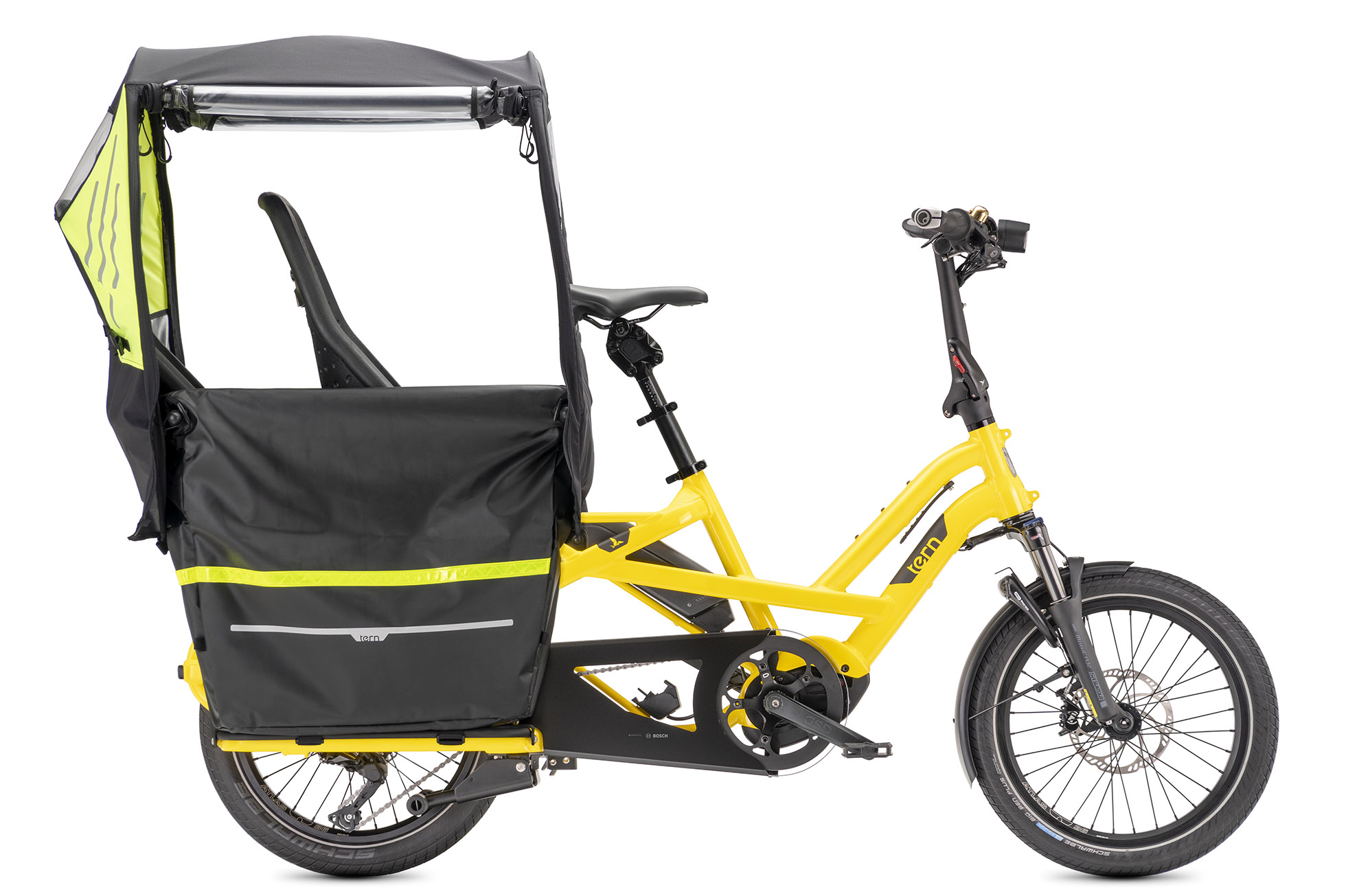 If you don't need the Storm Shield at all, you can easily remove the Storm Shield, fold it flat, and place it upright in the Storm Box for storage (this won't affect your ability to carry kids).
And that's about it! Pillow forts are fun, but the Clubhouse Fort is on a whole nother level. We hope you enjoy building it—and using it to build memories with your family for years to come.
Still Have Questions?
Check out our FAQ.