The Doghouse Mini: What It Is and How to Build It
To read this article in other languages, click here.
---
At Tern, we love seeing families on bikes—and we know that for many of you, dogs are family, too (us too!). Dogs sometimes need to go places just like we do, and they love to accompany their people on outings and errands.
So, we created the Doghouse Mini, a combination of three accessories that makes transporting your small- to medium-sized dog by bike simple and hassle-free (and hopefully comfy for the dog!). 
In this article, we'll explain what the Doghouse Mini is, how you can build it, and what you and your dog will get out of it once you do.
What Is the Doghouse Mini?
The Doghouse Mini is a dog carrier made up of three different accessories (each sold separately) that come together to form a nice protected shelter for a small or medium-sized dog. It also doubles as a handy cargo hauler.
Here's what it looks like: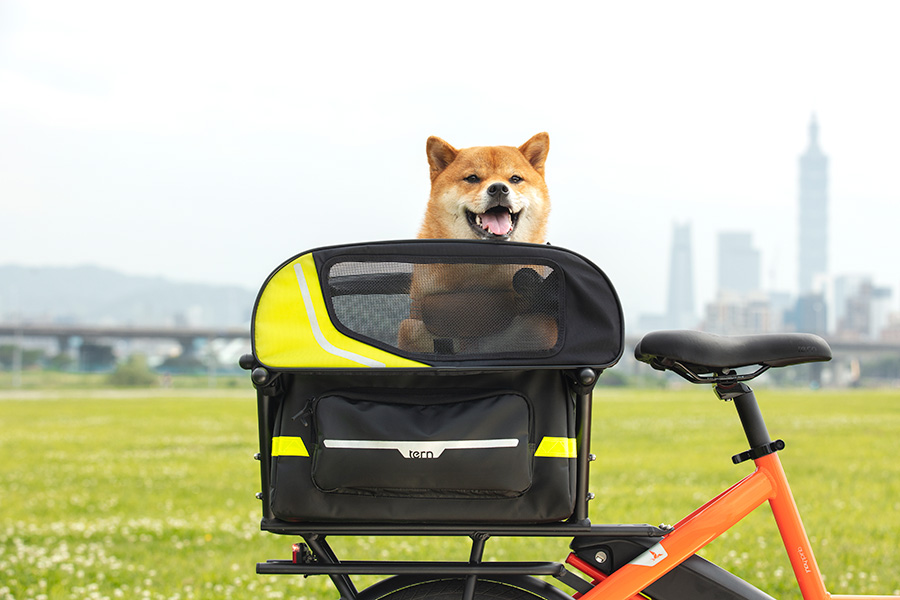 Which bikes does the Doghouse Mini fit on?
The Doghouse Mini requires the Clubhouse Mini as a frame. The Clubhouse Mini was designed to fit perfectly on our more compact passenger-carrying bikes, but it will also fit the GSD (when no other Clubhouse is installed). Currently, you can install the Doghouse Mini on the following bikes:
Which accessories make up the Doghouse Mini?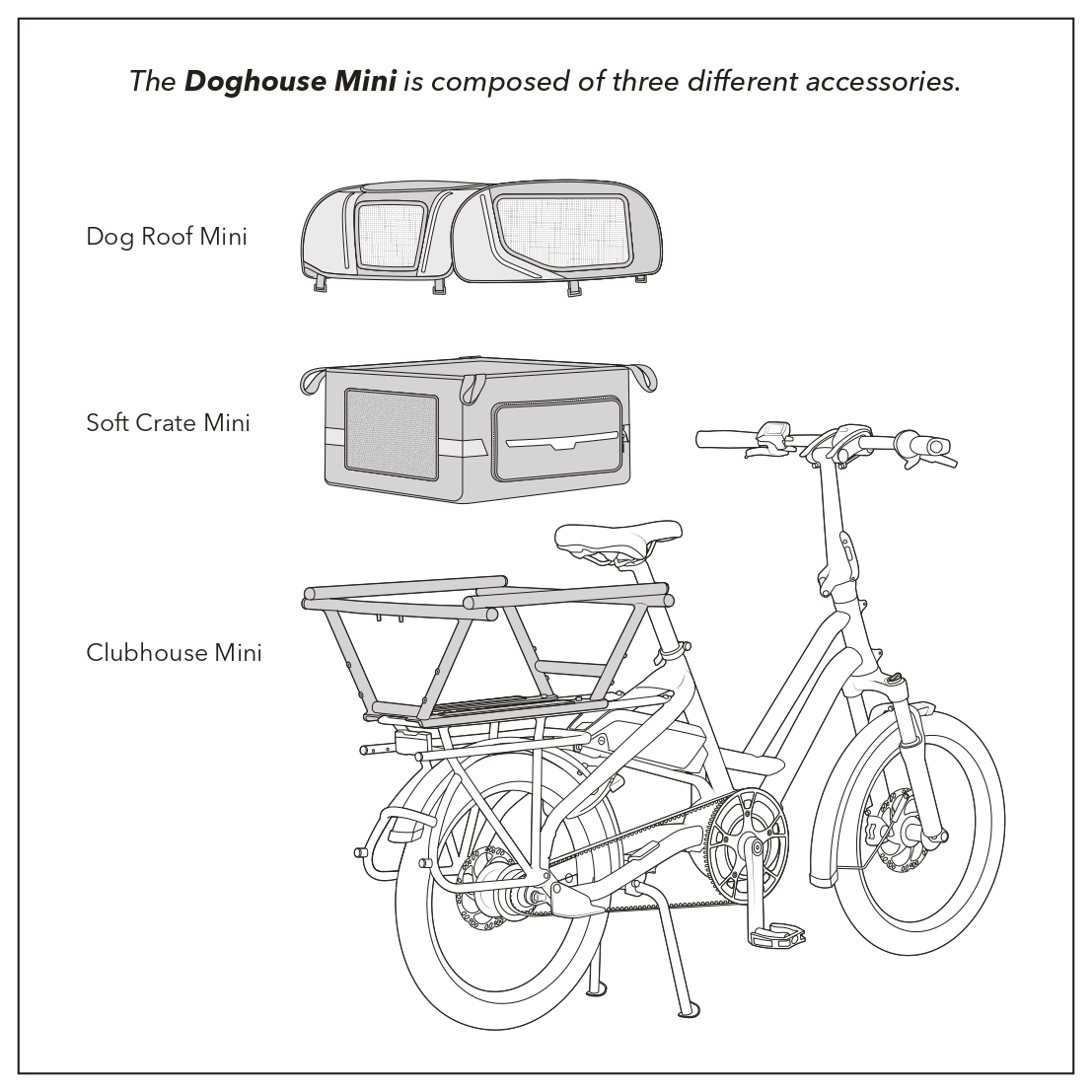 Three accessories make up the Doghouse Mini. Each accessory is sold separately. The three accessories are:
How to Build the Doghouse Mini
The Clubhouse Mini forms the frame of the Doghouse Mini. It's required to install both the Soft Crate Mini and the Dog Roof Mini.
The Soft Crate Mini is a detachable dog and cargo carrier for the Clubhouse Mini. Small- to medium-sized dogs will fit inside nicely. It includes lots of pup-friendly features, including:
Mesh panels for ventilation
Two safety tethers for attaching to your dog's harness
Spacious external pocket for dog leash, waste bags, and treats
Made from an easy-to-clean material—just spray it down
When not in use as a dog carrier, the Soft Crate Mini can haul up to 37 L of cargo. You can carry cargo with or without removing the Dog Roof Mini, and the Soft Crate Mini comes with a bungee cargo net you can use when the Dog Roof Mini is removed. The Soft Crate Mini attaches and detaches from the bike in seconds and folds down flat for easy storage.
The Dog Roof Mini is a cover for the Doghouse Mini that lets your dog ride in safety and style. 

It features a convertible roof (yes, we made a convertible for a dog) with two different-sized zipper sections to fit small- and medium-sized dogs. Leave the roof open to let a calm dog stick her head out on sunny days, or zip it closed to keep the rain out and your dog in. Mesh panels keep your dog's cabin nicely ventilated on your ride.
A dog on a bike?! Is that safe?
You know your dog best, so in some ways, it's up to you. But yes, most dogs can be taught to ride calmly on the back of a bicycle with a little patience (and the right rewards). If you're not sure, ask your vet whether the Doghouse Mini is suitable for your dog.
The main risk is that your dog could jump out of the Doghouse Mini while the bike is moving. We're sure you'll be dealing with a very good boy (or girl), but hey, squirrels happen—so take the following precautions when riding with your dog:
Always attach both available safety tethers to your dog's harness.
If you're unsure whether your dog will stay put, ride with the Dog Roof Mini zipped closed.
A dog can overheat surprisingly quickly, so always take plenty of water when you're out with your dog. You can use the bottle mounts on the Clubhouse Mini to attach water bottles for both of you.
If it's your dog's first time biking with you, you may want to start with shorter trips to help them get used to riding in the Doghouse Mini. Sometimes all it takes is one or two trips to a really fun destination to sell dogs on the idea of riding nicely (or so say the Tern Team's crazy dog people). The Doghouse Mini has some pockets where you can stash dog treats to encourage good behavior.
My dog is too big for the Doghouse Mini. How can I take him places by bike?
For now, your best option is to attach a dog trailer to your bike. We're not saying we'll never make a bigger version of the Doghouse Mini (big dogs rule!), but it hasn't happened yet.
Where should I send my dog pics?
You can go ahead and post unlimited photos of dogs on bikes to the Facebook Group for your bike platform:
Still have questions?
Check out the FAQ.