How to Carry Cargo on the Short Haul
Thanks to its extra-strong, extra-long rear rack and front Combo Mount, the Short Haul can carry way more cargo than a typical city bike.
This article will explain how much you can carry, provide cargo loading tips, and introduce the Short Haul's cargo accessory lineup.
---
Contents
---
What is the Short Haul's Max Gross Vehicle Weight?
The Short Haul's Max Gross Vehicle Weight (MGVW) is 140 kg (308 lb).
MGVW is the maximum weight that a bike has been designed to carry safely. The weight of the Bicycle + Accessories + Rider(s)* + Cargo must be less than the MGVW for safe riding.

*Rider(s) = weight of the cyclist and any passengers
For reference, the Short Haul weighs just under 16.1 kg (35.4 lb).
---
How much cargo can I carry on the Short Haul's rear rack?
The Short Haul's rear Atlas Q Rack is rated to 50 kg (110 lb). That means the rack has been tested and proven reliable up to that load limit.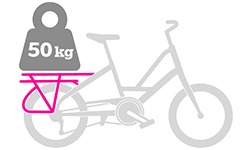 Keep in mind that this load limit includes the cargo weight, the weight of your passenger (if any), plus the weight of any rear rack accessories.
---
How much cargo can I carry on a front rack?
Optionally, you can use the Short Haul's Combo Mount to attach a front rack. The Combo Mount's weight capacity is 20 kg (44 lb). Keep in mind that this limit includes the rack itself.
---
What's the right way to load cargo on the Short Haul?
There's no one "right way" to load cargo, but there are some best practices you should be aware of:
Place heavier items on the bottom of racks, panniers, baskets, and boxes. A low center of gravity is key for safe and easy handling.
Balance cargo evenly on your bike. Avoid putting all of your heavy items on one side of the bike.
Firmly secure all cargo to the bike. Use Batten Straps or bungee straps to tie down loose items and prevent them from moving around or falling off the bike during transport.
Respect the load limits of all accessories. Bear in mind that each accessory has its own load limit that's separate from the bike's carrying capacity.
---
Available Cargo Accessories
Rear Racks
---
Front Racks
---
Bags & Panniers
---
For Stability
Note: The square icon refers to the outer dimensions of the accessory.