All You Need to Know About Child Seats on the GSD Gen 2
This article refers to GSD Gen 2 bikes.  If you'd like to use child seats on the GSD Gen 1, click here.
Heads up!
This article mentions third-party child seats that are not manufactured by Tern. Please note that child seat designs might change, and that their manufacturers may choose to maintain the same product name even after the design has changed.
For your safety, always consult with your bike dealer, or with the child seat manufacturer or reseller, to make sure you have the right seats to safely carry your kid(s).
---
If you want to carry young children on your GSD, you'll need a child seat or two. This article will discuss child seat compatibility and offer guidelines for safe child seat use.
Contents
Which child seats fit the GSD?
Several child seats work well with the GSD. Which is right for your family depends on a few different factors, including your desired child seat setup, rider size, and passenger size.
If You Need Two Seats
If you need two child seats, the Thule Yepp Maxi (version 1) is a convenient choice for many because it offers plenty of heel clearance for riders of all sizes. It's also compatible with all Tern passenger accessories (including those that make up the Clubhouse Fort), which may not be true of every child seat on the market.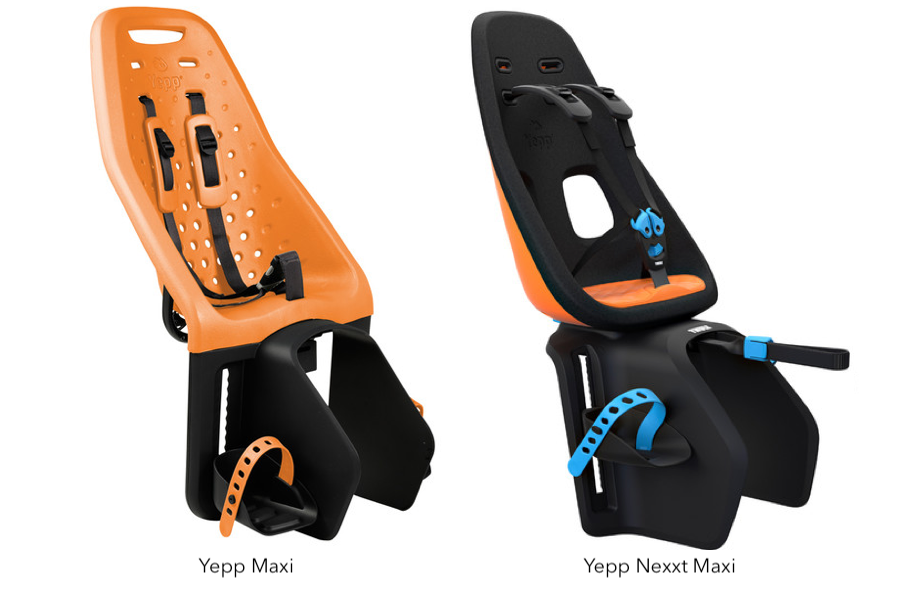 However, if you're a small-footed rider carrying a very young passenger in the front child seat, the Thule Yepp Nexxt Maxi may also work. You'll want to test out these seats on your GSD before purchasing to make sure your heel doesn't strike the leg supports or the passenger's foot when pedaling (if you are sharing the bike, make sure all riders participate in testing).
If You Only Need One Seat
If you only need one child seat and can place the seat in the rear position, you can choose pretty much any compatible seat you like, as heel clearance won't be an issue (but keep in mind that if your family grows and you need to add a second child seat, the first seat you choose may limit your options).
Apart from the Thule Yepp seats, several other child seats fit the GSD. For example, we've tested the Burley Dash RM and the Bobike GO Maxi for younger kids, as well as the Qibbel Junior 6+ and the Polisport Guppy Junior for older kids. Different seats offer different features (e.g., suspension, reclining), so you may want to have your child test out a few to see which best suits your needs.
Note: When installing the Thule Yepp Maxi (version 1) or Nexxt Maxi seats on the GSD, you don't need to use an adapter.
Can I use child seats together with the Clubhouse+?
Yes. When the Clubhouse+ is installed, you can use two child seats as long as you use the included Child Seat Expansion Bar.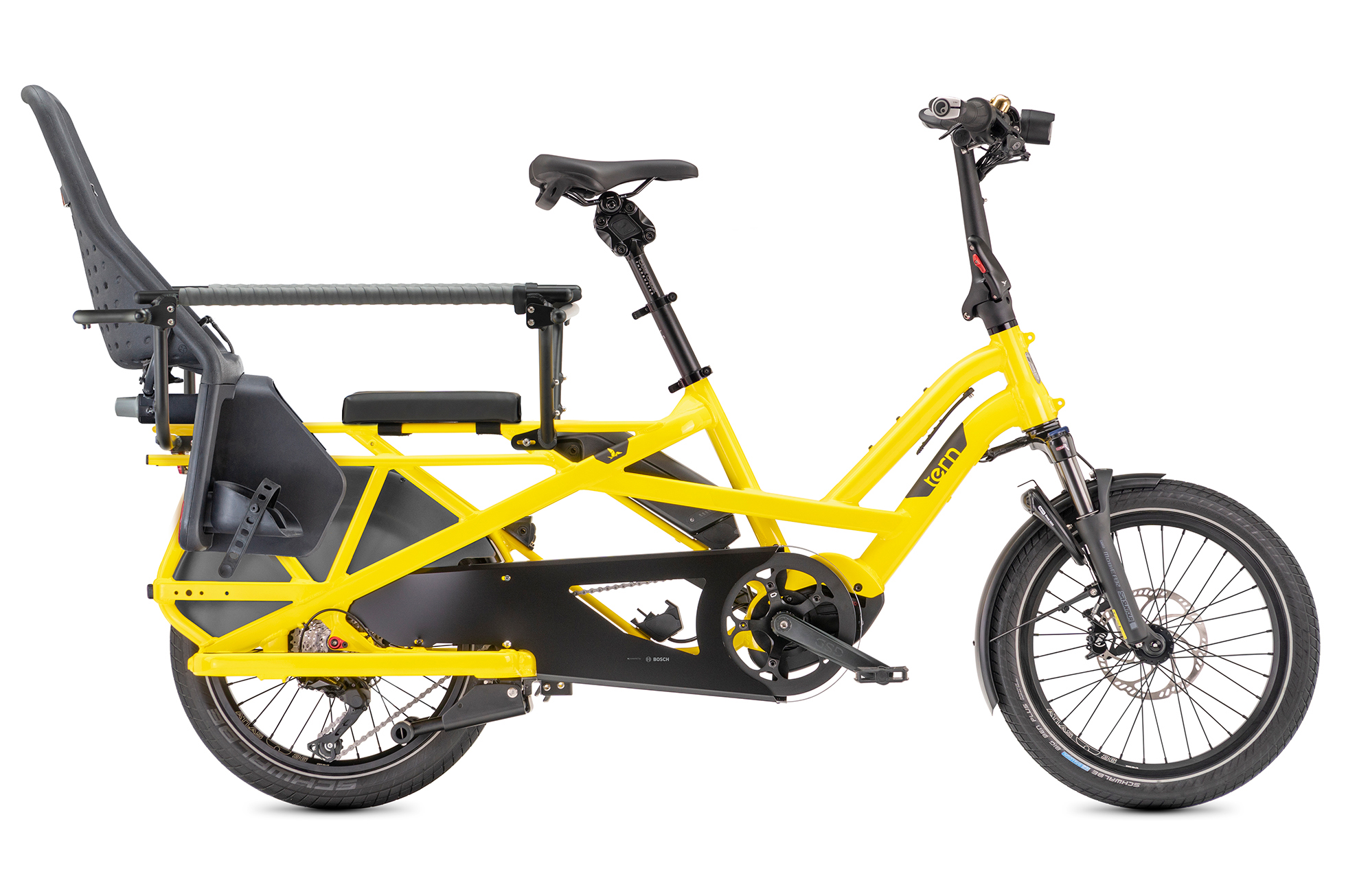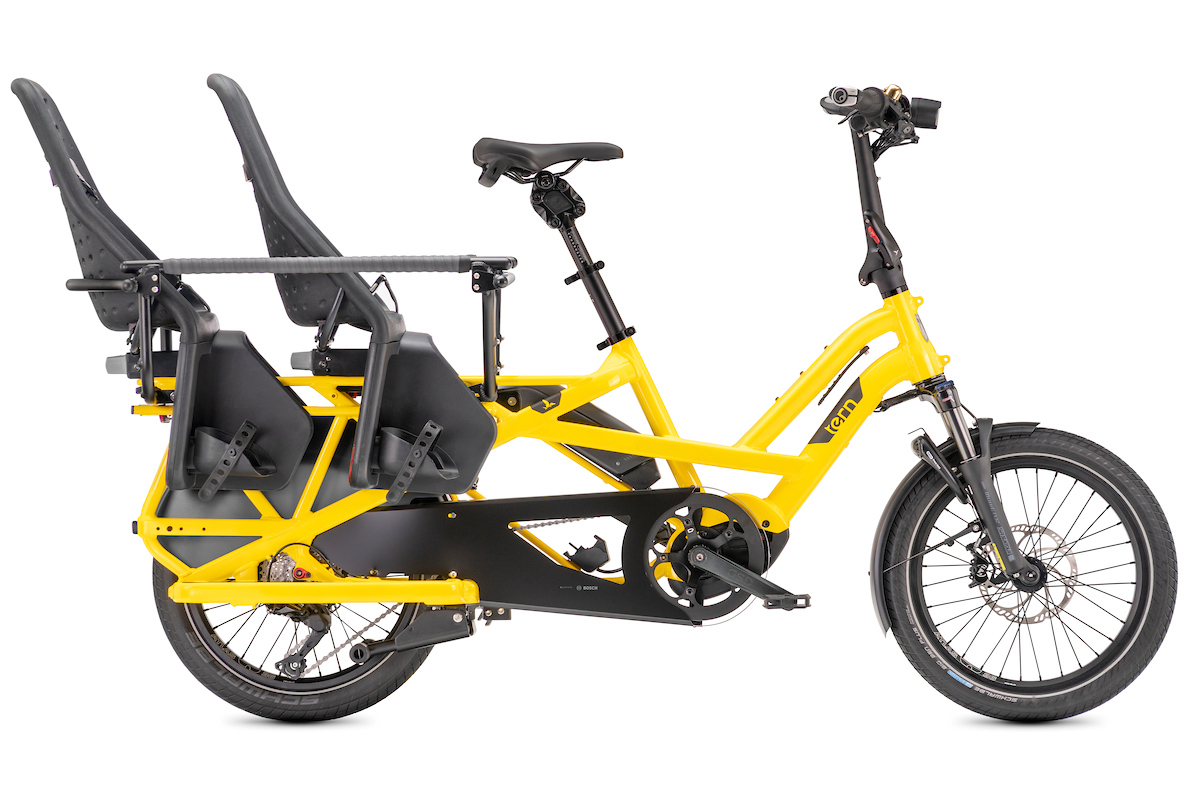 Can I use child seats together with the Clubhouse Fort?
Yes. The Clubhouse Fort is compatible with up to two Yepp Maxi (version 1) child seats. Other brands may also fit, but we haven't identified any other combinations that work yet.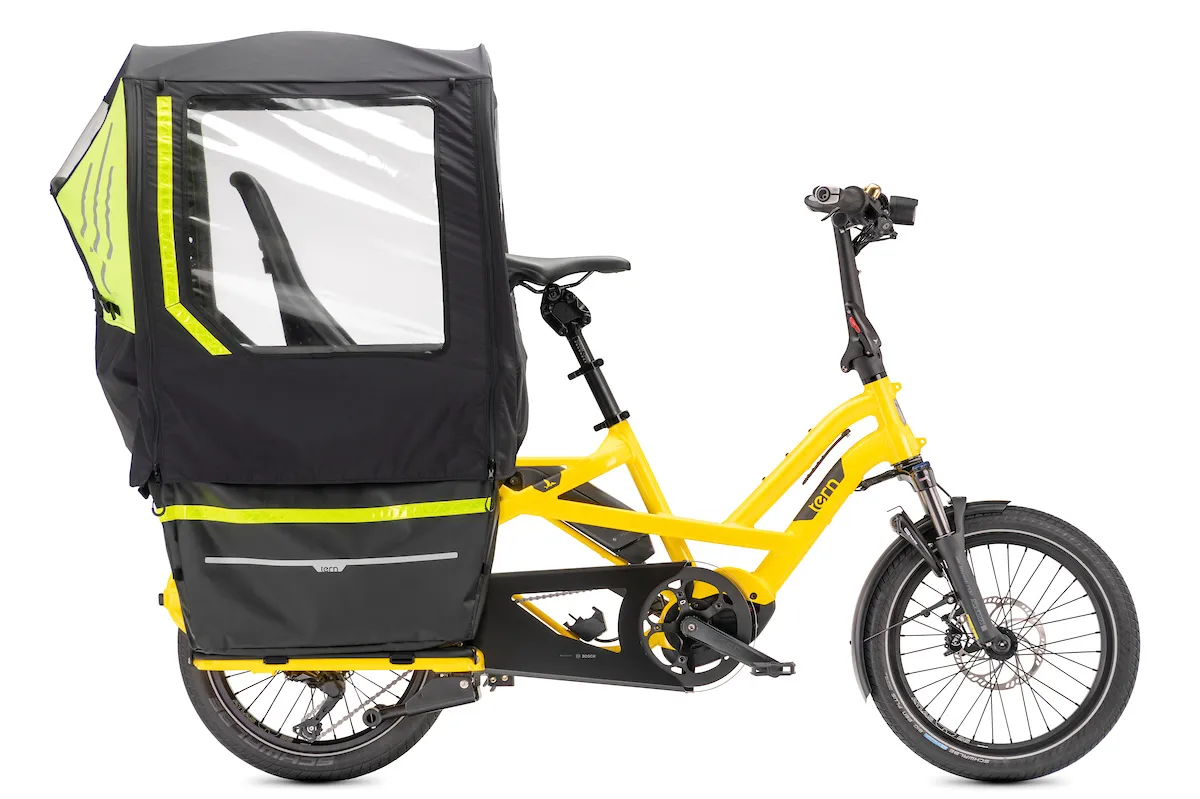 Can I put a child seat somewhere other than the rear rack?
No, we don't recommend using child seats that attach to places other than the rear rack (e.g., handlepost- or seatpost-mounted seats).
We haven't tested these types of seats with the GSD, and they may pose safety risks. Please see this article for more information.
What else should I know about using child seats safely?
Children in child seats (or on any other form of seating) should never be left unattended on the bike, even if it is on the kickstand. Wriggling children can upset the balance of the bike, and a fall may result in serious injuries.
We recommend that all rear passengers, including those riding in child seats, wear helmets.
Can I use panniers with child seats installed?
It depends on which panniers you'd like to use and your child seat setup.
In a two-seat setup, these panniers are only compatible with the Thule Yepp Maxi (version 1). You'll need to use the panniers in Bucket Mode and add two Pannier Adapters.
In a one-seat setup, any child seat that's compatible with the GSD will work. Again, you'll need to use the panniers in Bucket Mode. Depending on which child seat you use, a Pannier Adapter may be required.
The Cargo Hold 37 Panniers are a great, smaller alternative to the Cargo Hold 52s that also work with any compatible child seat when in Bucket Mode. Being smaller has its benefits: The Cargo Hold 37s offer extra legroom for an adult passenger, and can also be used when towing a trailer, for example.
| | |
| --- | --- |
| | |
| Towing a trailer | Extra legroom |
However, keep in mind that the Cargo Hold 37s only allow a one-seat setup on the GSD Gen 2, and that your preferred position for the child seat determines where you should place the panniers:
| | |
| --- | --- |
| | |
| Frontmost position | Rearmost position |
If you prefer to have the child seat closest to the rider, the panniers need to be in the frontmost position.
If you prefer to have the child seat in the back, then the panniers can be installed in either the frontmost or the rearmost position—but please note that you'll need the Pannier Adapter if using a child seat with the panniers in the rearmost position.
To learn more about how to install the Cargo Hold 37s on the GSD Gen 2, check out this article.