How to Safely Carry a Passenger on the Quick Haul
The Quick Haul's extra-strong, extra-long rear rack is optimized to carry one passenger, in or out of a child seat. To do so safely, you'll need to follow two principles:
Understand and respect the bike's passenger-carrying limits, and select the appropriate passenger accessories for your needs.
Read on to learn more about carrying passengers on the Quick Haul.
Contents
What is the Quick Haul's Max Gross Vehicle Weight?
The Quick Haul's Max Gross Vehicle Weight (MGVW) is 150 kg (330 lb).
MGVW is the maximum weight that a bike has been designed to carry safely. The weight of the Bicycle* + Accessories + Rider(s)** + Cargo must be less than the MGVW for safe riding.

*Bicycle = weight of the bike plus batteries/**Rider(s) = weight of the cyclist and any passengers
For reference, the Quick Haul weighs just under 23 kg (51 lb).
How much passenger weight can I carry on the Quick Haul?
The Quick Haul's rear Atlas Q Rack is rated to 50 kg (110 lb). That means the rack has been tested and proven reliable up to that load limit.
To determine how much passenger weight you can carry, please follow these two steps: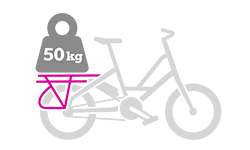 Step 1: Make sure the rear rack load is under 50 kg. Keep in mind that this load limit includes the passenger weight plus the weight of any rear rack accessories and cargo.

Step 2: Make sure the total weight of passenger + rider + Quick Haul + any installed accessory + cargo is under 150 kg.
How many passengers can I carry on the Quick Haul?
The Quick Haul can safely carry one (1) passenger, in or out of a child seat. The passenger must be carried on the rear rack.
What is the Tern Passenger System?
The Tern Passenger System is a set of four (4) elements needed to safely carry a passenger: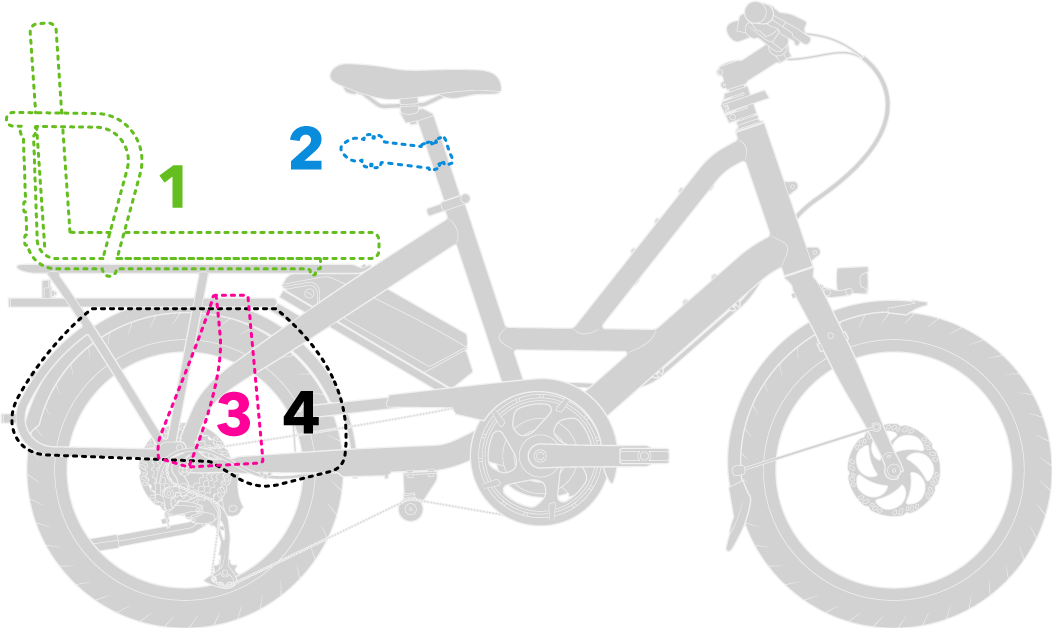 Seating: Purpose-built rear seating, chosen according to the passenger's needs
Handhold: Something for the passenger to hold on to, other than the bike itself
Foot support: Fixed platforms or dedicated foot pegs on both sides of the bike
Foot and leg protection: Something to prevent feet and legs from getting caught in the spinning wheel
For safety, it's essential to include all four (4) elements every time you carry a passenger.
Suggested Passenger Setups
1 young kid
See child seat manufacturer's age and weight recommendations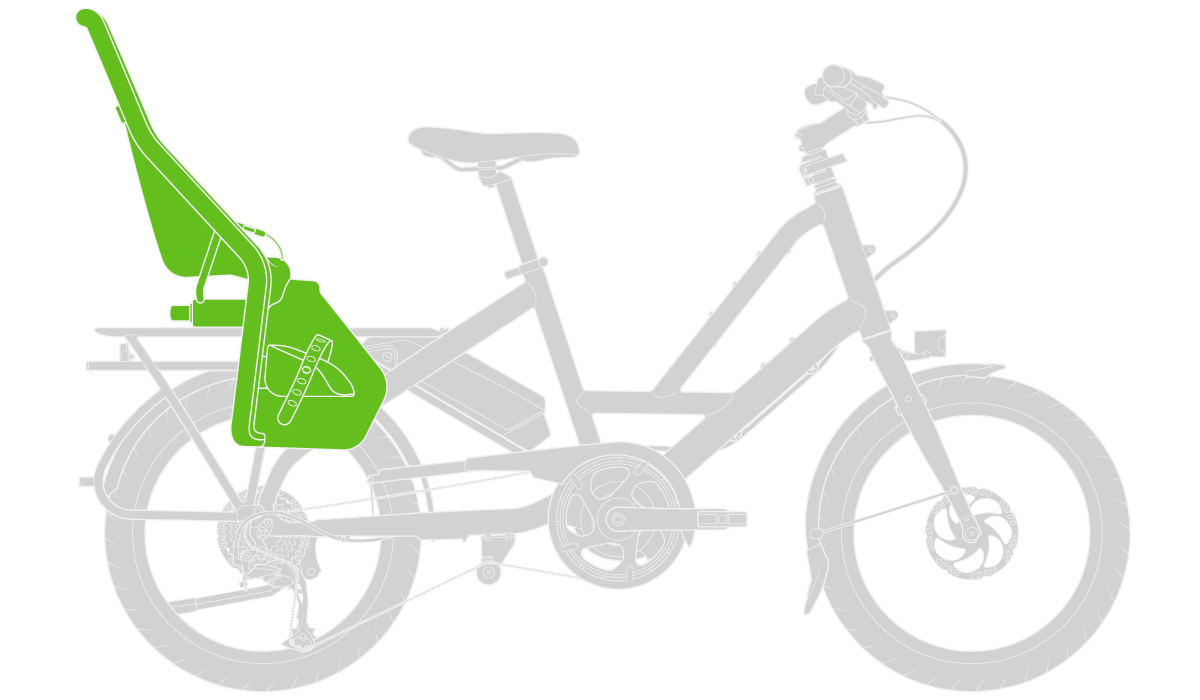 1 compatible child seat*
*Child seats should always include the required elements for safe passenger carrying: seating, safety harness, foot support, foot and leg protection.
1 big kid
18-45 kg (40-99 lb)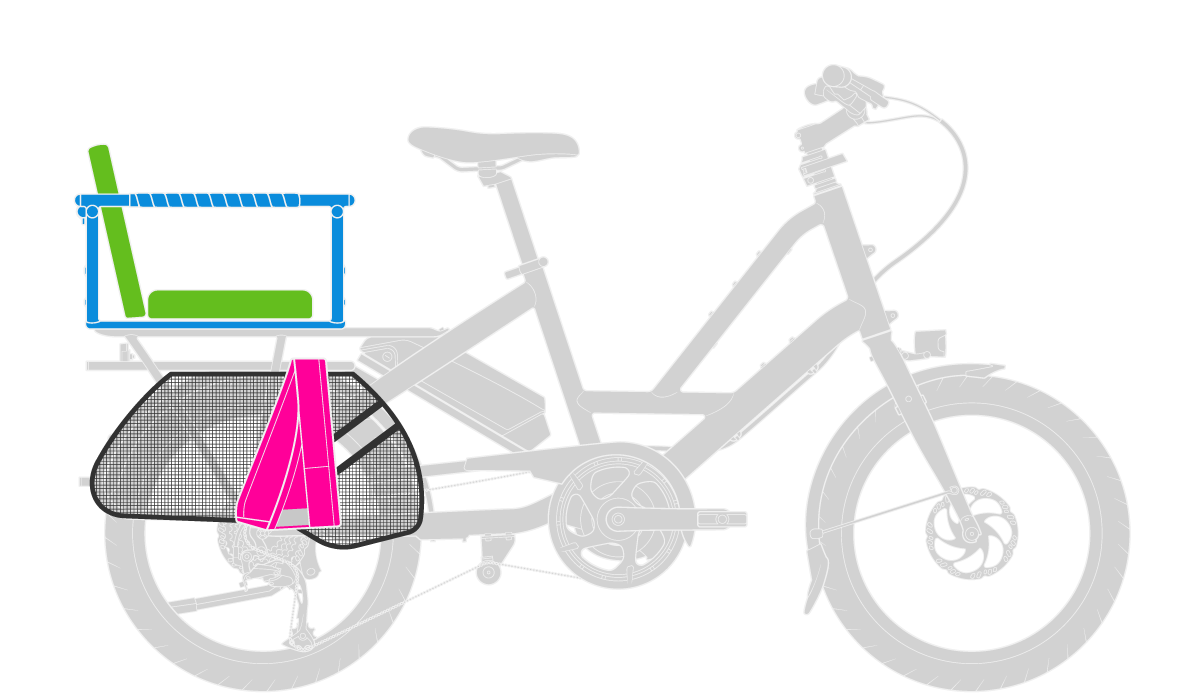 1 passenger
26-45 kg (57-99 lb)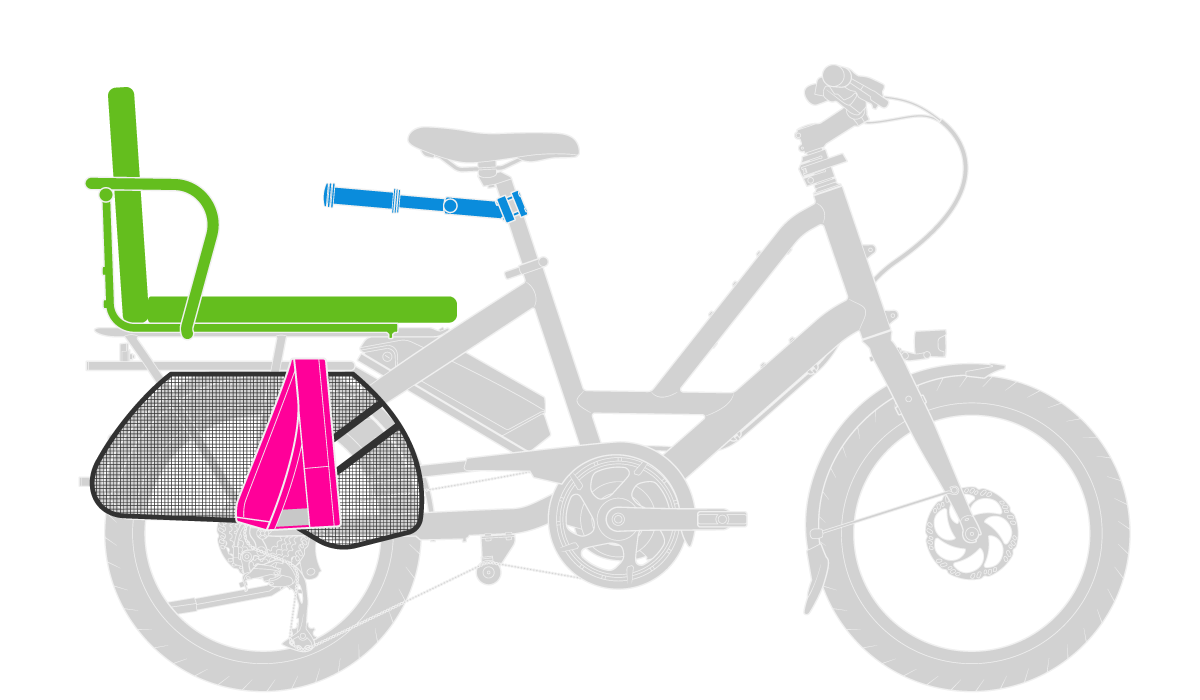 ---
Weather Protection Options for the Quick Haul
If you regularly carry a young passenger and need a solution for bad weather days, we recommend building the Clubhouse Fort Mini. Learn more here.
The Clubhouse Fort Mini protects your passenger from rain, wind, and UV rays. It fits one kid up to 140 cm (4'6") tall.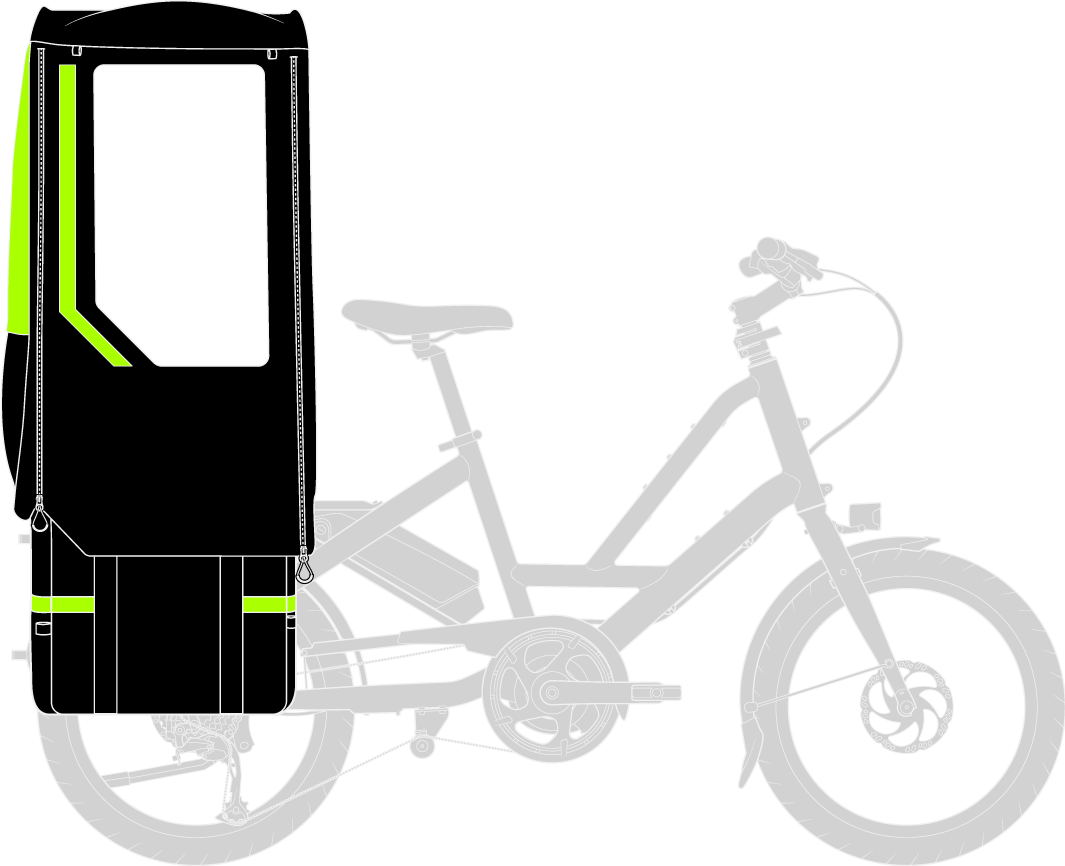 You can also install the Storm Shield Mini using the Captain's Chair + Sidekick Joyride Bars combo. However, this option won't let you install the Storm Box Mini. Learn more here.
Note: Children can vary widely in maturity and physical development. All passenger weight guidelines represent our recommendations and should be adapted as needed for your child's safety. Please ensure your passenger setup is within the weight limits described above. As always, please follow local regulations regarding passengers and safety equipment.
---
Carrying a Dog on the Quick Haul
Sometimes the family dog needs a ride, too. The Doghouse Mini is a specially-designed solution for carrying small- to medium-sized dogs. Learn more here.
The Doghouse Mini is specially designed to carry dogs up to 13.5 kg (30 lb).
Friendly Reminders
Most riders can comfortably carry 80% of their weight. Determine if you are comfortable carrying that much weight.
Check your local regulations to make sure carrying passengers on a bike is legal in your area.
Helmets are cool! Rider and passenger(s) are advised to wear an approved helmet.
For extra stability when loading/unloading a young passenger, we recommend the DuoStand.
Do not leave children unattended on the bike, even if it is on the kickstand.