Using a Child Seat with the NBD
The NBD is all about smiles and comfort for you and your little passenger. Since you'll be carrying your most precious cargo, you'll want to ensure that your child seat is fully compatible with the NBD. To help you out, we have listed our recommended child seats and accessories for the NBD, plus some safety tips.
Contents
---
Compatible child seats
To safely carry your child on the NBD, you'll need a compatible child seat plus an optional double kickstand like the DuoStand S for extra stability when loading and unloading a child.
Seating: 1 compatible child seat
Double kickstand (optional): DuoStand S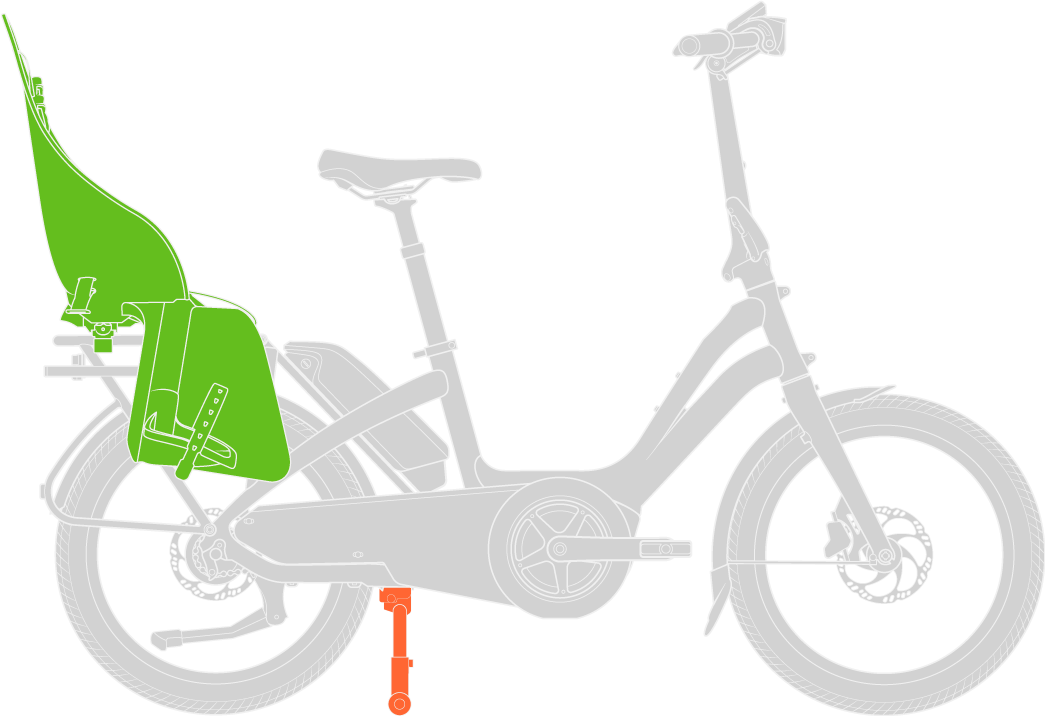 Our team has worked hard to find and test the best rear rack-mounted child seats for the NBD. At the moment, the NBD's Gaia Rack pairs well with any of the seats listed below:
Important: Please note that installing a child seat will block your access to the Abus frame lock. To continue using the frame lock, remove it from the rear wheel and reinstall it behind the front fork of your NBD.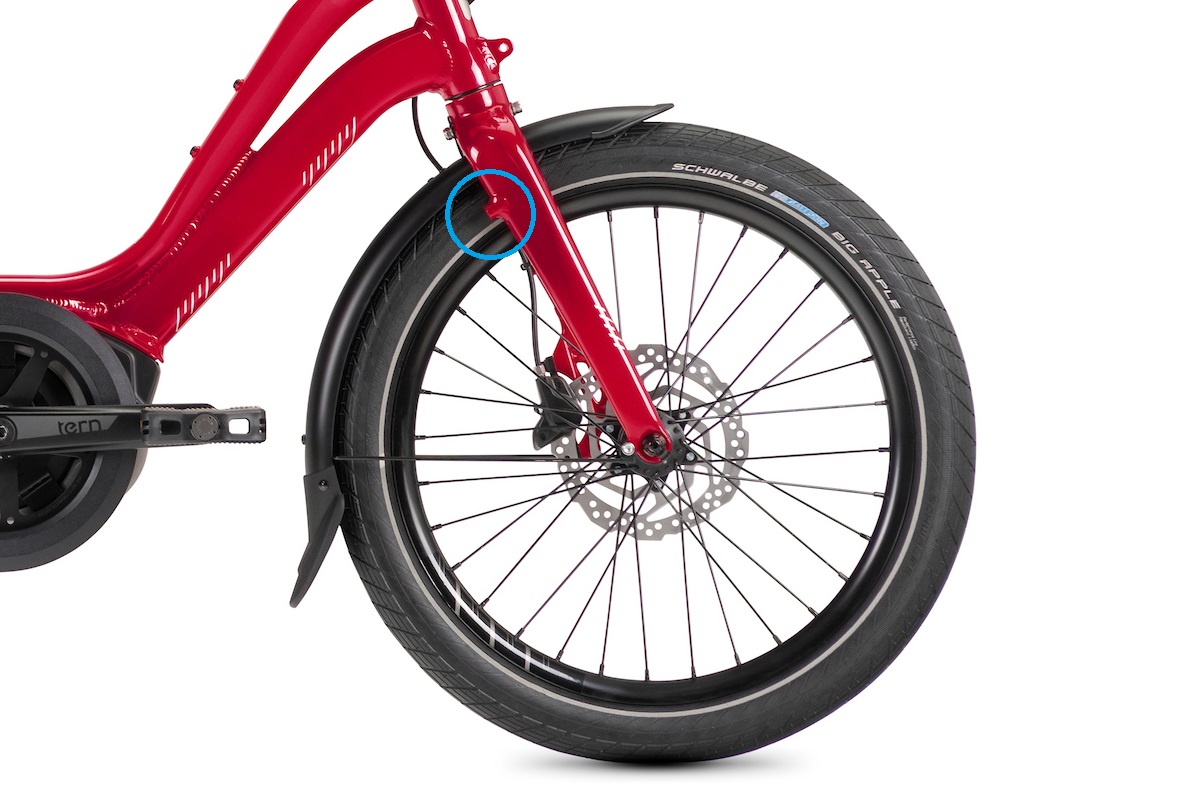 Each of the listed child seats has its benefits, but a great common advantage is that they all have foot and leg protection. Foot and leg protection for passengers is always required to prevent serious injuries and damage (think of shoelaces and clothing getting caught in the wheel spokes). Please keep in mind that child seats should include the following required elements for safe passenger carrying: seating, safety harness, foot support, and foot and leg protection.
Other child seats may also fit on the Gaia Rack, but we recommend you get in touch with your local Tern dealer or the child seat manufacturer for specific advice. Due to possible safety hazards, it is not enough to check that a child seat fits.
We'd also like to remind you that while the Gaia Rack is super tough, it is important that you don't exceed its 27 kg (60 lb) maximum carrying capacity—this includes the weight of your little one plus the child seat, as well as the weight of any accessories attached to the rear rack plus their contents.
Carrying a kid AND stuff
The NBD is there to help you carry both your kiddo and stuff! The NBD is equipped with the Combo Mount luggage socket and can fit an array of front racks.
For example, you could use the Transporteur Rack or Hauler Rack and combine it with the roomy WeatherTop Bag, which can double as a diaper bag. Or, strap a WeatherTop Cooler to your front rack to keep your groceries fresh on the way back from daycare. And as mentioned earlier, the DuoStand S is wonderfully helpful for keeping your bike stable with all that stuff. Check out this guide for more information about accessories for the NBD.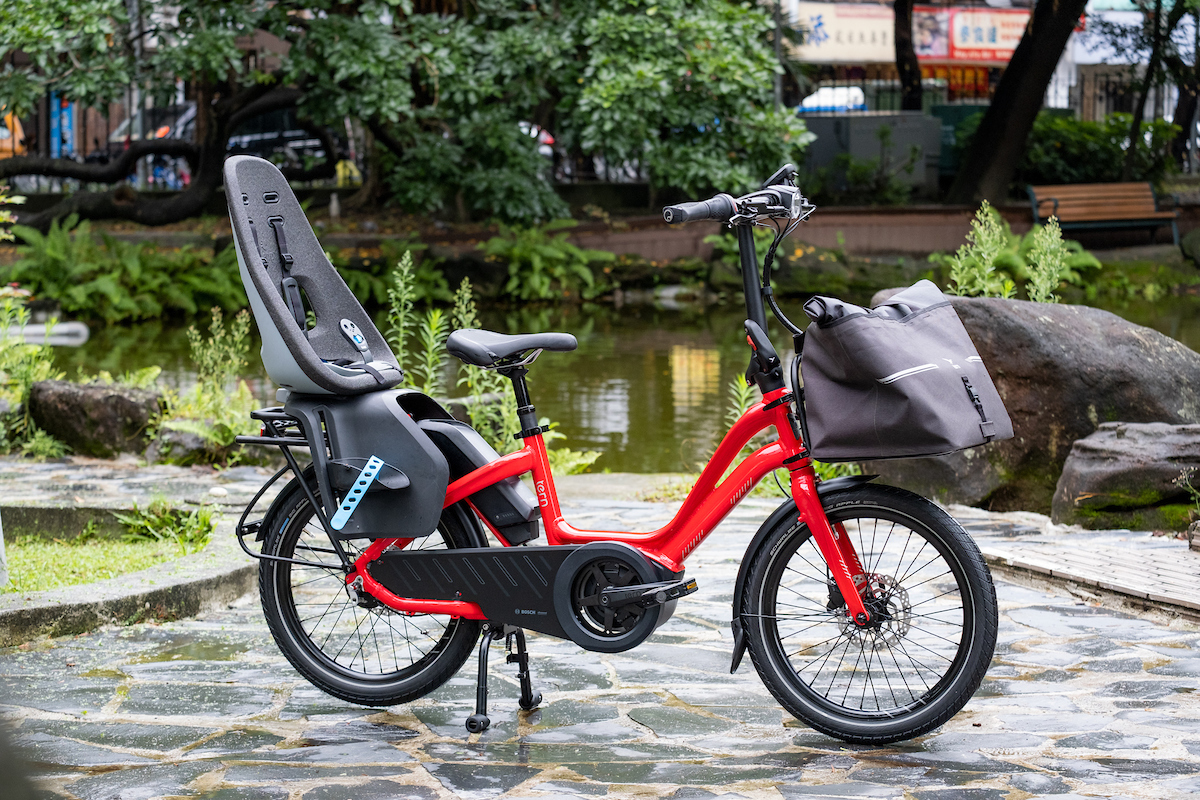 Some reminders…
For you and your (mini) co-pilot to enjoy your adventure on the NBD to the max, we'd like you to be mindful of some things you shouldn't do.
Do not carry a child on any type of seat that is not a rear rack-mount seat.
Do not carry a child who is too small or too big for their child seat. We recommend that you check with your Tern dealer or child seat manufacturer to confirm the seat's weight limit and minimum age.
Do not exceed the maximum load of the Gaia Rack (27 kg / 60 lb), and the NBD's max gross vehicle weight (MGVW) of 140 kg (309 lb). MGVW = NBD + rider + passenger + any installed accessories + cargo.
Never leave a child unattended on the bike, even if the bike is on a kickstand.
Extra safety tips before you go!
We want all of our riders—from the newbies to the pros—to be safe and comfortable at all times. Here are some tips to help you feel extra secure.
Check local regulations on carrying passengers
It may be illegal to carry passengers on a bike in your area, even if your bike has been designed or configured to do so.
Wear a helmet
While wearing a helmet is not compulsory in all countries, we recommend that you and your passenger always wear one. Make sure it fits right—not too tight, and not too loose. We're sure it'll look cool on you, too!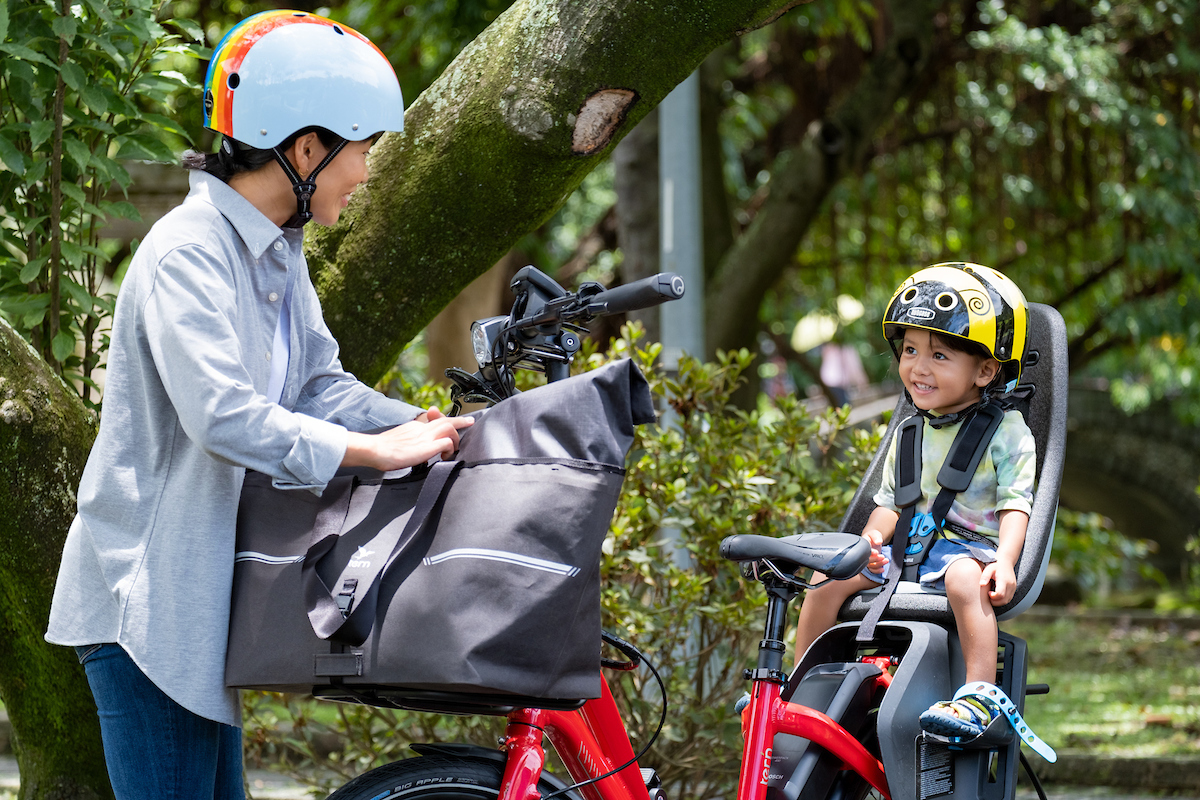 Go for a test ride alone first
If you are a new rider, we recommend you go for a test ride with your NBD in a traffic-free area first. Familiarize yourself with the bike's functions; check what handlepost and seatpost height is best for you, and adjust your speed accordingly.
Once you think you can handle it, try carrying non-live cargo. You may increase the cargo weight and venture into busier areas as you gain more confidence. Keep practicing until you are fully comfortable with carrying a passenger, as we've explained here.
Check your heel clearance
Once the child seat is securely installed, check your heel clearance and adjust your seatpost height accordingly. Ensure that the child seat's foot and leg protection does not interfere with your pedaling.
If you want to learn more about the NBD and road safety, we've got you covered in these articles:
Enjoy your #NewBikeDay and happy cycling!