Sign up for Tern Care
Thank you for choosing Tern. Now that you're the proud owner of a Tern bike, we want to make sure you have the best experience possible. We've created Tern Care so we can keep you informed about your bike. By signing up, you'll double your warranty from 5 to 10 years. To learn more about your warranty, please click here.
How to Sign Up
1. Change your location or region
Switch your location to the same country where you purchased your bike. If your country is not listed, please select the default site, Worldwide - English.
2. Find Your Service Tag Number
The Service Tag Number is located under a QR code sticker that is usually found under the down tube or near the bottom bracket of the bike. Please see the highlighted area in the image.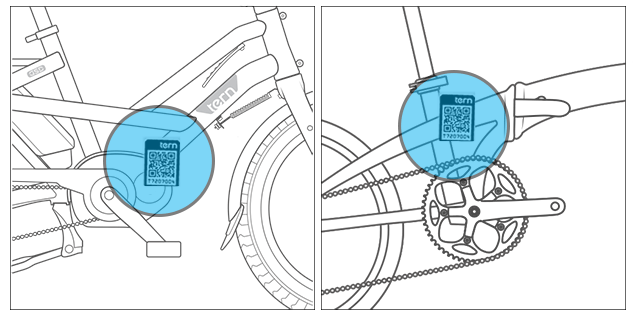 3. Find Your Purchase Receipt
You're eligible to sign up within 30 days of purchase as long as you are the original purchaser. We'll ask you to upload a copy of your purchase receipt. So, snap a photo of it or scan it before you continue.