Simply Capable
The Quick Haul is a built-to-last compact e-bike that's ready to tackle your daily grind. Think of it as the multitool of e-bikes: small and unassuming enough to be your daily go-to, yet capable of handling big jobs with finesse.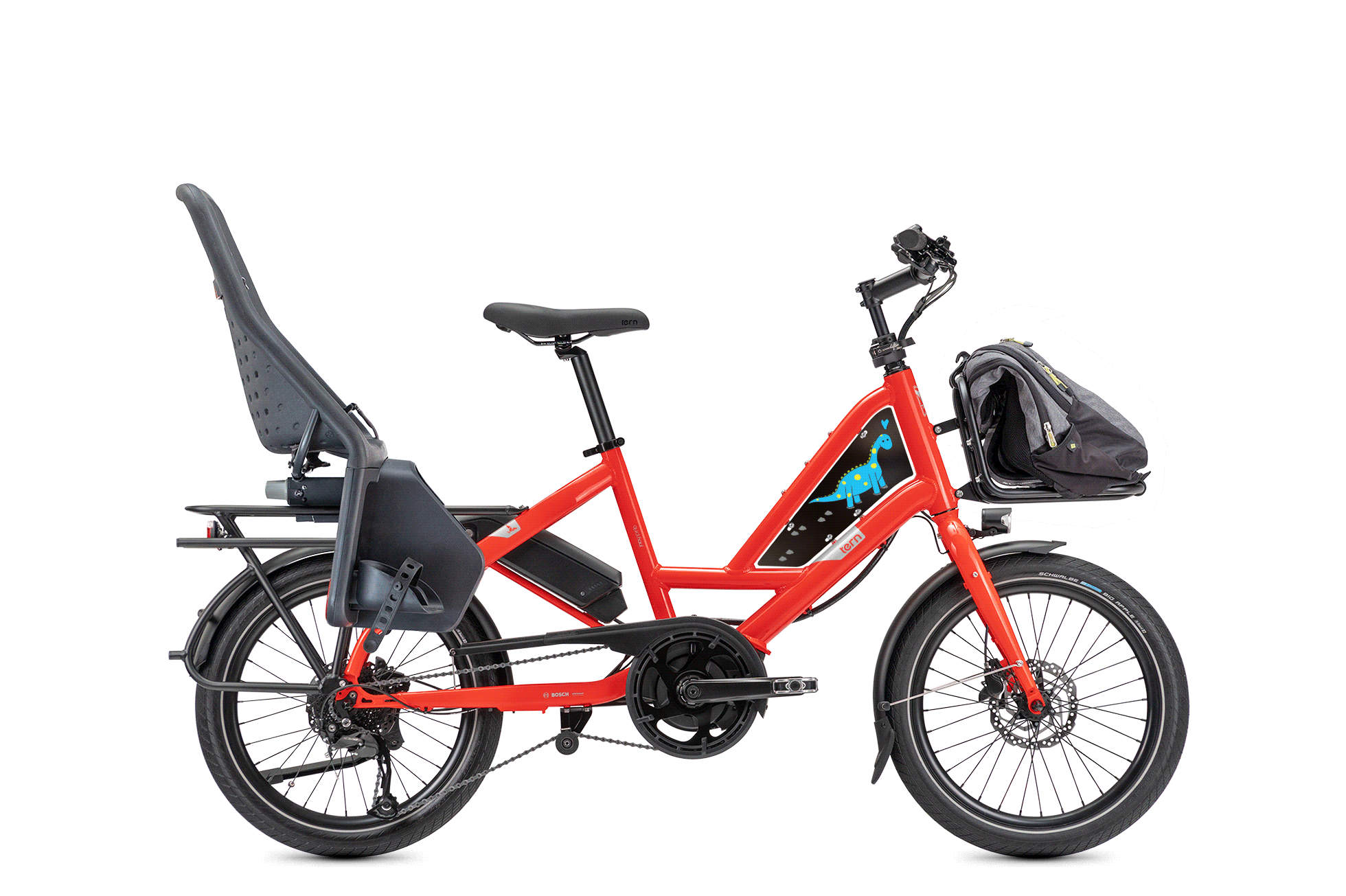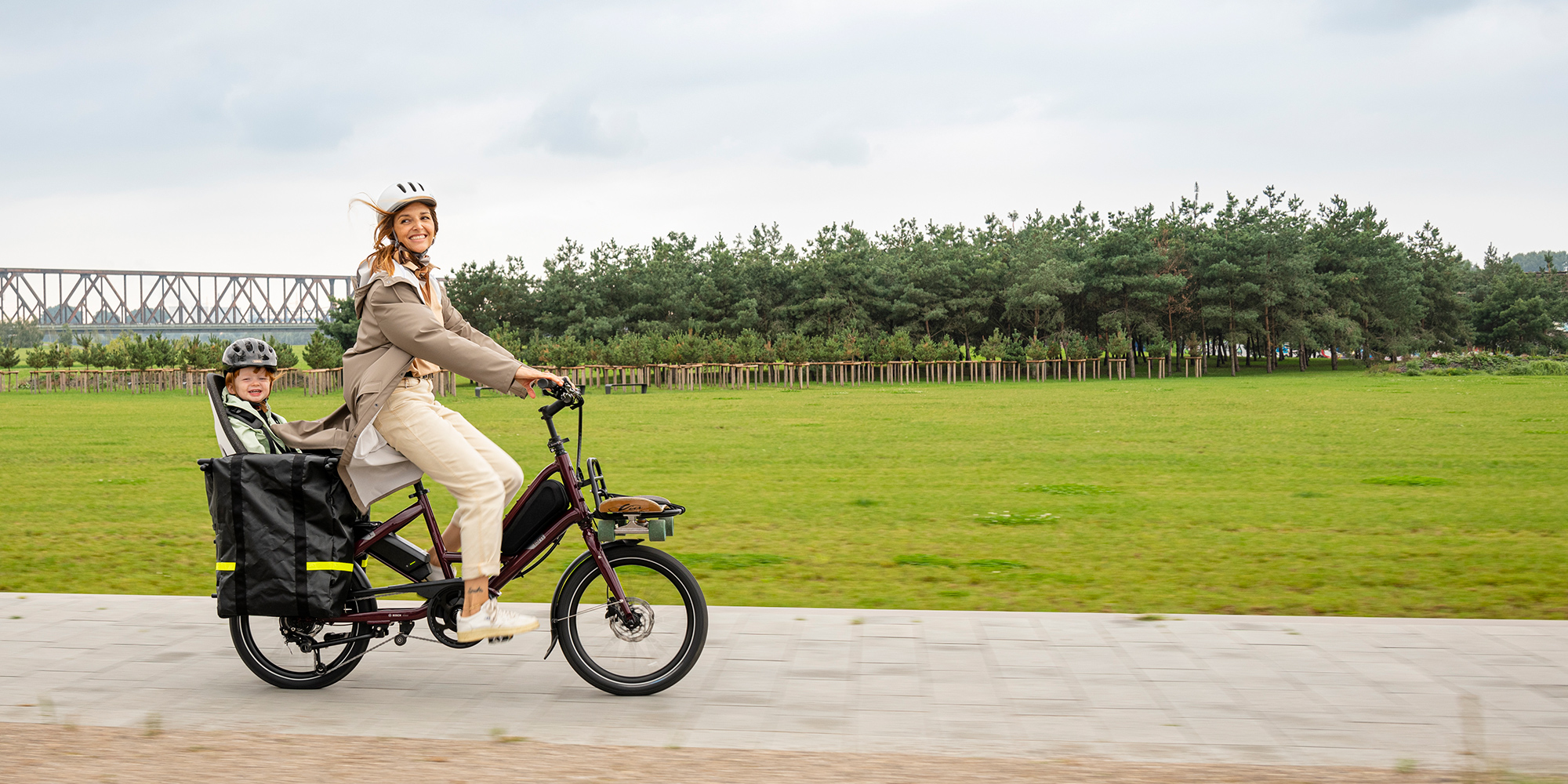 Designed to Be Used—Often
The Quick Haul makes doing stuff by bike practical, easy, and fun—so you'll reach for it just about every day. It's designed to help you carry passengers and cargo with ease, and it's a joy to ride. A compact, space-saving design simplifies storage and transport.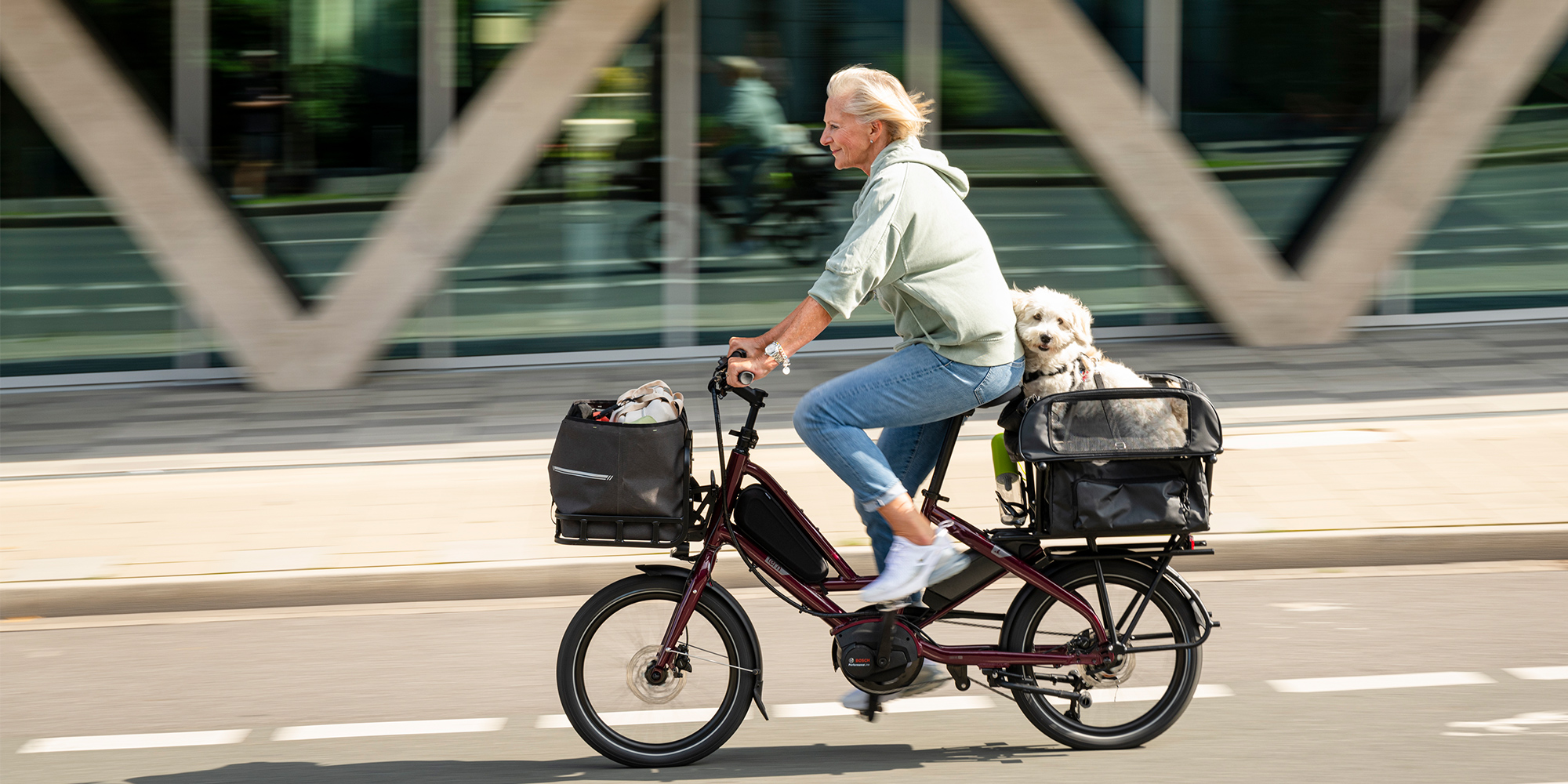 The Carrying Capacity You Need
The short, low-capacity rear racks found on most city bikes limit how much you can do by bike (and make defaulting to a car more likely). The Quick Haul features an extra-long rear rack with a 50-kg (110 lb) capacity, so you can do a lot more—from hauling groceries to giving your kid a lift to school. Add an optional front rack to do both at once.
Modular & Customizable
Choose from a vast array of accessories to turn your Quick Haul into the ideal tool for all your jobs. The Quick Haul's accessories ecosystem offers perfect-fit options for your commute, your kid's school run, doggy playdates, errands, and lots more.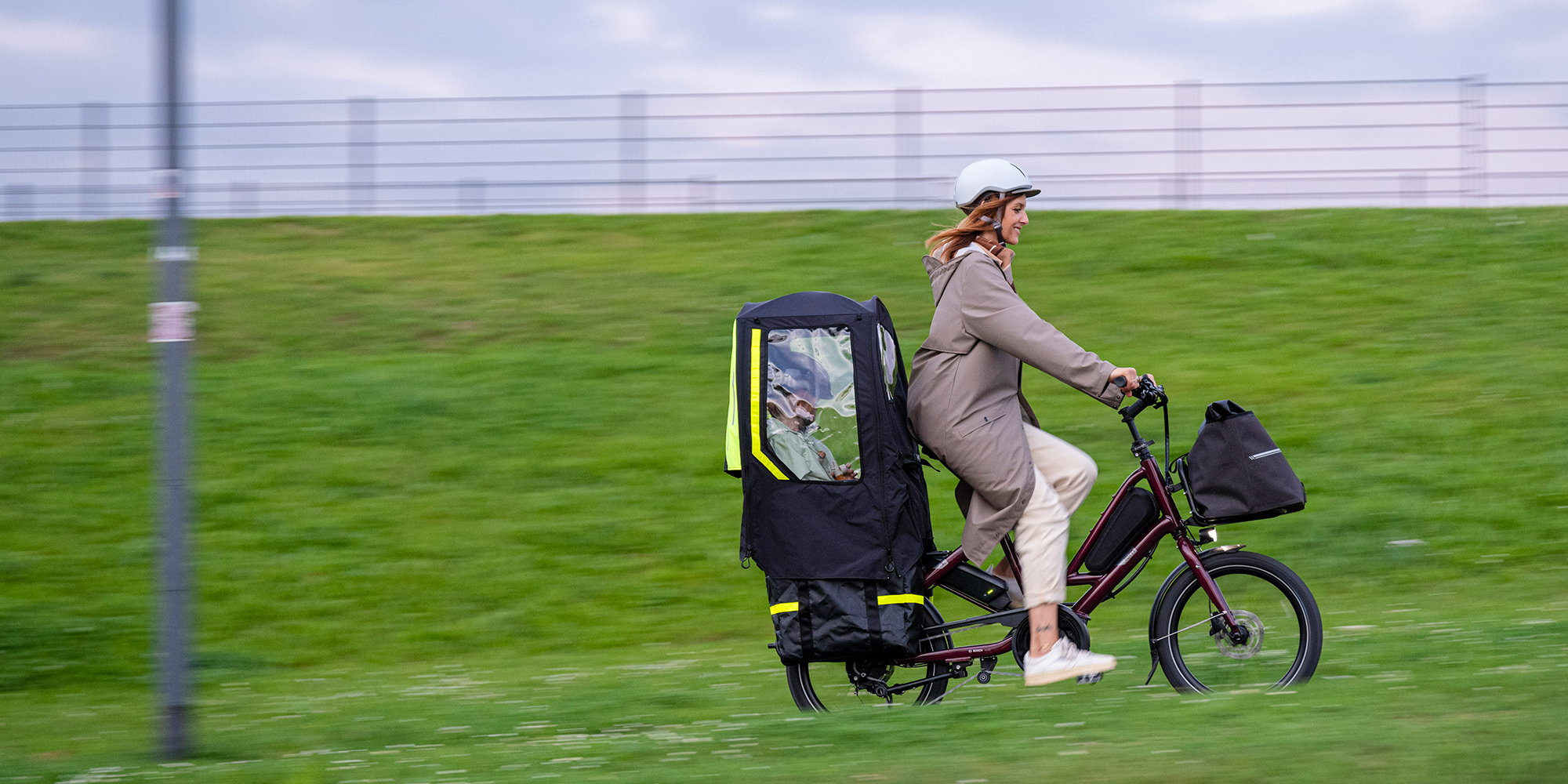 Shareable
If you were buying a car, you'd assume your spouse, partner, teenager, and best friend could use it, too. The same should go for your e-bike, which is why we outfitted the Quick Haul with an adjustable stem and seatpost to fit riders 160 - 195 cm (5'3" - 6'5").
Shorter rider? No problem. The Quick Haul also fits riders 145 - 180 cm (4'9" - 5'11") when equipped with a shorter seatpost (350 mm).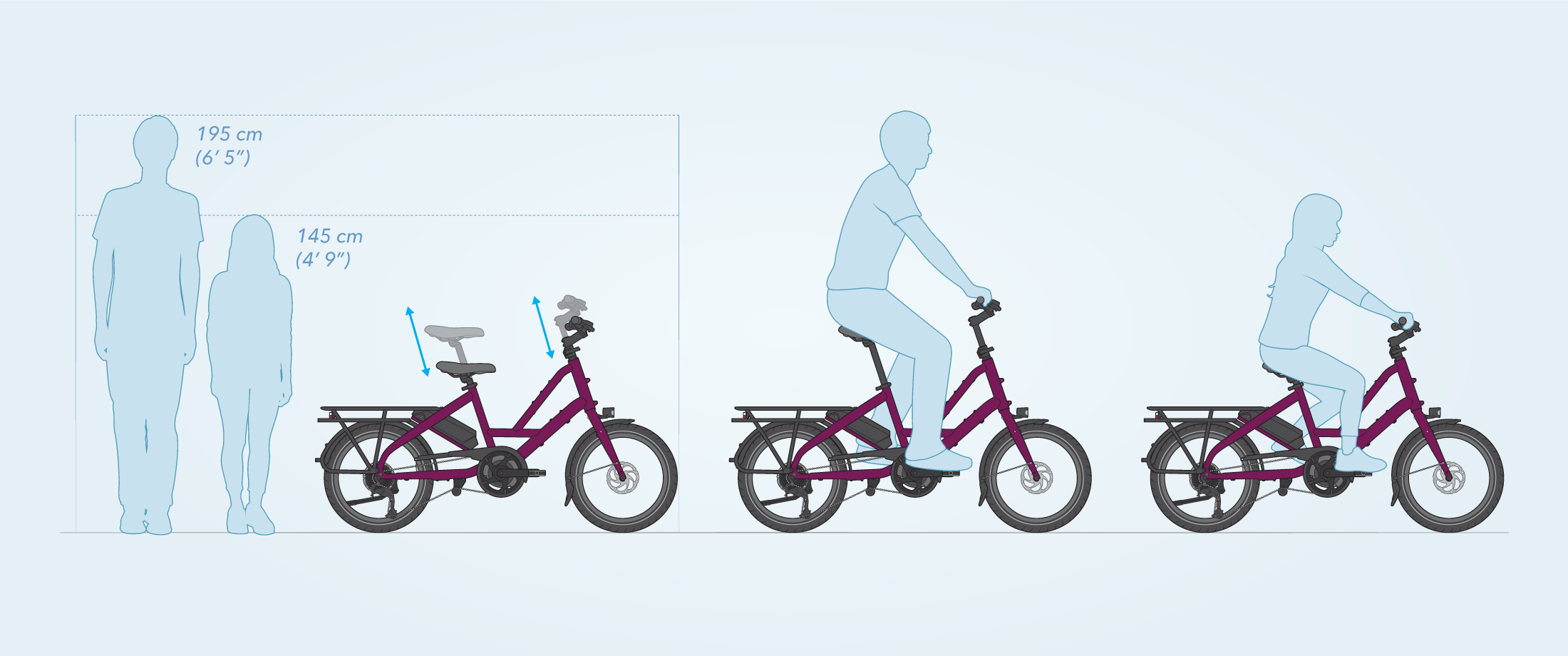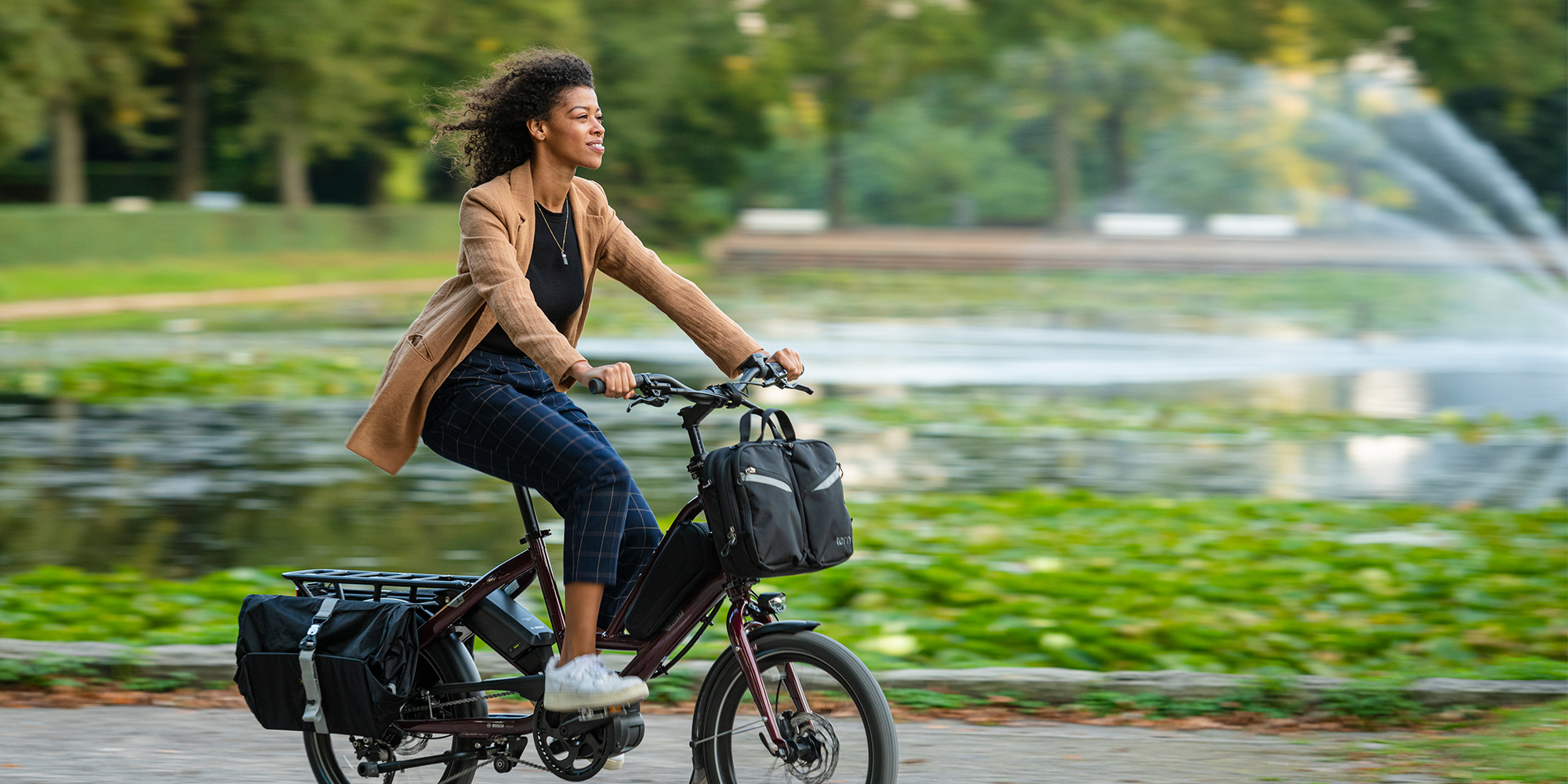 Fun to Ride
The Quick Haul features the unbeatably smooth Bosch motor system paired with stable yet responsive geometry. The result: a bike that's as fun to ride as it is useful. The cockpit offers a comfy riding position similar to your favorite hybrid or trekking bike—perfect for turning everyday chores into mini adventures.
Built to Last
Our philosophy is to keep our bikes on the road for as long as possible, not to create disposable products that are built to fail. We start with intentional design choices that make the bike serviceable and safe—and end up with a reliable vehicle you can use day in, day out. Then, we back it up with great local service and a 10-year warranty for peace of mind.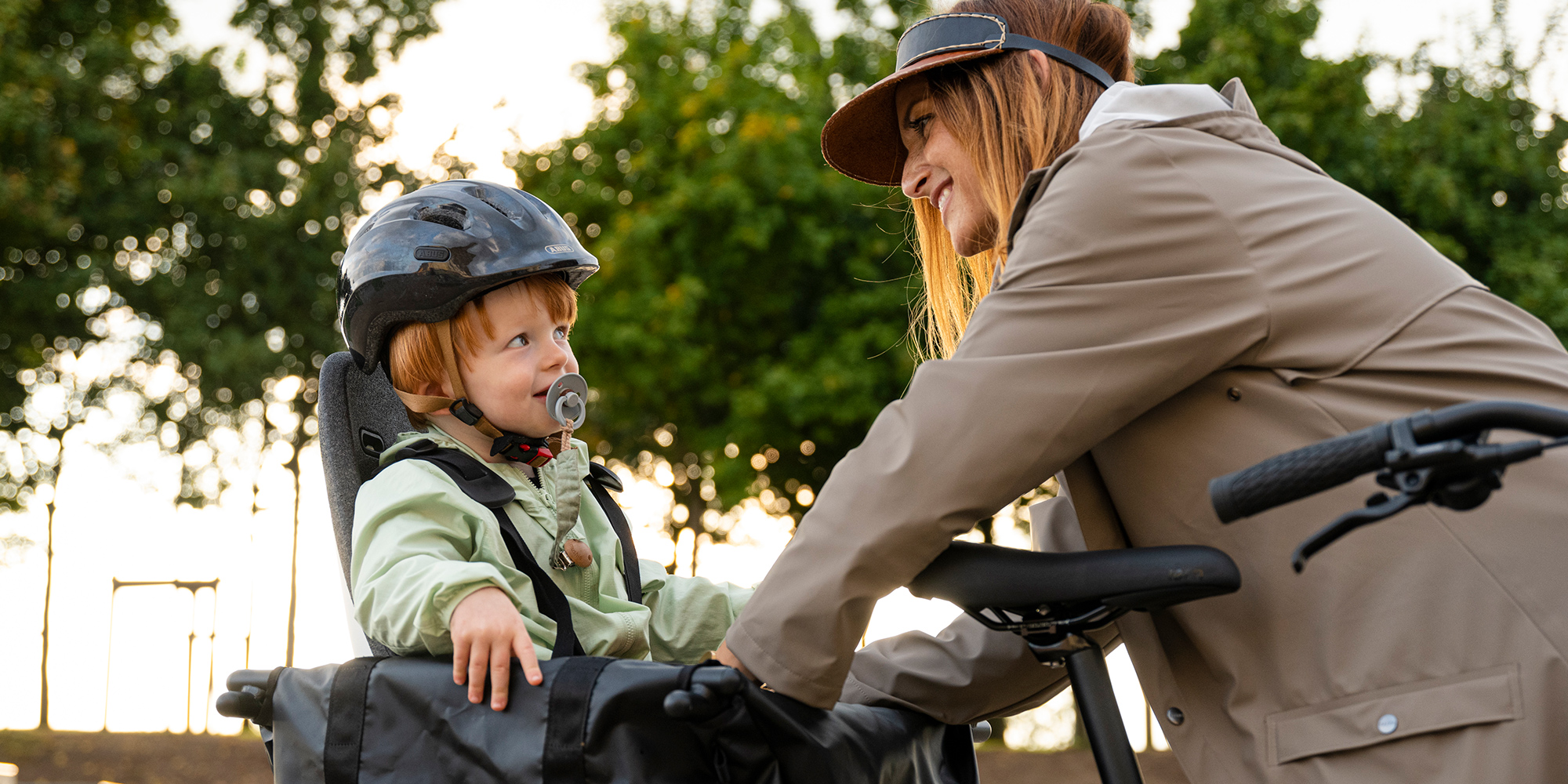 Tough and Tested

EFBE Prüftechnik GmbH, one of Europe's leading bicycle testing labs, put the Quick Haul through its paces to prove the frame and fork can handle the 150 kg (330 lb) mass gross vehicle weight ride after ride.
UL Tested and Certified

The Quick Haul's Bosch motor system and battery are UL-2849 certified. They've been carefully tested for safety against potential hazards.
Built and Assembled by Experts
Your Quick Haul is carefully built by certified Tern Dealers who will run through a thorough pre-delivery safety checklist before handing over your new bike.
If you want to get the Tern versatility and the Bosch motor but at a lower price point, then this new bike is a very well considered entry model.
- road.cc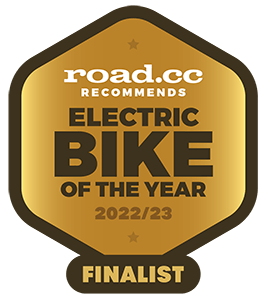 Why the Quick Haul?
It's The Right Tool for All Your Jobs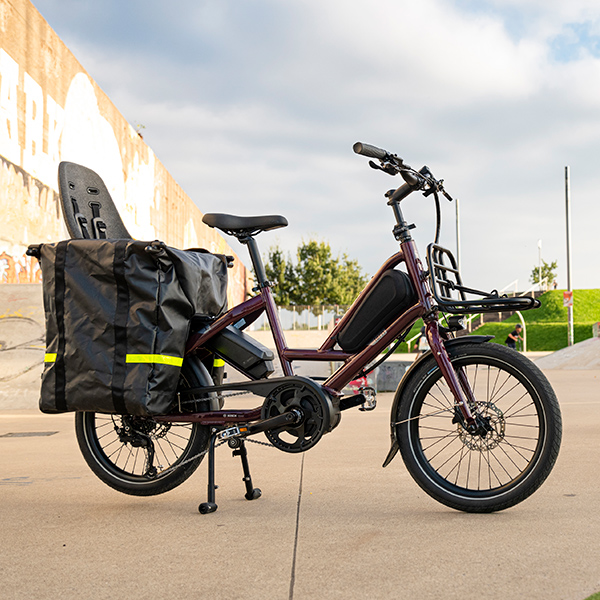 More Room for Cargo
With a heavy-duty, extra-long rear rack and an optional front rack, the Quick Haul can carry up to 400% more than the average city bike.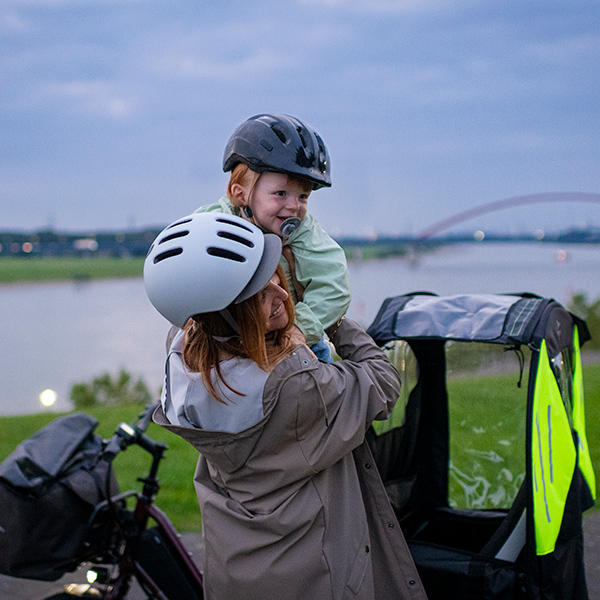 Best for Babies & Big Kids
The rear rack fits a child seat or "big kid" seating option. A low-to-the-ground rack keeps the bike from getting tippy when your child is on board. For more information on recommended passenger height and weight, check out our Passenger System Guide.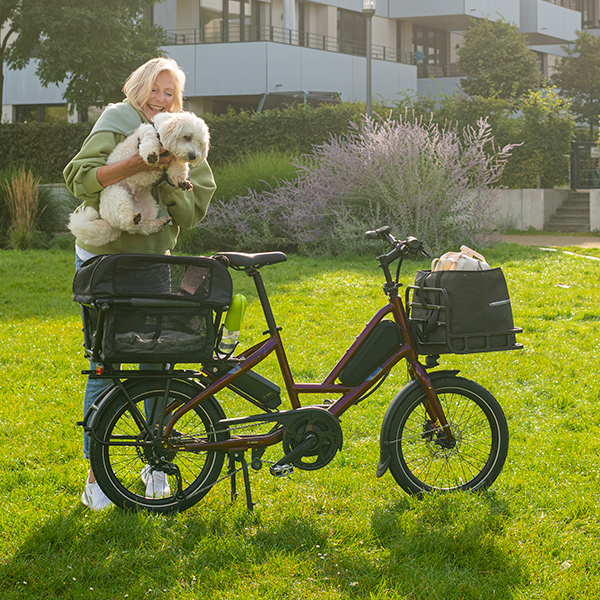 Custom Configurations
Create your perfect setup with lots of flexible accessories. Smoothly transition between carrying the kid, the dog, the groceries, and whatever else your day demands.
It Just Rides Better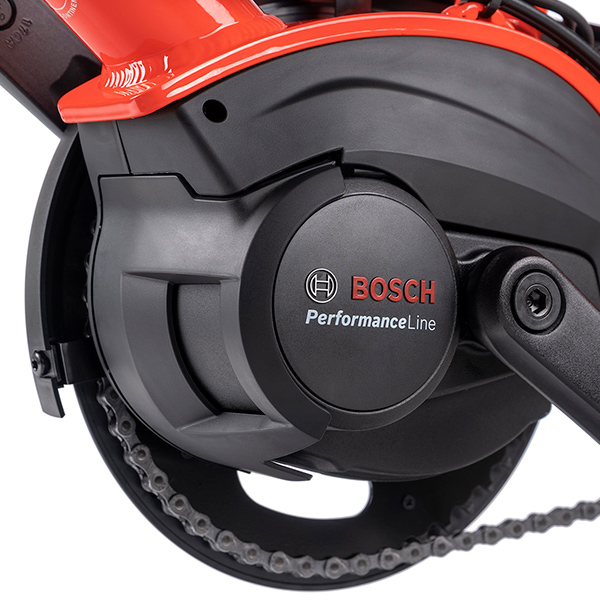 Bosch System
Equipped with the Bosch Active Line Plus or Bosch Performance Line motor system, for an excellent ride and quality you can count on.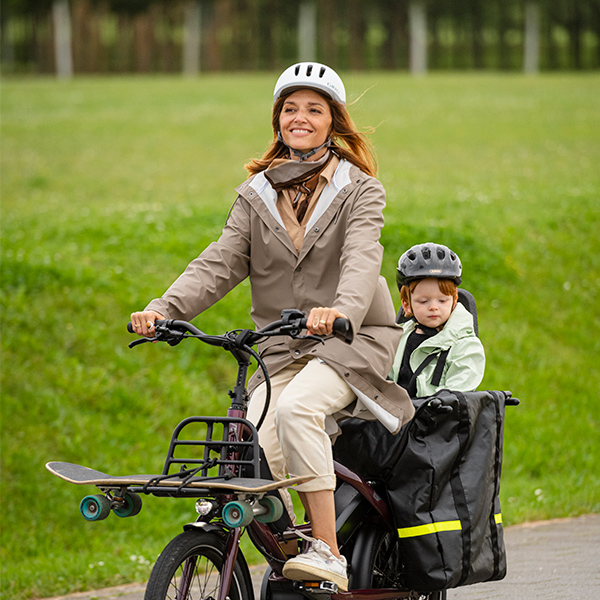 More Stability
A longer wheelbase than standard city bikes and a lower center of gravity create a more stable ride, especially when carrying a load.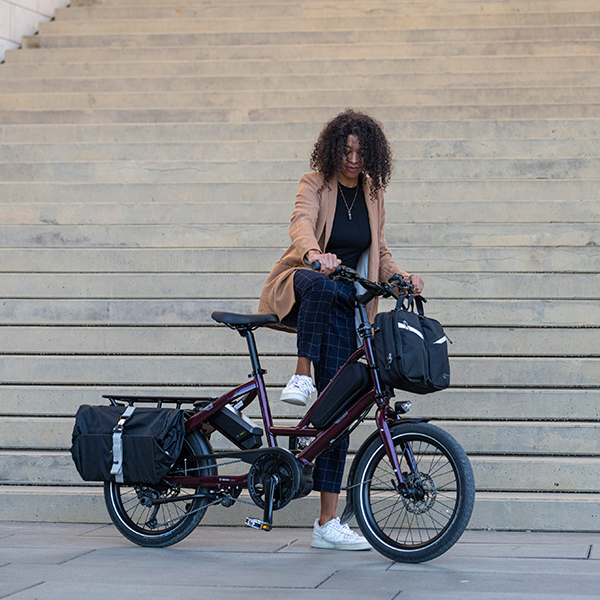 Low Step-Through Frame
Very low 490 mm (19") standover height makes mounting and dismounting safer and easier, even when carrying loads (plus, it's wardrobe-friendly).
It's Always At the Ready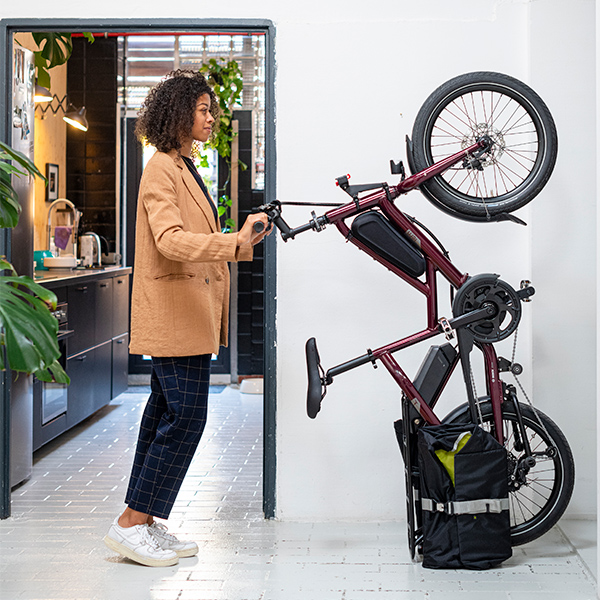 Easy to Store
The Quick Haul can park and roll vertically to fit in small spaces (including elevators). It's got a footprint about the size of a potted plant.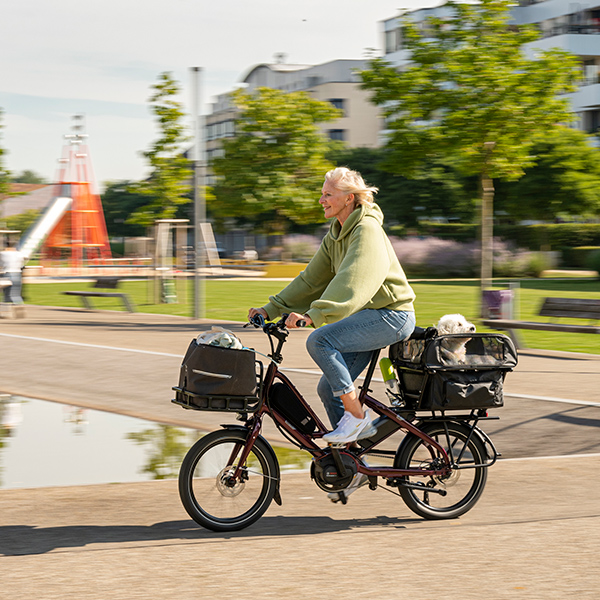 Easy to Maneuver
The Quick Haul is shorter than a standard bike, so it's easier to maneuver through city obstacles, narrow spaces, and crowded places.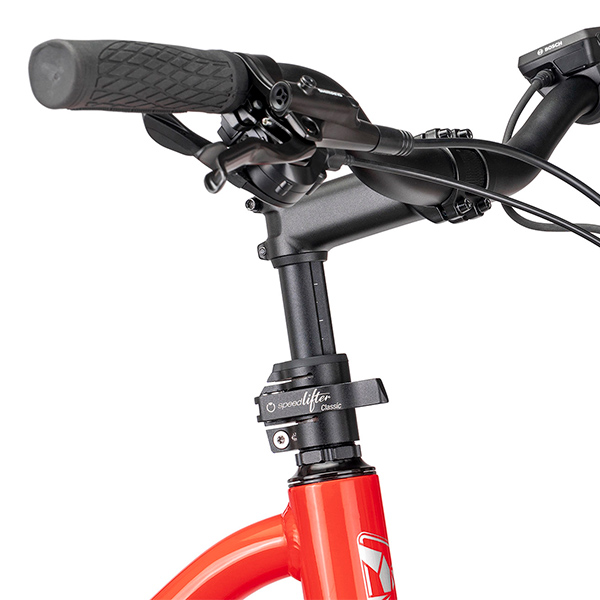 Fits the Family
The seatpost and Speedlifter stem move up and down in seconds and without tools, making it easy to share with family and friends.
Bike Comparison
Add bikes to compare