Tern E-Bike Buyer's Guide
So, you might be considering buying a Tern e-bike, but you're unsure how to pick one. It just so happens that we have e-bikes for you that are all comfy, can carry a variety of items, and are shareable with friends and family. We completely understand the excitement of getting a new bike (yay!), but let's be honest, it can also be a bit overwhelming. Since it's super important that you know which e-bike you need and why you need it, we've created this guide to help you make a choice.
Contents
Main Similarities and Differences
---
Main Similarities and Differences
Before we get into more detail, here are some key points that you can keep in mind as you read this buyer's guide. Tern's e-bikes' basic features are similar, but each model has its own strengths.
Similarities
Safety first! All of our e-bikes are equipped with the Bosch E-Bike System. Bosch is one of the few e-bike system manufacturers that are tested and certified to UL 2849 safety standards—to prevent incidents due to electrical, mechanical, and fire hazards.
Compact storage: Our e-bikes fit in spaces you might not have thought of, such as your car trunk, elevators, buses, trains, and even the corner of your living room. The (extra) cool thing about the Vektron is that it folds into an even smaller package! All Tern e-bikes can also be parked vertically (or parked vertically when folded, in the case of the Vektron) to save some space, and it's a handy option for when you don't have a shed or garage.
Modularity for maximum fun and functionality: All Tern e-bikes are designed to work with a whole ecosystem of accessories. You can mix and match many different ones to find the right setup for optimal comfort and to get the task done.
Top-notch service: Tern works with a network of knowledgeable and independent dealers who will help with your e-bike's regular maintenance, explain Tern's warranty in detail, and give you all kinds of useful tips to make your riding experience even more enjoyable.
Differences
The GSD, HSD, and Quick Haul are e-cargo bikes and created to do some serious hauling. If you don't really need the extra carrying capacity, then the NBD or Vektron might be the better option.
The GSD is the only Tern e-bike that has two battery docks.
---
Accessories
OK, did we already mention that you can mix and match our accessories on different e-bikes? Having so many options, you can find not only the right fit for yourself but also the right fit for the job. Here are just a few examples of passenger and cargo setups that you could use.
Passenger Setup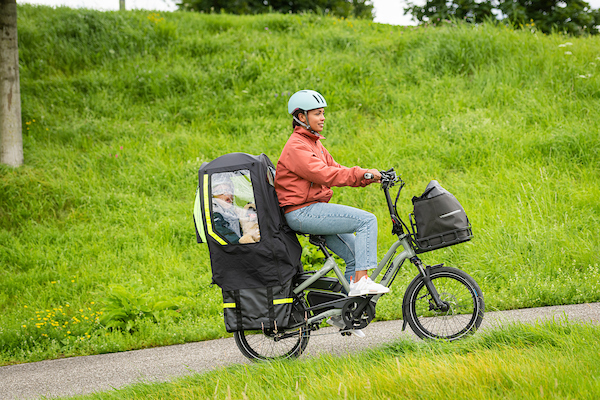 The Clubhouse Fort Mini keeps your kid dry and the nagging out. Put your other stuff in the WeatherTop Bag.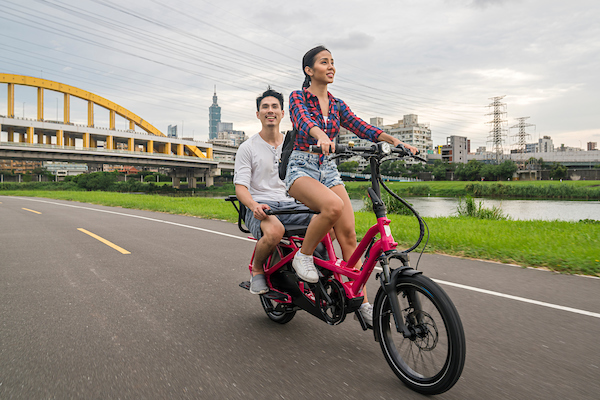 Who says that only kids get to sit in the back? The Captain's Chair goes on the GSD, HSD, and Quick Haul, and it's suited for big kids and adults alike.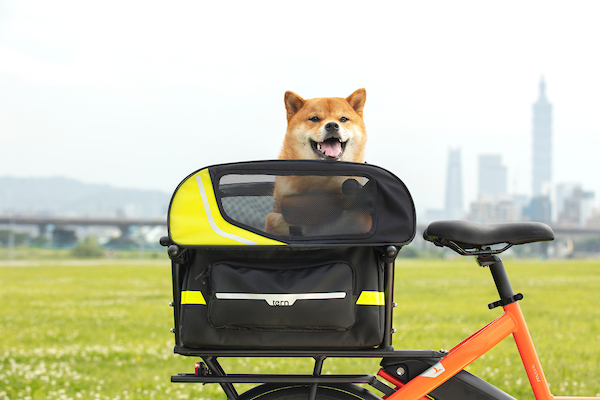 Pets should enjoy the ride, too! That's why we came up with the Doghouse Mini, which also doubles as a shopping crate.
Cargo Setup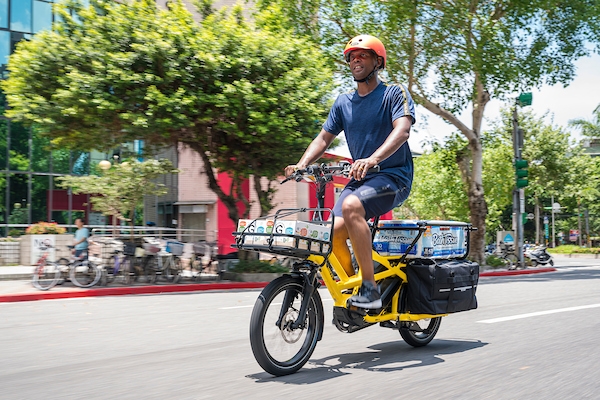 The Clubhouse+ frame can hold plenty of cargo. For some extra shopping or shipments, you could get the Cargo Hold 52 Panniers or the Transporteur Rack.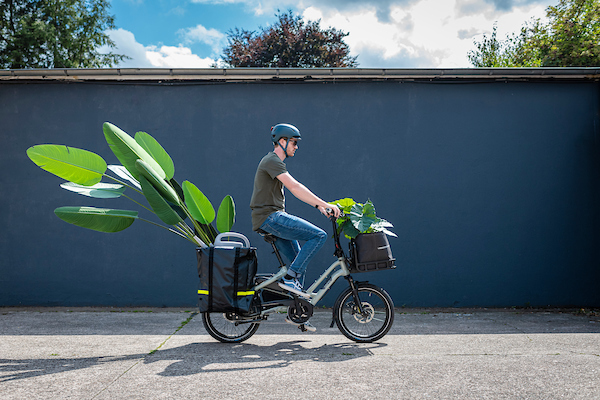 Moving out? If your big houseplant fits in the Storm Box Mini, then why would you take the car?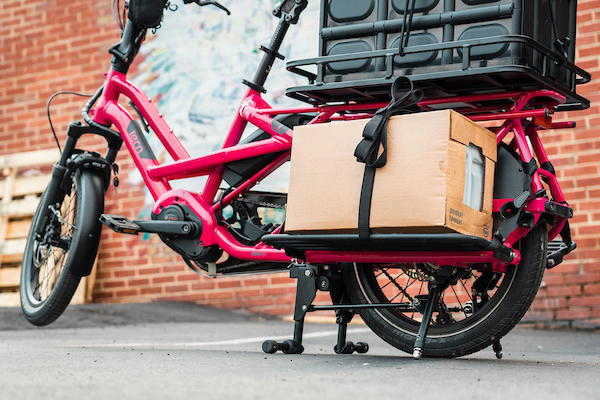 Carrying oversized loads is no problem for the GSD. The Sidekick Doublewide Decks and Lockstand QuadStruts are there to support you.
---
1. GSD: Our Most Popular E-Bike
The GSD is designed to grow with your family and get all sorts of stuff done.
The GSD keeps you going during daily school runs, commutes, moves, and other errands. Capable of doing a variety of jobs, the GSD is also suited for bikepacking or camping trips—you can fold the GSD's handlepost and stem in such a way that it fits into your (real) car or trailer.
If you're in need of a bike that can transport two kids, one adult, or a significant amount of cargo, then the GSD can be your ideal second car.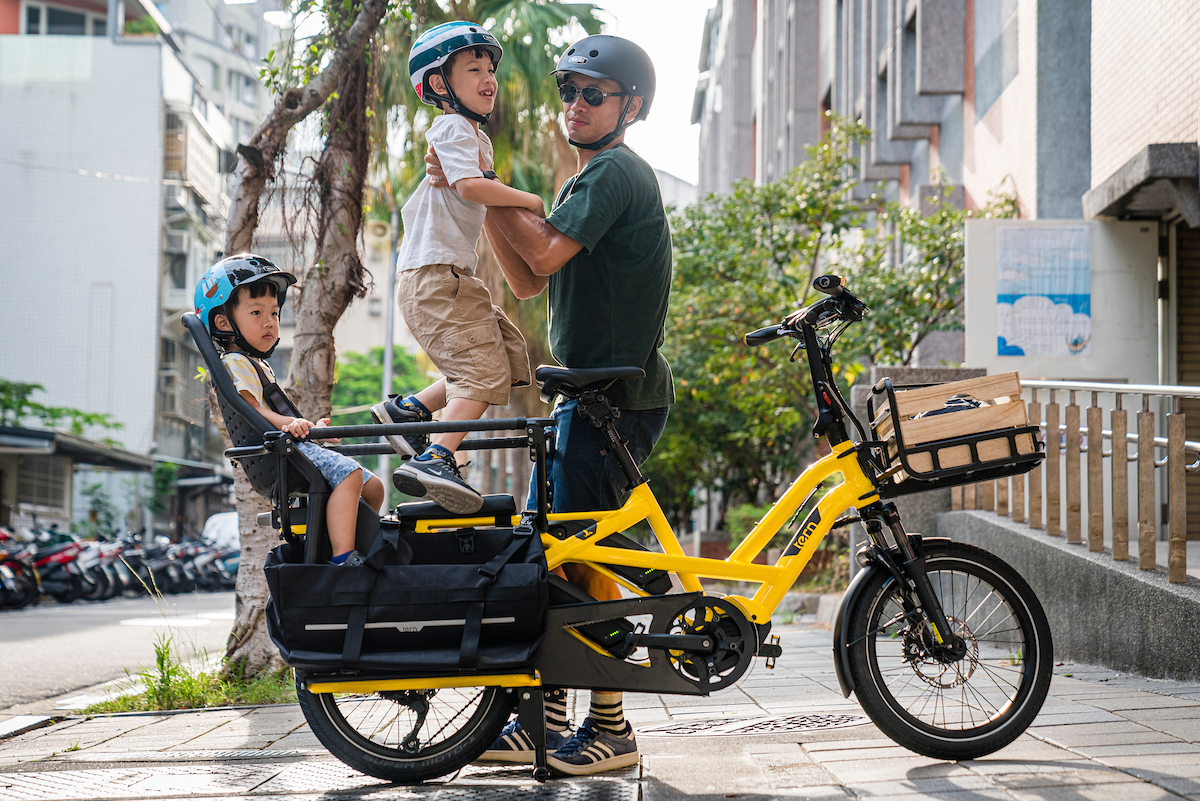 ---
2. HSD: Our Most Comfortable E-Cargo Bike
Although the HSD is a tad smaller than the GSD, it's still a powerful everyday transporter that you can share with your family members.
With a comparable passenger/cargo setup to the GSD, the HSD is a great bike for crisscrossing through town and embarking on a biking adventure with a friend. If you're looking to bring some company and stuff, you can fit a child seat and panniers for your daily shopping or sports equipment.
If you're looking for a bike that can carry a child (either in or out of a child seat) or a petite adult, the HSD is just for you. It's an excellent choice if you're interested in a cargo bike, but feel overwhelmed by the larger and longer cargo bikes available.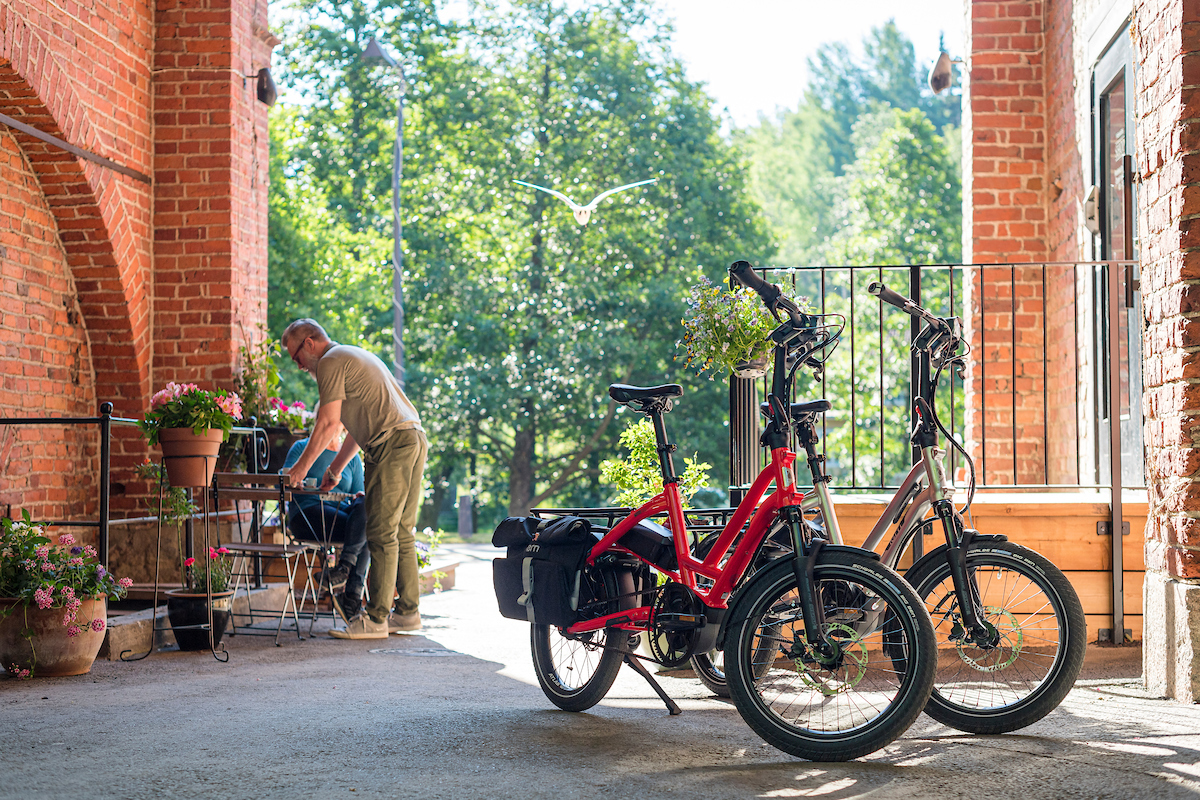 ---
3. Quick Haul: Our Most Affordable E-Bike
If you're in the market for a no-fuss e-cargo bike that gets the job done, then the Quick Haul might be the one. It's the perfect choice for anyone looking for everyday biking convenience at an affordable price.
The Quick Haul gets you from A to B and can even help you move some houseplants to your new place. Shorter than a standard bike and with a sportier riding position, the Quick Haul is easy to maneuver and capable of carrying a child seat and a pannier (or two).
If you'd like to get an e-bike without too many bells and whistles, then the Quick Haul is for you. It's suited for a variety of tasks plus sharing with your family and friends—yes, including the fluffy types.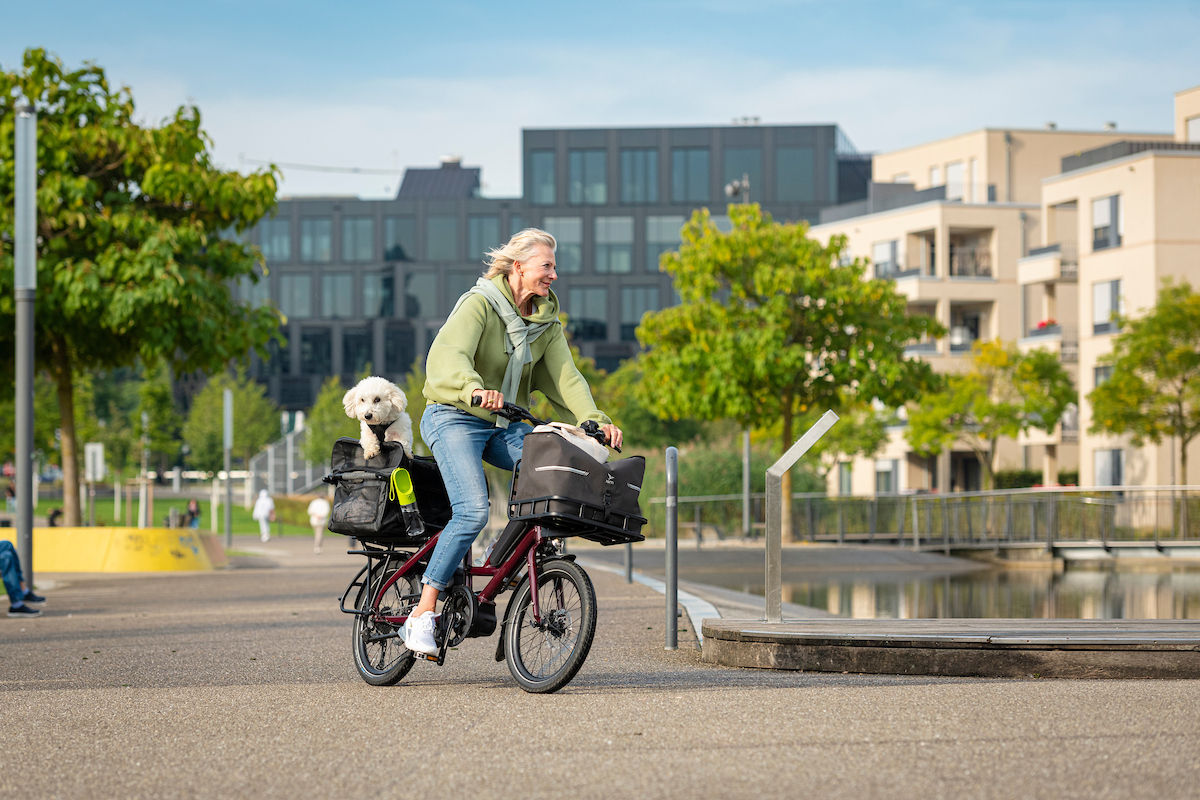 ---
4. NBD: One of the Easiest E-Bikes to Ride
The NBD is built to be an easy bike for everyone—for both beginners and more experienced riders alike.
Newbie riders will find it a comfy bike for some leisurely meandering, and if your parents haven't cycled in some time, the NBD is a dependable companion that helps them rediscover their skills. The low stepover helps you to just hop on and go without too much of a stretch, and its low center of gravity gives you maximum control over the bike.
If you need a bike for daycare or school runs, park rides, or light shopping trips, the NBD is the perfect fit for you.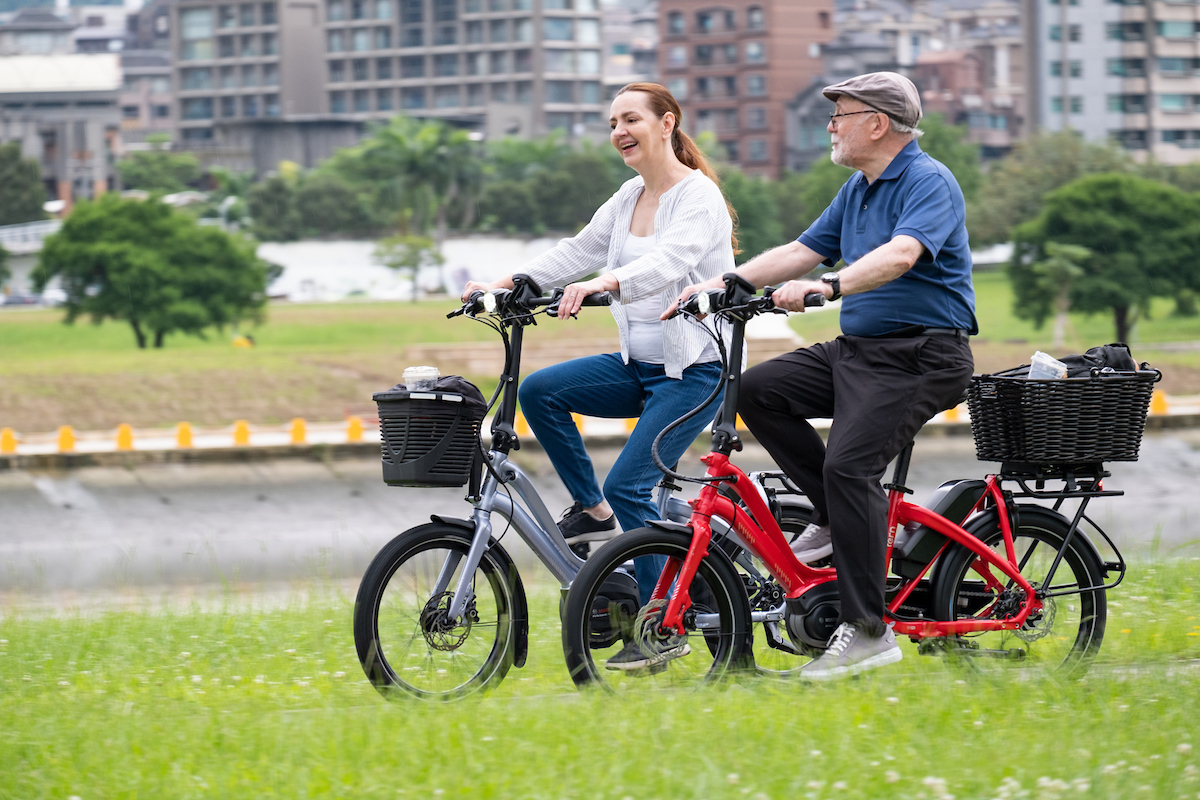 ---
5. Vektron: Our Folding E-Bike
Built for commuting, the Vektron offers a balanced and solid ride. You'll feel as though you're gliding through the city streets.
Agile and equipped with a powerful Bosch motor, the Vektron will help you get over the final hill to reach your destination. It folds small, and it's super easy to bring (or roll) it onto buses or trains. With the Vektron, you can continue where the metro line ends—all the way to your desk.
Are you an urban dweller searching for a dependable and efficient ride to tackle your daily commute or quick getaways? In that case, the Vektron is a great option for you to consider.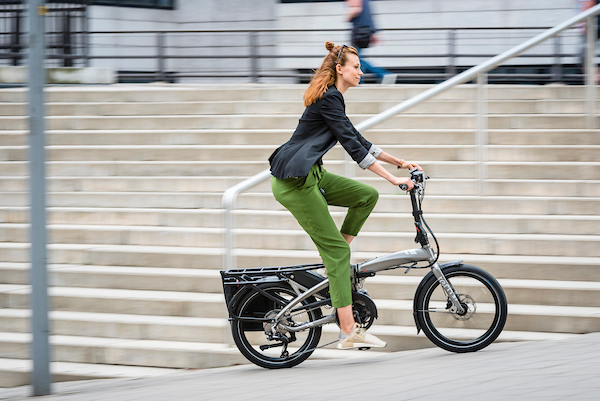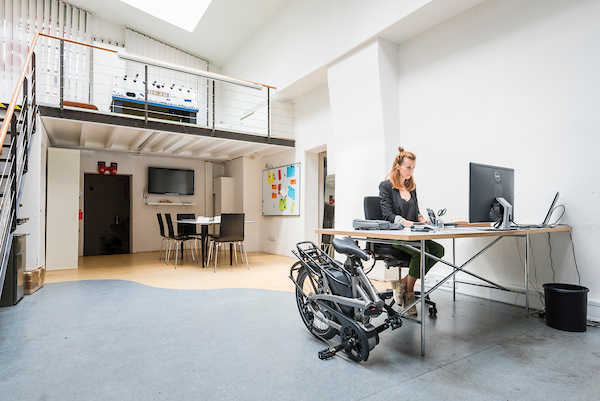 ---
Summary
Our five e-bikes may share some basic characteristics, but ultimately, each has its own distinct purpose and character. If you'd like to have everything narrowed down even further, check out this chart below.
|   | GSD | HSD | Quick Haul | NBD | Vektron |
| --- | --- | --- | --- | --- | --- |
| Number of passengers | 2 kids or 1 adult | 1 kid or 1 small adult | 1 kid | 1 kid in a child seat | - |
| Rear rack max. load | 100 kg (200 lbs) | 60 kg (132 lbs) | 50 kg (110 lbs) | 27 kg (60 lbs) | 27 kg (60 lbs) |
| Riding position | Upright | Upright | Sporty | Upright | Sporty |
| Bosch Motor | Cargo Line | S8i & P9: Active Line Plus; S+ & P9 Performance: Performance Line | P9: Performance Line; D8: Active Line Plus | S5i: Performance Line; P8i: Active Line Plus | S10: Performance Line; Q9 & P7i: Active Line Plus |
| Fork | Suspension | Suspension | Rigid | Rigid | Rigid |
| Chain/drive | R14 & S00: Belt drive; S10: Chain | S+ & S8i: Belt drive; P9 & P9 Performance: Chain | Chain | S5i: Belt drive; P8i: Chain | Chain |
---
More information
Hopefully, this article has given you adequate information to help you with your choice. As we cannot cover all the benefits of each Tern e-bike, we recommend you visit your nearest Tern dealer for a test ride and see for yourself! A test ride will give you the most accurate sense of how the bike performs, and you'll get to ask the Tern dealer all sorts of questions. In the meantime, if you'd like to learn more about our safety features and the Bosch E-Bike System, check out our e-bike safety articles. You could also go to our e-bike overview page and click on "Compare" (just below each bike icon) to make a comparison list of a maximum of five bikes.